In today's post: Extra chocolate and mini M&Ms make rice krispie treats even more delicious!
A couple of years ago we visited Disneyland, and one of the highlights of the trip for my daughter was eating a giant rice krispie treat. Not only was it in the shape of Mickey Mouse, it was also covered in chocolate and mini M&Ms. (You can see what it looks like here). She's been talking about that M&M rice krispie treat ever since! And, being the good mom that I am, it only took me two years to make them for her.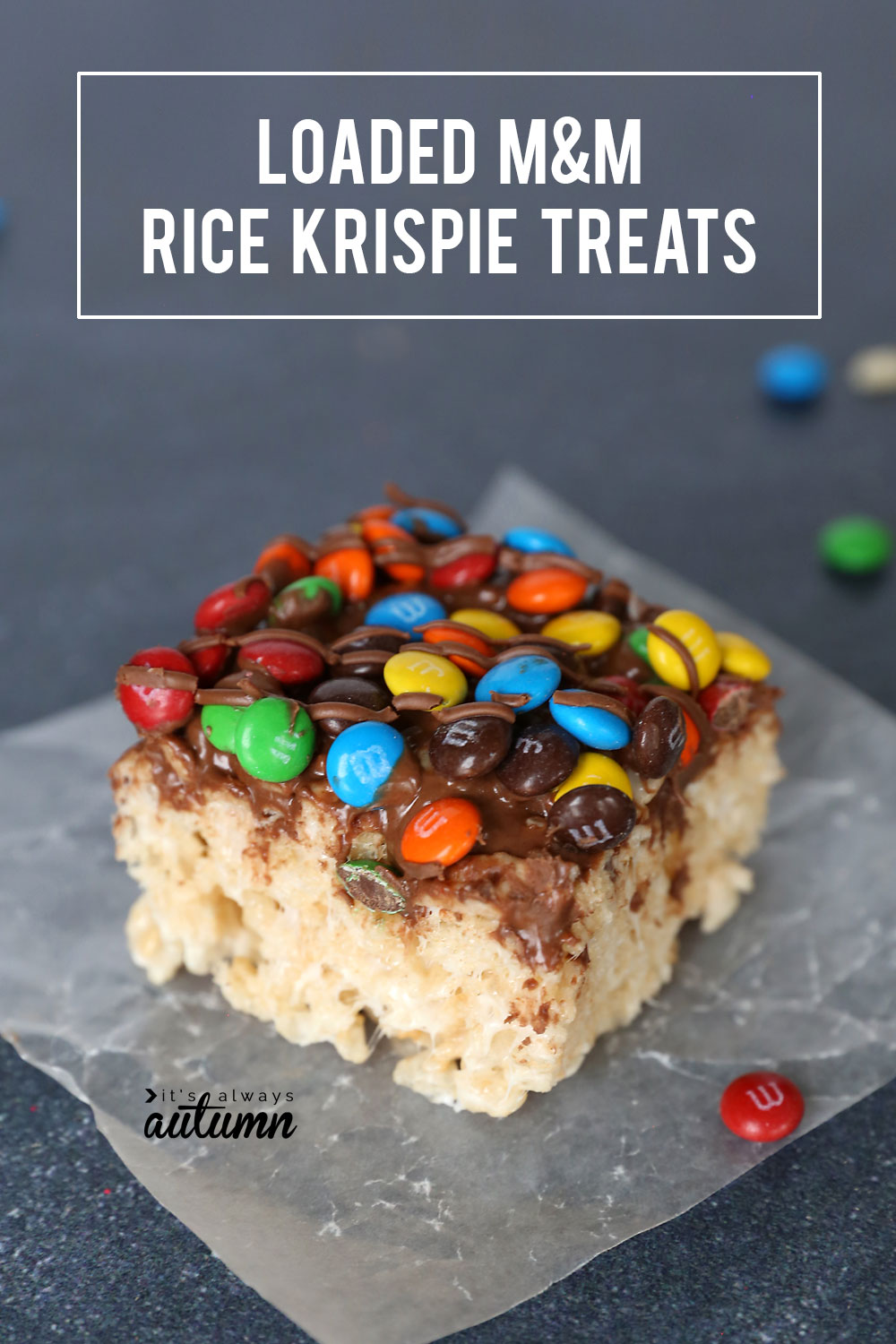 No, my version isn't shaped like Mickey Mouse, because ain't nobody got time for that. And the shape isn't really important anyway. It's the chocolate that's important…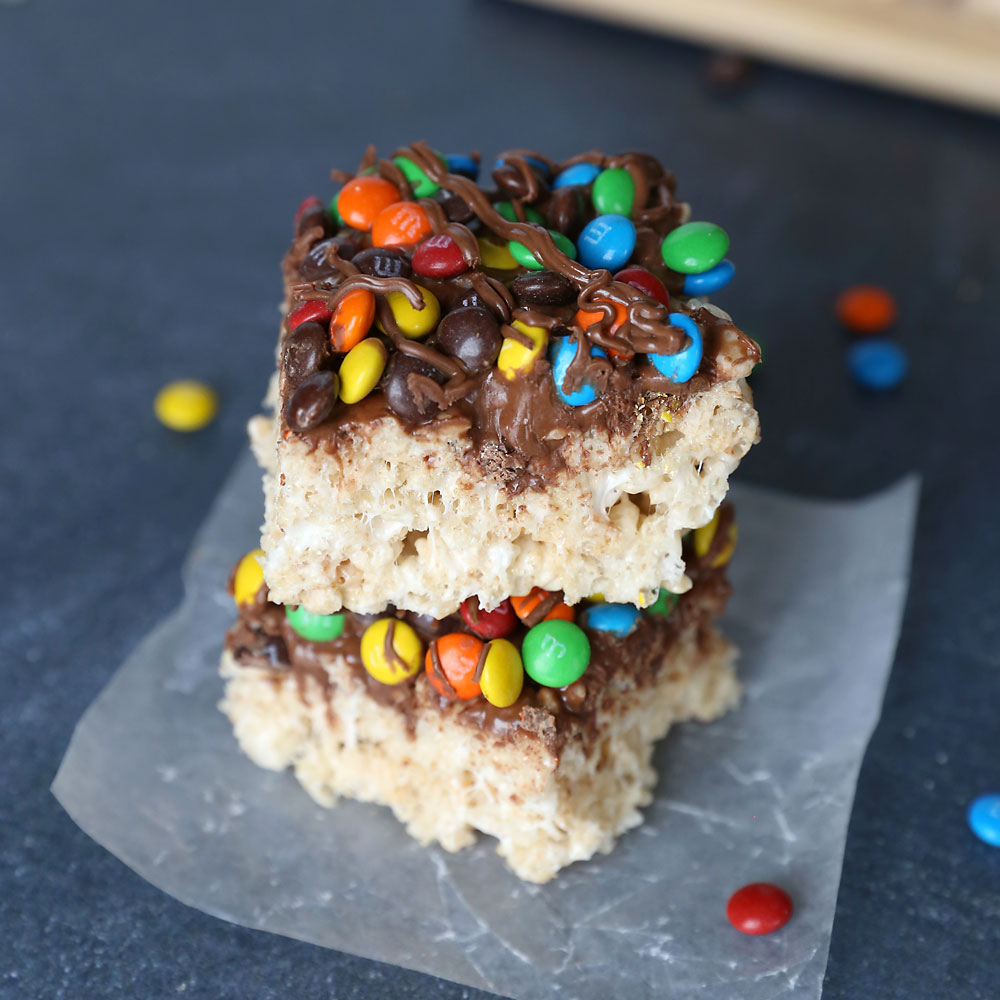 …and the super chewy rice krispie treat that's beneath it.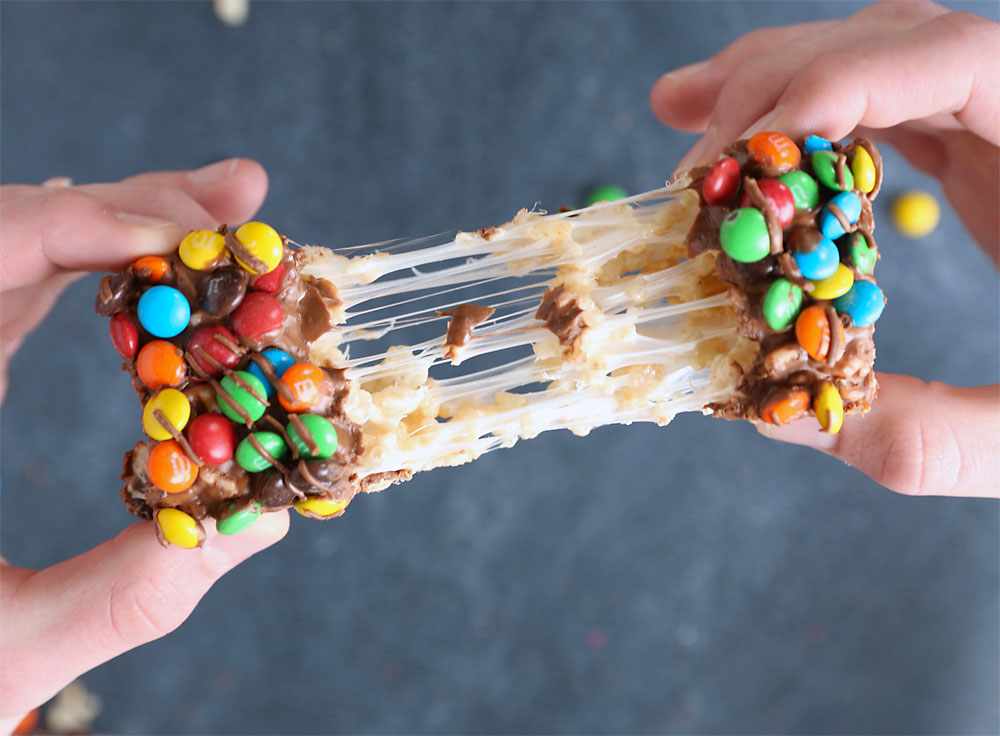 M&M Rice Krispie Treats Recipe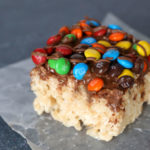 Print Recipe
M&M Rice Krispie Treats
Extra chocolate and mini M&Ms make rice krispie treats even more delicious!
Ingredients
1/2

cup

Butter

15

oz

Mini Marshmallows

6

Cups

Crisp Rice Cereal

1 and 1/4

Cup

Milk Chocolate Chips

Divided

1

Cup

Mini m&m's

About 6 oz
Instructions
Line or grease a 9x9 inch square pan. In a large saucepan, melt together the butter and marshmallows over medium heat, stirring until completely melted.

Remove from heat and stir in crisp rice cereal. Pour mixture into prepared 9x9 pan. Pat down gently (dip hands in water first so they don't stick).

Melt 1 cup chocolate chips and pour over krispie treats, using an offset spatula to spread chocolate to the edges. Sprinkle m&m's on top, gently pressing them onto the top.

Melt the remaining chocolate chips in a sandwich bag. Snip off corner and "pipe" chocolate over top. Allow treats to cool completely before cutting.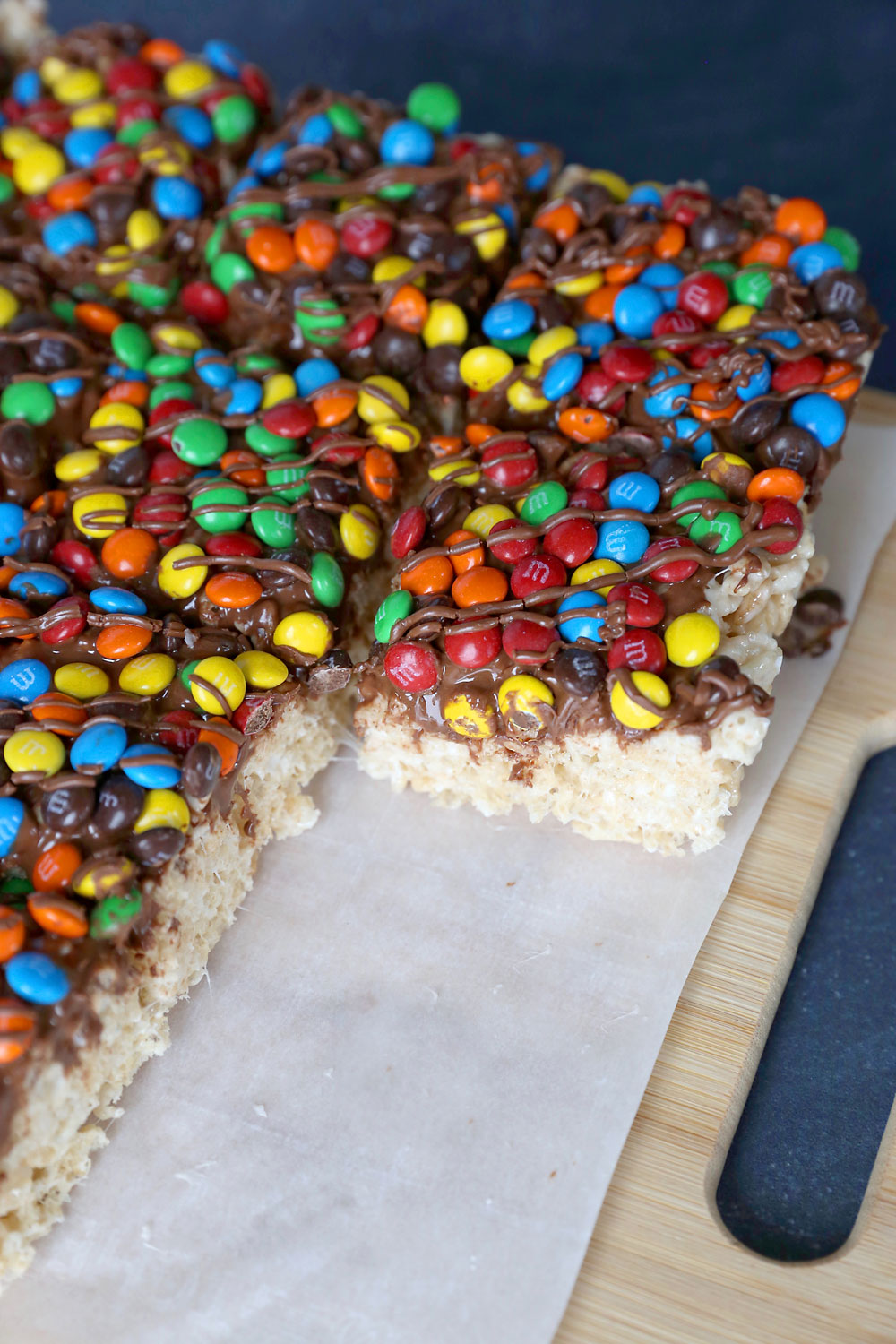 M&M Rice Krispie Treats Tips
First, you may notice that this recipe is a little different than the recipe that you find on the cereal box. That's because the recipe on the side of the box isn't all that great. If you've tried it recently, you may have found yourself scraping the top of your mouth on dry, crunchy "treats". To get really chewy krispie treats, you need to do two things:
Use more marshmallows! The "standard" recipe calls for 10 oz of marshmallows, but if you want a soft, chewy krispie treat you're going to need at least 15 oz. Either use one and a half 10 oz bags, or purchase a 16 oz bag and save a few marshmallows to eat later.
When you turn the mixture out into your pan, DO NOT PRESS THEM DOWN HARD! The less smooshing the better. Get your hands wet so the mixture won't stick to them, and then press it down gently, just enough to smooth out the top.
Follow these two tips, and your rice krispie treats will be soft and chewy and delicious! Happy snacking.