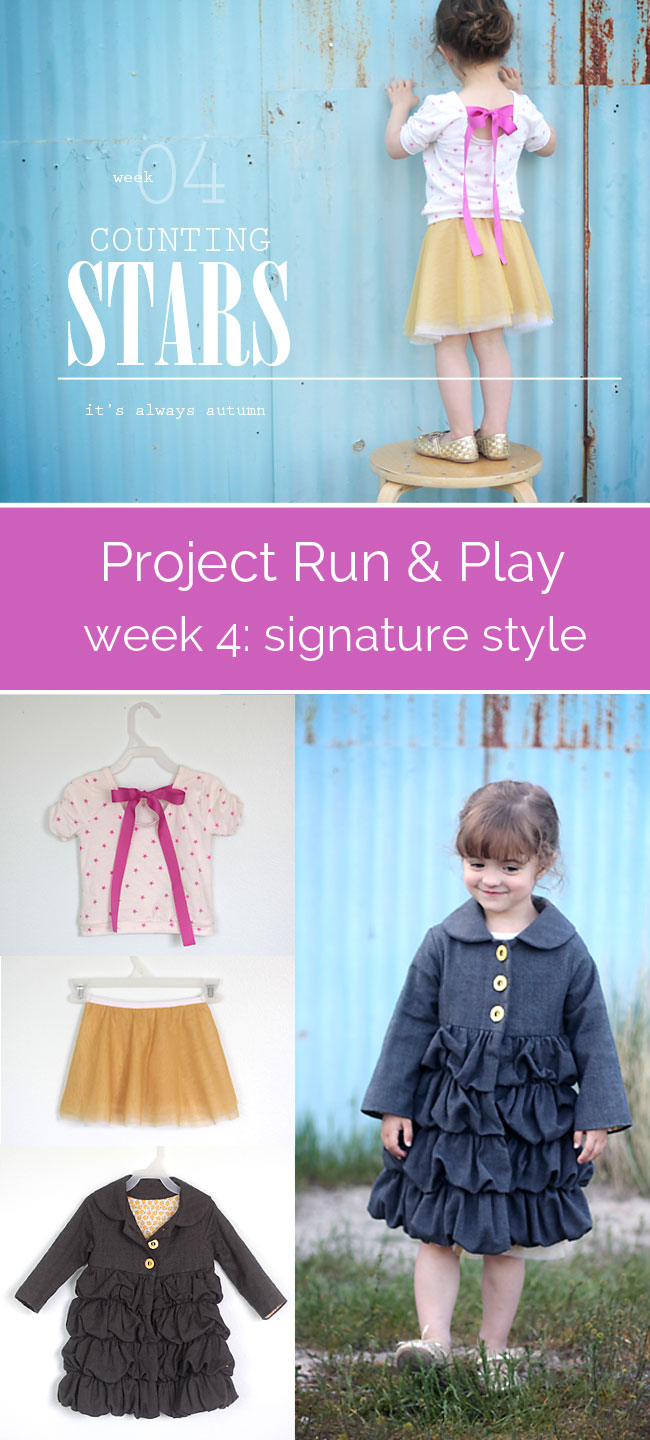 I can hardly believe I made it through to the final round of Project Run & Play! I've been sewing ahead, so last week when it looked like I might get kicked off I was pretty disappointed because this week's look is my favorite out of everything I've made (see week 1, week 2, and week 3). Luckily the judges scores saved me and I'm still in the running. If you like this look, please jump over to the Project Run & Play site and vote!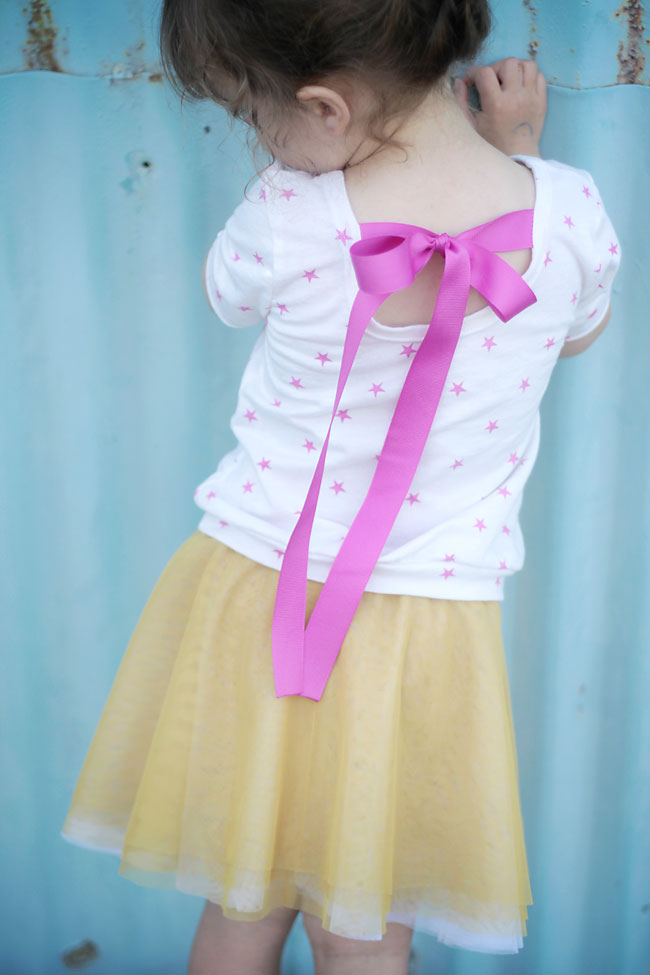 Before I start telling you about this week's look I just have to say THANK YOU. It's been pretty stressful being in a competition, and I've realized I've probably spent far too much time and mental energy thinking about it. But I have absolutely LOVED reading your kind comments – they've meant a lot to me. So thanks!
The theme for the final round of PRP is always "signature style". To tell you the truth, I've never really thought about what my signature style is – I usually just sew stuff that's pretty easy, because I like things I can get done quickly. However, throughout the past month of designing and sewing four looks I've realized I really gravitate toward comfortable, wearable kids' clothes that are also a little on the sophisticated side. I really love sewing things for my daughter that I'd wear myself. Now, this leads to some conflict at the fabric store when I'm holding lovely grey herringbone flannel and my daughter's holding sparkly pink butterfly fleece. Since I want her to like the things I make for her, my "style" is often a compromise. So I tried hard to make this week's look girly enough to make my daughter happy and sophisticated enough to make me happy.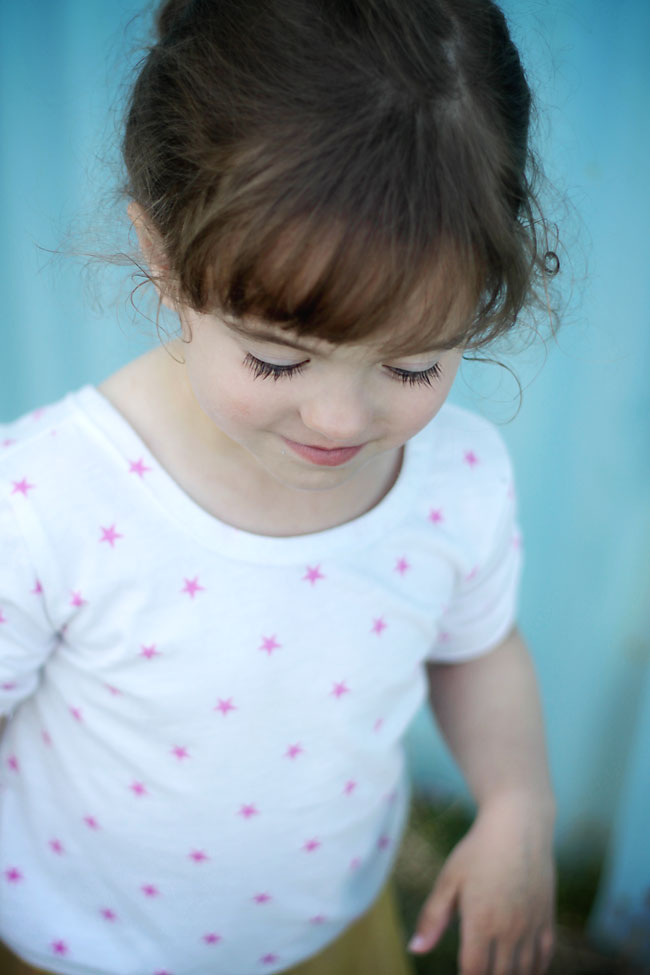 I also wanted to show that you don't have to spend hours and hours to create a great outfit. The shirt and skirt only took a few hours each to make, but both still have some really nice details that make them special.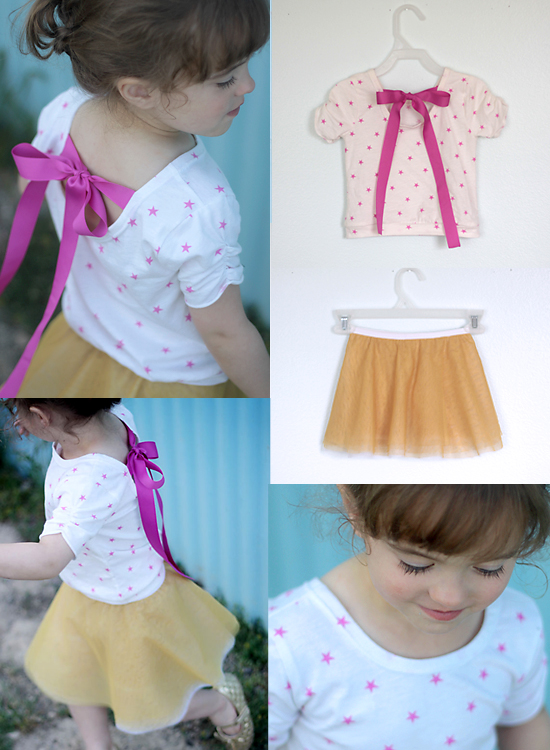 The shirt is a basic tee with a few twists. First, there's a low back neckline and pretty ribbons ties for a romantic look. Next, the sleeves are ruched (gathered on the top and bottom) to make it look very feminine. Finally, the banded hem gathers the shirt in a little at the waist to keep it looking polished. To make sure it looked very professional I finished the neckline with a strip of knit "bias" tape and a double needle. I love this top so much I might make one for myself.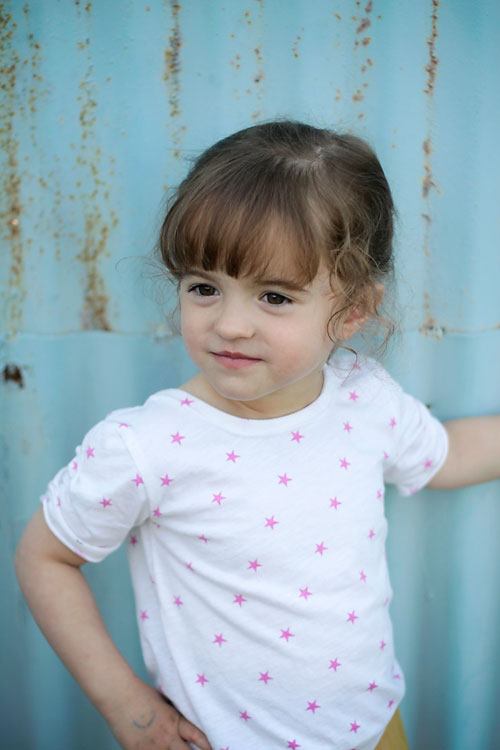 My daughter specifically requested a skirt that "would come up by itself" when she spun around, so I knew I needed to make something twirly. I made a tulle skirt using three layers of white tulle covered with three layers of gold tulle. Each layer of gold tulle is cut a little shorter than the one beneath it for a pretty graduated hemline.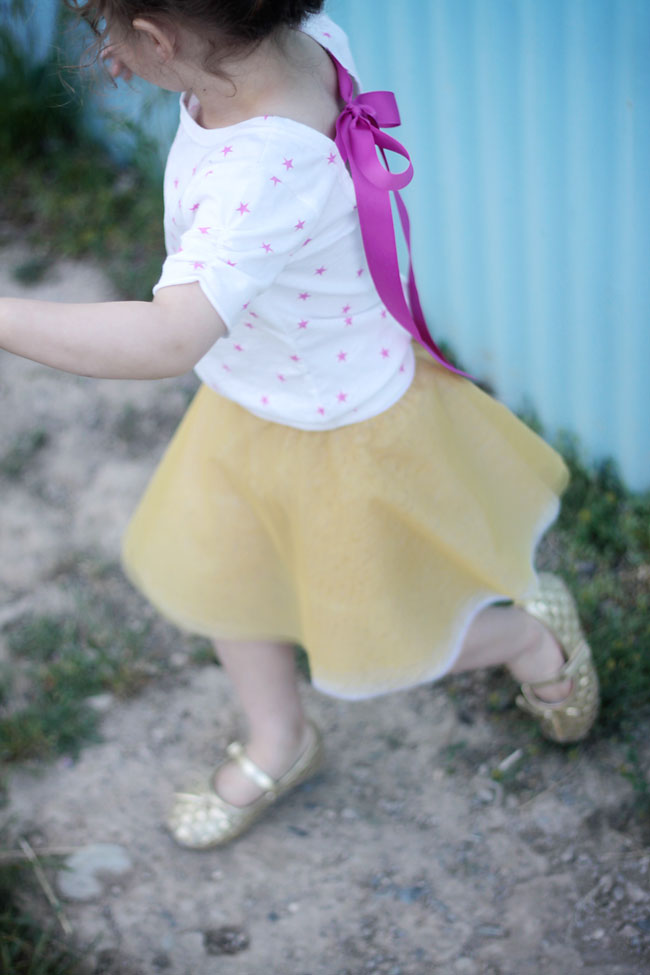 Now tulle skirts are awesome, but they aren't the most practical things for little kids. The main problem is that tulle is kind of bunchy – it gets caught on itself and doesn't lay flat, making it look more like a tutu than a skirt. Since I was going for a slightly sophisticated look, I used foiled tulle, which is much softer than normal tulle. It lays flat, doesn't bunch or snag, and gets softer with each wash without fraying. Instead of gathering the waistline I cut the skirt as a half circle and used fold over elastic to finish the waist, resulting in a skirt that's twirly but not bunchy.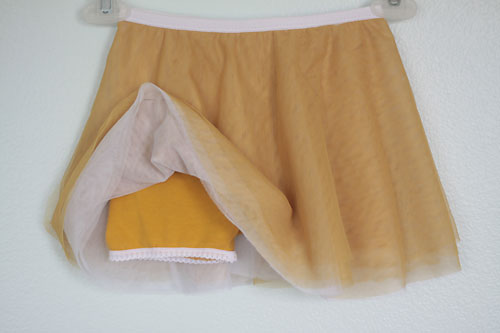 As I've mentioned, my daughter's only 3, so the skirt needed one more thing to make it super practical: attached shorts underneath. The shorts are made from an old t-shirt so they're comfy and stretchy, and I finished the legs with stretch lace so they look cute. Now when my daughter's running around and playing I don't have to worry about her skirt staying where it's supposed to.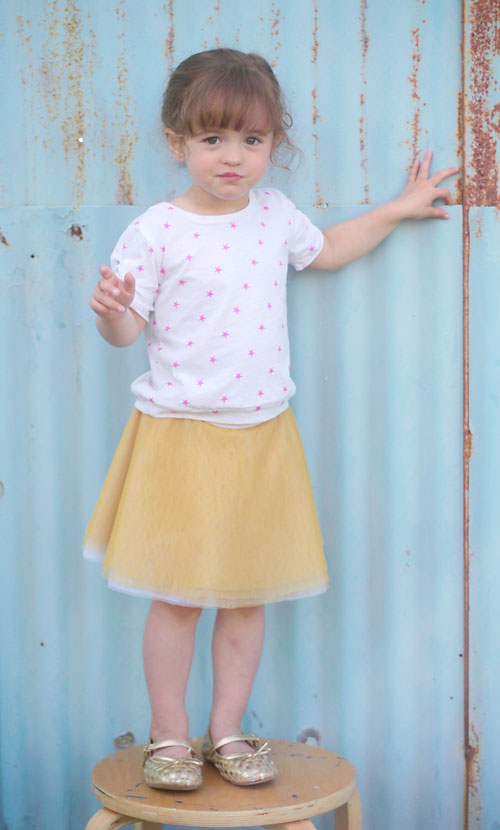 Since this is the final week I wanted to make something with a little wow factor, so I sewed up this ruffled coat: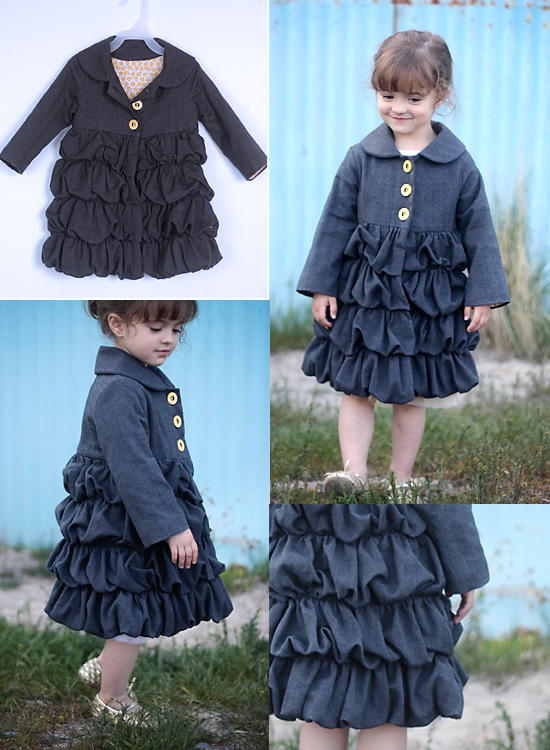 The coat is made from a gorgeous grey herringbone flannel, meaning it's soft, washable, and wrinkle resistant. The four rows of ruffles are all made from one large curved piece of fabric which was gathered in five different places and attached to a flannel lining (good thing I had plenty of Masterpiece Theater recorded to watch while I did all the gathering!). The bodice and sleeves are lined in a yellow and white floral cotton, and three yellow buttons add color and personality. An oversize collar gives it a bit of a retro feel.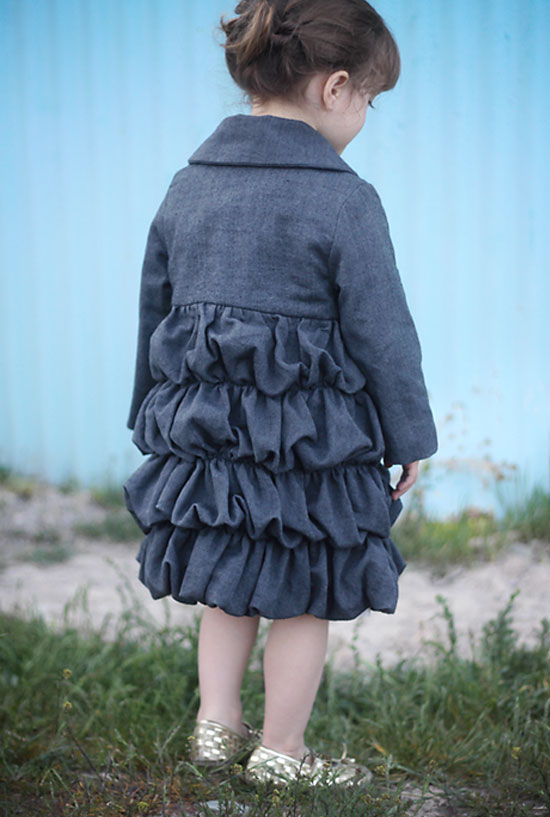 My daughter and I both love this coat! It's the perfect combination of a girly, ruffly silhouette (which makes her happy) and a modern, sophisticated color scheme, which makes me happy.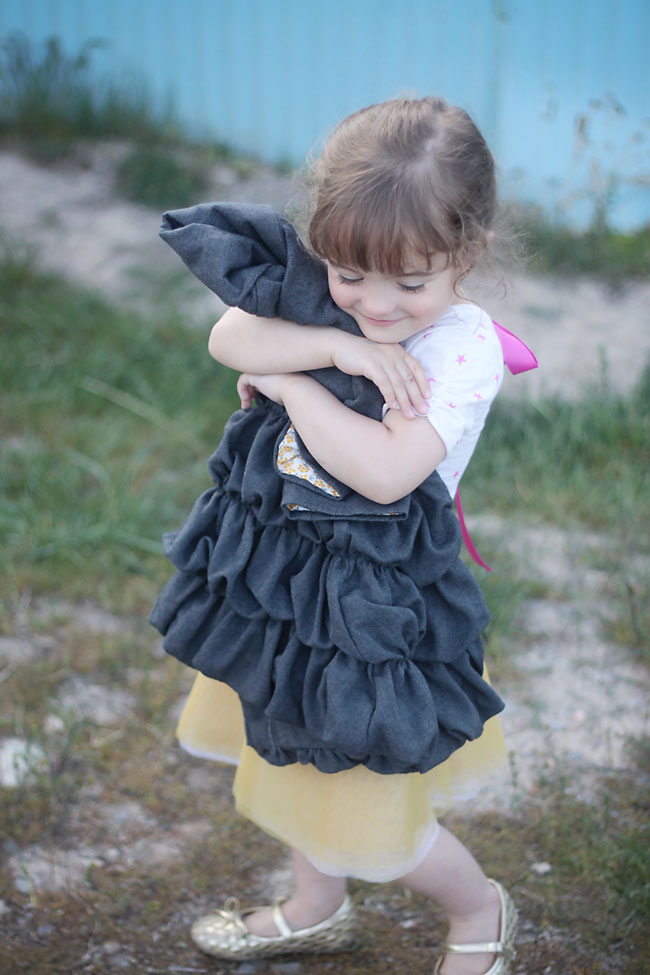 As with all my other pieces for this competition, all items were self-drafted using other clothes as a reference. Honestly, I was pretty mad at myself a few times for not just using patterns as a starting point for some of these designs, but I've learned so much about how clothes are put together and I feel so much more confident in my sewing skills now. So I guess all the unpicking and re-sewing was worth it.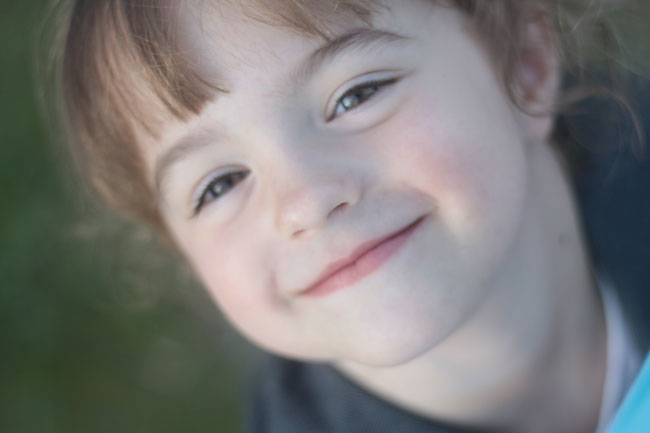 Also, my daughter now thinks I've made every item of clothing she owns, which is totally not true, but kind of sweet. Whenever people tell her what she's wearing looks cute, she says, "yes, my mommy made this for me."
If you have a minute, go vote – and thank you thank you thank you!