Right now the walls in my kitchen and living room are completely blank. I painted them a few months ago and haven't figured out exactly what's going up yet. I have lots of photographs up throughout the house, so I've been looking for a different sort of wall decoration – but of course I don't actually want to spend money on artwork.
While trying to tidy my desk a few weeks ago I pulled out a box of scrapbook paper I've had for years and never gotten around to using (even though I love it), and an idea was born.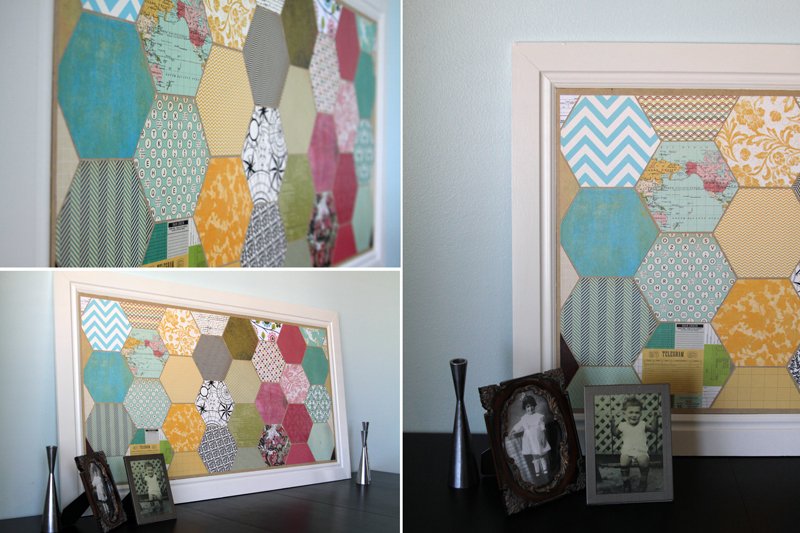 Why not find a way to display some of this gorgeous paper on my walls? I started going through all my scrapbook paper, pulling out a mix of old and new papers in colors and prints that I thought went well together. I considered circles of different papers on canvases, then thought about recreating quilt blocks with paper. Nothing seemed quite right until I thought of a repeating hexagon (or beehive) pattern. Once I had the plan, it was only a few days until the piece was completed.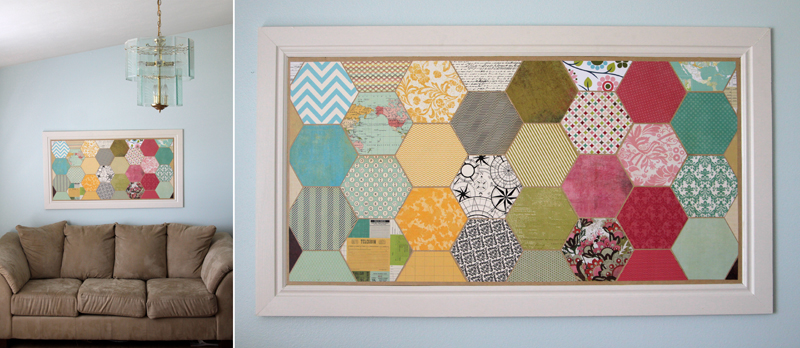 The final wall art measures 2.5′ tall and 4.5′ wide, so it's large enough to make an impact, but I spent under $10 on the entire project (I didn't purchase any new paper, and I constructed the frame out of leftover baseboard trim). Here's how:
I started with a 2'x4′ piece of 1/4 inch MDF trim from Home Depot (about $5). You can find it in the "hobby wood" area. Then I printed a hexagon template out on cardstock. My hex is 6.5 inches from top to bottom, and 7.5 inches from side point to side point. I traced the hex onto each piece of patterned paper and used my trimmer to cut them all out (I worked on this while watching TV for a few hours).
Once I had my hexes cut out I laid them out of my MDF to figure out where I wanted each piece. I even taped things up on my wall to see what it would look like.
I pulled out the trusty mod podge to adhere each hex to the MDF. First, I used a foam brush to paint a thin, even layer of mod podge on the MDF.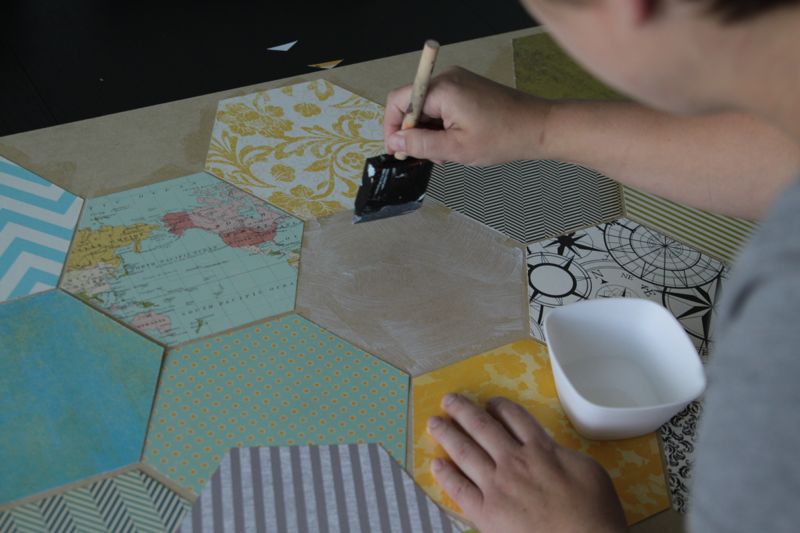 Then I laid the hex on top of the mod podge, then scraped a credit card across the entire surface of each hex to make sure it was securely adhered. When working with mod podge you need to be sure the entire surface is stuck down, otherwise you'll end up with bubbled paper when you re-coat the project at the end.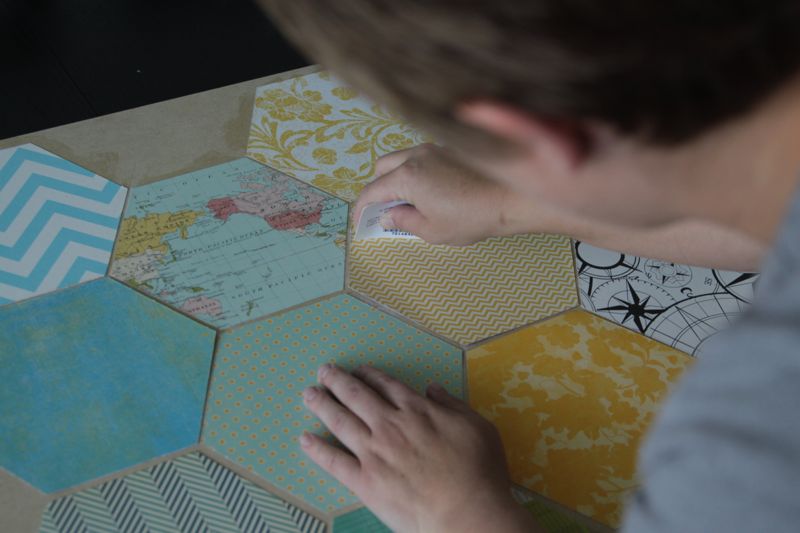 Then I wiped away any blobs of mod podge left around the edges of the hexagon.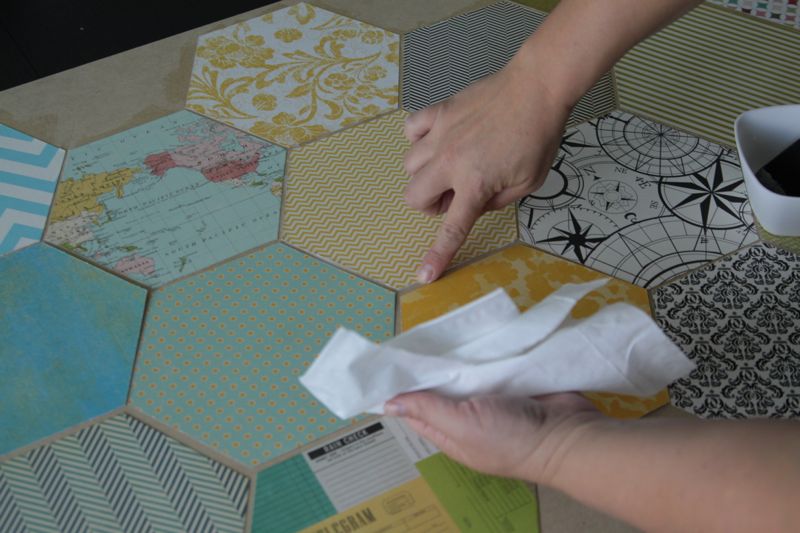 Once the entire piece of MDF was covered in paper, I brushed more mod podge over the entire piece, working in small areas and brushing the mod podge on evenly. You'll want to use matte finish mod podge for a project like this so it won't be shiny when it's finished. The mod podge starts filmy looking, but dries clear and provides great protection for the project.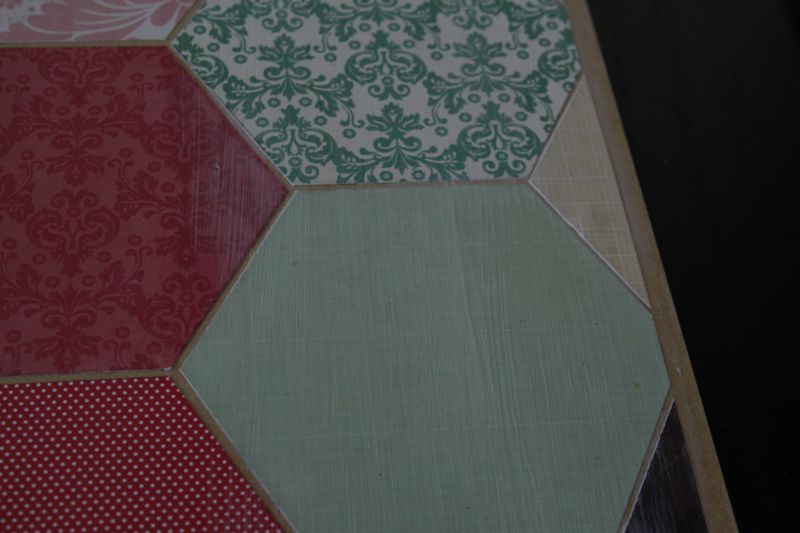 The frame was a bit of a trial-and-error process, so I don't have tutorial photos, but here's a quick explanation of what I did. I painted leftover baseboard trim white, then used my miter saw to cut pieces at 45 degree angles. I used wood glue to glue the frame piece to the edge of the MDF and to one another at the corners, then touched up the corners with more paint once the glue had dried. I need to drive some v-nails into each corner of the frame to help it stay secure, and maybe even brace the back with something, so this piece hasn't been hung permanently yet. Plus I haven't decided exactly where it's going to go. I like how it looks hung on the wall, but I think it would look even better standing on a mantel or side table.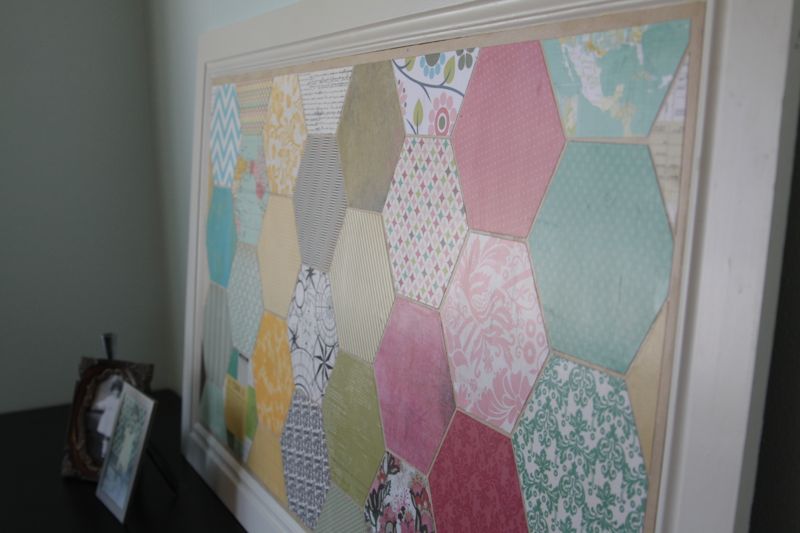 Wherever it ends up, I know I'll be enjoying the scrapbooking paper much more now than I did when it was sitting in a box under my desk!