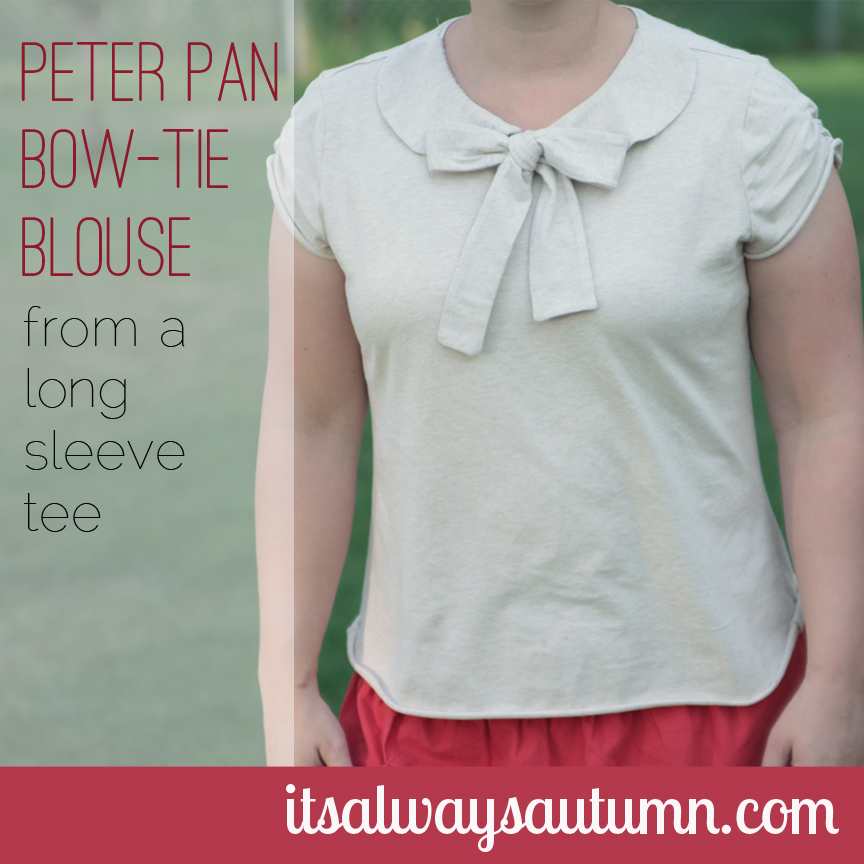 I've been trying to branch out from tee shirts in my summer wardrobe a bit. I've made a few blouses, and while I really like some of them, nothing beats the comfort of a stretchy tee, especially when you'll be wrestling kids back into the shopping cart or pushing a stroller around the block. So I decided to get the best of both worlds with this peter pan bow-tie blouse, made from a thrifted long sleeve tee.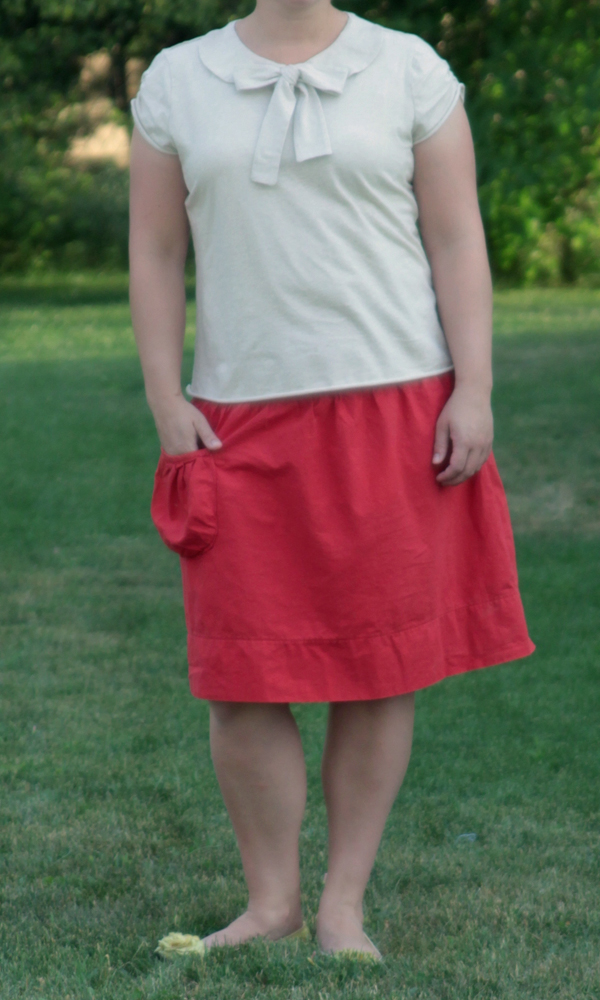 For three dollars, I'm pretty happy with my new shirt. I chopped off the sleeves and used them to make both a peter pan collar and a cute bow, then added ruching using elastic thread to pick up the newly shortened sleeves. Keep reading for a more detailed explanation of the process.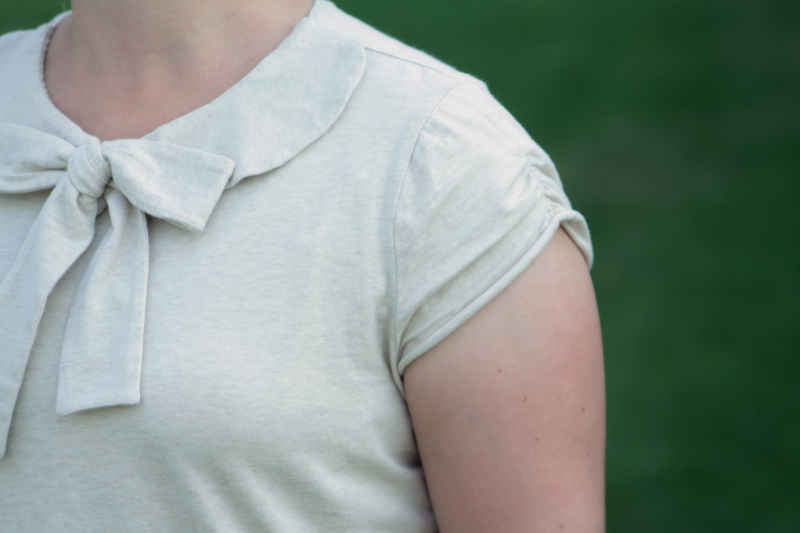 So my cute new shirt started life as a plain old long sleeve tee. I liked the fit, but it was a little too boring.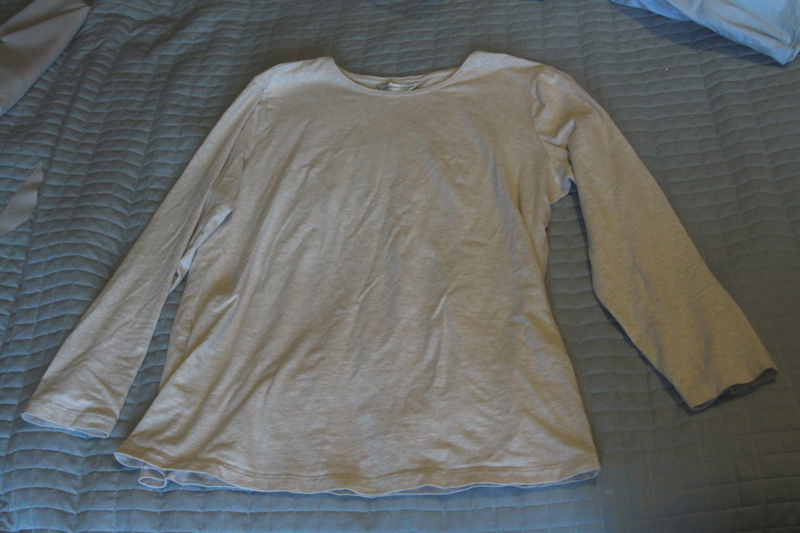 I started by cutting off the sleeves as seen here (I actually went back and trimmed another inch off later). I also cut off the bottom hem of the shirt because I wanted a bouncier, blousier feel. This type of t-shirt knit doesn't fray and rolls up on itself a little, eliminating the need for a hem at the bottom or on the sleeves.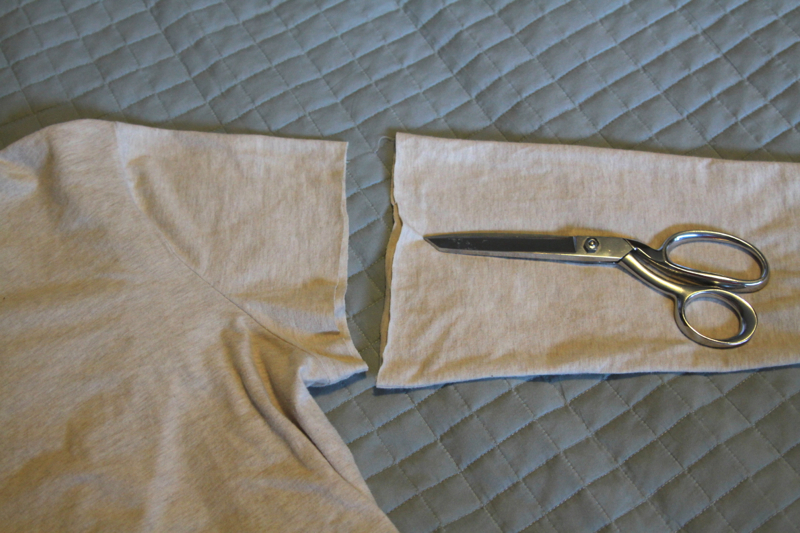 Next I started figuring out what I wanted the final shirt to look like. Normally I just start cutting and see where I end up, but since I had a pretty limited amount of fabric to work with I actually cut a pattern out of paper for the collar so I could get an idea of how it would look before I started cutting. I used the hem I cut off as a quick bow so I could see the full effect.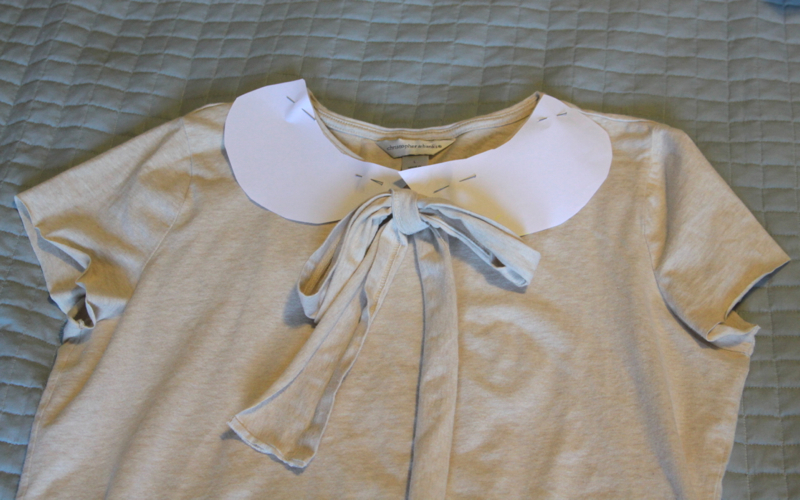 When I had the collar to the shape I wanted, I cut out four individual collar pieces from one of the sleeves. If I had had more fabric, I would have extended the collar all along the back of the shirt, but since I was making do I only cut a front collar. I sewed two collar pieces right sides together, leaving a small opening at one end, then turned them each right side out and pressed. (Left collar in the photo below is completed, right collar has been sewn together but still needs turning.)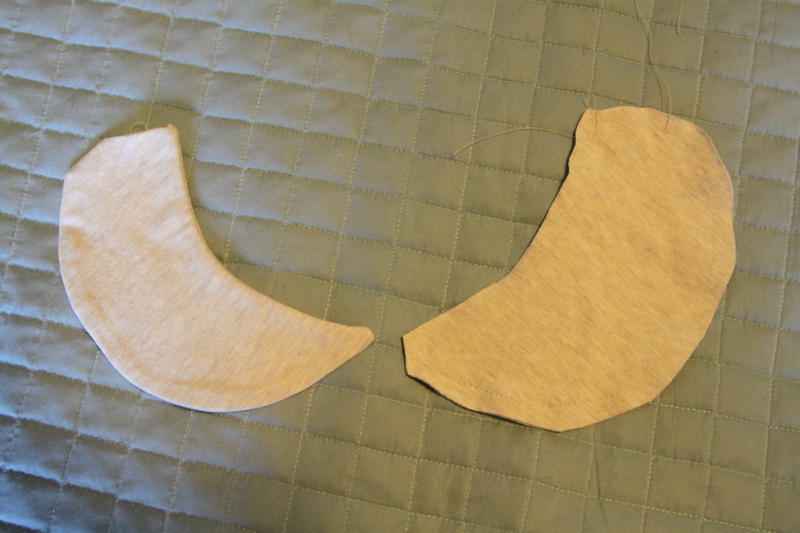 After the collar was complete, I hand sewed it to the neckline of my shirt so none of the stitching would sew. I opened up the other sleeve and cut it into four long even strips, which I then sewed together into two very long strips. Those got placed right sides together and sewn along all the raw edges, leaving a small opening so I could turn it inside out. After pressing, I tied the single long strip into a bow. The bow is attached to the shirt with a safety pin so I can take it off before washing (so it won't get all wonky).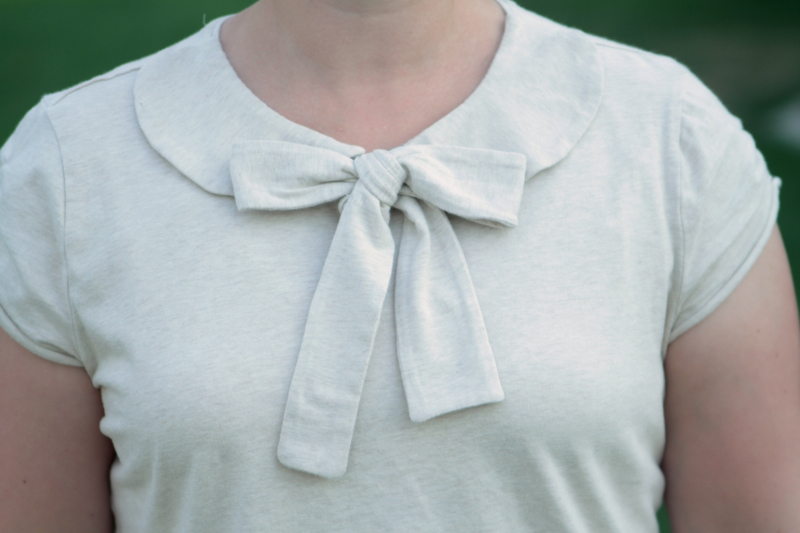 The last step was to add a little ruching (or gathering) up each sleeve. I wound a bobbin with elastic thread (this is shirring – it's super easy and you can google for great tutorials) and then sewed a long, narrow V up each sleeve, as seen below. If you don't have elastic thread, you can get the same result using a small piece of narrow elastic – click here for instructions.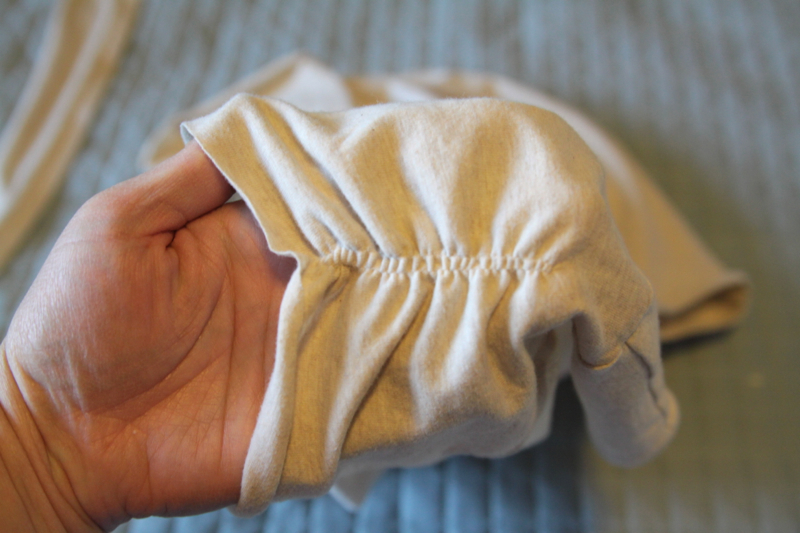 And that was it!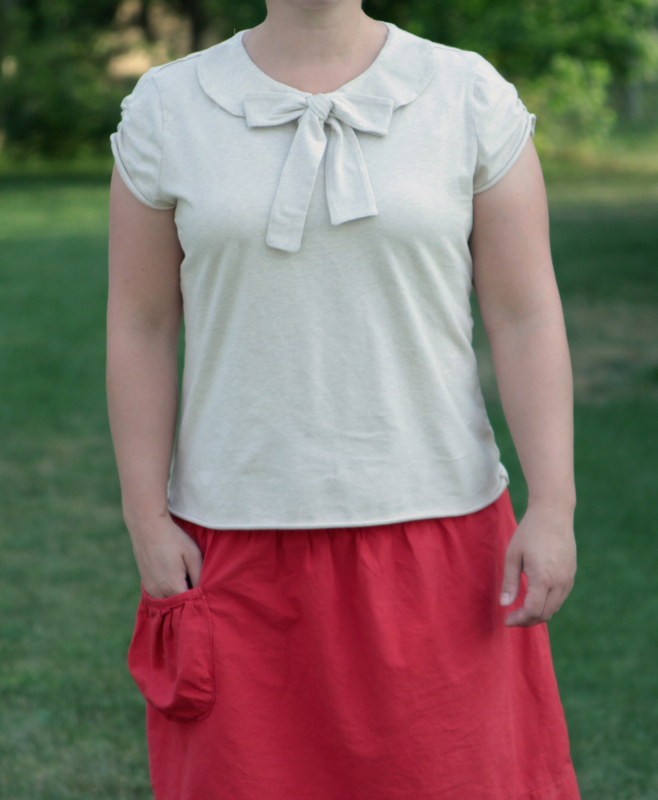 A new shirt with the look of a blouse and the ease of a tee.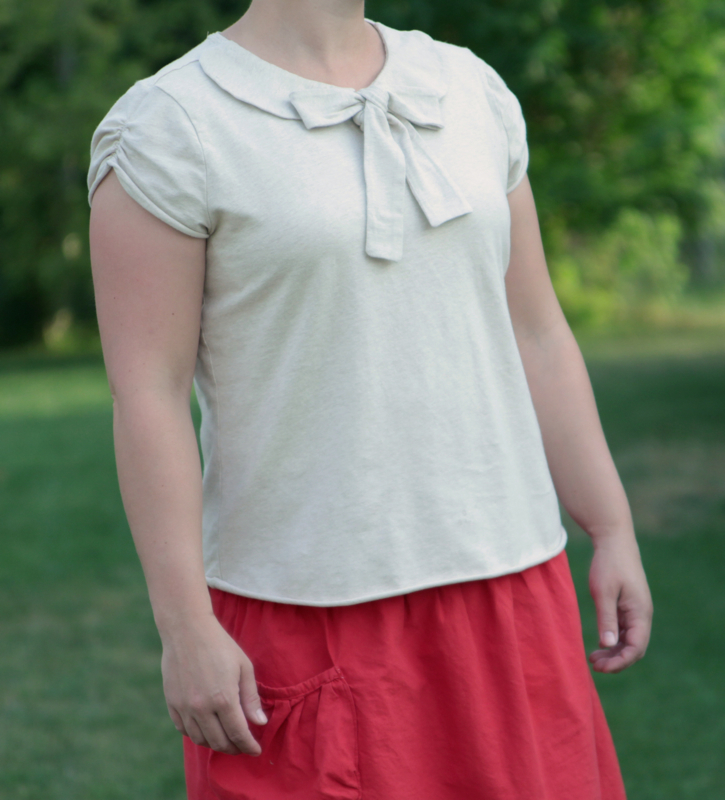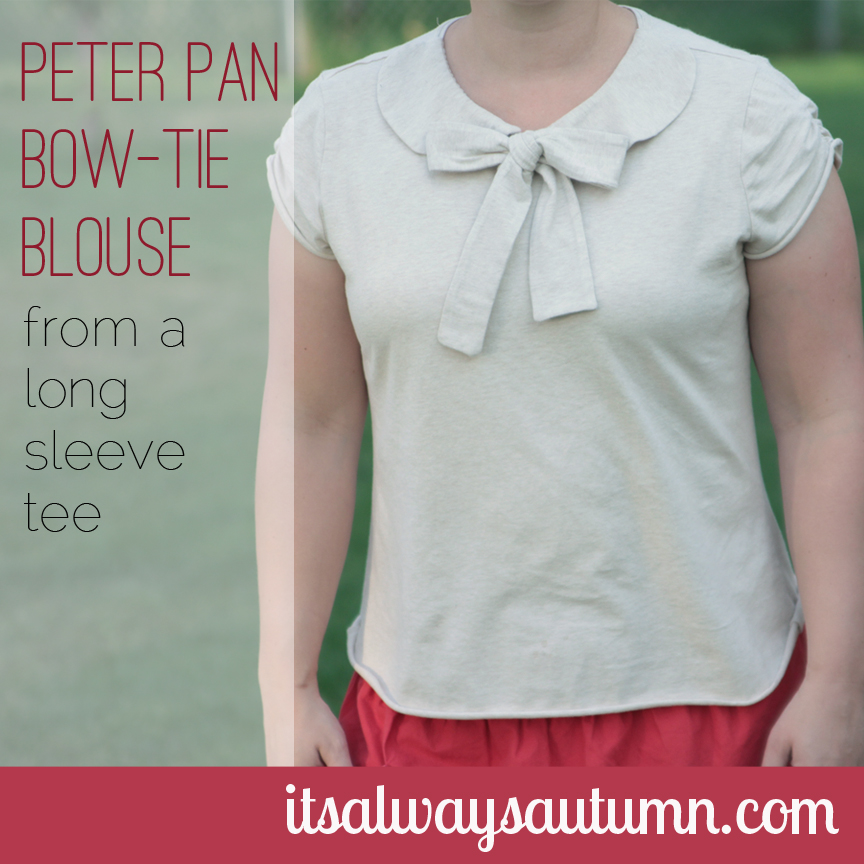 linked up at: