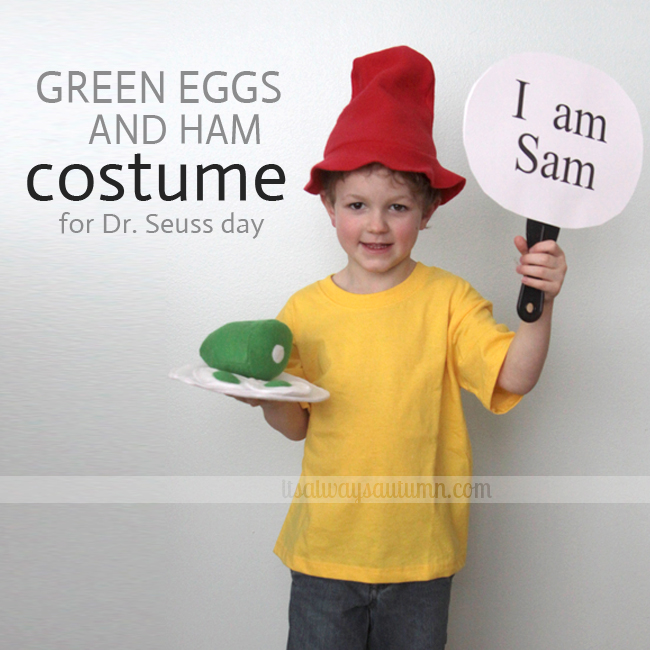 In case you didn't know, Friday March 1st is Read Across America Day – it usually falls on March 2nd to coincide with Dr. Seuss' birthday, and is often celebrated as Dr. Seuss Day at elementary schools. In years past my kids have been asked to dress up for Dr. Seuss day, and that request was not met with much excitement from yours truly. There's nothing like getting told at bedtime that your child needs a costume (or cupcakes) by 9 am the next mornings. Grrrr.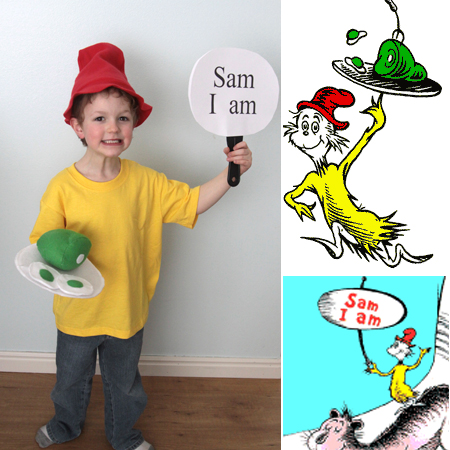 This year, however, I was on the ball (read: my child's teacher was on the ball and personally informed me that Dr. Suess day was coming up a few weeks in advance). With a little time to think about it, I ended up having a blast making my 4-yr-old a "Sam-I-am" costume from the book Green Eggs and Ham. Total cost for shirt, hat, and green eggs&ham: $5. Total time invested: 1 hr. Totally worth it for quite how delighted my little guy is with his outfit. If you have a little one who will be celebrating Dr. Suess' birthday next week, keep reading for instructions on how to put together this simple costume.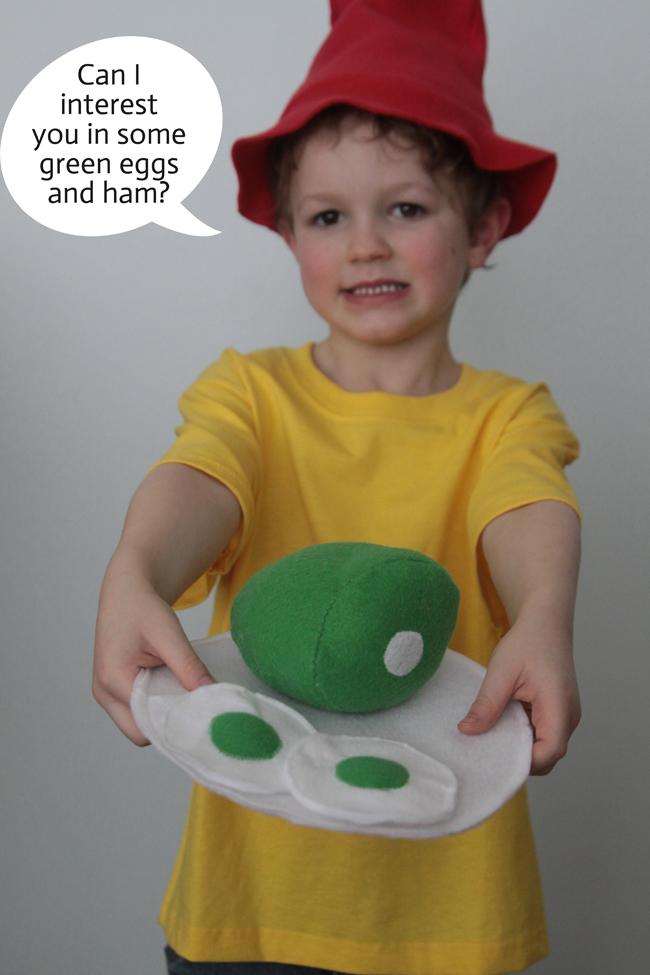 First, you'll need to round up a yellow shirt. I found mine at Joann's while I was getting the other supplies for $2.50. Then just print out an "I am Sam – Sam I am" sign onto cardstock.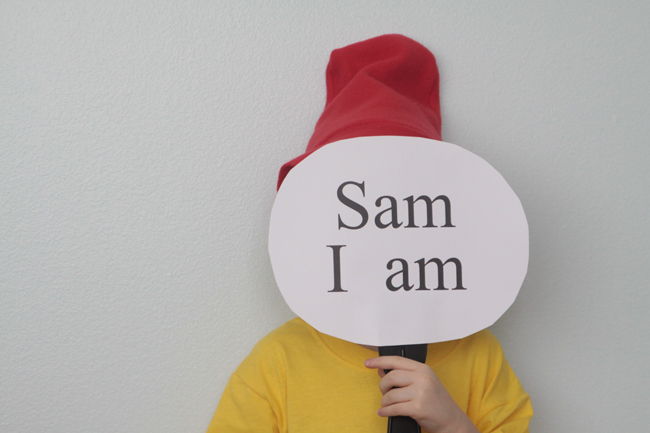 For the floppy hat, you'll need 1/4 yard of red fleece (you'll actually only use about half of it) for a hat that fits a 4-yr-old with an average side head. You might want to go up to 1/3 yard for older kids and start with larger circles in the first step below: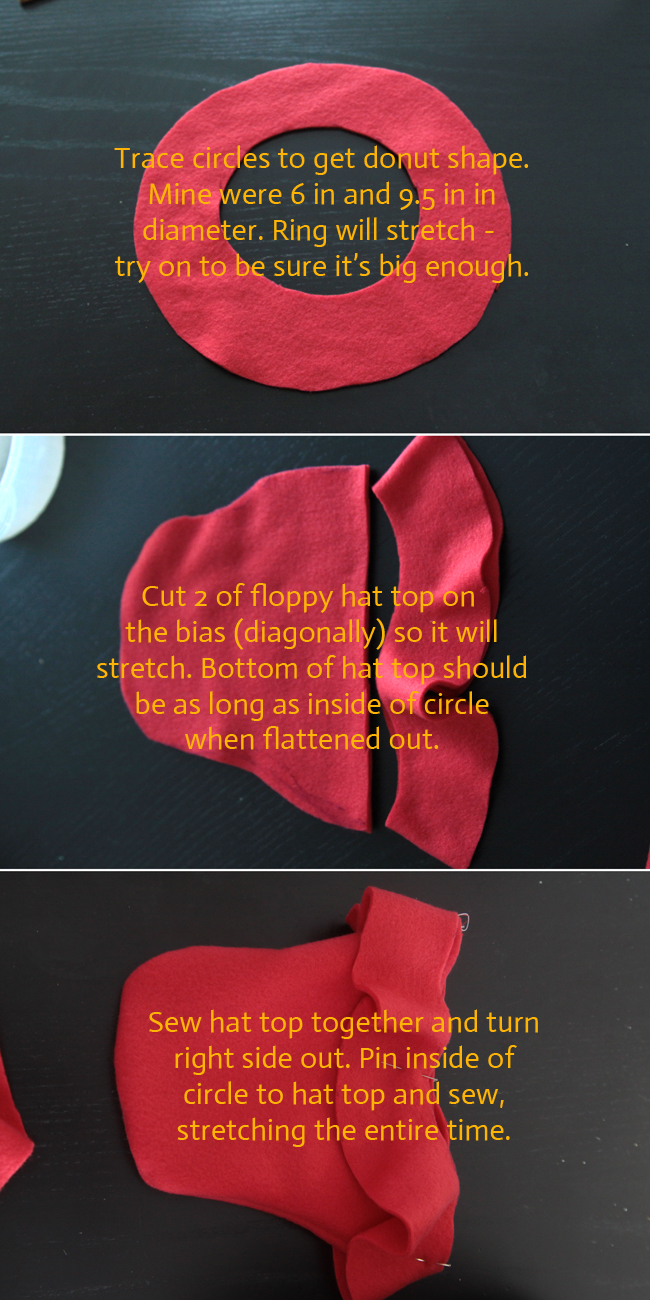 (In step two above look at the top pieces for the hat – there's a straight edge along the bottom of them, right? Well, that was my first try and the hat ended up a little small. So I cut two new hat pieces, this time curving that bottom line out a bit, and it worked great.)
For the green eggs & ham you'll need one 9×12 piece of white craft felt (2 if you want to make a plate as well) and one piece of green.

You can just use a white paper plate, or make a felt plate like I did. I cut two large circles of white felt and then cut a bit smaller circle from a cereal box and sewed the felt together with the cereal box circle in between. I hand stitched the eggs and ham onto the plate so they wouldn't fall off (a safety pin works as well).

I think I made my eggs a smidgeon too big in relation to the ham. Oh well. The food apparently doubles as as mask as well…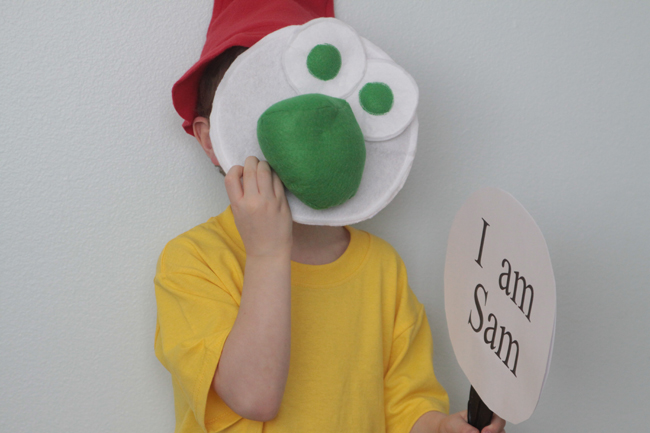 Happy Dr. Seuss day!