One of our favorite holiday traditions growing up was cutting out paper snowflakes. Every year we would set aside one evening to sit around the dinner table and cut designs, making enough snowflakes to tape up on all the windows so that even if it didn't snow it would still look festive. This year I taught my own kids how to cut snowflakes, and they're hooked! Today I'm sharing a video to teach you how to cut your own snowflakes, as well as 6 templates so you can create the designs you see below.

Cutting snowflakes is a great indoor activity for kids – it's quick, inexpensive, and easy enough for kids to do on their own, and the finished snowflakes are beautiful. These are what your snowflakes will look like if you use my printable templates: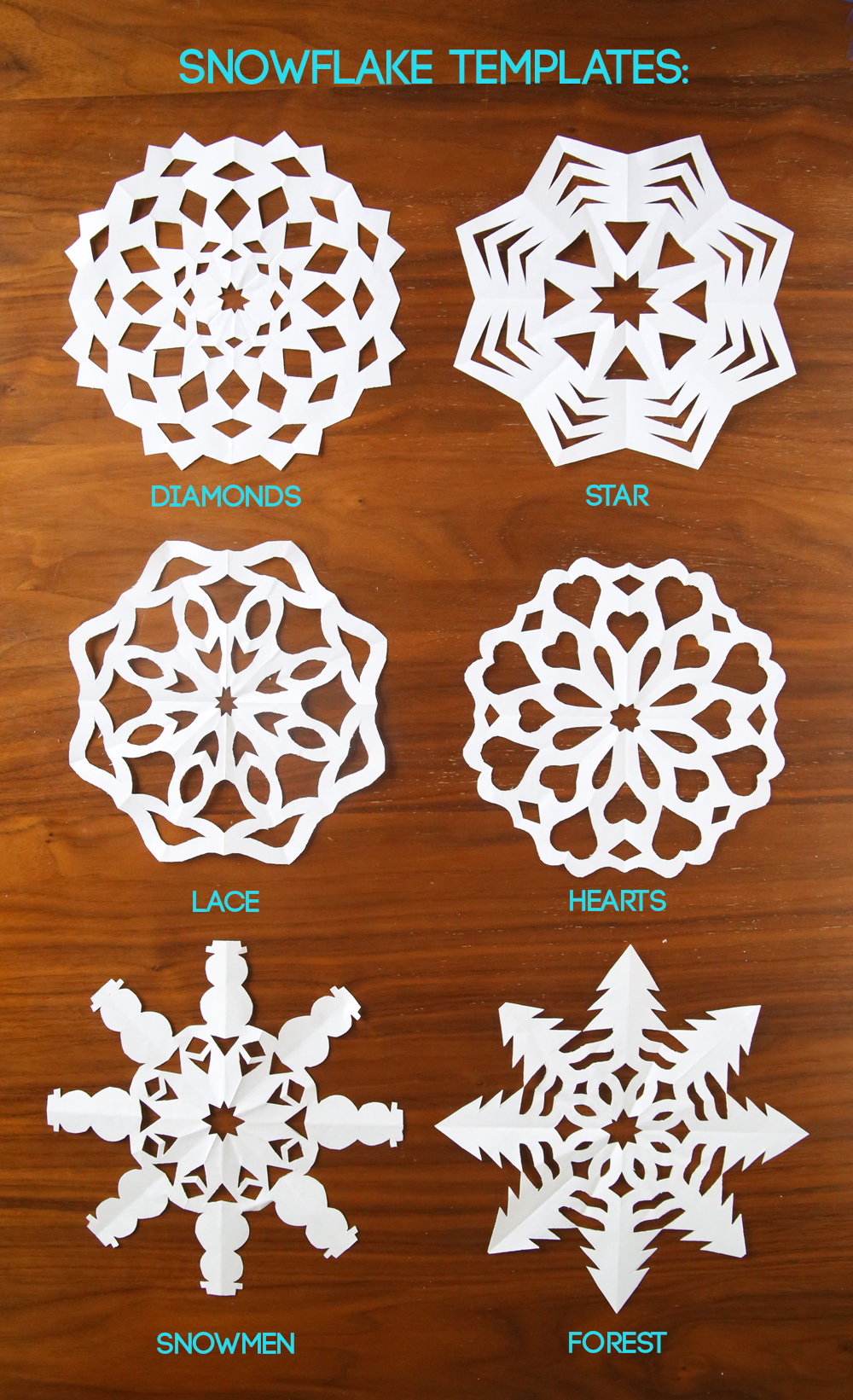 The top two (diamonds and star) are the easiest to cut since they only use straight lines, and most school age kids should be able to handle cutting them on their own once you've taught them how. The middle ones (lace and hearts) are a little harder, while the ones on the bottom (snowmen and forest) will require some help from adults.
However, you don't have to use these templates. Half the fun is folding the paper and cutting out whatever shapes you can think of, then unfolding the paper to see how it turns out! I recommend using tracing paper for cutting out snowflakes, especially for kids. It's much easier to cut through than printer paper. You'll also want a pair of scissors for each person and the templates and a pen (if you'd like to use them).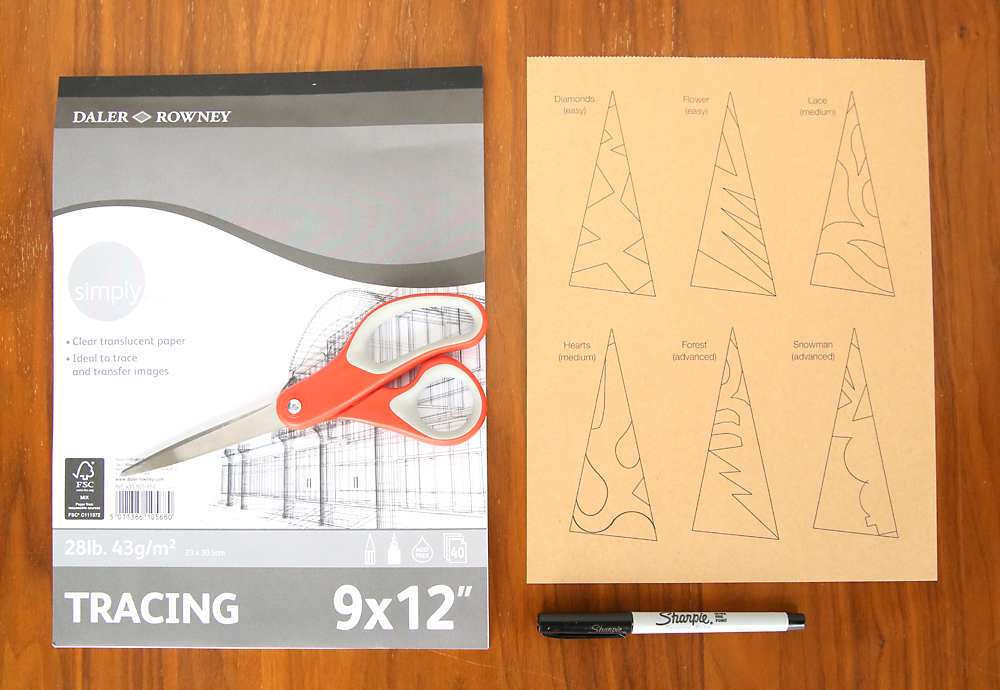 You can download the templates by clicking here. Print them out on cardstock at 100% or full size, and cut out whichever one you'd like to use (cut on all the lines). Then watch this video to learn how to fold the paper and cut snowflakes. The video covers making snowflakes using the templates AND making snowflakes using your own designs.
A few more tips:
It's easier to cut through the folded paper if you open the scissors up wide instead of trying to cut with just the tips of the scissors.
You can cut all the way across the folded paper twice: once at the pointed end, and once at the other end. All your other cuts should start and end on the same side (if you cut all the way through anywhere else you'll end up with a tiny snowflake!).
Iron the snowflakes flat using medium heat, then hang them from the ceiling with thread or tape them on the walls or windows.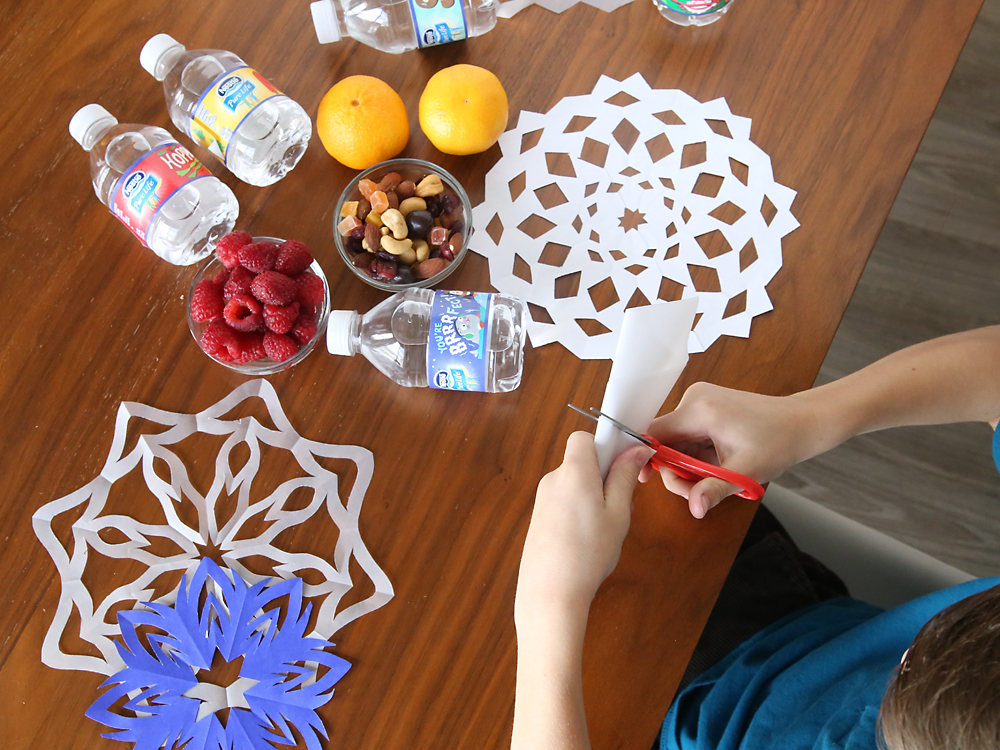 My 8-year-old son and I spent a couple hours after school yesterday making a flurry of snowflakes. Since I knew he would be hungry for an after school snack, I set out some fruit, nuts, and bottled water. Because I know our whole family will be eating a little more sugar than usual during the upcoming holidays, I'm trying to cut down on the sugar they get from drinks by offering water instead.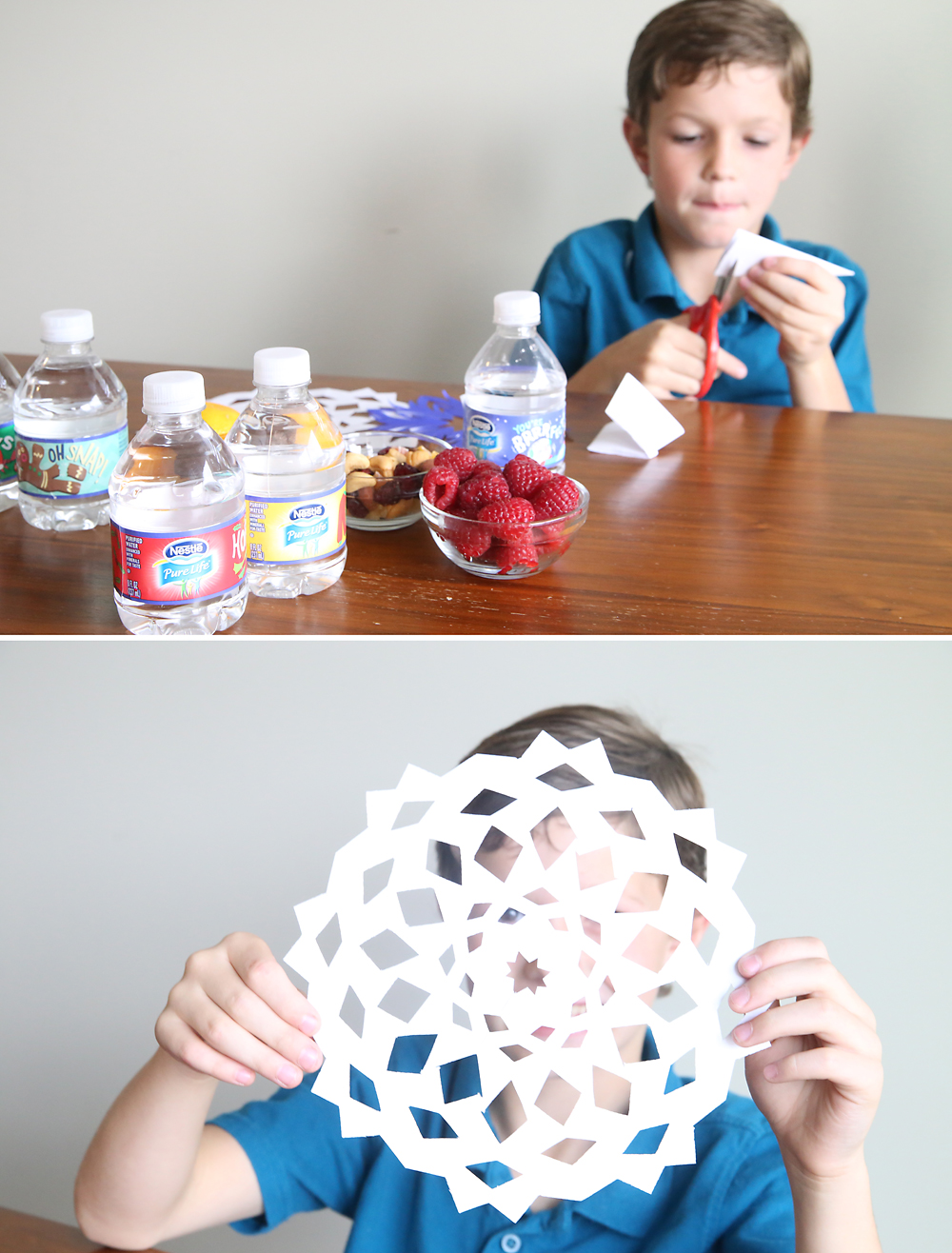 I was surprised to learn that beverages account for 47% of added sugars in the US American Diet, and replacing a single 12-ounce, 140 calorie sugar sweetened beverage with water each day for a year can cut more than 50,000 calories from your child's diet. Additionally, kids who drink 4 or more glasses of water a day are more likely to frequently exhibit healthy habits like eating fruits and vegetables at mealtimes without reminders and requesting healthy food and beverage options for school lunches.
To make drinking water more appealing to kids, Nestlé® Pure Life® has introduced the Nestlé® Pure Life® Limited Edition "Share-A-Smile™" Winter Edition 8 oz bottles, which make it fun to stay hydrated during this busy time of year.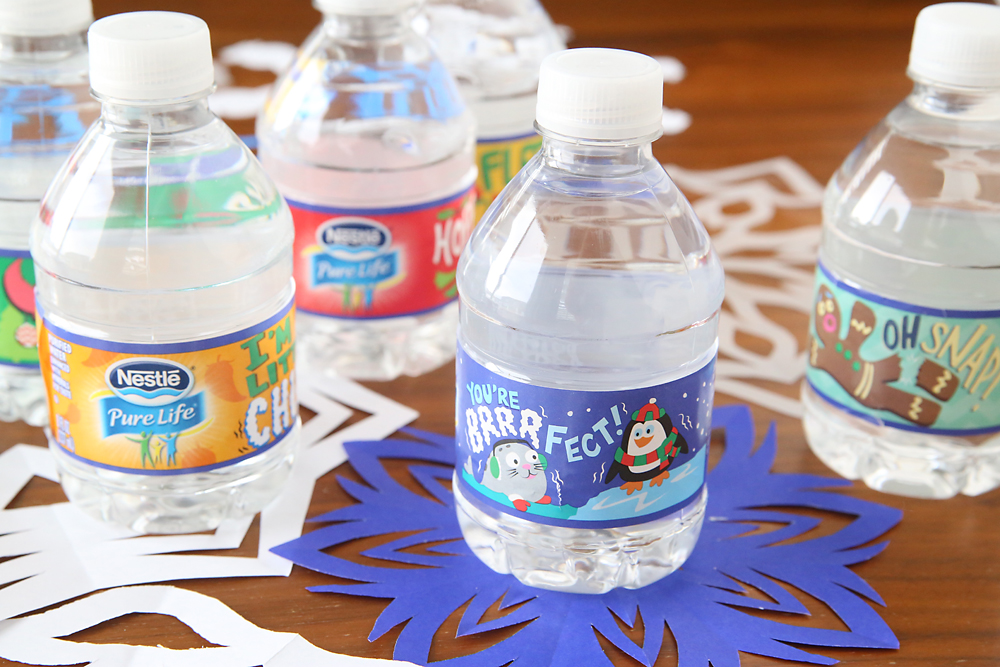 The bottles are available in 8 different holiday-inspired designs. My kids loved the pictures and puns on each bottle. The Nestlé® Pure Life® Limited Edition "Share-A-Smile™" Winter Edition bottles are conveniently kid-sized (8 oz), making them a perfect alternative to sugary drinks at a holiday party or at home.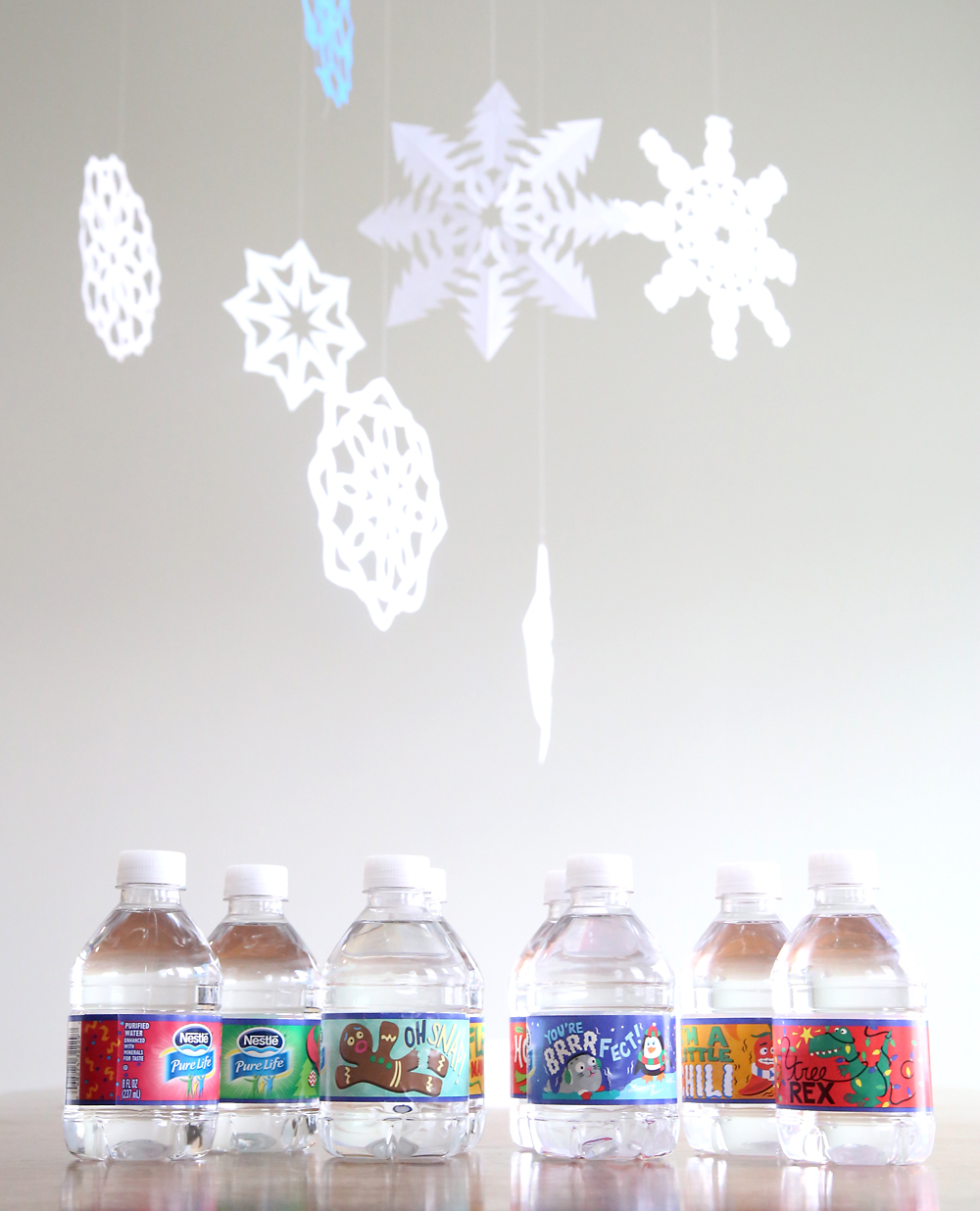 Show us how you use celebrate the winter season and hydrate along the way with the Nestlé® Pure Life® limited edition "Share-A-Smile™" Winter Bottles with the hashtags #HolidayHowTo and #NestleWinterWater and by tagging @nestlepurelifeusa. And to learn more about NESTLÉ® PURE LIFE® "Share-A-Smile™" Winter Edition 8oz bottles at a store near you, visit https://www.nestle-purelife.us/products/where-to-buy.

This is a sponsored conversation written by me on behalf of Nestlé® Pure Life®. The opinions and text are all mine.