I don't know why, but there's not much cuter than a little girl in a special holiday outfit, right? Since we don't attend many (any) fancy holiday get-togethers I decided to keep my daughter's holiday outfit comfy and casual, with a few special touches. The skirt and hat are made from a thrifted argyle sweater vest, while the top is a store-bought tee decorated with fabric glitter care of Tulip Holiday Sparkle and Shine. I love that bright red deer! It says holidays without being so Christmas-y that she won't be able to wear it after the holidays.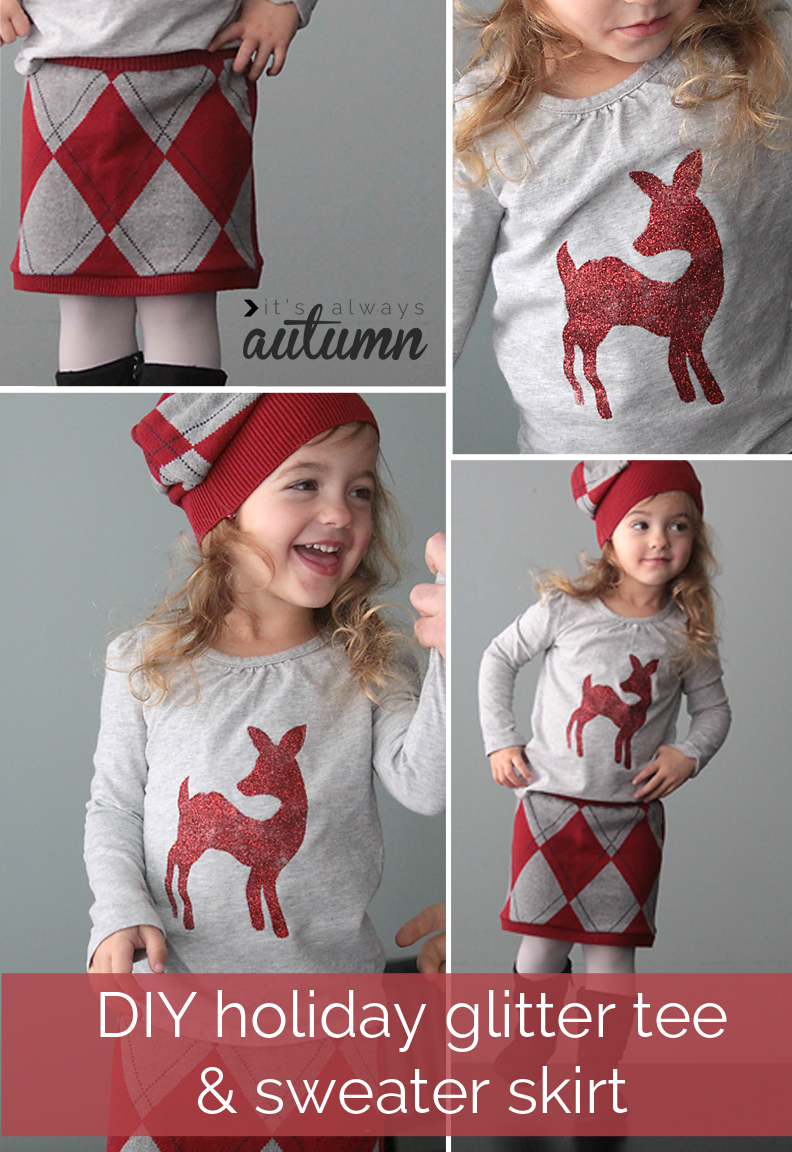 Would you like to make your own sweater skirt and glitter shirt? Keep reading!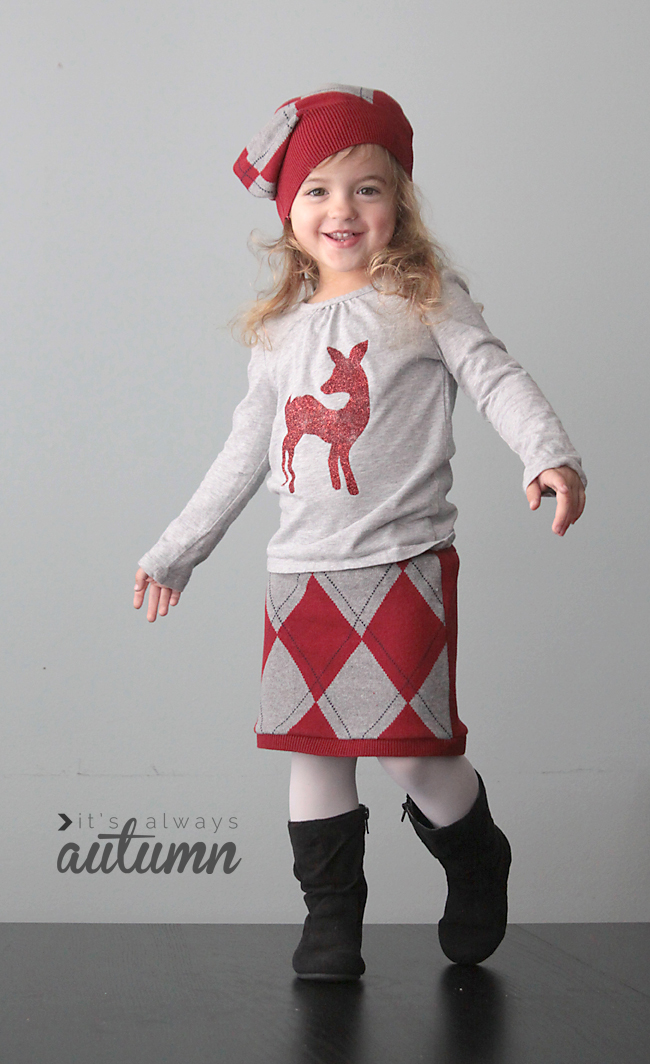 ***This post is sponsored by I Love to Create and Blueprint Social, but all opinions are my own.***
To create your own holiday tee, you'll need Tulip Fabric Glitter and Glitter Bond. You can use stencils, tape, or freezer paper to create your design. I found a deer outline online that I liked, sized it in Photoshop Elements, and printed it out. Then I used an exacto knife to cut the design from freezer paper, making sure the shiny side of the freezer paper faced down.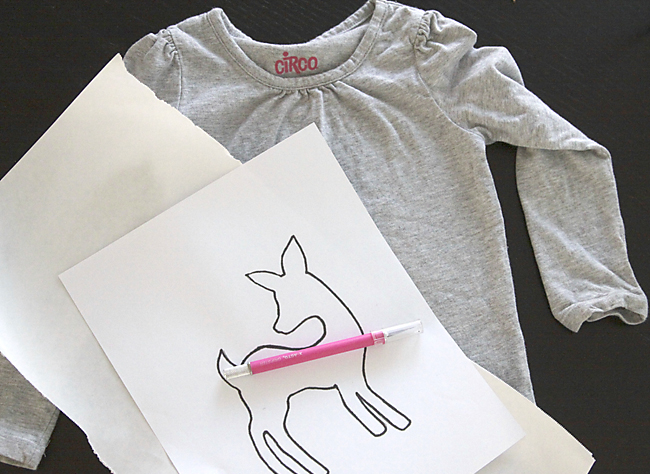 Then you can center the freezer paper stencil on your shirt and iron across it, which temporarily adheres to freezer paper to your shirt, making a stencil. Grab your fabric glitter and glitter bond and get them ready – go ahead and open up the glitter and take the lid off so it will be ready to dump!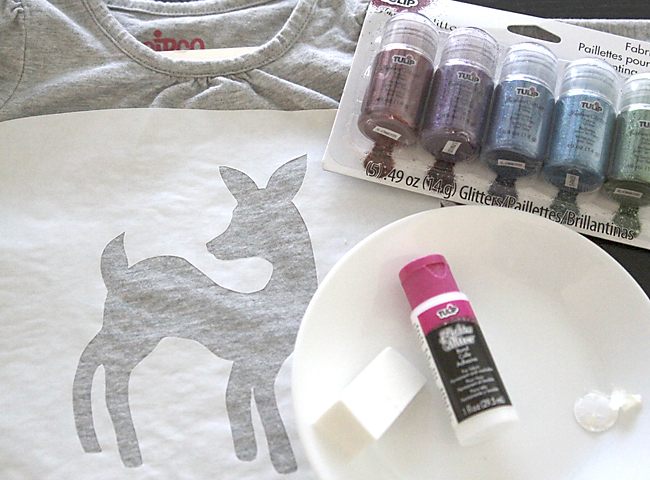 Use the dauber that comes with the glitter bond to spread an even coat of bond across your design – the bond looks a lot like craft glue. I found that you need a pretty good coat of glitter bond, and that it's important to get the glitter on it quickly, so if your design is large you'll want to work in sections. It's very important that every single spot on your design is covered with a nice coat of bond or you'll end up with a patchy design. Once the bond is down, go ahead and dump lots of glitter on, making sure you've completely covered every part of your design.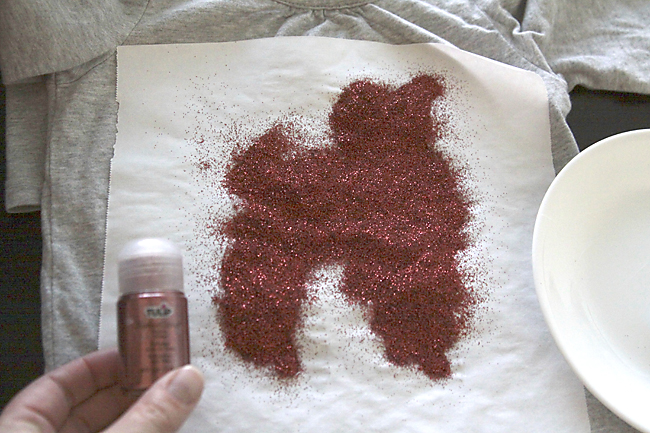 After just a minute or two you can pour the excess glitter onto a sheet of paper and slowly pull off the freezer paper, revealing your fab design. Fold the paper with the extra glitter in half slightly so you can pour all that glitter back into the container to use next time.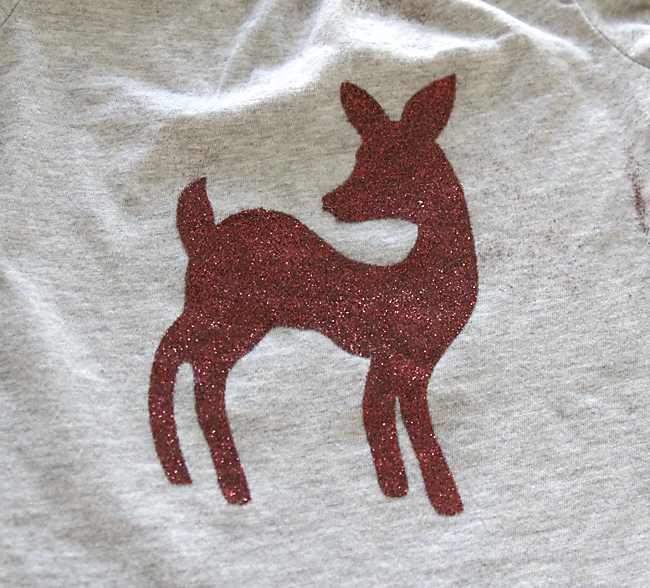 The bond dries within a few hours, but I found that the glitter could still rub off a couple hours later – my daughter wanted to wear her shirt that same day and some of the glitter came off when she rubbed up against the couch. I did another test run and let the glitter dry a full 24 hours before touching it and it stayed on MUCH better – I scratched at the glitter to see if I could get any off and only pulled off one or two tiny pieces. I was able to touch up the original shirt by adding more glitter bond with a paintbrush and sprinkling on more glitter. And the glitter stays on through the wash! (You do need to turn the garment inside out before washing).
I'm not sure how the glitter will hold up to continued wear and washing – I think I'd probably stick to using it on garments that won't get tons of wear and tear. It also makes the fabric slightly stiffer where it's been applied (just like paint does). My daughter loves her shirt and all my boys wanted to add glitter to something, so we used it to glitter-fy some felt Christmas tree ornament. I'm thinking about adding a glittery gold pocket to a grey sweater, or glittering up the toes on a pair of flats. This stuff is fun! Check out the links at the end of the post to learn more.
Here's a quick explanation of how I made the skirt and hat from this thrifted argyle sweater: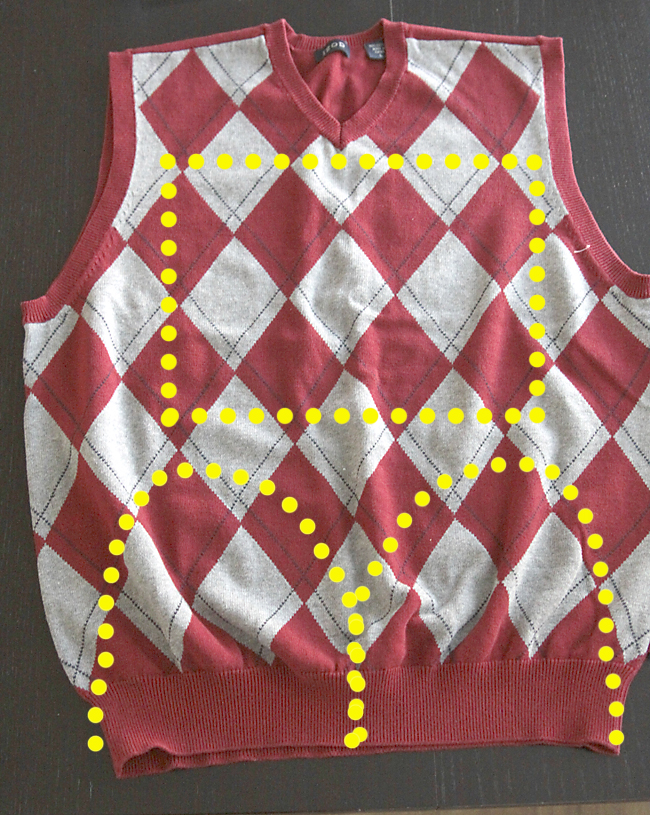 I cut two beanie shapes from the bottom of the sweater front and just sewed them right sides together to form the hat. Then I cut a rectangle from the front and back of the sweater and sewed down each side (RST) to get a skirt shape. I used ribbing cut from one arm hole to hem the skirt, and used the wide ribbing across the bottom of the sweater in the back as a waistband for the skirt. Super comfy, easy, and adorable.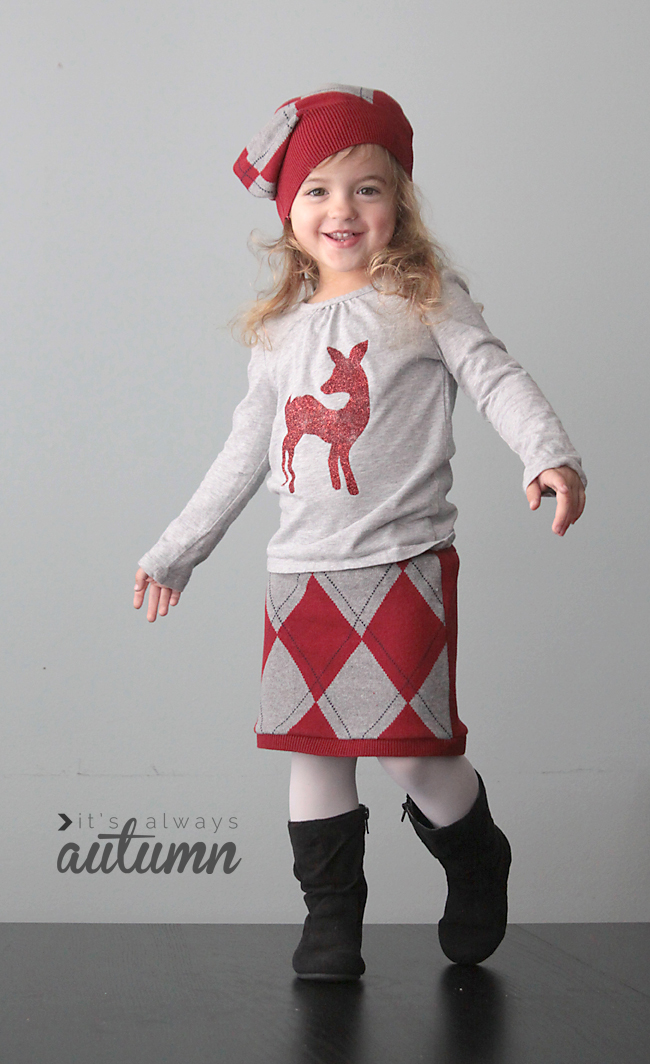 To find your own fabric glitter, as well as plenty of other glitz and glitter products, visit I Love to Create. Also find and follow them on Facebook, twitter, pinterest, and on the I Love to Create blog. There's a great post on the blog right now that shows how to use the fashion glitter to make some adorable glitter Christmas trees – check it out!
Never miss a post: f a c e b o o k | p i n t e r e s t | t w i t t e r | s u b s c r i b e