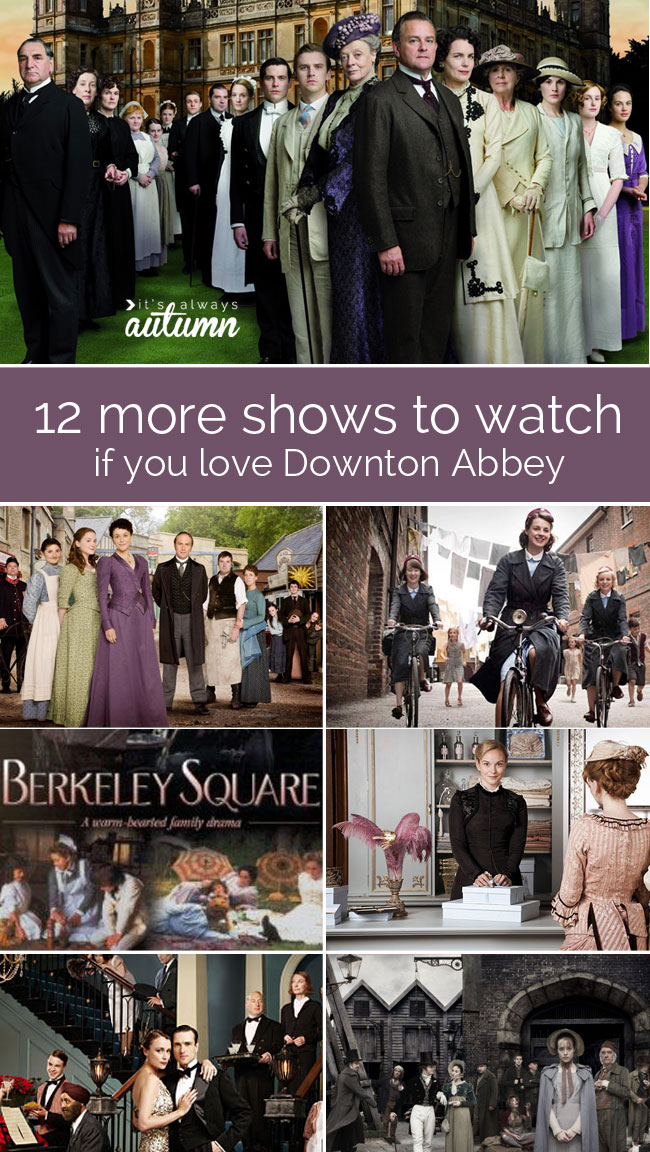 Ahhh! With season 4 of Downton Abbey wrapping up, it's going to be a loooong time before all of us period drama watchers get another Downton fix. If you watch Downton you know how hard it is to wait a whole year for the next installment, and if you don't watch Downton – have you been living under a rock the past four years? Head over to Netflix or Amazon Instant Video and get yourself going 'cuz you're in for a treat. Otherwise, keep reading for 6 more amazing period dramas (movies & television mini-series) you NEED to watch if you love Downton Abbey. (Then click over to this post for 6 more!)
NOTE: the links in this post are Amazon affiliate links if you'd to purchase the movies. However, check first to see if you can find them for free on Netflix or Amazon instant video (with Prime membership).
Call the Midwife
This gem from the geniuses at BBC chronicles the experiences of Jenny, a young nurse in London's East End in the 1950's. She goes to work (and live) at Nonnatus House, a convent where the nuns and nurses work together as midwives to deliver the babies born in the community. In a time when the lack of birth control meant large families for everyone and a place of wide-spread poverty, the midwives were busy day and night doing their best to support the community. Based on a true story, this series is an INCREDIBLE look at a time that feels much further away than just 60 years. It's fascinating and touching, and you're going to need your hanky. There are three seasons available so far, and at least some episodes are available on Netflix.
Lark Rise to Candleford
Set in the 1880's, this television series introduces us to the inhabitants of the poor hamlet of Lark Rise and more prosperous town of Candleford. The main character is Laura, a Lark Rise girl who's on her way up in the world as the newest employee in Candleford's post office. (The series is actually based on memoirs written by Laura's character.) The show is poetic and picturesque, heartfelt with hints of the grinding poverty so many of the people lived through. I especially appreciate the interactions between Laura's mother and father, who are obviously very much in love but still struggle with the daily business of marriage and raising a family during hard times. Lark Rise to Candleford follows Laura through her "coming of age" years, including her first experiences with love and loss, and boasts a host of engaging supporting characters. The best part? There are FOUR full seasons – so plenty of hours of watch time here.
The Paradise
This is another recent offering from Masterpiece Theater (season 1 aired a few months ago, season 2 will be coming fall 2014). It's based on a novel by Emile Zola about a country girl named Denise who comes to London and ends up landing a job in the Londond's new department store – The Paradise. Denise is the kind of character we all want to love – kind and caring, down to earth, and smart as a whip. Then there are the other characters – her stuffy supervisor who doesn't appreciate being upstaged, the handsome (and somewhat mysterious) owner of the Paradise, the high society heiress who's trying to snare him, and even a sinister one-armed man. Great dialogue, some romance, and a fun peek into the history of the modern department store make this a miniseries not to be missed. (Storyline sounding familiar but you're sure you haven't seen this one yet? It's surprisingly similar in a few plot lines to Mr. Selfridge, another recent Masterpiece Theater miniseries. I far prefer The Paradise, however.)
Little Dorrit
This Dickens adaptation introduces us to Amy Dorrit, a girl born in Marshelsea, a debtor's prison where her father has lived for years due to unpaid debts. As a young woman she gets a chance to escape the prison during the day by working as a seamstress for a wealthy woman whose very eligible bachelor son has just returned from years at sea (anyone else see where this is going?). However, as with all Dickens' stories there are plenty of twists and turns and up and downs before all is said and done. This is a simply fantastic adaptation with wonderful acting, gorgeous costumes, amazing scenery, etc.
Upstairs Downstairs
Not to be confused with the television show from the 70's, this new spin on the classic story chronicles the two groups of people in one posh London house: both the life of the family upstairs and the life of the servants below stairs. This version opens in 1936, not long before England enters the World War II, and the tenuous political atmosphere combined with family secrets and a parade of difficult relatives keeps things interesting. Two seasons are currently available – season 1 has just 3 episodes, but season 2 has 6.
Berkeley Square
Set at the turn of the century in London, this lesser-known mini-series is a delight. It's about three girls with different backgrounds, each of whom gets a job as a nanny for a different wealthy family living on Berkeley Square. Matty grew up in the tough East End and has worked her way up the domestic ladder, Lydia's fresh off the farm, and Hannah has to leave her own child with another caretaker in order to earn money to survive. 10 one hour episodes chronicle their friendship, struggles, and romantic interests, and you'll want to watch the entire thing in a weekend. The only problem is there's not much resolution at the end of the series – it almost feels like the writers were planning on another season. But it's well worth watching regardless.
Did I miss any of your favorites? Tell me in the comments so I can compile another list of great tv shows and movies for Downton Abbey lovers! Make sure to click over to this post for 6 more must-watch shows!