With a family Disneyland trip coming up, I've been thinking through all my favorite Disney tips, and I've decided to declare this Disneyland week on the blog. But don't worry, lots of these tips apply to other trips as well. Here's what's coming up:
Monday: What to do on the carride (make a binder full of fun activities using dry erase markers)
Tuesday: The stuff from the dollar store you didn't know you needed for Disney (plus make a cool Disney autograph shirt using a dollar store t-shirt)
Wendesday: Where and what to eat at Disneyland (and my very best money saving tips for food)
Thursday: My best photography tips for Disney
Friday: How to take a slow-shutter motion-blur photo using panning, and a Disney scrapbook layout
Sounds fun, right? Makes you wish you had a trip planned? Or maybe you already do?
So today: things to do in the car (or on the plane!)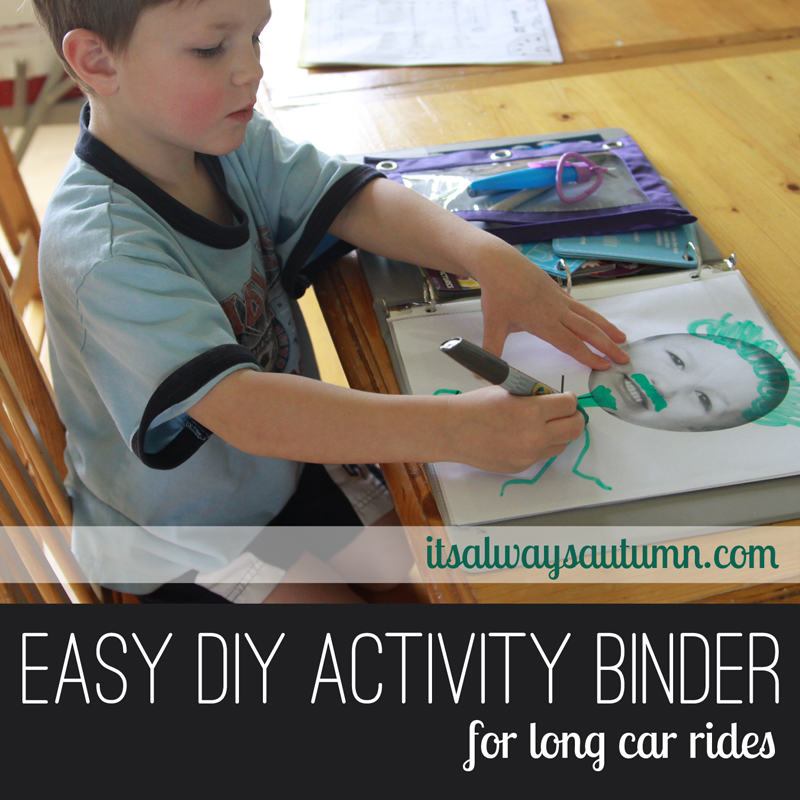 We have kids in three different age stages: baby, preschooler, and grade school kids, and it's definitely the preschooler that needs the most help passing the time in the car, so I made him a little binder full of activity sheets he can work on in the car. Here's what you need:
1 in binder
page protectors
activity sheets
dry erase markers
pencil pouch
fleece scrap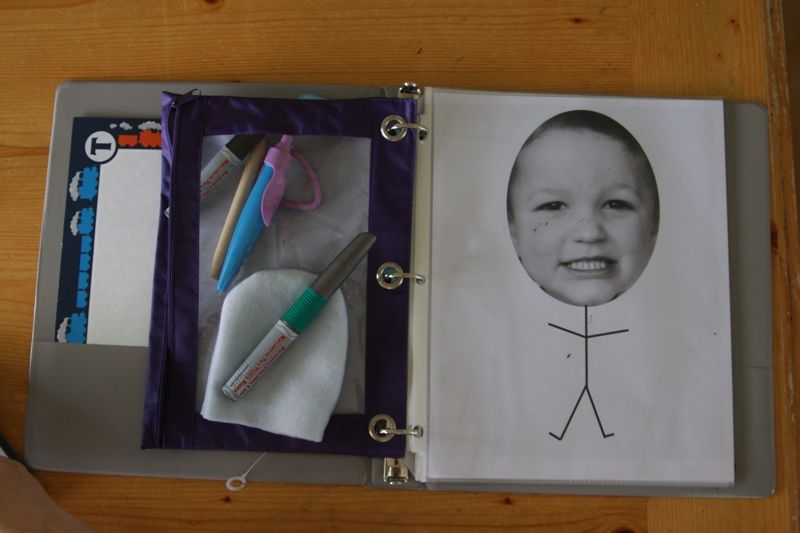 My son is 4 and the best way to keep him happy in the car (besides a movie) is to give him something to color. And erase. And color again, which is why dry erase markers and activity pages slid into plastic page protectors work perfectly! He can work his way through a maze, or finish a dot-to-dot, then erase it with a snazzy fleece mitt I sewed up in less than two minutes, and then do it all again.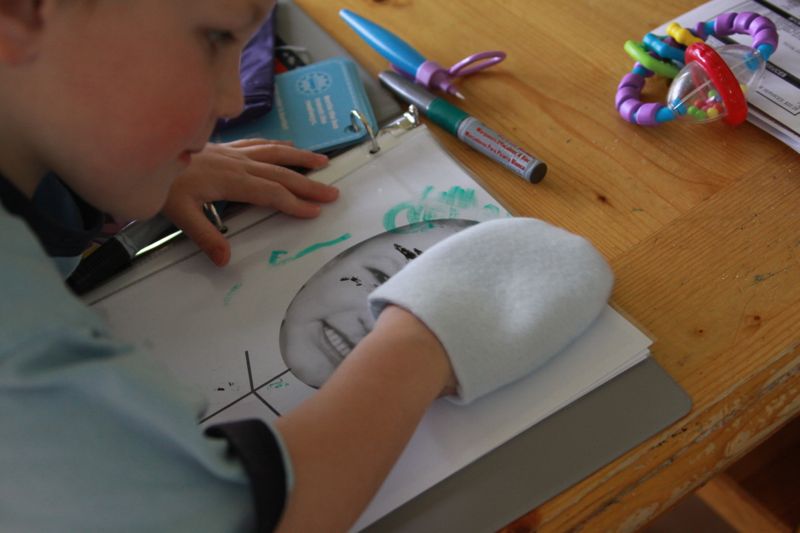 To make the fleece mitt, simply trace a U-shape large enough for your child's hand to fit inside and cut out two. Sew them together along the U, then turn right side out. No hemming necessary (fleece won't fray). If you don't want to pull out your sewing machine, just cut a square of fleece and throw it in the pencil pouch along with the dry erase markers – it will work just as well as the mitt (although it might not look as cute).
Note: Crayola makes dry erase crayons which are pretty cool, but not for the car. When they get warm they get slightly melty and have a tendency to get all over everything! including hands and upholstery.
I created a fun printout of each family member's face atop a tiny stick figure body, and my son has been having a blast adding silly hair or mustaches or a crazy outfit to all his family members. Other pages in the book include dot to dots and mazes: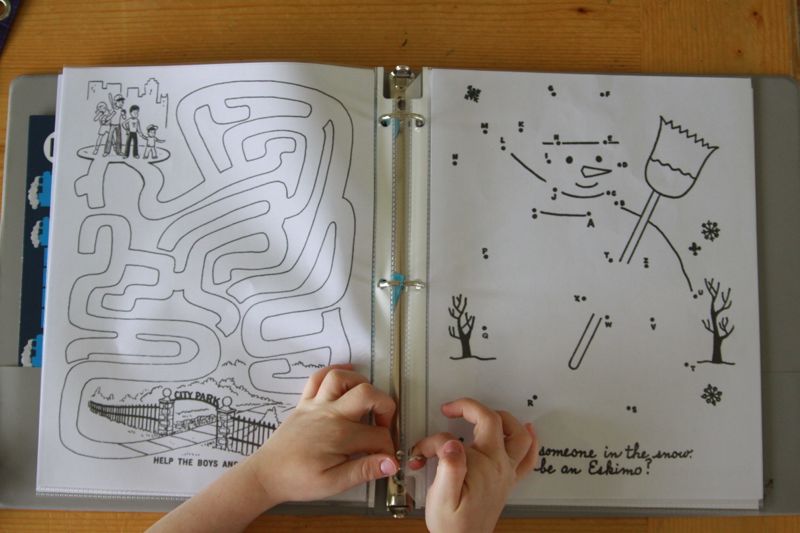 And pictures and a name practice page: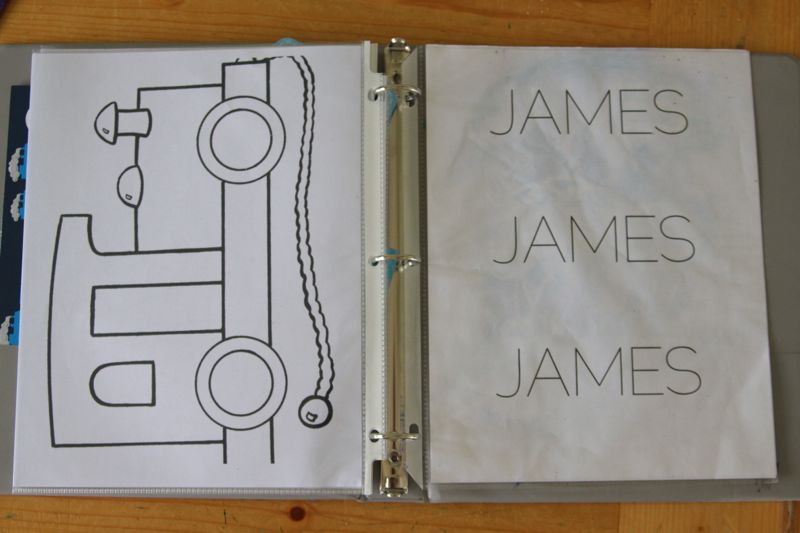 In the front and back pockets, I've tucked a few purchased activity books, like an Invisible Ink Coloring Book. The pages appear blank until your child colors with the pen included, which reveals pictures, patterns, or solves a puzzle. We keep the special pen in the pencil pouch with his markers to be sure it doesn't get lost.
A quick dry erase activity binder can make those long hours with a preschooler in tow go a little more quickly…
One more tip – our older kids have a pretty good time on long carrides, entertaining themselves with coloring books, inticate dot-to-dots (these books are awesome!), handheld video games, movies, etc. Our favorite thing to do is to download an audiobook and burn it to CD to listen to on the ride (check out audible.com). It's nice to be able to listen and draw/write at the same time and it keeps everyone calm. Some of our favorite books are quite long, making them perfect for hours in the car. Some family favorites: the Harry Potter series, the Redwall series by Brian Jacques, Peter and the Starcatchers (and sequels) by Dave Barry and Ridley Pearson, and the Stoneheart Trilogy by Charlie Fletcher.
What are your favorite tips for long car trips?