These super fast little cookies are totally addicting. They're soft, fudgy, rich, and studded with chocolate chips and Reese's pieces (giving them a fun Halloween look). But if Reese's pieces aren't your favorite, you can substitute M&M's (red and green ones look great at Christmas) or mint chips (who doesn't love chocolate and mint?). But the best part is that they mix up in one bowl with a wooden spoon – meaning in the time it normally takes to pull out your stand mixer you can have this dough mixed up and ready to go. They're perfect for whipping up at the last minute – it's easy to keep the few simple ingredients on hand at all times – and they taste like they took a whole lot of work.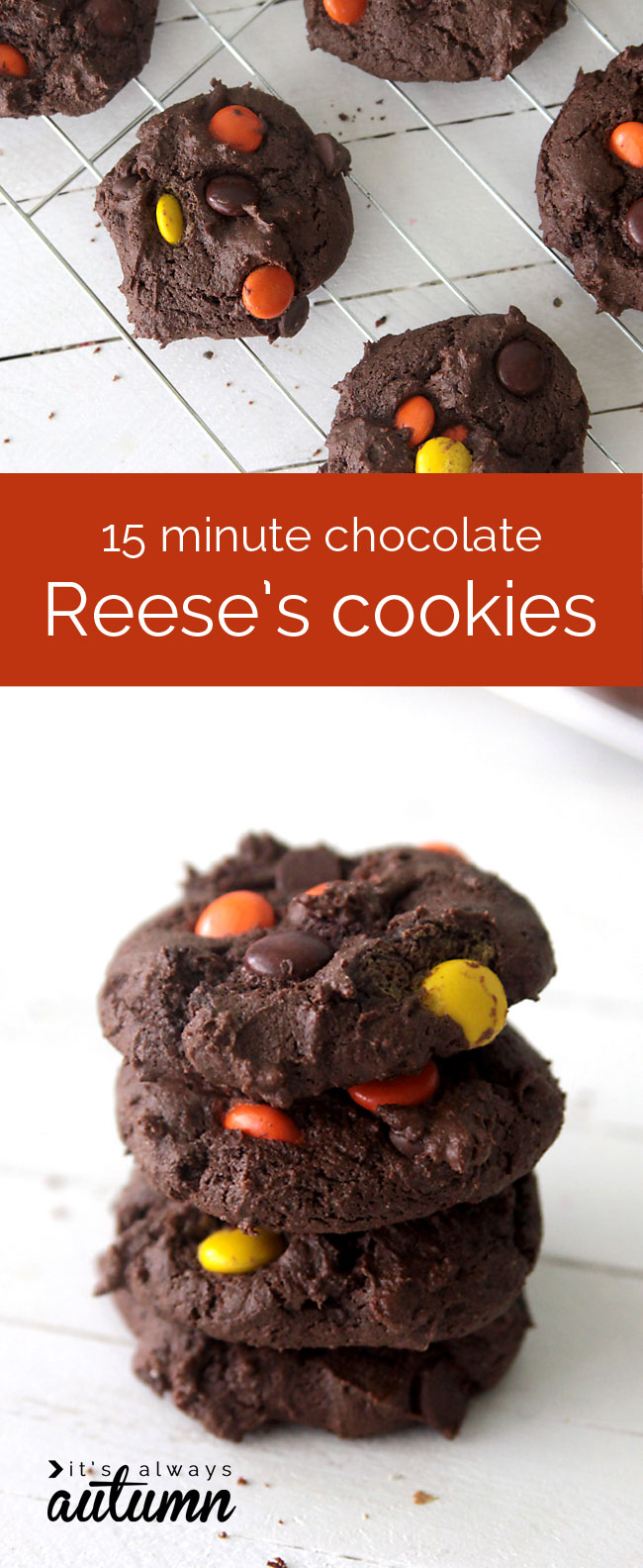 15 Minute Chocolate Reese's Cookies (make about 30 cookies)
1 box devil's food cake mix (I'm telling you, Duncan Hines is the best!)
1/3 C unsweetened (baking) cocoa
1 cube margarine or butter (1/2 C)
2 eggs
1 C semi-sweet chocolate chips
4 oz Reese's Pieces
Preheat oven to 365 degrees. Melt butter or margarine; mix in all other ingredients with a wooden spoon until dough is formed. Drop by rounded tablespoon onto greased cookie sheet. Bake 8-11 minutes. Cool on cookie sheet for a few minutes before removing to cooling tray or paper towels.
See? I told you it was easy. And fast! A few notes:
I have used other brands of cake mixes, but the consistency of the final cookie varies a little and sometimes ends up too cakey, so I try to stick with DH.
The "movie theater" boxes of Reese's Pieces are 4 oz and usually cost $1, so that's what I generally look for, but two or three of the candy-bar sized bags will work as well.
Don't skip the unsweetened cocoa. Ok, you can if you really want to, but the extra cocoa gives these cookies some serious richness which sets them apart from other cake mix cookies.
Be very careful not to overbake these! It can be hard to tell when chocolate cookies are done, so look at the photo below. You'll see that the top of the cookies is puffed and cracked all the way across, but the inside of the cracks still look a little gooey. This is the perfect time to take these cookies out of the oven. Give them a minute or two to cool on the backing sheet – they'll fall a little, which is ok, because that just means they are fudgifying 🙂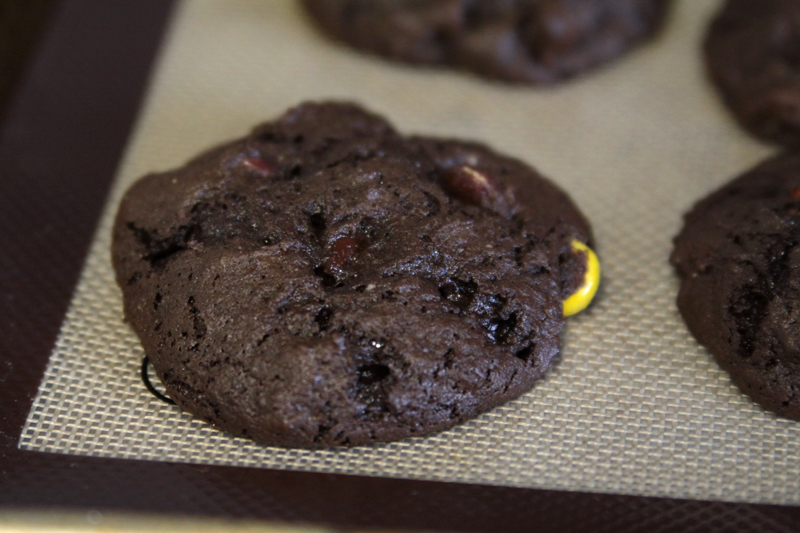 Enjoy!