In today's post: These pumpkin chocolate chip cookies come together in no time and are light, oh-so-soft, and packed with pumpkin flavor.
If you asked me last week if I liked pumpkin cookies, I'd have said kinda. Sure, I'll eat them if they're in front of me (although unfortunately that statement applies to virtually anything that's not vegetables), but I'm certainly not going out of my way to make some. But I gave a new pumpkin chocolate chip cookie recipe a try last week, and let me tell you, these cookies are GOOD! They're packed with pumpkin spice flavor, but also incredibly light and soft. Even better, you can mix them up with a wooden spoon, so there's no need to haul out your stand mixer or wash beaters.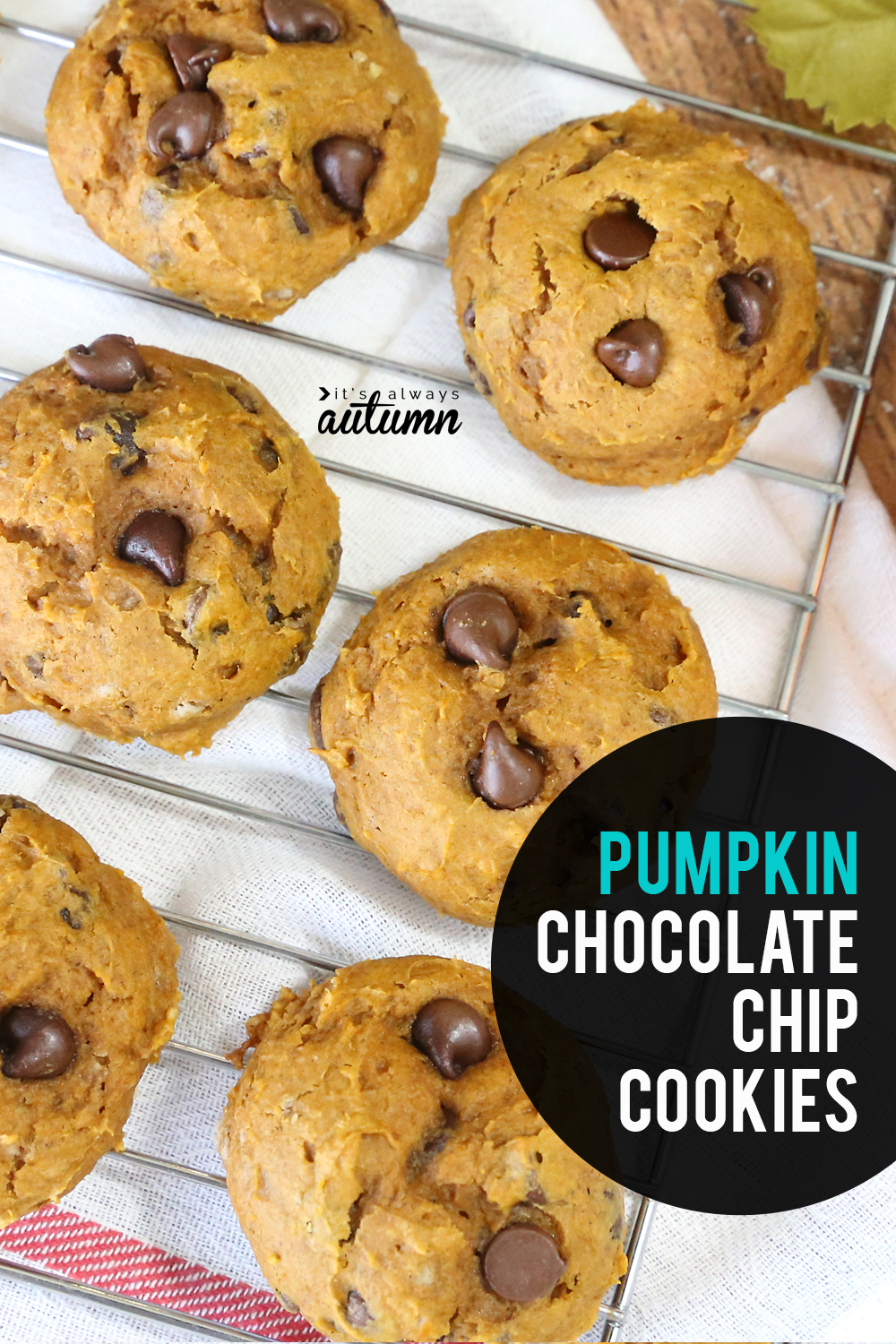 The magic in this 5 ingredient pumpkin chocolate chip cookie recipe starts with a spice cake mix. It gives you all the holiday inspired spices without the work of checking to see whether you still have pumpkin pie spice left over from last fall in your pantry.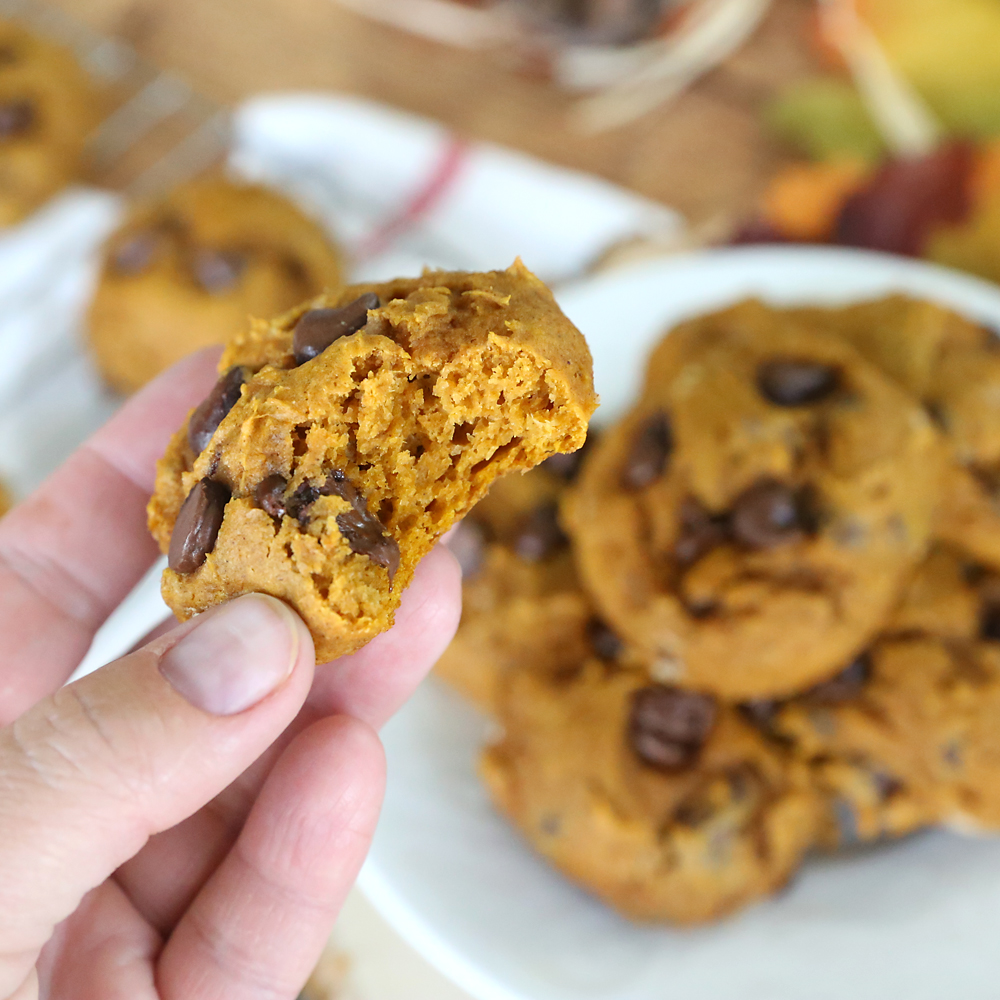 How to make pumpkin chocolate chip cookies
I know some people prefer their recipes completely from scratch, and I fall into that camp in a lot of cases, but when a cake mix is involved I'm ok with it…seriously, there's some witchcraft going on in cake mixes that leads to a whole lot of light, soft yumminess that literally melts in your mouth. (And don't tell me that witchcraft is a direct result of artificial additives because I really don't want to know.)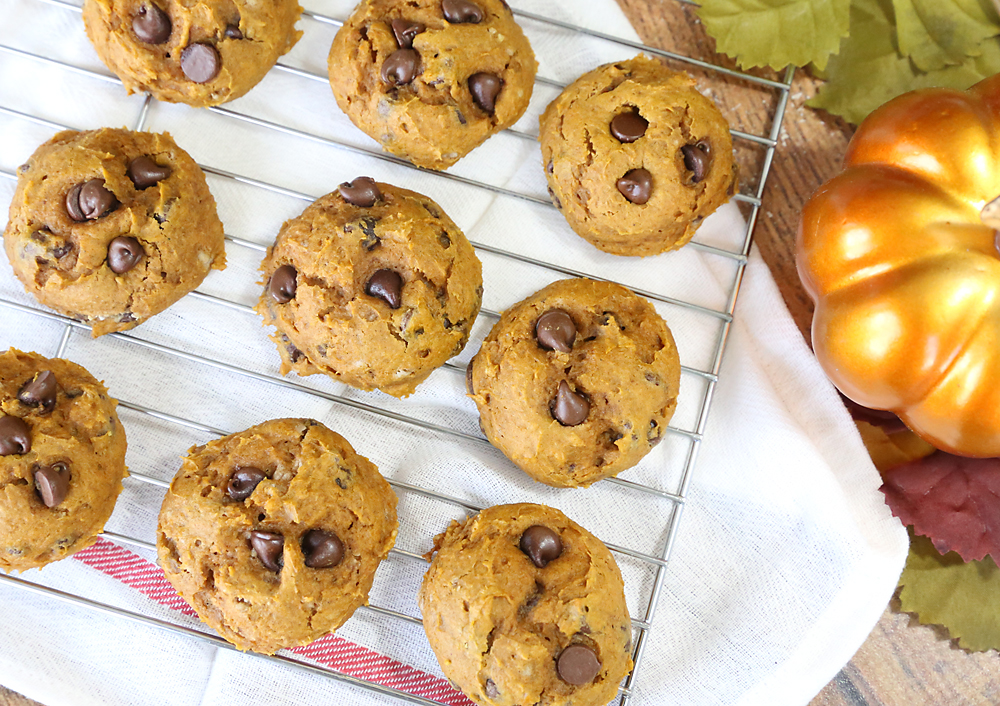 Now, if you're going for stupid easy, you can actually make pumpkin cookies by mixing a spice cake mix with a can of pumpkin and nothing else. You CAN do that, but it doesn't mean you should. Adding just a few more ingredients (butter and an egg) is what makes these cookies light, moist, and generally worth the calories. Good thing swimsuit season is officially nine months away!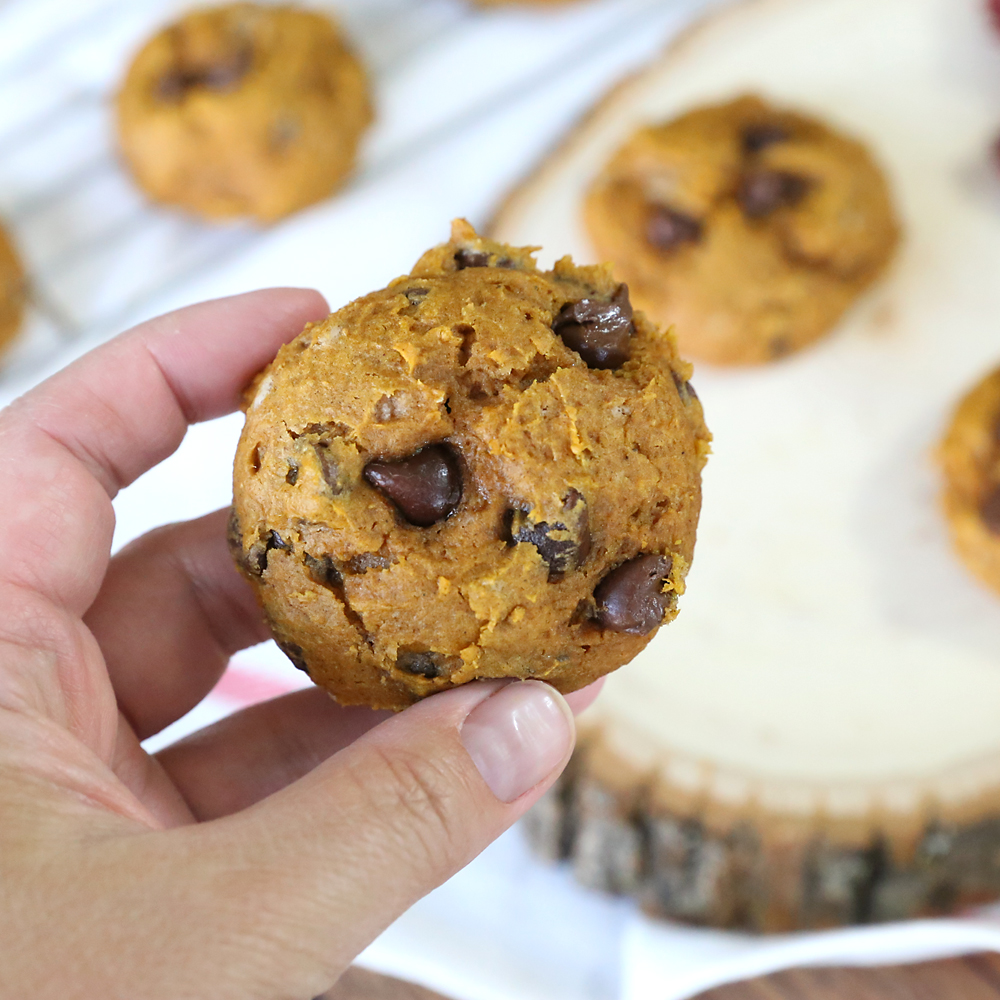 Check out this quick video to see how easy they are to make:
Pumpkin chocolate chip cookies recipe
Download the printable recipe card by clicking here. This recipe makes 36 cookies if you use approx 1.5 tablespoons of dough per cookie.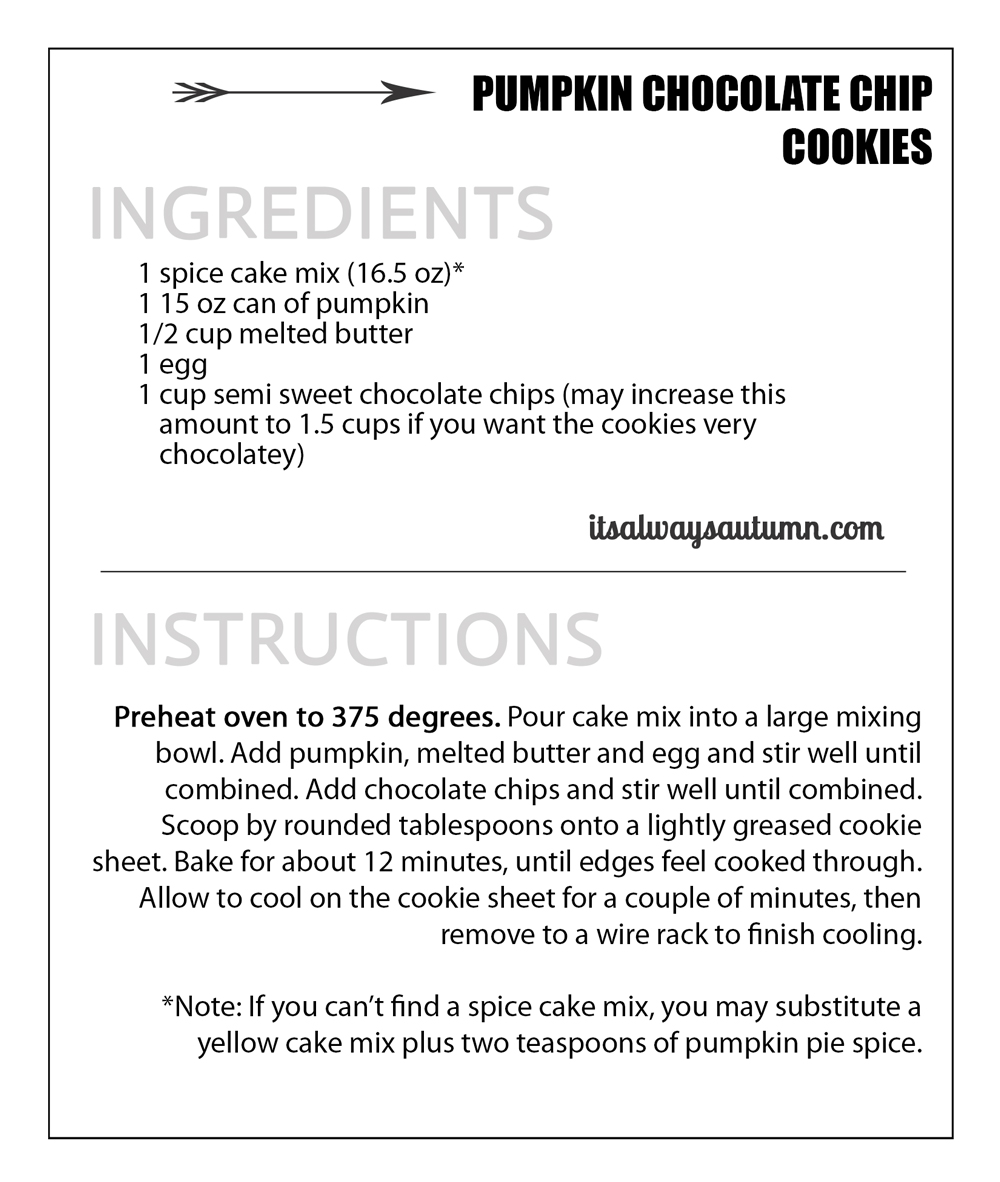 Tips for perfect pumpkin chocolate chip cookies
I use a medium size cookie dough scoop to scoop out the dough. This is the one I use. It holds 1.5 tablespoons of dough, and I level it off for these cookies. A cookie dough scoop is definitely worth the investment! It makes baking cookies faster AND gives your cookies a really pretty uniform shape and size.
The cook time for these cookies is about 12 minutes, and you want to make sure they are cooked through. I really love underdone, gooey chocolate chip cookies, but the pumpkin keeps these cookies so moist that if you pull them out early they just won't taste very good. When they're done they'll be cracked on top, and if you touch the side of a cookie it will spring back against your touch instead of collapsing.
I also use Duncan Hines brand cake mixes when I make cookies. In a pinch I've tried other brands and I just don't think they turn out quite as well.
If you cannot find a spice cake mix, you can use a yellow cake mix plus two teaspoons of pumpkin pie spice instead.
This recipe makes 36 cookies. They probably keep well for a couple of days, but I wouldn't know because they're so good we've eaten through them very quickly!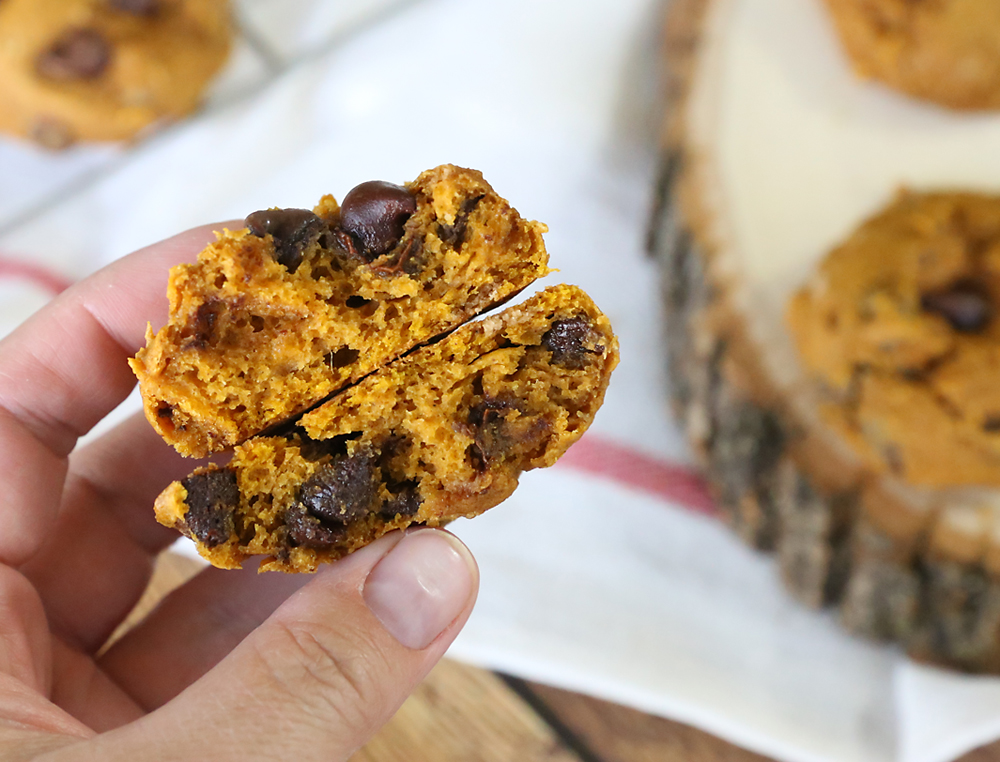 Love pumpkin? Check out these other pumpkin recipes:
Pumpkin pie cake (better than pumpkin pie!)
Double chocolate pumpkin swirl bread