In today's post: You only need 5 ingredients for this pretty raspberry nutella puff pastry heart – a perfect easy Valentine's Day dessert or sweet breakfast!
I've mentioned before that I'm an under-celebrator when it comes to most holidays. Take Valentine's Day: no one in my house (including myself) is getting boxes of chocolates or cute pink teddy bears or bunches of roses – spending money on that sort of stuff just isn't my style. In fact, my "style" for most holidays can be summed up in one word: food. My mom taught me years ago that food is the best gift for any occasion, and she hasn't been wrong yet! 😉
So that's how we celebrate Valentine's Day (and pretty much any other holiday) at our house: with food and time together as a family. This year I'm making this pretty raspberry + nutella puff pastry heart: it's gorgeous, easy, and delicious.

To tell you the truth, up until last week I'd never baked with puff pastry before. I usually do as much of my baking as possible from scratch, but the idea of making homemade puff pastry is fairly intimidating – I've seen them do it on the Great British Baking Show and someone always makes a giant mess of it. So I figured I might as well give the frozen kind a try, and it worked like a dream.
The process is easy: just layer puff pastry, nutella, and more puff pastry, then cut, twist, and bake.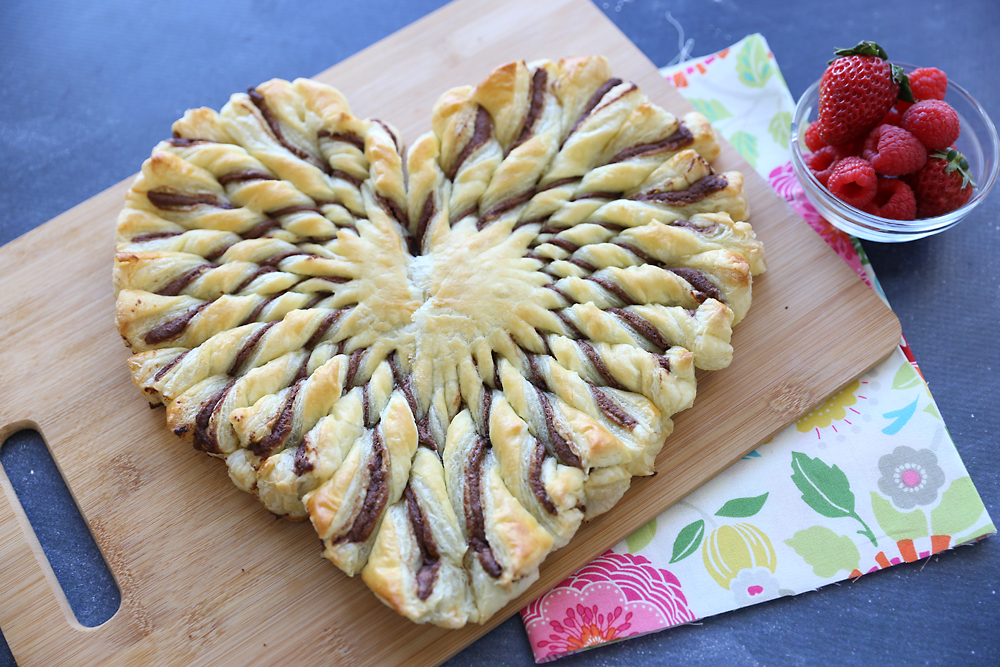 Afterward, sprinkle it with powdered sugar and drizzle with raspberry jam for a sweet, flakey concoction that melts in your mouth. My kids are already asking me when I'm making this one again!
How to make a raspberry nutella puff pastry heart
Watch this video to see how to make it. More detailed instructions follow.
Click here for the printable recipe card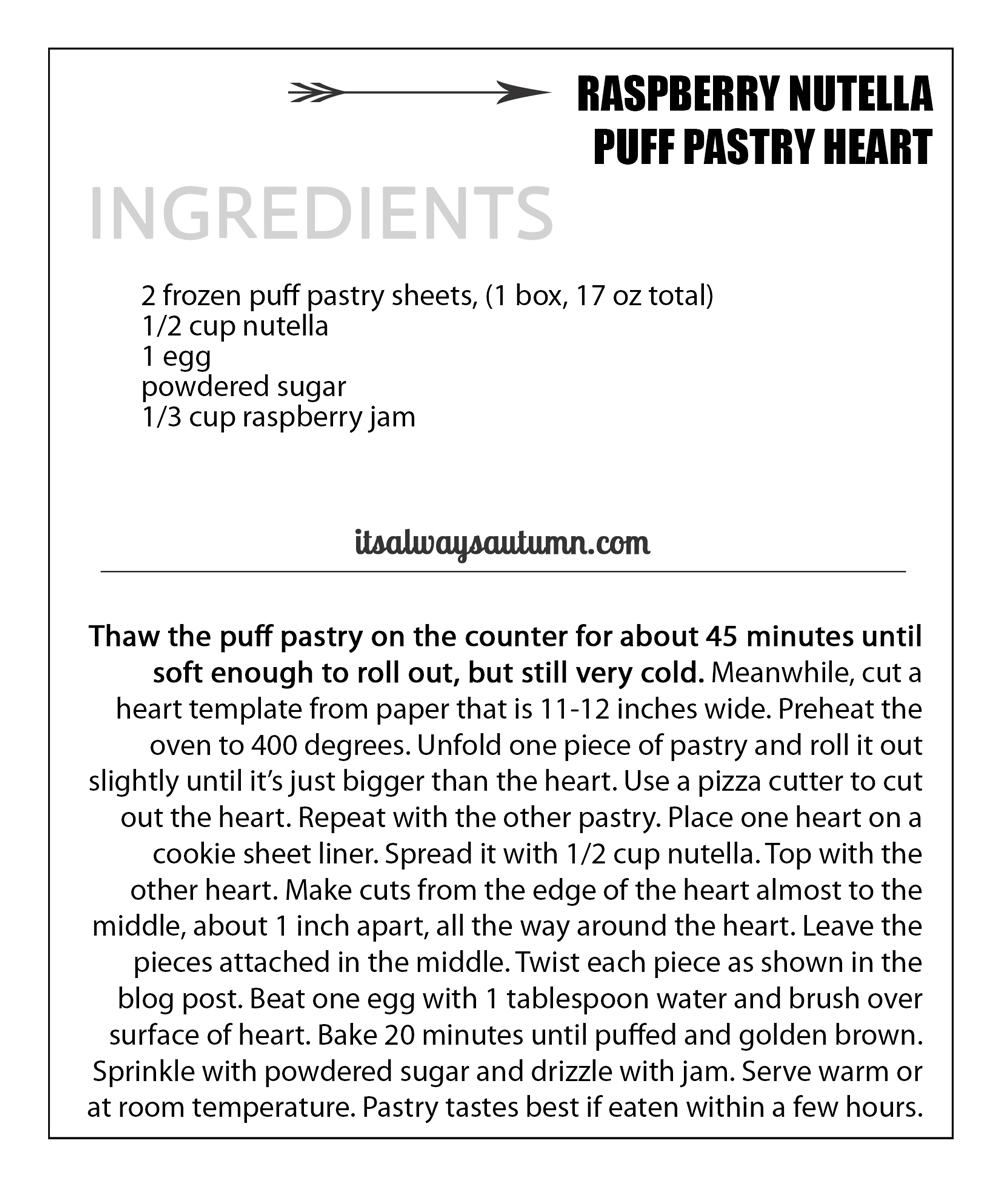 Notes:
You'll buy the puff pastry frozen. It needs to sit on the countertop to thaw for about 45 minutes before using. You want it to be just thawed enough that you can roll it out slightly, but still cold so it's easy to work with.
While the pastry is thawing, cut a heart template. I used a piece of 12×12 inch paper and folded it in half and cut out a heart. If you don't have 12×12 paper, just tape two pieces of 8.5×11 paper together to make an 11 inch square, then cut a heart that's as big as possible from the square.
Unfold the first piece of pastry and place it on parchment paper or a cookie sheet liner. Roll it out slightly until it's big enough to cut the heart out of. Use a pizza cutter to cut around the heart template. Repeat with the other piece of pastry.
Spread 1/2 cup of nutella on the first pastry heart. Place the second pastry heart on top, and gently press the edges of the heart together.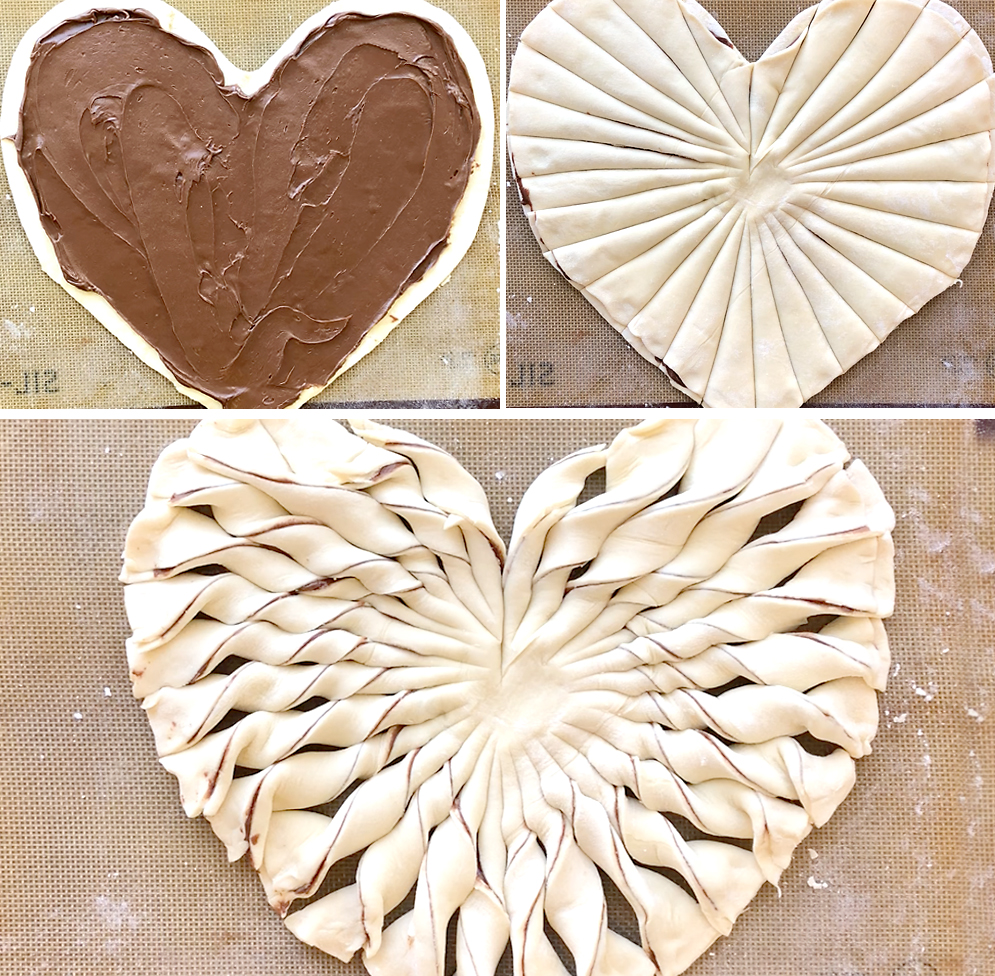 Starting at the bottom, slice up from the point of the heart almost to the center. Continue making slices all the way around the heart, about 1 inch apart, as shown above. Do not slice all the way through the heart – make sure each section is still connected to the center.
Starting at the top, twist each slice away from the center, as shown in the video. Continue all the way around the heart until it looks like the photo above.
Beat one egg with a tablespoon of water and brush it over the entire heart. This helps it get a nice golden brown color.
Bake at 400 degrees for 20 minutes until puffed, golden brown, and cooked through.
Sprinkle with powdered sugar. Place about 1/3 cup of raspberry jam in a bag and knead it a few times to break up any lumps. Cut off a small piece at the corner of the bag and "pipe" the jam on top of the heart. Serve warm or at room temperature.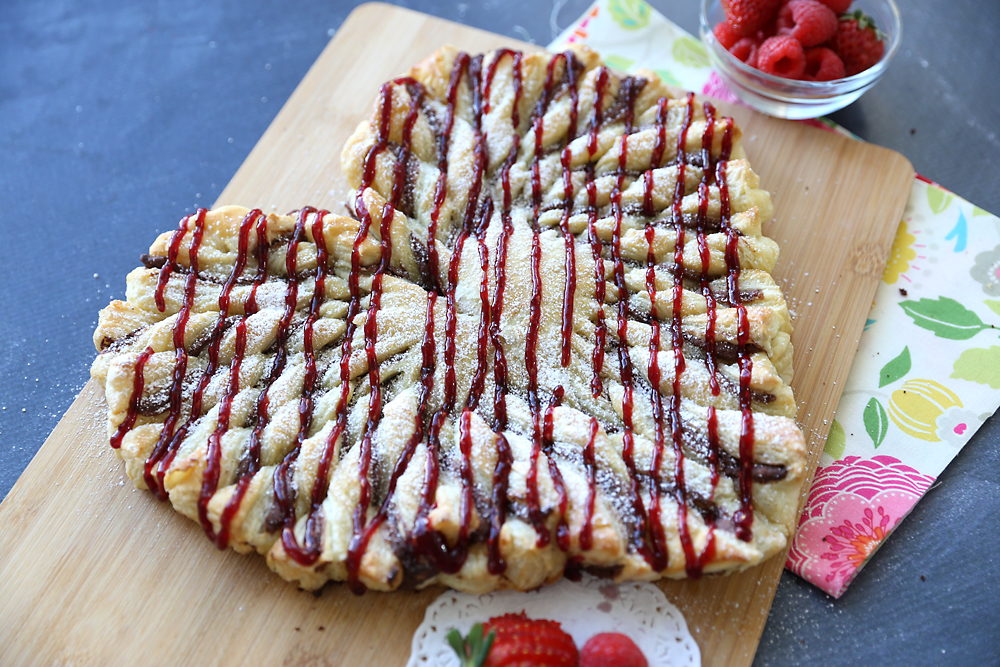 I think this tastes best still warm, but it's very good once cooled to room temperature as well. However, I wouldn't make it more than a few hours before you plan to eat it as it loses some of it's delicate flakiness after a few hours. Enjoy!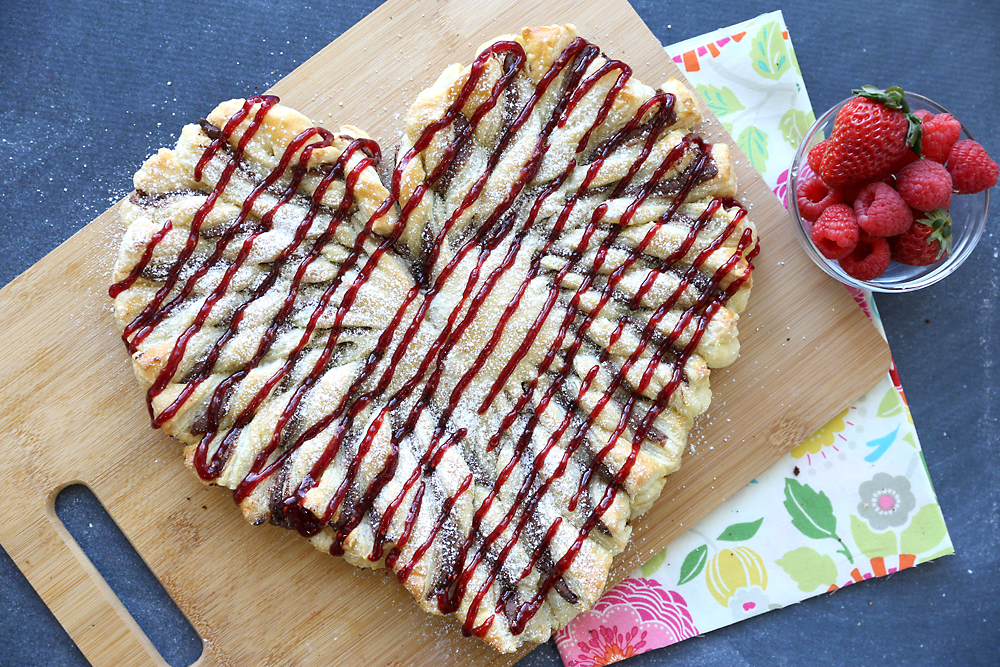 Looking for more Valentines' Day fun? Visit these posts:
Heart shaped cinnamon rolls for an easy Valentines breakfast
25 easy Valentine's treats you can make with your kids 
Shot through the heart (shaped) brownies