In today's post: Find 50 easy meals for college students. These are simple meal ideas that don't take lots of time or ingredients, but still taste great!
I am sending three kids off to college this fall! They'll all be in apartments and cooking for themselves and they've been asking me for a list of easy meal ideas they can make in their college kitchens. I started by googling ideas and quickly found that most lists of college meals have some problems:
most are just links to recipes that make 4-6 servings, which is NOT practical for a college student
many require a full pantry of ingredients and seasonings, which is also NOT practical for a college student
many take over half an hour to make (which, again, is NOT…)
So I put together my own list of easy meal ideas for college students. These are things students can put together quickly using a small number of ingredients making just ONE serving at a time. But they all taste better than Ramen! And if you do want to cook for your whole apartment occasionally, I've included links to my favorite easy recipes everyone will love at the end of the post.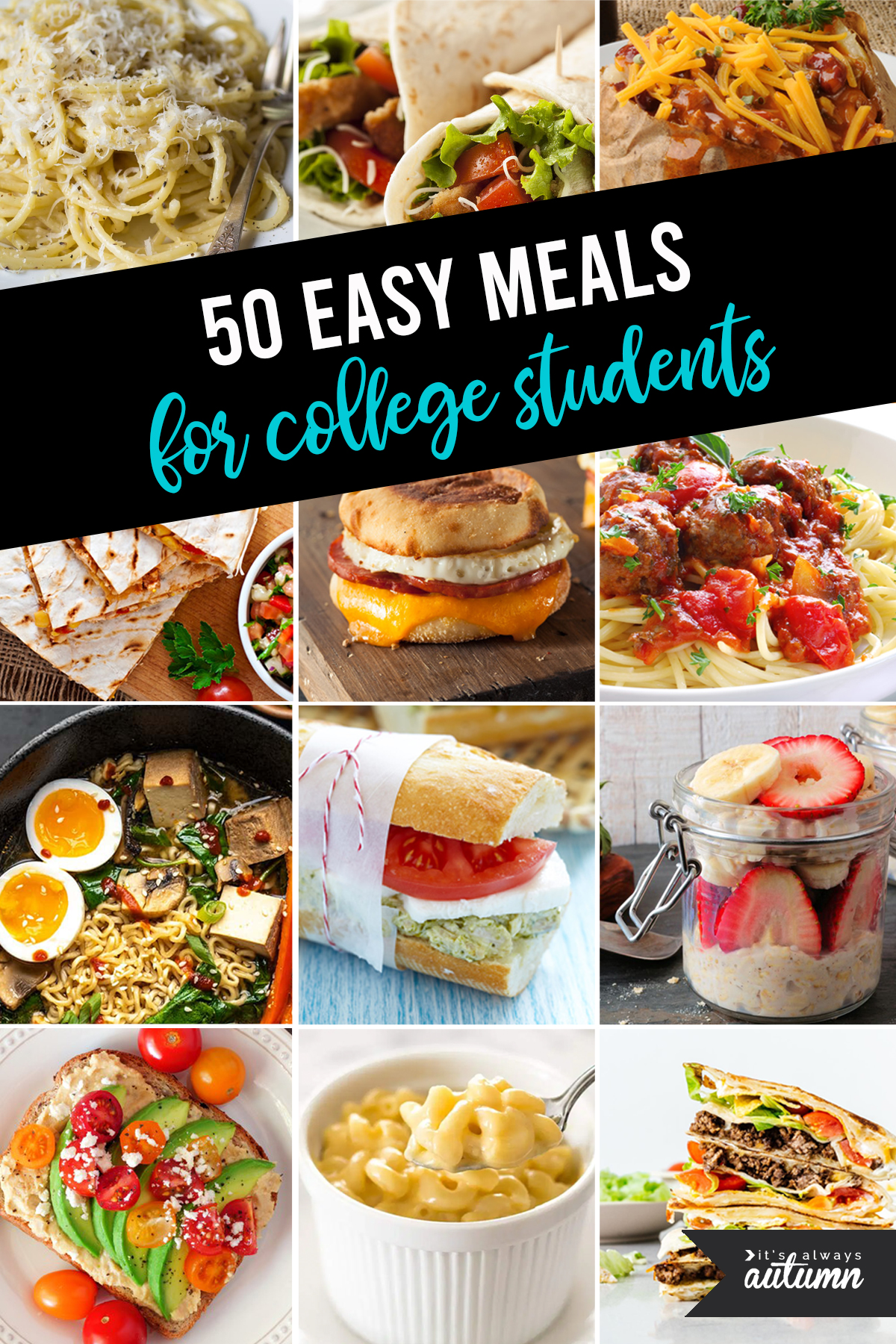 Before you head to college, make sure you have some basic cooking skills: learn how to brown ground beef, how to cook chicken in the skillet or oven, and how to make eggs a couple different ways. Then consider these two tips to make meal planning and cooking at college simpler:
Cooking at College Tip #1: Embrace the Freezer
Before we get to the list, you need to know the number one tip for cooking at college, which is to use your freezer. Keeping meat and veggies on hand in the freezer allows you to use just what you want for one meal and save the rest. Otherwise, you'll end up eating the exact same things days in a row OR throwing away items you forgot to use up. I recommend keeping a stock of the following in your freezer to make putting together meals super quick and easy:
Bag of diced frozen onions/peppers
Bags of other frozen vegetables you like
Cooked rotisserie chicken that you've diced into small cubes and then frozen in a gallon size ziplock (check Costco or Walmart for the best value on rotisserie chickens). Just pull all the meat off the bones and dice it up, then freeze in a gallon ziplock. OR to save money, cook your own boneless skinless chicken breasts in a skillet, oven, or slow cooker, and dice and freeze once cooled.
Cooked ground beef. Buy a couple pounds of ground beef and brown it in a skillet. Drain any grease and let it cool, then pour it into a gallon size ziplock and freeze it in a flat layer. That will make it easy to break apart once it's frozen so you can pull out as much as you want to use at once.
Frozen chicken tenders (uncooked). Tenders are much smaller than chicken breasts so they are easier to cook from frozen: just place in a skillet with a few tablespoons of water and cover. Cook on medium high, flipping once and seasoning with salt and pepper until they are no longer pink inside.
Lots of other things can be stored in the freezer as well! Like making pizza but worried you won't use a whole pack of pepperoni? Just keep it in the freezer. Not sure you'll eat the whole pack of tortillas? Take out half and freeze to use next week.
Frozen cooked meats can be defrosted in the microwave. Use the defrost setting for 20 seconds at a time until meat is defrosted and ready to add to your recipe. Or, you can heat the meat through in a small skillet with a little water to keep it moist, and add any seasonings while heating (like taco seasoning) if desired.
College Cooking Tip #2: Eat What You Have
When you live at home, you might be used to having a fully stocked pantry and fridge full of a variety of foods. Once you move to college, you'll be working with a much smaller range of items. That means it's important to start learning to eat what you have on hand in different ways. Lots of the meal ideas below combine similar basic ingredients in different ways so you can eat the same ingredients a couple of times without feeling like you're having the same meal.
It's important to include fresh fruits and vegetables in your diet – just buy a couple at a time and eat them until they are gone. For example, if you buy a cucumber, chop it up and put it in a salad, then a sandwich, then include it in some pasta, etc., until you've eaten the entire thing. An avocado can go on toast, in a quesadilla, on top of nachos, in a sandwich, etc. Get used to eating what you have before you buy new items, and always try to add a fresh fruit or veg to your meal. Apples, bananas, and carrots are really inexpensive so you can always have some on hand.
College Meal Ideas: Meals in a Tortilla
Tortillas are a wonderful staple for college meal ideas! If kept in the fridge they'll stay good longer then bread, and can be quickly stuffed with all sorts of different fillings. Try one of these ideas: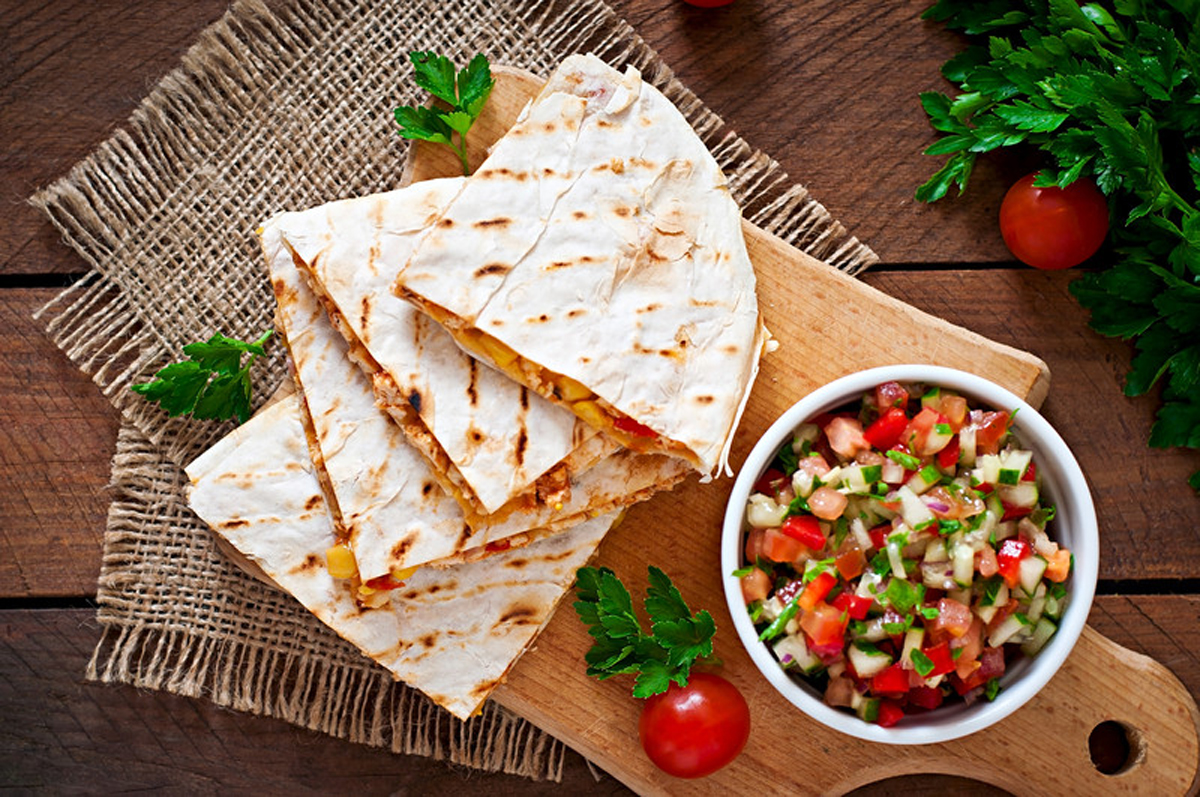 Bean and cheese burrito: Spread a layer of refried beans on a tortilla and top with taco sauce or salsa and grated cheddar cheese. Microwave in 30 second intervals until cheese is melted and beans are hot; roll up and eat. Alternately, you can top it with a second tortilla and grill it on a large skillet to make a quesadilla. Optional add on: sprinkle chopped onion on with the cheese before cooking. 
Soft Tacos: Cook 1 pound of ground beef and mix in water and taco seasoning according to the seasoning packet directions. Make tacos by layering ground beef, cheese, salsa, and lettuce or salad mix in a tortilla. Freeze the taco meat you don't use in single servings.
Ground Beef Burrito: Add leftover taco meat (defrosted) to a bean burrito. Optional add ins: cooked rice, cooked onion and peppers, avocado, sliced tomatoes, ranch dressing
Chicken and Cheese Quesadilla: Spread a thin layer of ranch dressing on a tortilla and sprinkle with taco season or chili powder and cumin. Top with cooked chicken and grated cheese. Fold over or top with a second tortilla and toast on a large skillet until cheese is melted and chicken is warm. Optional: melt butter in the skillet first for a toastier outside
Chicken Ranch Wrap: Place cooked chicken, iceberg salad mix or lettuce, sliced carrot/cucumber/tomato and shredded cheese in a tortilla. Top with ranch dressing, then roll up and eat. Optional: add chopped bacon
Turkey Tortilla Rollup: Spread cream cheese across a tortilla and then top with sliced turkey and/or ham, sliced tomato and onion. Roll up and eat. Substitute slices of other cheese for cream cheese if desired
Crunchwrap Tortilla Hack: Make a simple version of the Taco Bell Crunchwrap with this recipe
Pizza Quesadilla: Spread spaghetti or pizza sauce on a tortilla, then top with mozzarella cheese and pizza topping of your choice. Fold closed and grill like a quesadilla.
Greek Chicken Wrap: Place cooked chicken, lettuce mix, sliced tomato and feta cheese in a tortilla. Top with ranch dressing, greek yogurt, or hummus. Tip: mix leftover feta cheese and tomatoes into scrambled eggs for your next meal
Nachos: Ok, nachos aren't in a tortilla, but they're close enough, and they're a great way to use up leftovers. Layer any cooked meat on tortilla chips and add things like beans, corn, tomatoes, onions, avocado, etc. Grate cheese over the top and microwave 30-60 seconds until cheese is melted.
Easy Egg Meals
Eggs are a staple for college meals! They're super inexpensive and last a long time, plus they're a great source of protein. (And you'll need to keep some on hand if you want to make brownies!)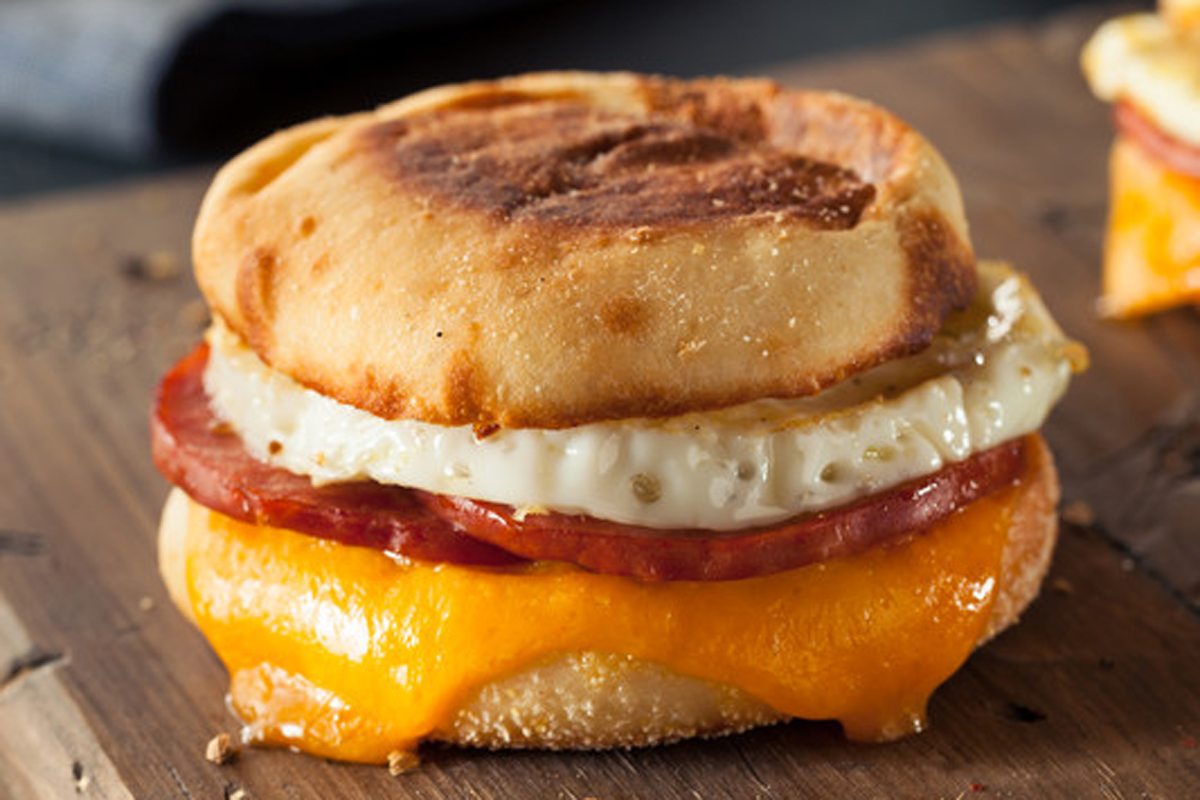 Homemade Egg Sandwich: Layer a fried egg with a slice of cheese and a cooked sausage patty on a toasted english muffin. Options: use sliced ham or cooked bacon instead of the sausage. If you like breakfast sandwiches, it's worth investing in one of these super handy breakfast sandwich makers!
Egg burrito: Cook a frozen hash brown patty according to package directions, or microwave or heat in a skillet. Scramble a couple eggs, adding in a sliced sausage link, chopped ham, or cooked bacon. Combine cooked hashbrown patty, eggs, meat, and cheese in a tortilla, adding salsa if desired.
Easy Tortilla Egg Roll: This is a GENIUS method for making a quick meal that's a cross between an omelet and a burrito. Click here for the recipe
Omelet: An omelet is a great way to use up leftover meat and veggies! Beat some eggs and cook them slowly in a buttered pan until puffed and almost cooked through. Top with leftover (cooked) meat and vegetables, plus cheese if desired. Fold it in half and eat. Click here for a single serving Western omelet recipe
Avocado Toast w/Egg: Toast whole grain bread and top with half an avocado (sliced) and sliced tomato. Top with one fried or poached egg. Optional: smash the avocado up with some salsa if you prefer for extra flavor.
Egg in a Hole: Melt a little butter in a small skillet. Tear out a hole in the center of a slice of bread and place the bread in the skillet. Crack an egg into the hole and top with salt and pepper. Cook until white of egg is set, then flip to toast the other side.
Single Serve French Toast: Crack an egg into a small bowl and add a splash of milk. Add a sprinkle of cinnamon and 1/8 teaspoon vanilla and whisk until smooth. Transfer to wider container and dip 2 pieces of bread in the egg mixture, then cook on a skillet 3 minutes or so per side until cooked through. Serve with sliced banana and yogurt (or butter and syrup).
Breakfast Nachos:  Eggs, beans, avocado, salsa, cheese and whatever else you have on hand on top of crunchy tortilla chips! Click here for the recipe
Easy Pasta for One
Pasta is a perfect college meal because it's super cheap and you can make as much or as little as you want! Keep a box or two of noodles in your pantry and meatballs or cooked ground beef in your freezer, then all you'll need is a jar of sauce to put together and easy spaghetti dinner. Check out these other ideas, like homemade mac and cheese for one and ways to upgrade instant ramen noodles!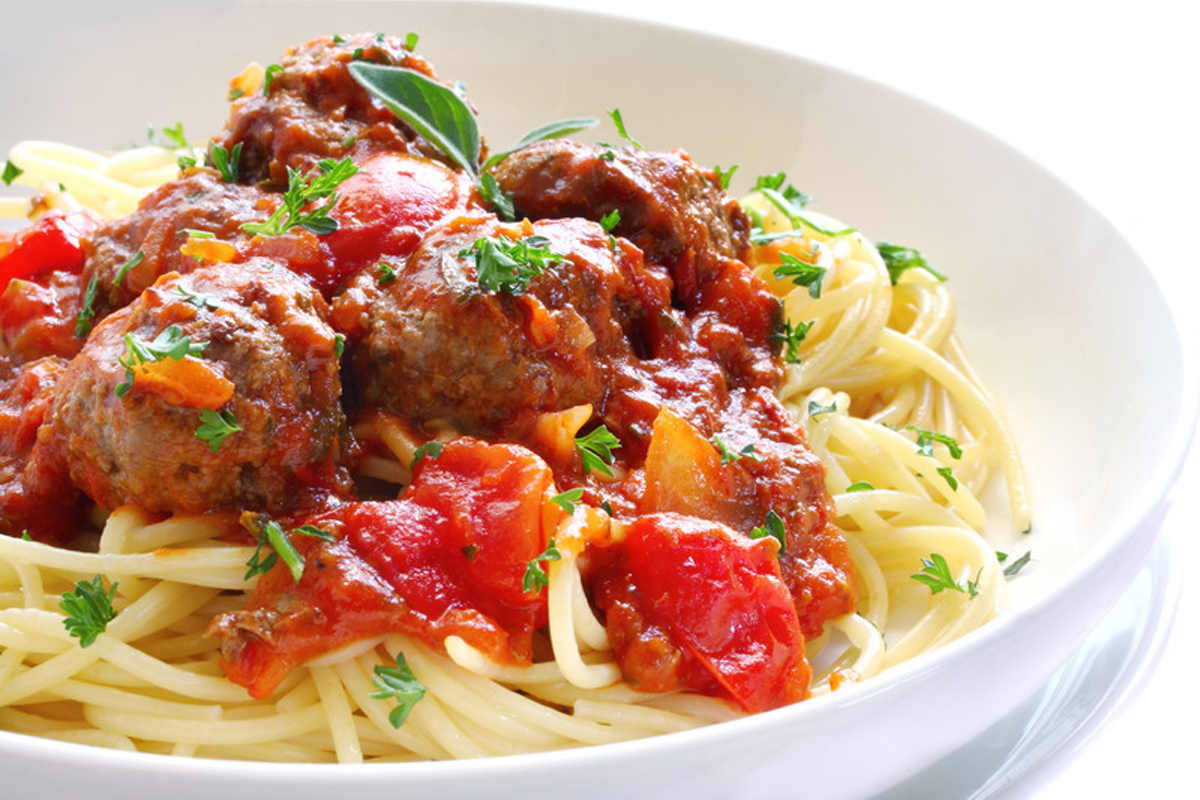 Spaghetti + Meatballs: Boil a handful of spaghetti noodles. Meanwhile, put a few frozen meatballs in a small saucepan and cover with jarred spaghetti sauce. Bring to a simmer and cover until meatballs are warmed through.
Cheese Ravioli: Buy either dried cheese ravioli in the pasta section, or refrigerated or frozen ravioli and boil according to package directions. Drain and mix in some jarred spaghetti sauce and heat through. Optional: add some cooked ground beef for ravioli + meat sauce
Easy Mac + Cheese: Make a single serving of homemade macaroni and cheese in about the same time as it takes to make a the boxed version – it'll taste so much better! Recipe here
Buttered Pasta w/Parm: Make a bowl of delicious pasta with butter, parmesan, and pepper in 10 minutes. It's simple, but filling and delicious! Add cooked chicken if desired. Recipe here
Better Ramen: Upgrade your ramen packet by adding vegetables and an egg. Recipe here
Ramen Yaki Soba: Boil ramen noodles as directed, then fry them up with whatever vegetables and meat you happen to have on hand. Recipe here
Baked Potatoes
Baked potatoes are another inexpensive option for easy meals you can make at college. If you like them, it's definitely worth ordering one of these microwave potato bags which help you make fluffy, baked potatoes in your microwave in minutes. Stuff your potatoes with a variety of toppings for an easy meal.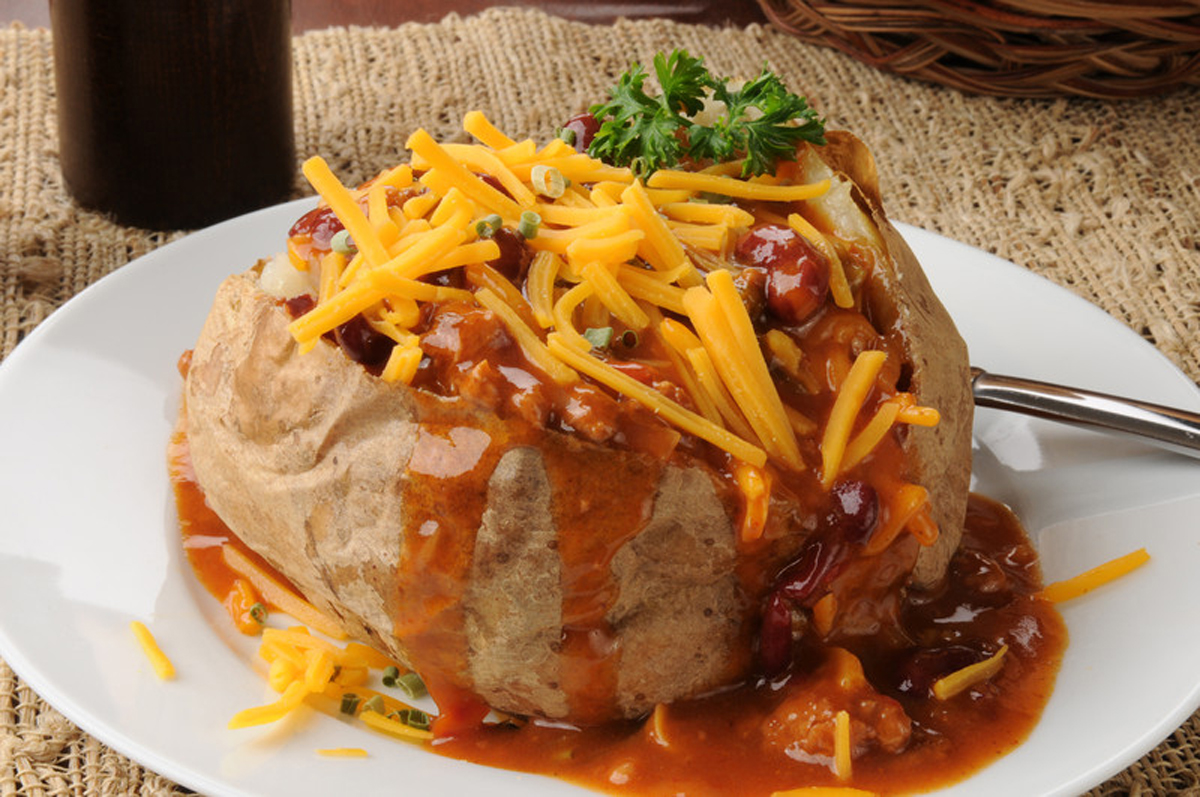 Classic Baked Potato: Top your potato with sour cream, butter, salt and pepper. Add cooked bacon if you have some.
Chili Potato: Bake a potato in the microwave. Meanwhile, warm up canned chili in a small saucepan until hot. Split your baked potato and top with chili and grated cheese.
BBQ Chicken Potato: While you are microwaving your potato, warm up some cooked leftover chicken in a small saucepan with some barbecue sauce. Top the potato with bbq chicken and cheese.
Broccoli Cheddar Potato: Steam fresh or frozen broccoli to top a baked potato, or purchase a bag of frozen broccoli in cheddar sauce and heat that up as directed on the package.
Stuffed Sweet Potato: Sweet potatoes are also inexpensive and easy to cook, but pack a bigger nutritional punch! Get the recipe here – note this recipe calls for baking the potato in the oven, but you can microwave sweet potatoes too.
Salads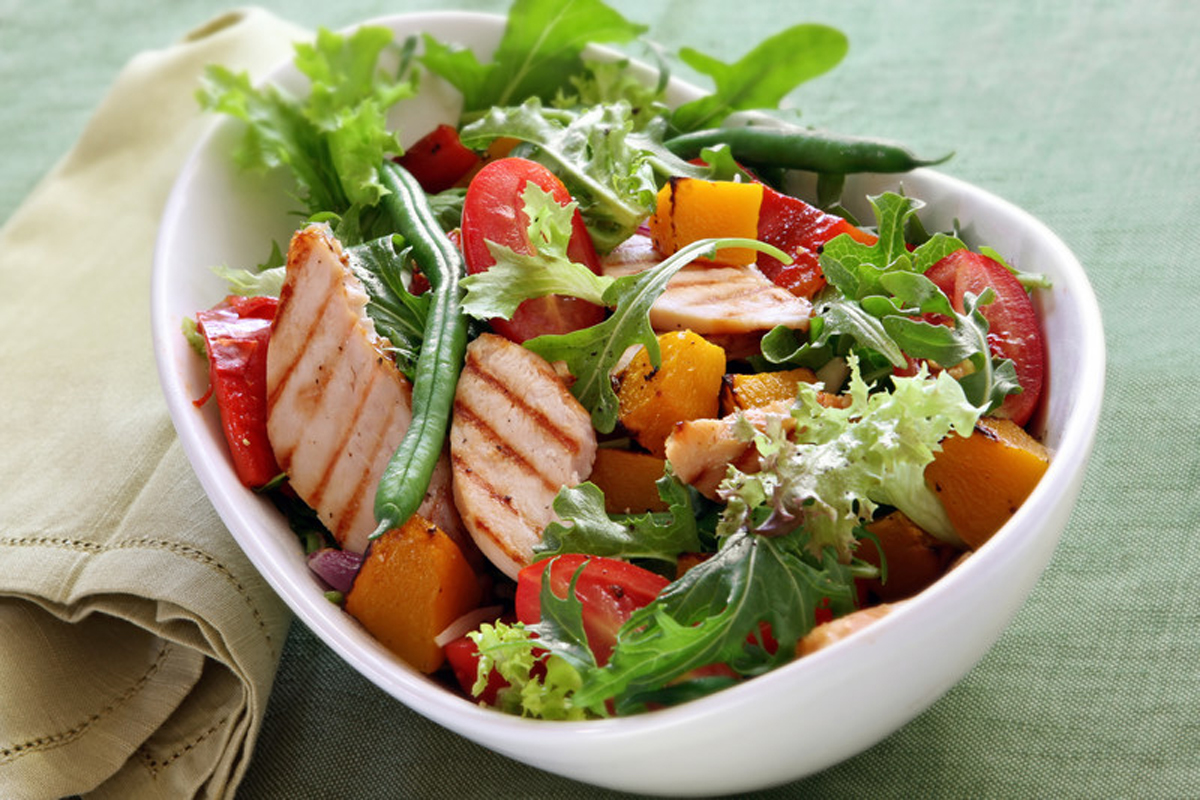 BBQ Chicken Salad: Warm up some frozen cooked chicken with BBQ sauce in a saucepan until heated through, or cook a couple of chicken tenders and top with BBQ sauce. Chop lettuce, tomatoes, cucumber, carrots, or any other vegetables you have on hand. Top with BBQ chicken, grated cheese, and ranch dressing.
Taco Salad: Chop lettuce. Top with leftover taco meat, beans, salsa, corn, avocado, etc., and top with ranch dressing if desired. Optional swap: use canned chili instead of meat and beans
Chef Salad: Slice up any lunch meat you have, like turkey and ham, with cheese, a hard boiled egg, and any vegetables you have on hand. Serve on chopped lettuce with your favorite dressing.
Pasta Salad: Boil desired amount of noodles. Meanwhile, cook a couple chicken strips or chicken tenders (or defrost frozen cooked chicken). Chop any vegetables you have on hand, like tomatoes, cucumber, carrots, onion, etc., and dice some cheddar cheese. Mix together pasta, chicken, veggies, cheese and whatever salad dressing you have and serve warm or cold.
Sandwiches
Sandwiches are the ultimate quick meal! Keep some whole grain bread on hand – it's more nutritious and lasts longer than white bread. You can even freeze half the loaf if you don't think you'll eat it all before it gets stale.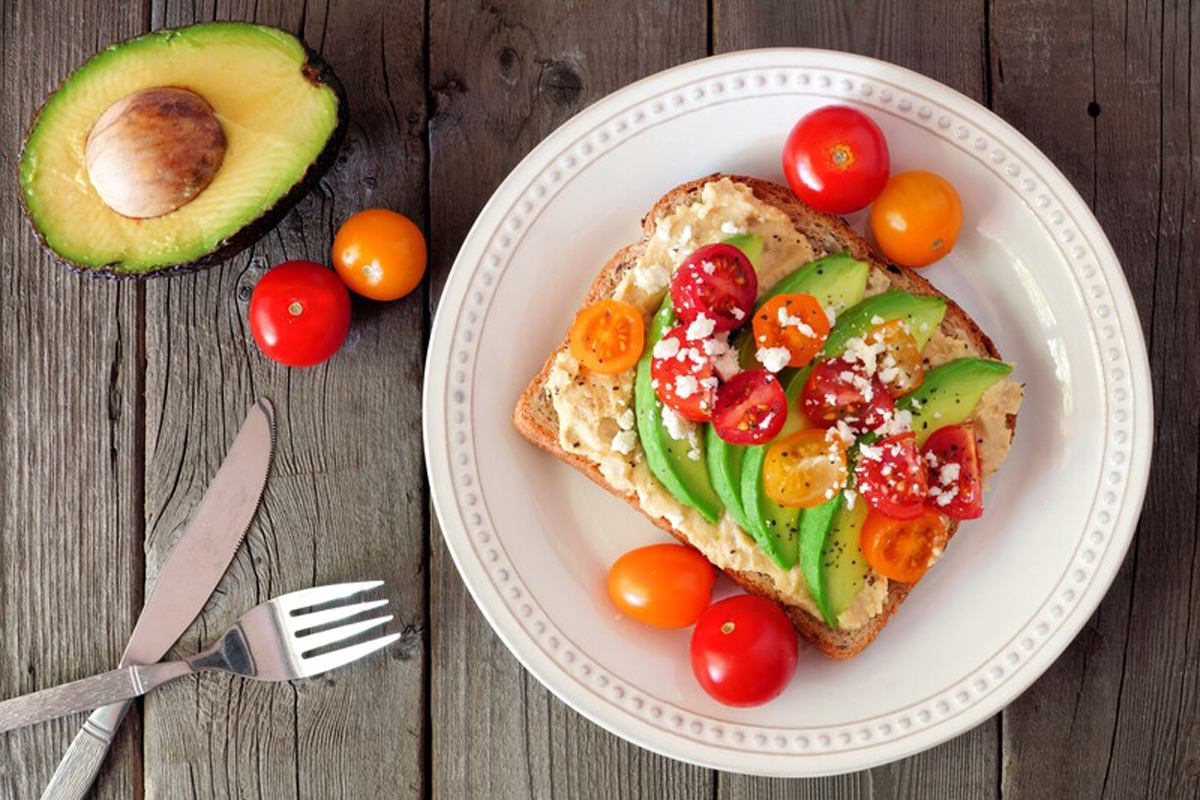 Peanut Butter and…: Look beyond the jelly for other items that pair well with peanut butter for a slightly more exciting sandwiches. Our favorite combines whole grain bread with peanut butter, sliced banana, and a tiny sprinkle of chocolate chips. Options: try peanut butter and apple slices, it's a delicious combo
Open Face Avocado and Hummus: Spread whole grain bread with hummus, then top with sliced avocado and sliced tomatoes
Pizza sandwich: Spread pizza or spaghetti sauce on a slice of bread, then top with mozzarella cheese and any other desired toppings. Top with another slice of bread and cook in a skillet (with a little butter if desired) like a grilled cheese sandwich.
Sandwich Melts: Layer your favorite sliced lunch meat (turkey, ham or roast beef) with your favorite sliced cheese in between two pieces of hearty bread. Melt a little butter in a skillet and toast your sandwich on both sides until the cheese is melted. Options: add mustard or pickles for extra flavor, or cooked bacon to make your melt extra delicious
Pesto Chicken or Turkey: If you like pesto, it's worth keeping a jar in your fridge. It will last a long time and you can use it on pasta, pizza, or in a sandwich. For a delish sandwich, toast bread and spread with pesto and a little mayo. Top with cooked chicken or sliced turkey, plus sliced tomato, lettuce, cheese and cooked bacon (if you have it).
Chicken Salad: Combine cubed rotisserie chicken with some chopped veggies (cucumber, celery, and onion are traditional, but you can add whatever you have on hand) and a quarter of an apple, chopped. Stir in enough mayonnaise to moisten and season with salt and pepper (use lemon pepper and seasoning salt if you have it). Serve on bread or crackers. Optional: add raisins or Craisins for a little extra sweetness
Egg Salad Sandwich: Peel two hard boiled eggs and place in a bowl. Use a fork to mash the eggs with enough mayo to moisten them, plus a small amount of mustard and a couple shakes of season salt. Serve on whole grain or white bread.
Homemade Lunchables (Cracker Sandwiches): Don't stress if you're out of bread but want to eat up the rest of that sliced turkey – just find some crackers in the pantry and make yourself a homemade lunchable. Sliced turkey, sliced cheese, and crackers make a great easy meal that's easy to pack and take up to campus. Optional add ons: pepperoni, sliced tomato, pieces of cooked bacon
Breakfast for Any Meal
One of my favorite meals is breakfast for dinner, because breakfast food is way too good to only be limited to one meal a day! Plus it's generally quick and easy to prepare. We've already covered egg dishes, but here are some more easy breakfast meals you can make at college for lunch or dinner.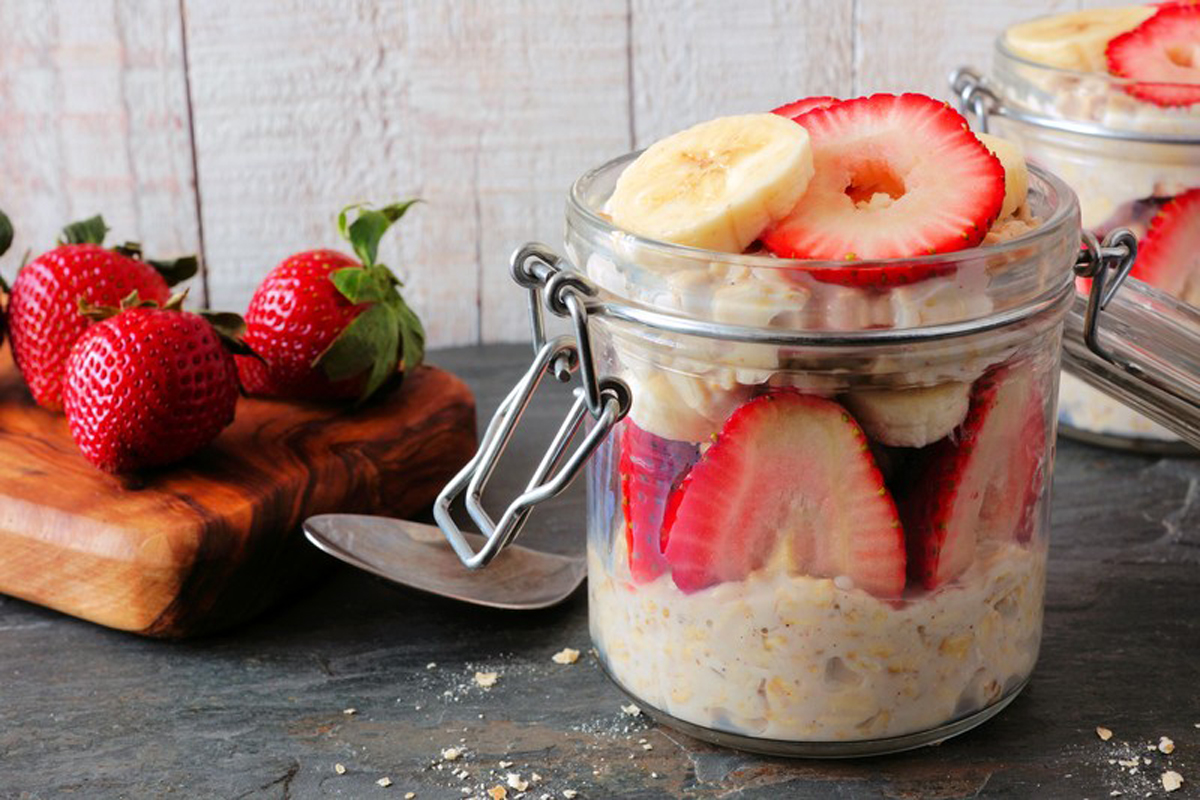 Oatmeal: Oatmeal is a filling meal that doesn't cost much, and can be delicious! Add peanut butter and bananas for a bowl you'll want to eat for lunch or dinner. Find the recipe here
Overnight Oats: Make your life even easier by mixing up your bowl of oatmeal the night before and keeping it in the fridge. Find four tasty varieties here
3 Ingredient Breakfast Cookies: Breakfast cookies are nutritious, filling, and cook! Plus they're freezer friendly so you can make a batch and freeze the ones you don't eat right away. Get the recipe here
Greek Yogurt Parfait: Layer Greek yogurt with sliced fruit (bananas, berries, peaches, etc.) and granola or cereal (it tastes great with Cheerios!)
Single Serve Instant Oatmeal Pancakes: Combine one instant oatmeal packet (your favorite flavor) with 1/3 cup flour, 1/2 teaspoon cinnamon and 1/2 teaspoon baking powder, then stir in 1/4 cup milk and one egg. Cook on a griddle, flipping when the bubbles on top start to pop. Makes three pancakes.
Cherry Berry Smoothie: Combine Vanilla Greek yogurt with about a cup of frozen cherry berry blend and two large handfuls of spinach (keep the bag in the freezer so it doesn't go bad!). Add a dash of chocolate protein powder if you have it on hand.
Healthy Pina Colada Smoothie: Combine Toasted Coconut Vanilla Greek yogurt with frozen pineapple and one peeled orange. Add two handfuls of spinach and blend. Have a piece of whole grain toast to round out the meal.
Heat + Eat Ideas
When college life gets really busy, you'll want to have a few things on hand that don't require any thought to put together. Here are a few ideas for super easy, heat + eat meals:
Potstickers: Frozen potstickers can be cooked in a skillet with just water and a little nonstick spray. They're stuffed with vegetables and chicken or pork, so even though they're often served as an appetizer, they make a great meal! Most packages include a dipping sauce.
Canned Soup: It can be a good idea to keep a couple cans of soup on hand for days when you need a quick meal. There are SO many varieties of canned soup now. Many of them are both tasty and healthy, and they only take a few minutes to warm up.
Kodiak Cake Flapjack or Muffin Cups: These are little cups that you can add water to, stir, and microwave, for an instant muffin, and the great thing is that they're packed with protein. Add a fruit, and you can call this a meal! They are definitely more expensive than making your own, but can be really handy in a pinch.
Frozen Veggie Steamer Packets: Check the frozen vegetable aisle for packets of vegetables and potatoes in a variety of sauces – you'll find offerings from a couple different brands that you can heat up in your microwave in minutes. It's a great way to get some extra veggies in your diet, and the addition of potatoes helps it feel more like a meal.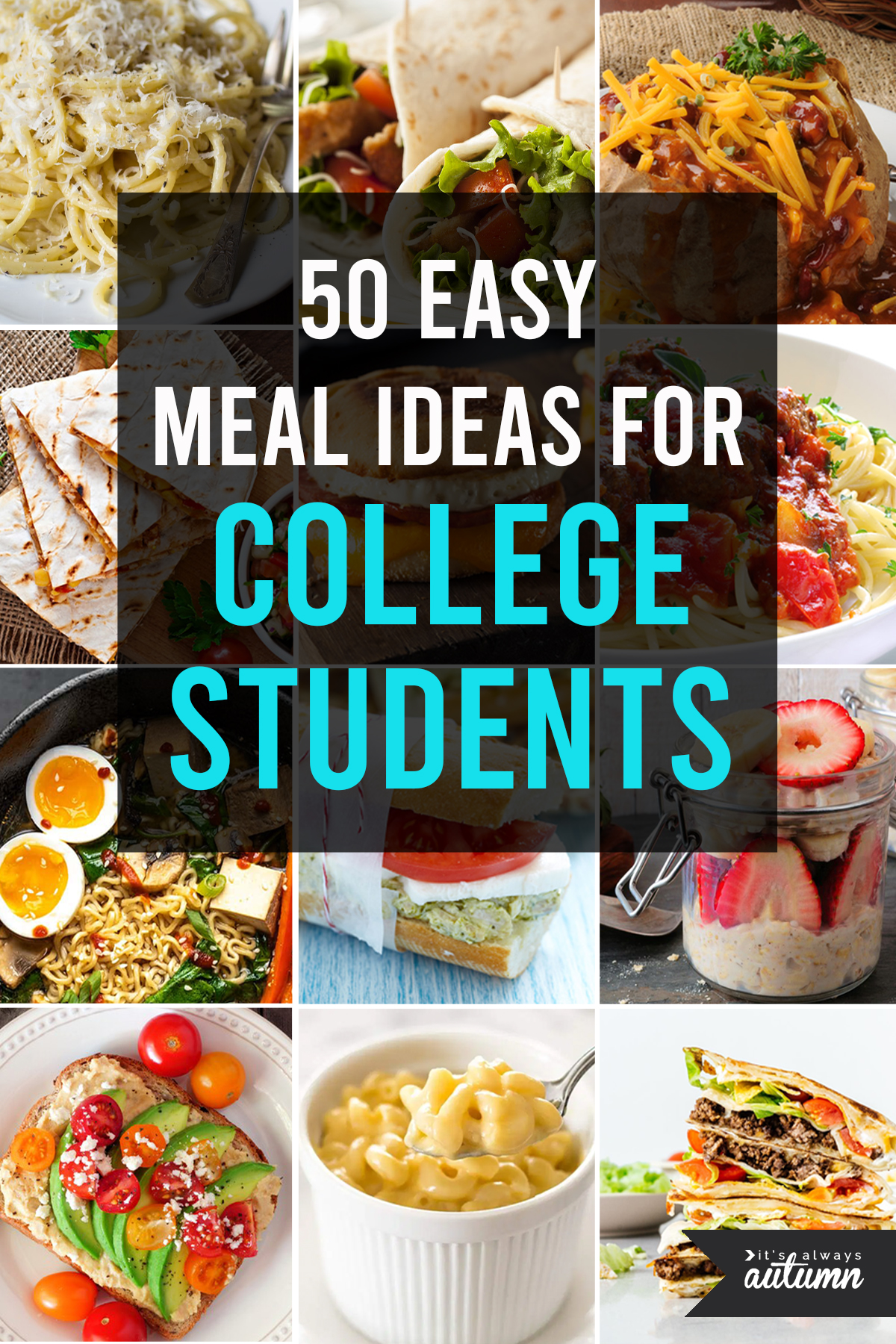 BONUS: Easy Recipes that will give you leftovers
Alright, that's more than 50 easy, single serving meals for college students! But hey, every once in a while you might want to cook something for your whole apartment, or make a meal that will give you leftovers for the week. So here are some of our favorite meals that are easy enough to make in a college kitchen and don't require lots of ingredients: