In today's post: If the weather is getting a little chilly where you live, then it's the perfect time to make this creamy chicken and rice soup. It's easy to prepare, not high in calories, and absolutely delicious!
My boys are cub scouts, which means every February we bring the whole fam to the Blue & Gold banquet, where the food is not exactly the highlight of the evening, if you know what I mean. I'm not complaining – it's hard to feed a hundred people on a tiny budget – but I'm just sayin' we don't usually expect to be blown away. But last year we were.
Our cub scout committee decided to ask the cubs' parents to bring soups to share for dinner. We had a great variety of soups, but there was one clear favorite, and once I got over being sad that it wasn't mine I realized I had a new favorite soup. It was a deliciously creamy chicken and rice soup full of veggies and flavor. It's a good thing I'm not shy when it comes to getting in line for the food, because this soup was gone in about five minutes flat.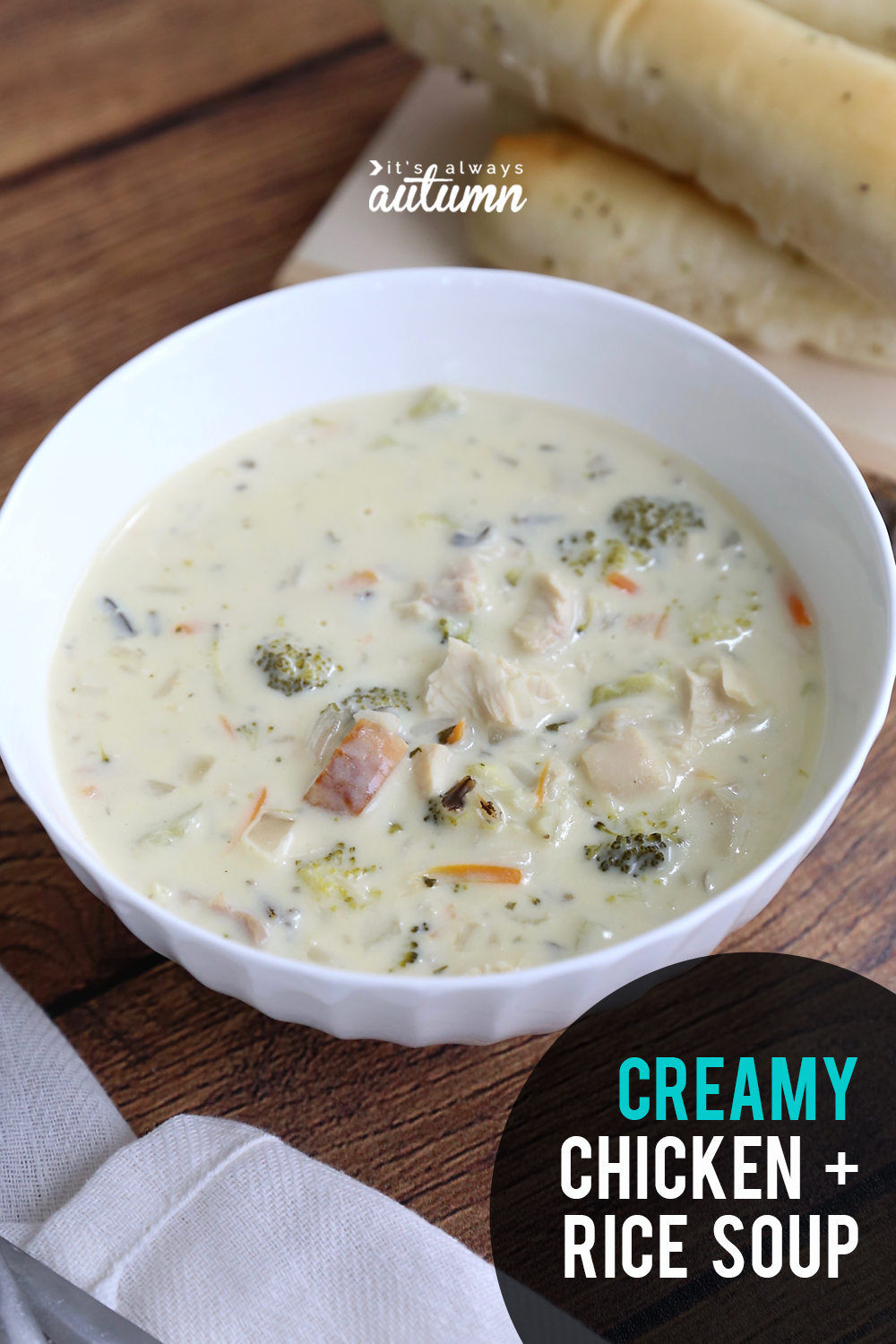 The best part? When I tracked down the recipe I realized that this soup is not only easy to prepare, it's actually very reasonable calorie wise. My husband has been tracking his calorie intake lately and he said for as creamy and delicious as this soup tastes he thought it was going to be MUCH higher in calories.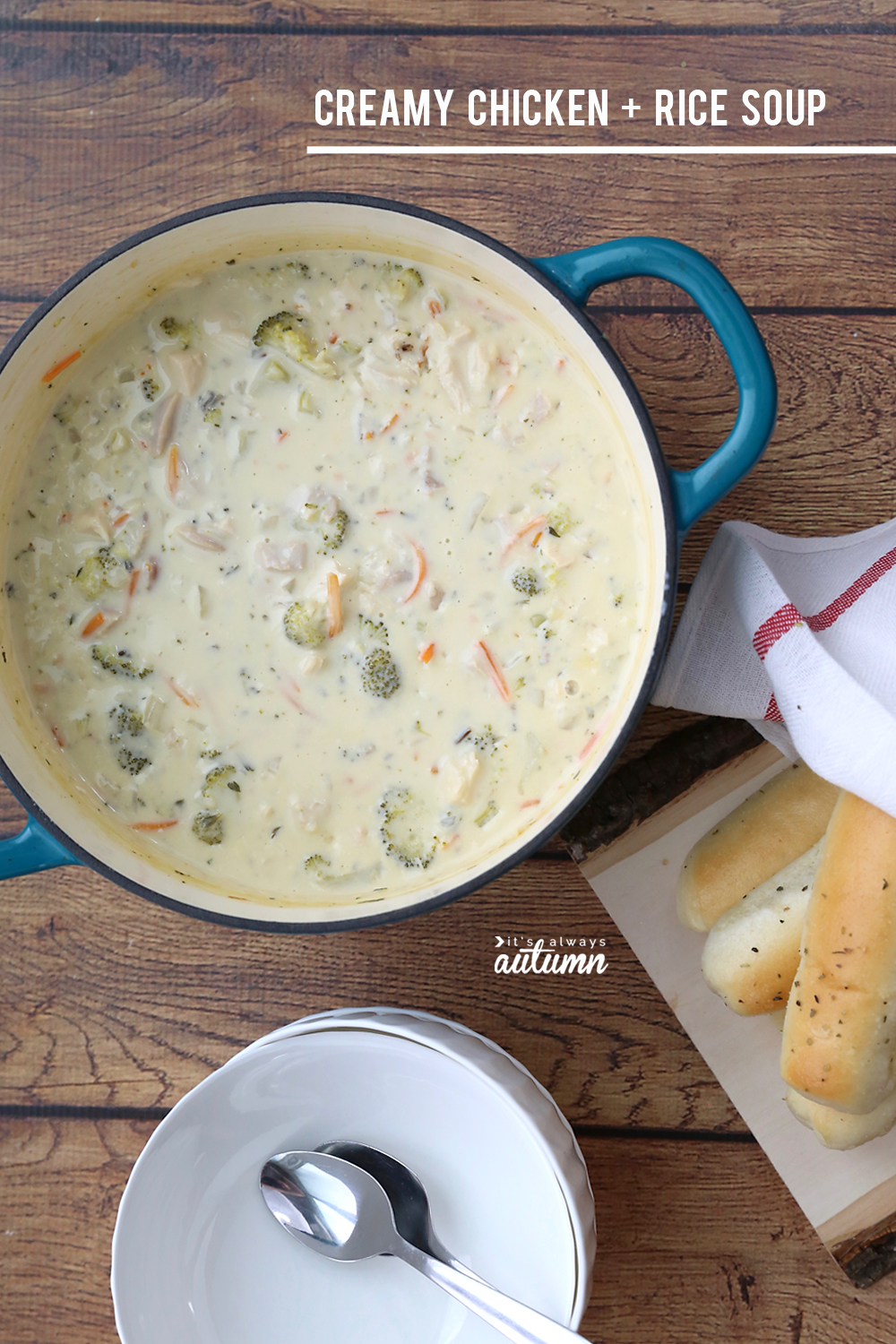 Creamy chicken and rice soup has become one of our go-to meals around here, and it's the recipe I always turn to when I want to take dinner in to someone because everyone love its.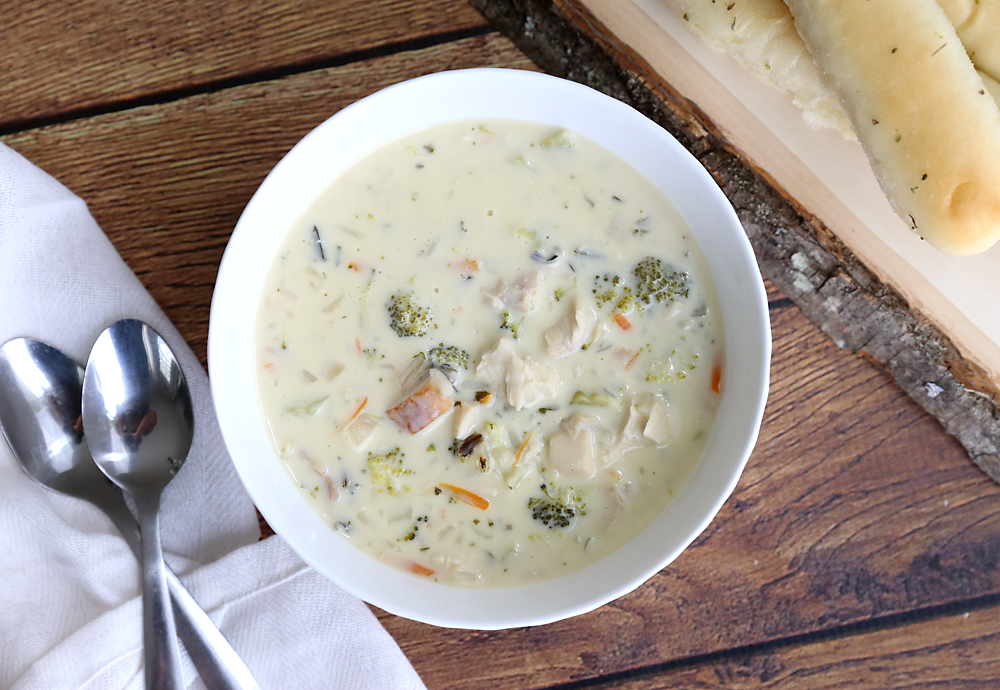 How to make creamy chicken and rice soup
This recipe calls for 3 cups of cooked chicken. To make assembling the soup even easier, pick up a rotisserie chicken at the store – you'll be able to pull 3 cups of chicken off it easily. Or, if you want to start with boneless skinless chicken breasts, just use about a pound and either bake or boil it in advance.
Making the soup is simple; just start by boiling onion, carrot, and broccoli with a package of Long Grain and Wild Rice a Roni (including the seasoning packet) in chicken broth.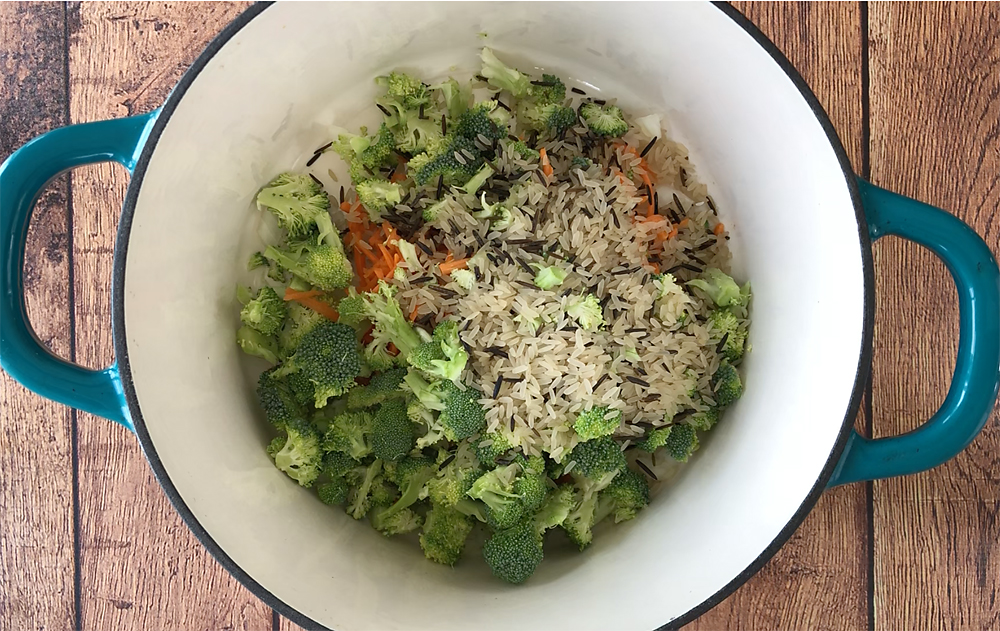 After that has simmered for about 20 minutes you'll stir in the cooked chicken, some cream of chicken soup, and cream cheese, and continue to cook and stir until everything is smooth and delicious. Start chopping your veggies and cooked chicken about an hour before you'd like to serve.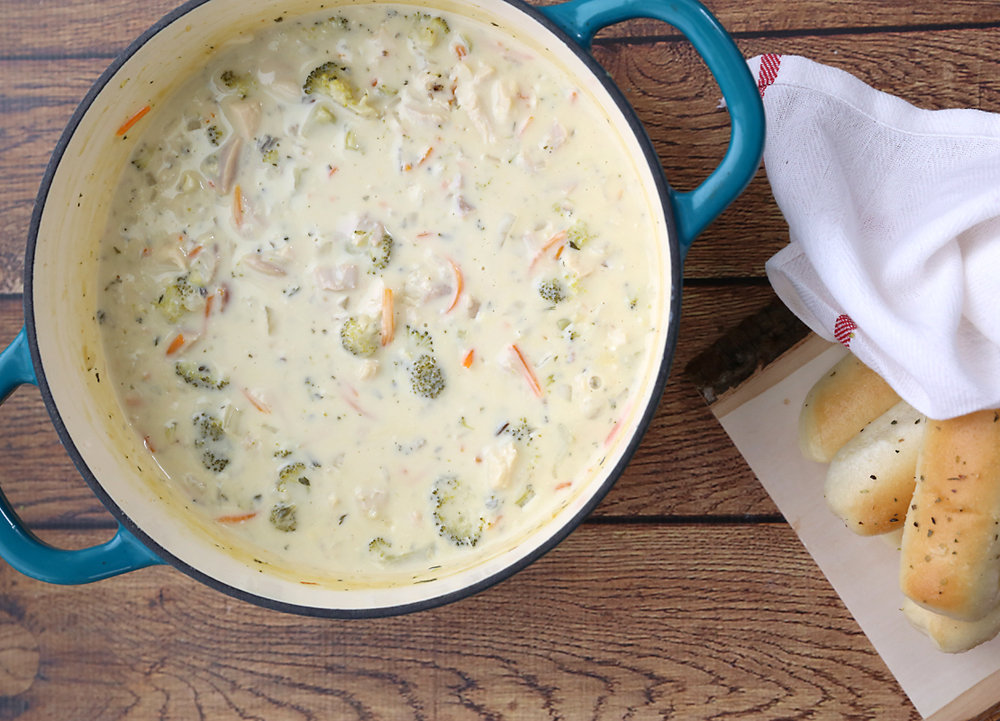 Here's a quick video that shows the process:
Creamy chicken and rice soup recipe
Download the printable recipe card for Creamy Chicken and Rice Soup by clicking here.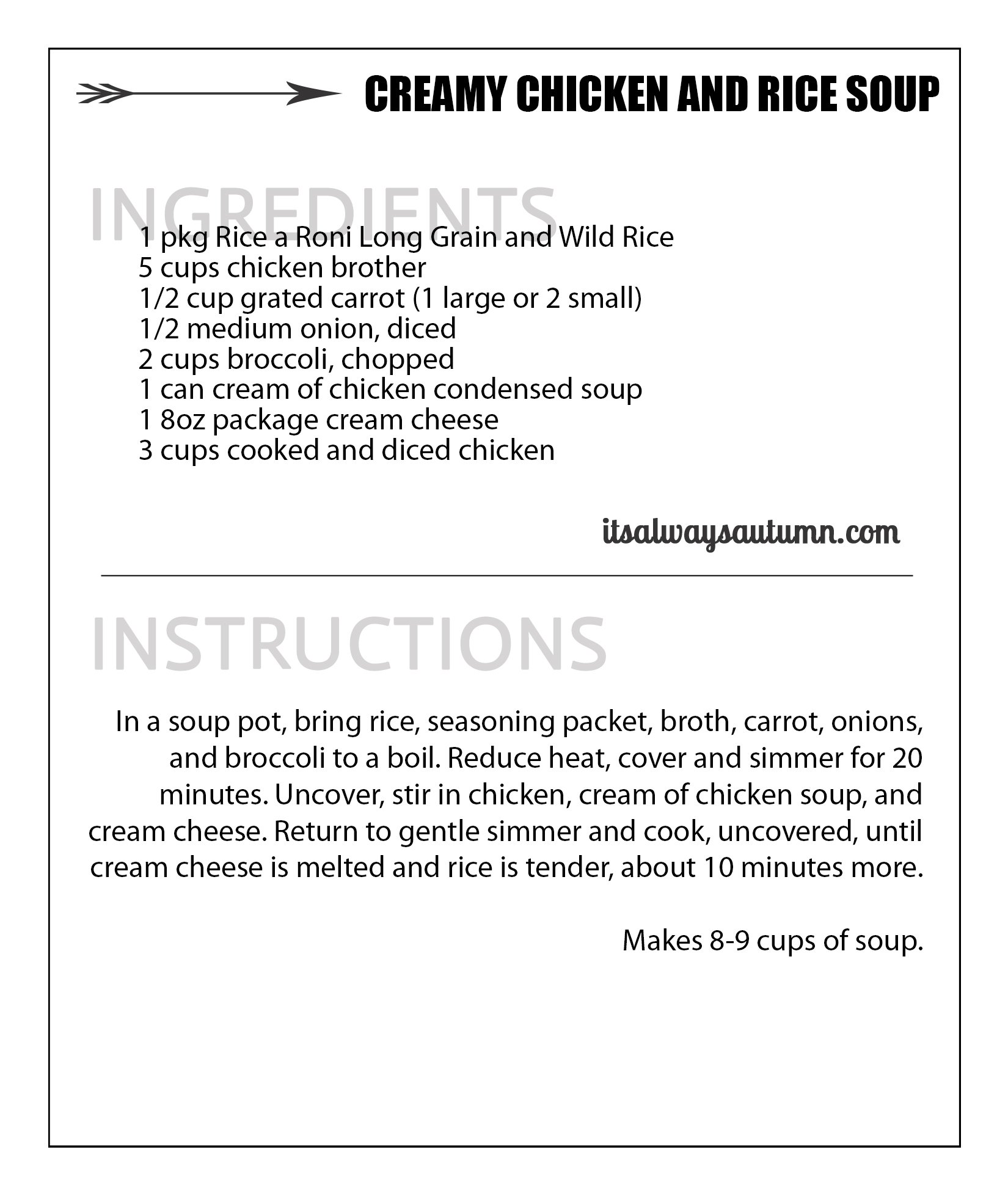 To make your family think they've died and gone to heaven, serve this soup with Better than Olive Garden Garlic Breadsticks. Best chilly day meal ever!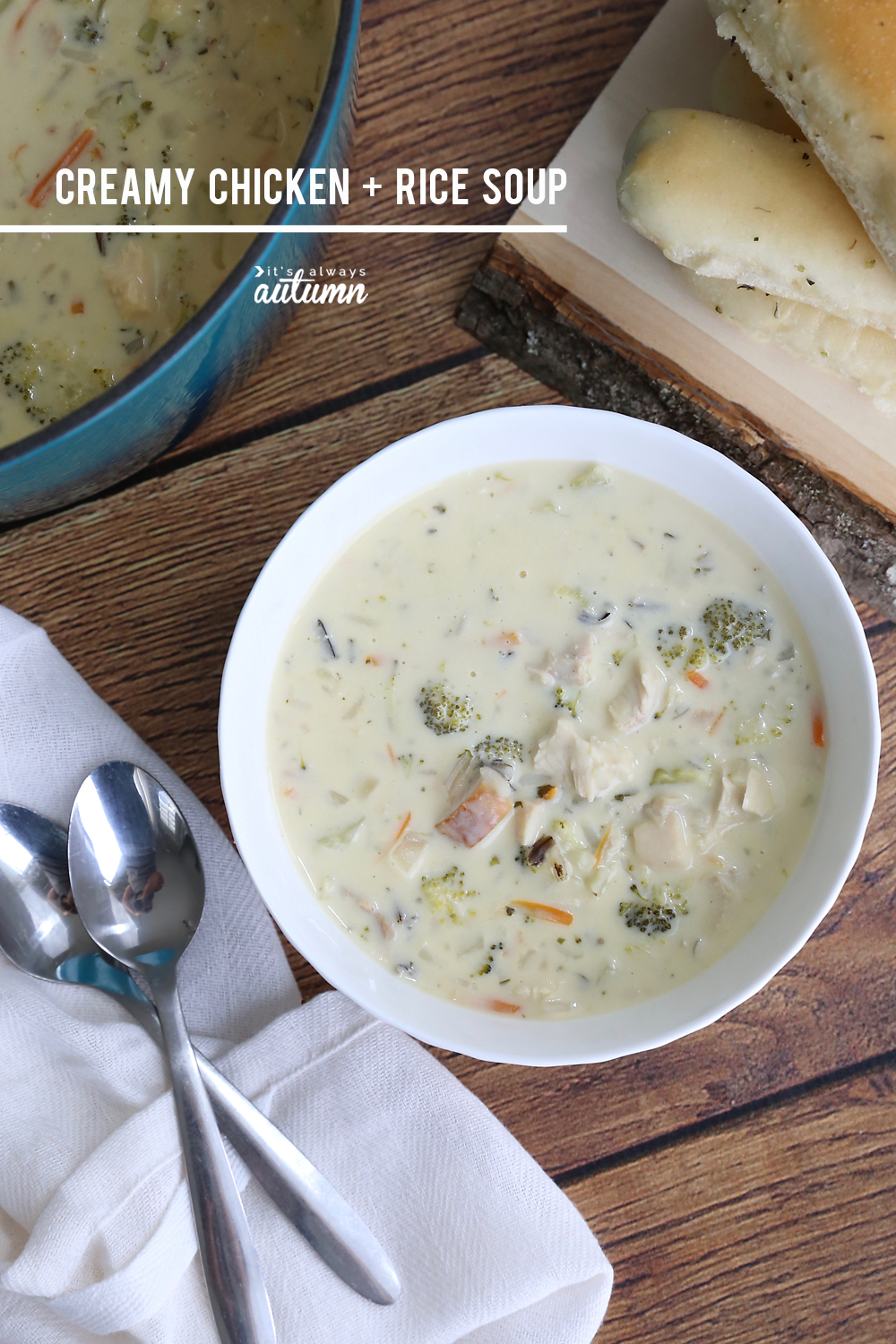 Looking for more fantastic recipes? Check out these posts:
Better than Olive Garden breadsticks
Pumpkin chocolate chip cookies