Hey, it's September, which means it's obviously time to start planning Christmas gifts, right? Right. Today I'm sharing free printables for my 2017 photo calendar so you can get started on your holiday gifts. This photo calendar is a great gift option because: 1) you can customize it with your favorite photos, 2) it's really easy but ends up looking pretty cool, 3) it's ultra-cheap, meaning you can make a bunch and whack out gifts for lots of people without breaking the bank, and 4) you made it, which means it's extra special. Totally.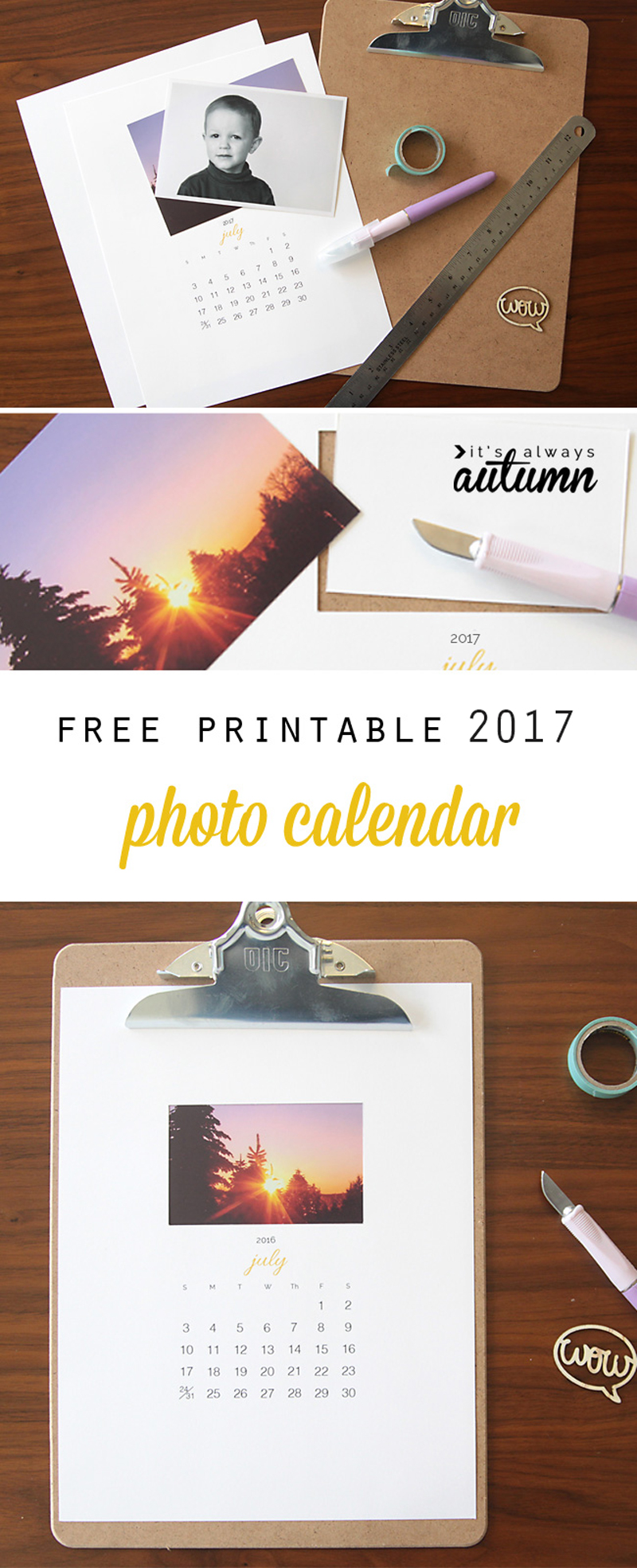 If you're a long-time reader of the old blog, you've seen the 2015 and 2016 versions of this calendar. I don't usually make the same thing year after year, but judging by the emails I've gotten asking when this year's version will be ready, you guys seem to like this snazzy little photo calendar.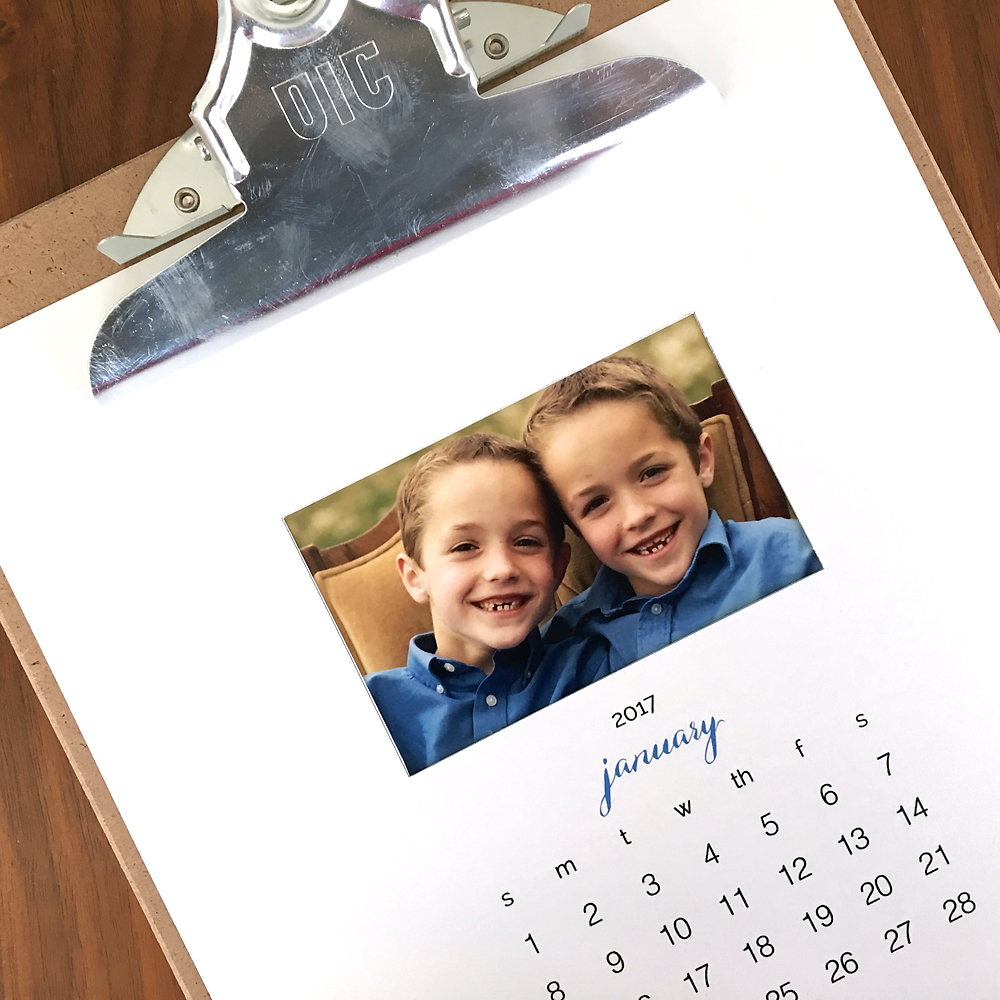 And why not? All you have to do is print out the pages onto cardstock, cut out the photo window, tape a 4×6 photo behind the window, and stack all the pages together on a clipboard or in a document frame. Nice.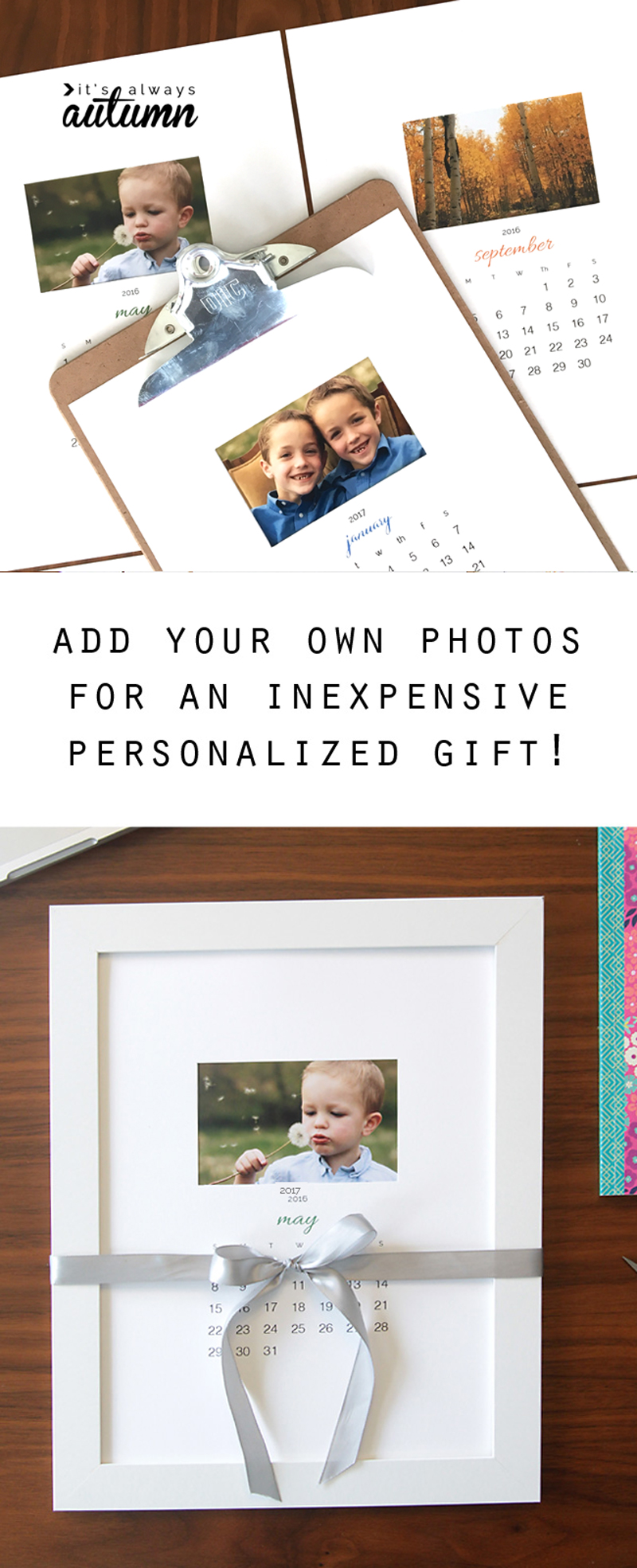 Use pics of your own kids to make a calendar for your spouse, or old family photos to make a calendar for your mom, or even pretty scenic pictures you can find free on the web (and I'll tell you where) to make a calendar for coworkers, teachers, or anyone else.
To make a 2017 photo calendar, you'll need to download the free printables by clicking here. Print them onto sturdy cardstock at 100% or full size. (And yes, some of the photos below say 2016 on them. Don't worry, the link above will take you to the 2017 version).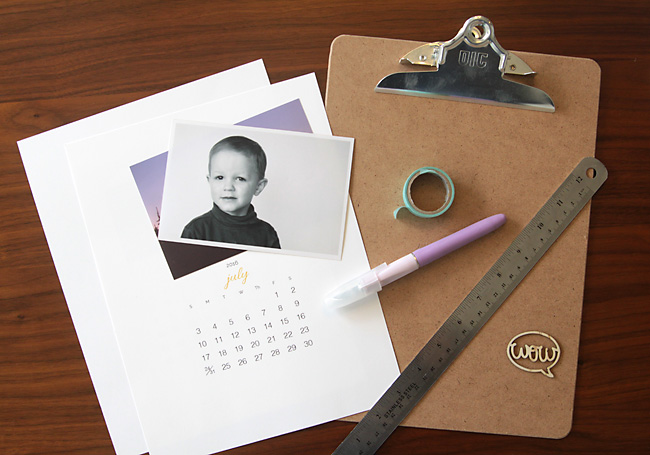 Use an exacto knife and ruler to cut out the box on each page of the calendar, then attach a 4×6 photo behind it.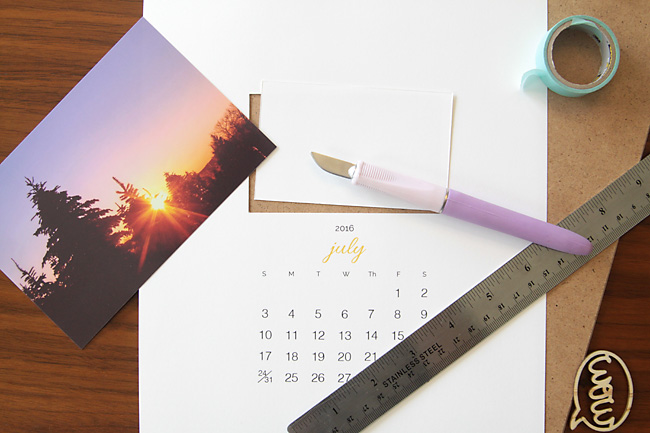 Cutting a window out of each calendar page looks cool because the calendar page now "frames" the photo, but if you want to make things really easy you can skip cutting out the box and trim a photo to just larger than 4.5 inches wide and 2.75 inches tall and adhere it over the box instead.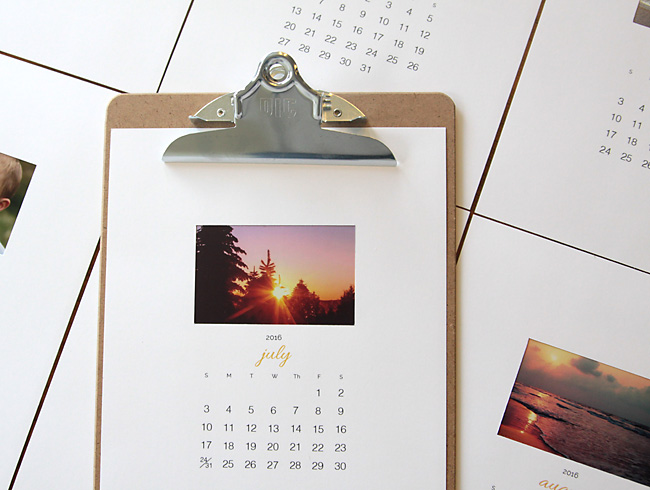 Here's a quick video that shows the process:
Once all the pages are complete, slide them into a clipboard and you're ready to give your handmade photo calendar away!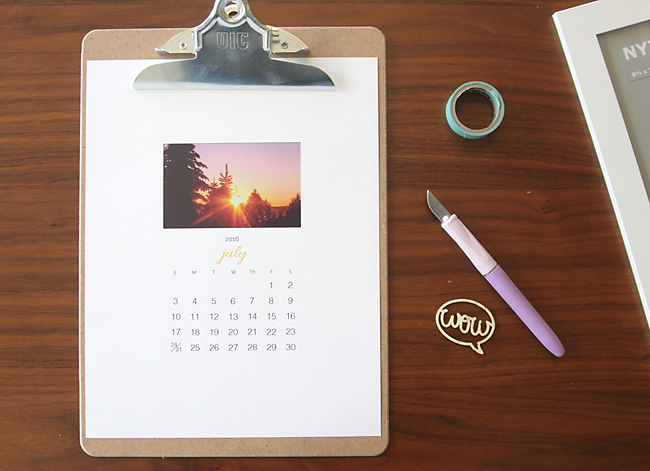 If you want to give the calendar pages in a frame, either purchase an 8.5×11 document frame, or trim 1/2 inch off the top and bottom of each page and 1/4 inch off each side so they'll fit an 8×10 frame.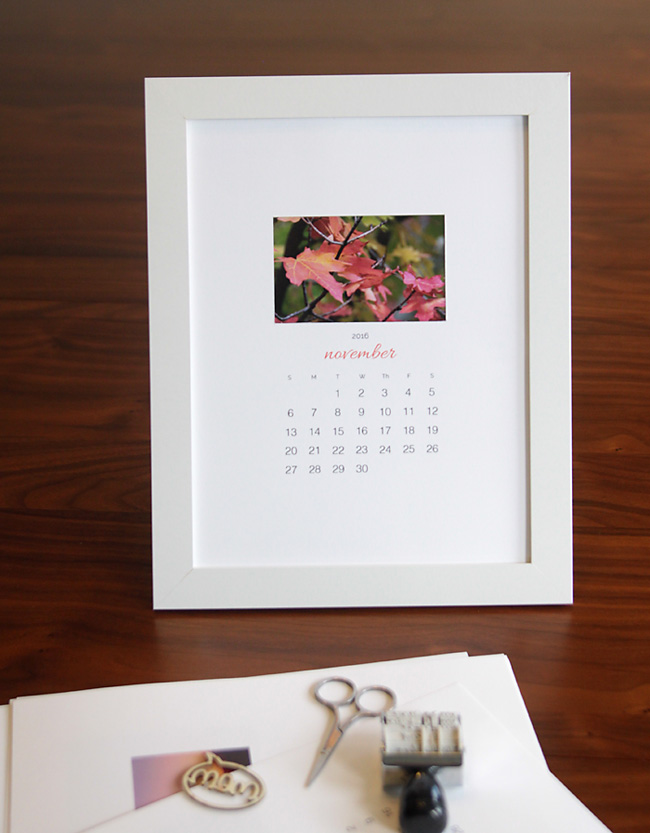 Either way it makes a very pretty, minimalist/modern gift.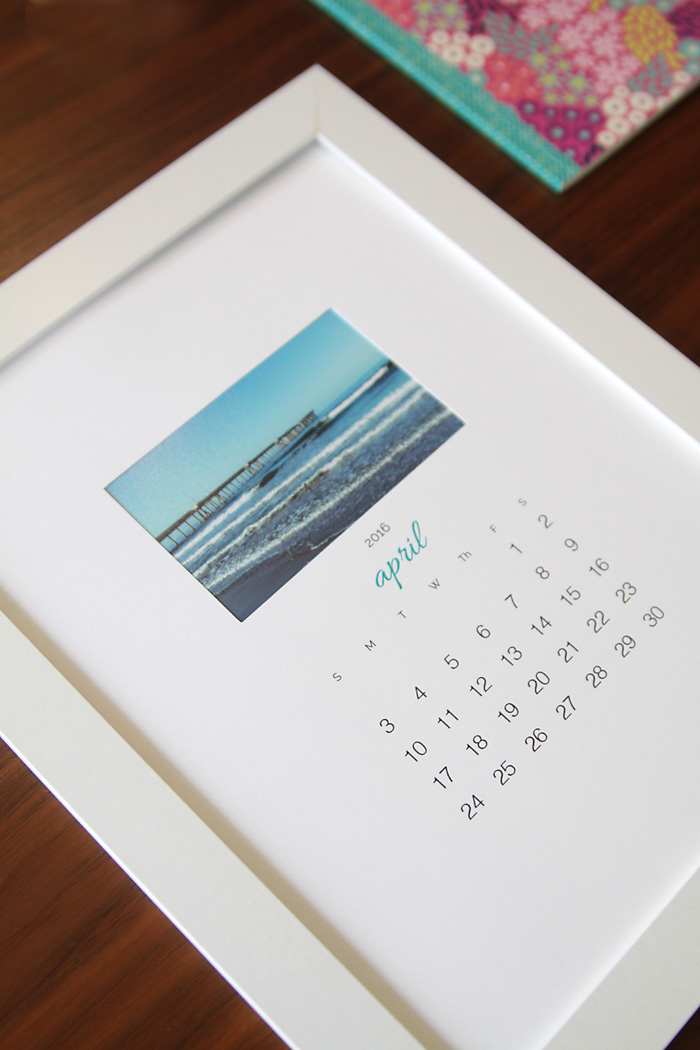 If you're looking for beautiful, free stock photos to use in these calendars, check out Stock Snap. It has a searchable collection of beautiful photos that are absolutely free to use. It's a fantastic resource!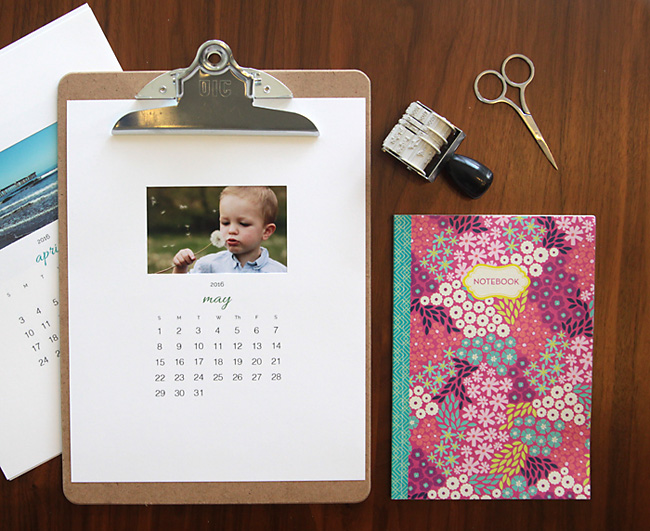 Download the 2017 Photo Calendar Printables by clicking here.
And if you like the calendar, but are looking for something smaller, check out my Mini 2017 Photo Calendar instead!