In today's post: Learn how to make an Oreo ice cream sandwich! Creamy ice cream sandwiched between thick, cookie shaped pieces of Oreo crust – just like the Oreo Madness dessert from TGI Friday's.
I'm generally not a big fan of restaurant desserts. They always sound so good, but then I spend seven dollars on a piece of cake that turns out kind of dry, and I spend the next hour thinking about how I could have made a WHOLE CAKE for seven dollars and it would have tasted SO MUCH BETTER. So I usually just skip dessert when we are eating out (unless we're headed to Cold Stone on the way home). But back in the day, my husband (then boyfriend) and I used to eat at TGI Friday's pretty regularly, and we'd always (ALWAYS!) get the Oreo ice cream sandwich, aka Oreo Madness, for dessert.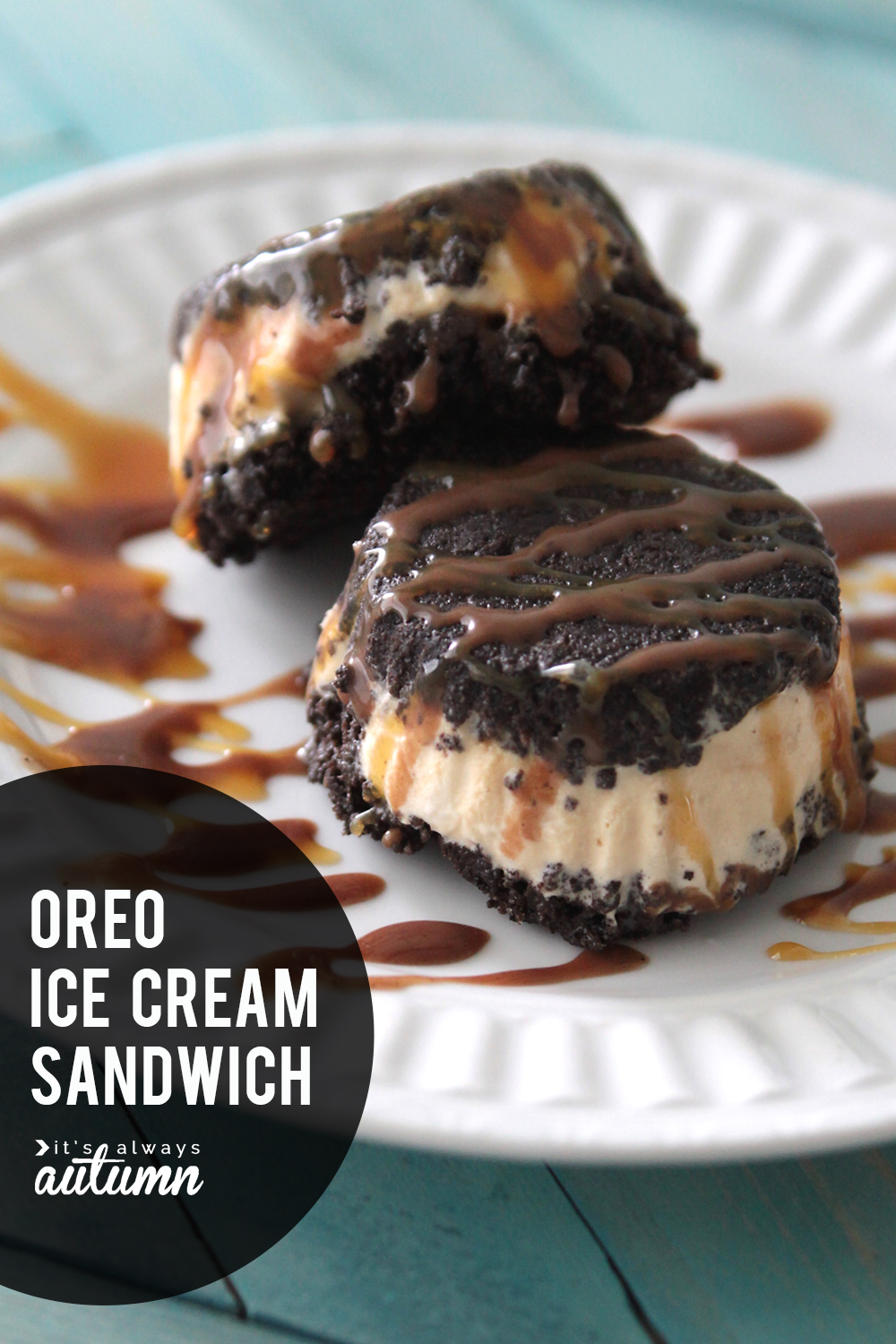 Smooth vanilla ice cream was sandwiched between two super thick, cookie shaped pieces of Oreo crust, and the entire thing was drizzled in copius amounts of fudge and caramel. It looked like a great big Oreo, but was way better. It was the one restaurant dessert I knew would never disappoint.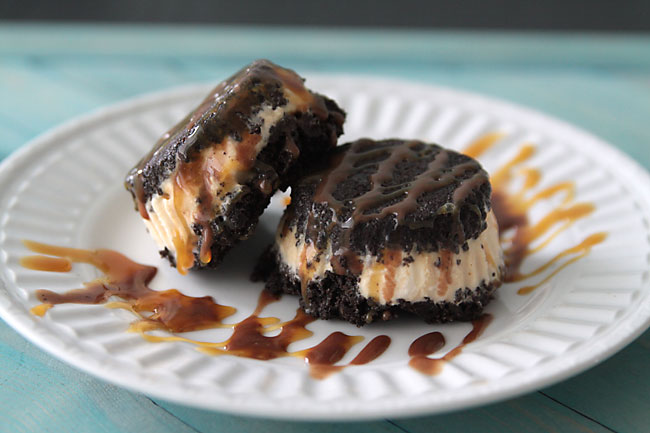 And then it went away. To be replaced by yet another hot cookie walnut brownie hybrid or some such nonsense. So I started making ice cream pie with Oreo crust at home in my attempts to fill the Oreo Madness void. But it just wasn't cutting it. Without two layers of thick Oreo crust it wasn't Oreo Madness, it was just ice cream pie (which frankly isn't so bad – it's just not Oreo Madness).
So I finally took matters into my own hands and created my very own Oreo Madness. Be warned – this is for serious Oreo lovers only. And since that's actually a fake warning meant to make you more excited to try this recipe, here's the REAL warning: find a really good hiding place in your freezer for a few of these or your kids will eat the last of them and then you'll be forced to make them again the very next day. And that would be bad. For your hips, at least.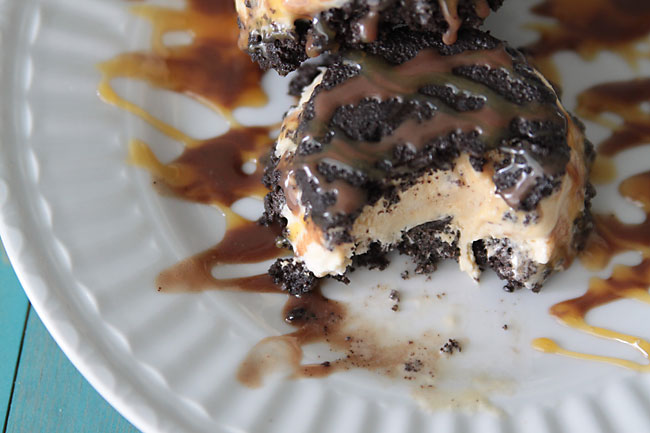 How to make an Oreo ice cream sandwich
To make these delightful little Oreo ice cream sandwiches, start by setting your ice cream out on the counter to soften up for a few minutes while you make the Oreo crust that will go on the outside of your ice cream sandwiches. Dump a whole package of Oreos into a food processor and pulse until you have small crumbs.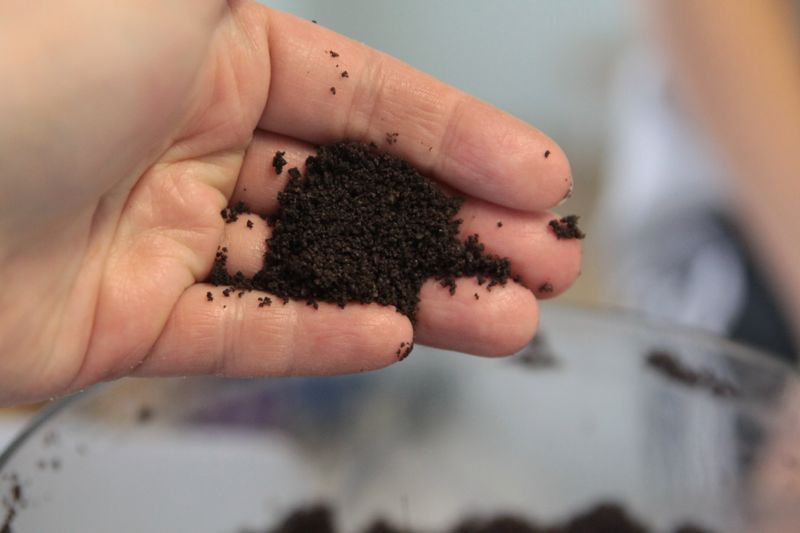 Next, melt one stick of butter and drizzle over the Oreo crumbs, continuing to pulse until combined. When this step is complete, you'll be able to grab a bit of the crumbs and squeeze them in your fist, and they'll keep that shape, like so: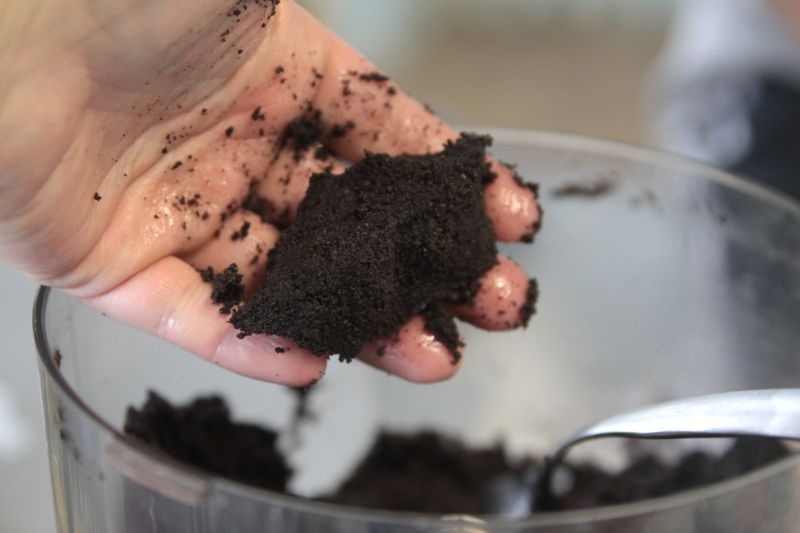 Now you'll scoop up one tablespoon of buttery Oreo crumbs (I use my 1.5 T scoop and just didn't fill it full, but feel free to use an actual tablespoon here)…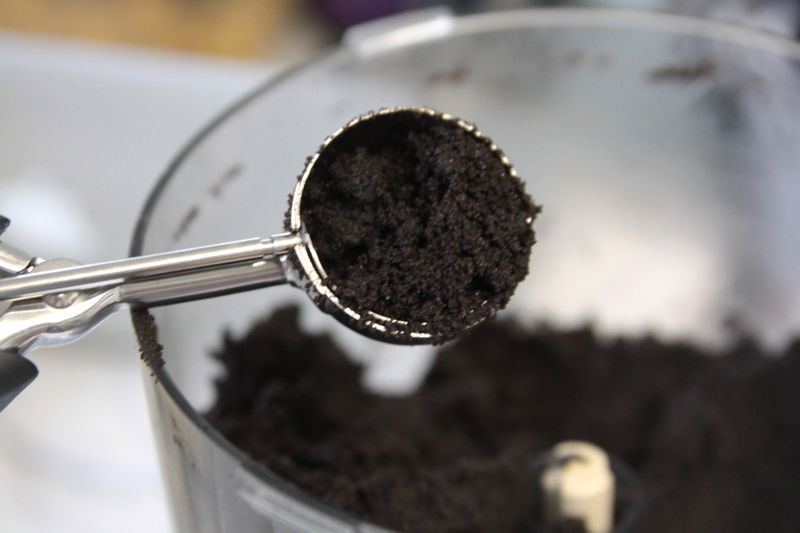 …and dump it into a muffin liner that has been spritzed with nonstick spray. Gently pat the crumbs down into a crust in the bottom of the muffin liner. Try to get all the crumbs down on the bottom, not letting any ride up the sides of the liner (this will make a prettier finished product).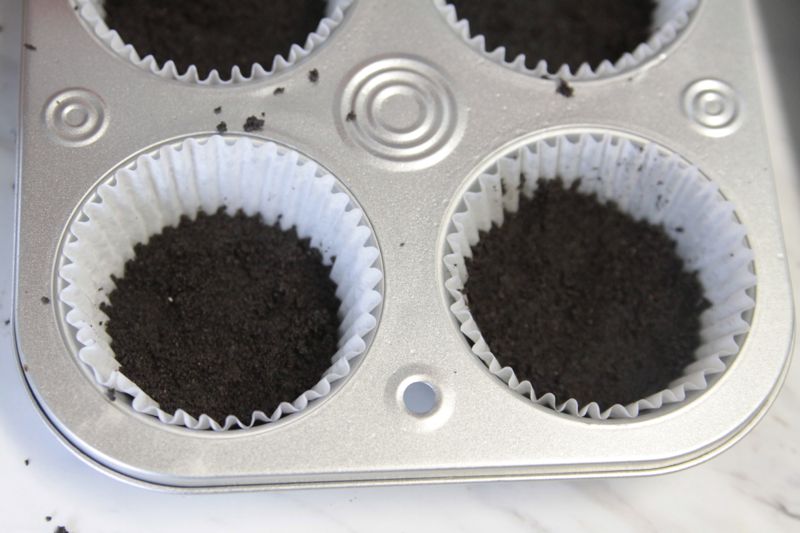 Next, you'll need your ice cream and a 1/4 C measure. If you have a 1/4 C measure that is shaped like this one (very similar shape to the cupcake liners) it will make the process simpler. If not, just make do with whatever you have.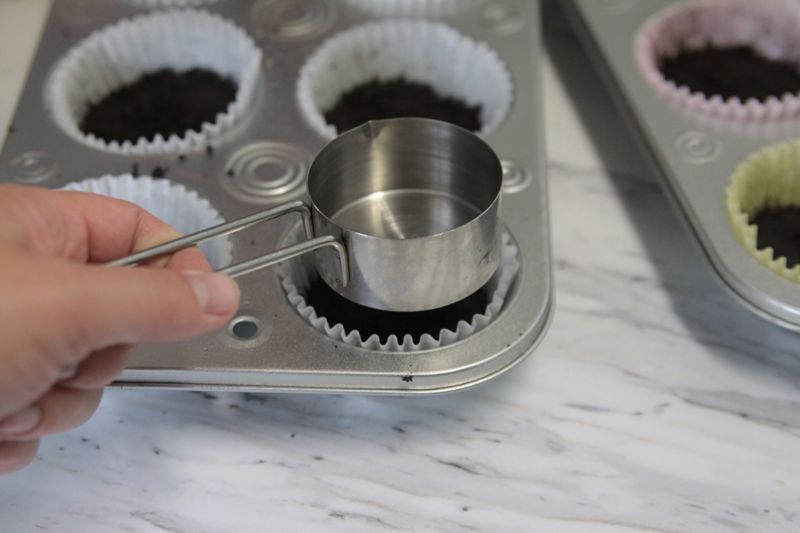 Fill that measuring cup to the top with ice cream, packing it down and leveling off the top to get a true 1/4 C.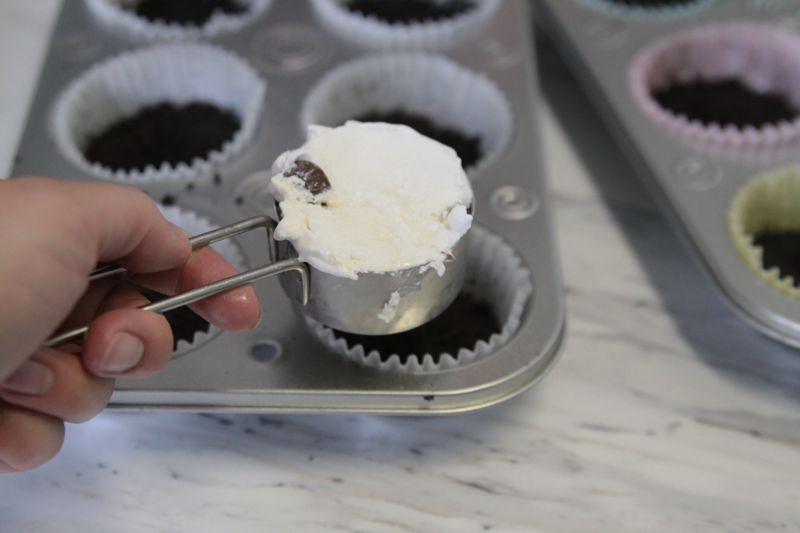 Using a spoon, scoop the ice cream out onto the Oreo crusts in the cupcake liners.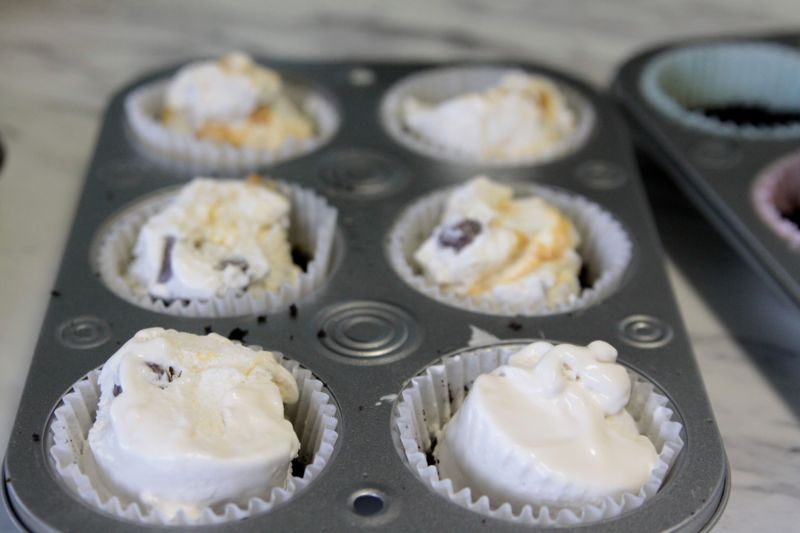 If the ice cream is still pretty hard, let it sit for five or ten more minutes until it's soft enough to gently press down into the cupcake liners, smoothing the top.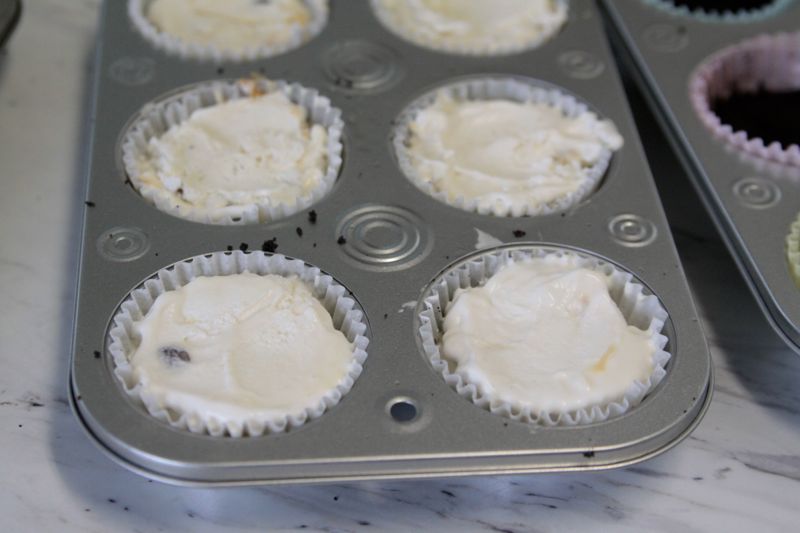 Finally, top each mini ice cream pie with a full scoop (or 1 and a half tablespoons) of the remaining crumb mixture, and carefully pat down. Don't push too hard, or the softened ice cream will come squishing out. Note: this makes a nice thick crust on the top and bottom for a total of 18 treats. If you'd like to stretch it to 22 or 24 treats, use a scant tablespoon for both the top and bottom crusts, and plan on using six cups of ice cream total (instead of the 5 listed in the recipe below).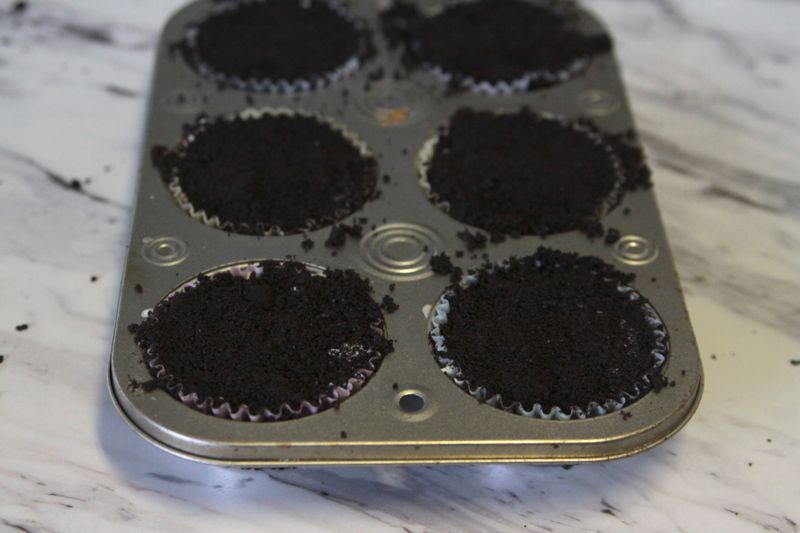 Cover with plastic wrap and freeze for two hours or until firm. Then gently remove the cupcake liner, drizzle with hot fudge and caramel ice cream toppings, and chow down!
You can use vanilla ice cream (which is what Friday's used to use), but we kicked things up a notch with caramel and peanut butter cup ice creams. Mint would also be fantastic.
Oreo Ice Cream Sandwich recipe (Oreo Madness recipe)
makes 18
1 package Oreos, crushed into crumbs
1 cube butter, melted
5 C ice cream (a standard 1.75 qt ice cream tub is plenty)
hot fudge and caramel toppings
Take ice cream out of freezer to soften. Mix Oreo crumbs and butter to make crust. Press 1 T crumbs into cupcake liner sprayed with nonstick spray. Place 1/4C ice cream on top of crust and smooth down. Top with 1.5 T crumbs to make top crust. Cover with plastic wrap and freeze two hours until firm, then remove cupcake liner and top with hot fudge and caramel.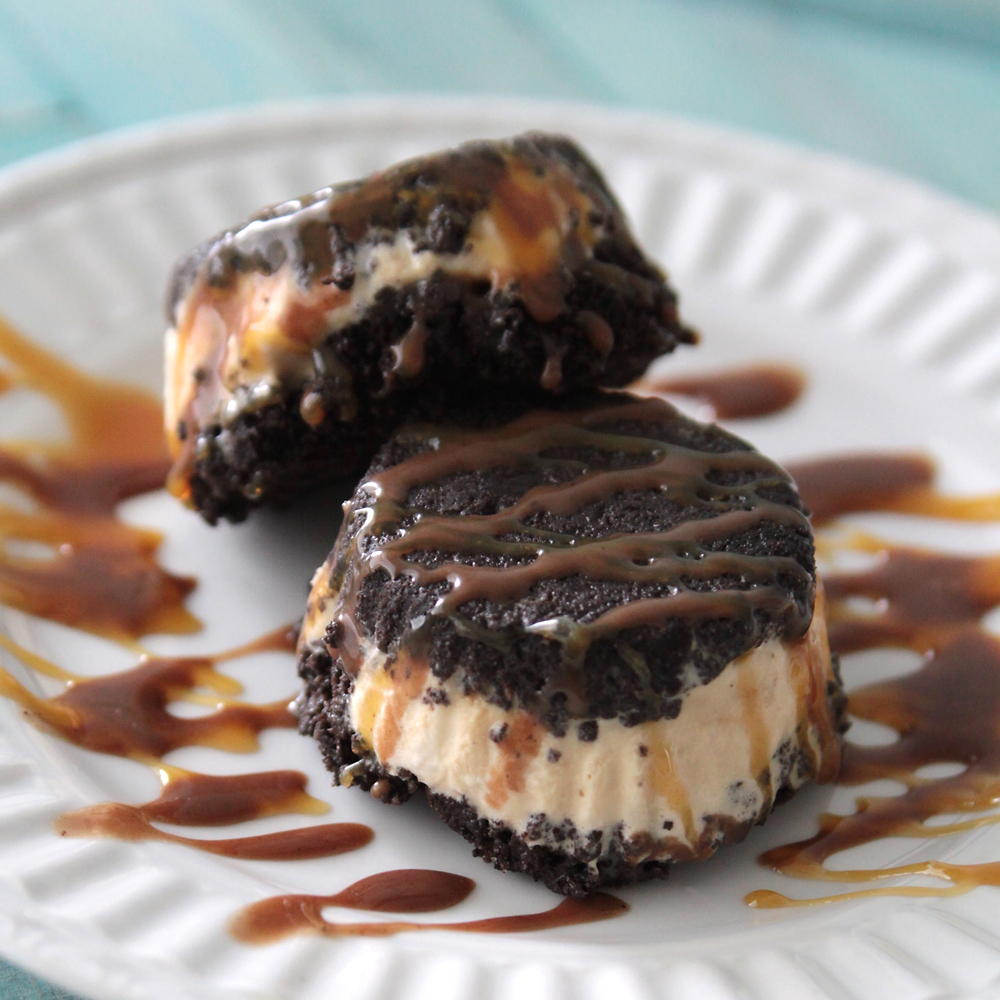 Like ice cream? Try these recipes:
Homemade dark chocolate fudge ice cream
20 easy frozen dessert recipes
Homemade cookie and ice cream sandwiches