In today's post: This American flag fruit pizza is an easy, delicious recipe for the 4th of July!
We used to have neighbors who would coordinate a big get together on July 4th – everyone was invited to bring their own meat to grill for dinner plus sides or desserts to share, then we'd all chip in for a great big fireworks pack and sit together on the lawn to watch the show. It was so much fun! We've since moved to a new neighborhood and every summer I think we should be the ones to start up the tradition…but I never get around to it. Maybe this year I will! And if I do, I'll be making this American Flag fruit pizza to share: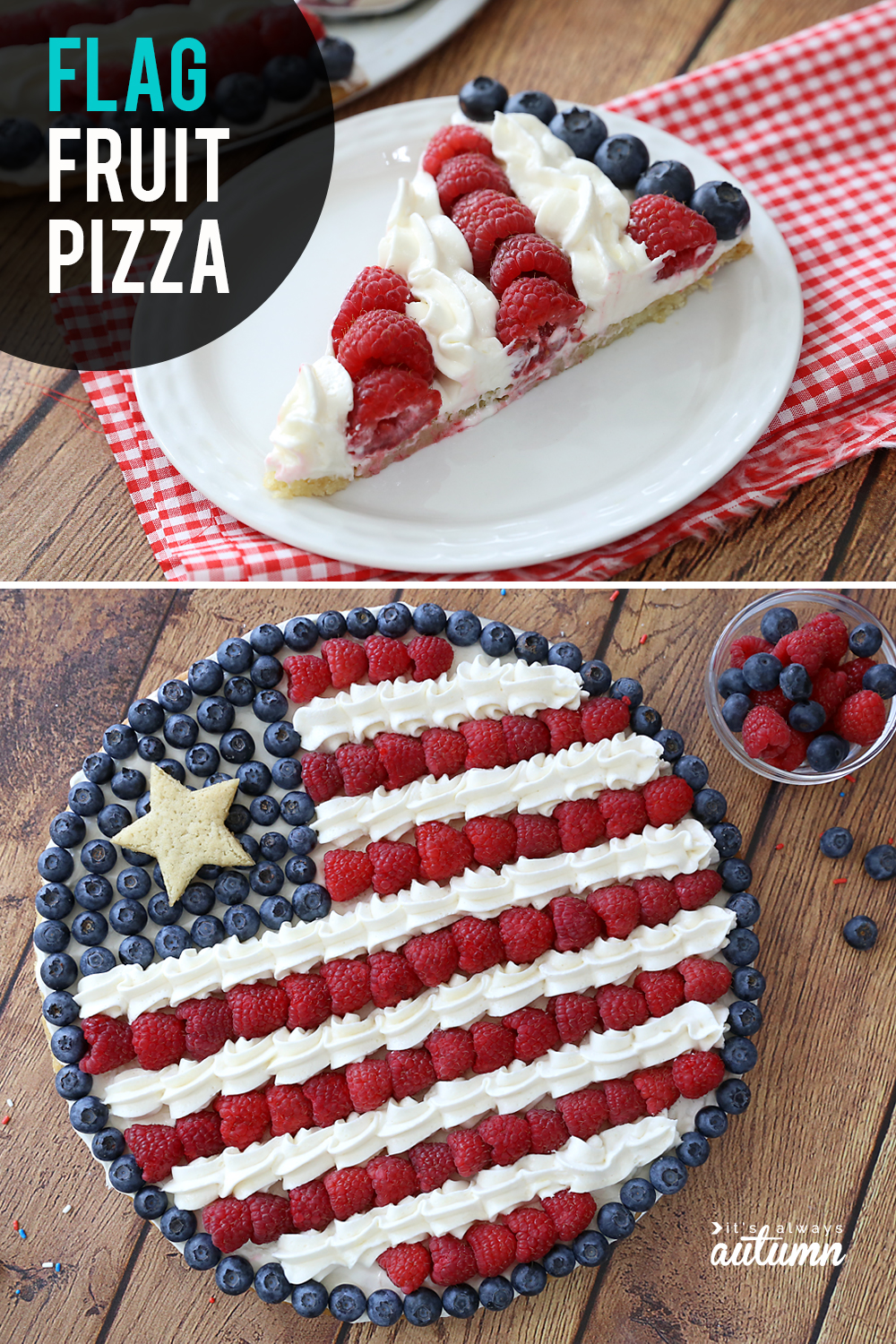 This is one of those desserts that looks pretty fancy, but is actually really easy to make!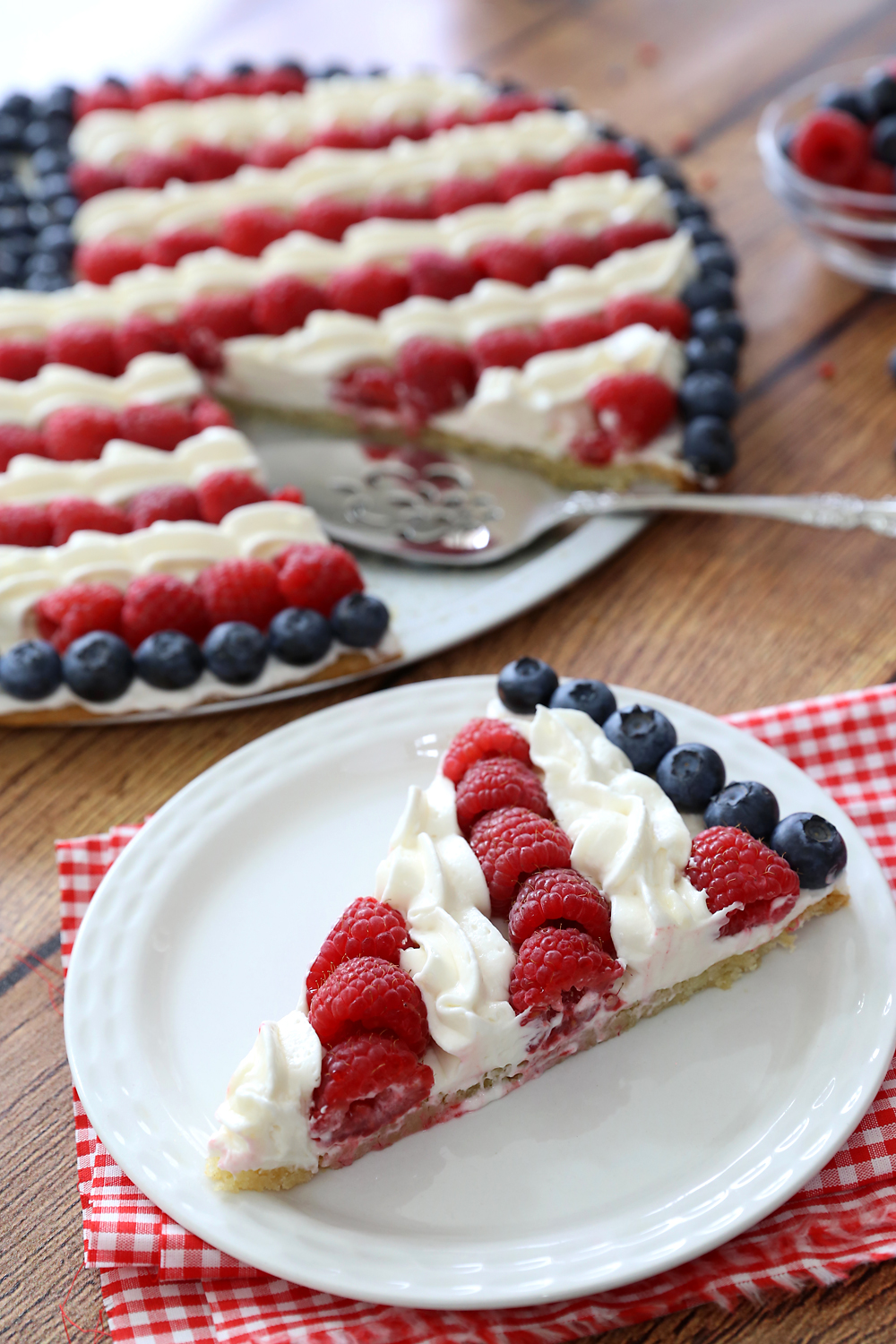 The base, or "pizza crust", is a great big sugar cookie made from refrigerated cookie dough (easy!). The creamy filling is a super simple no bake cheesecake mousse (yum!) and then the flag is created with fresh blueberries and raspberries.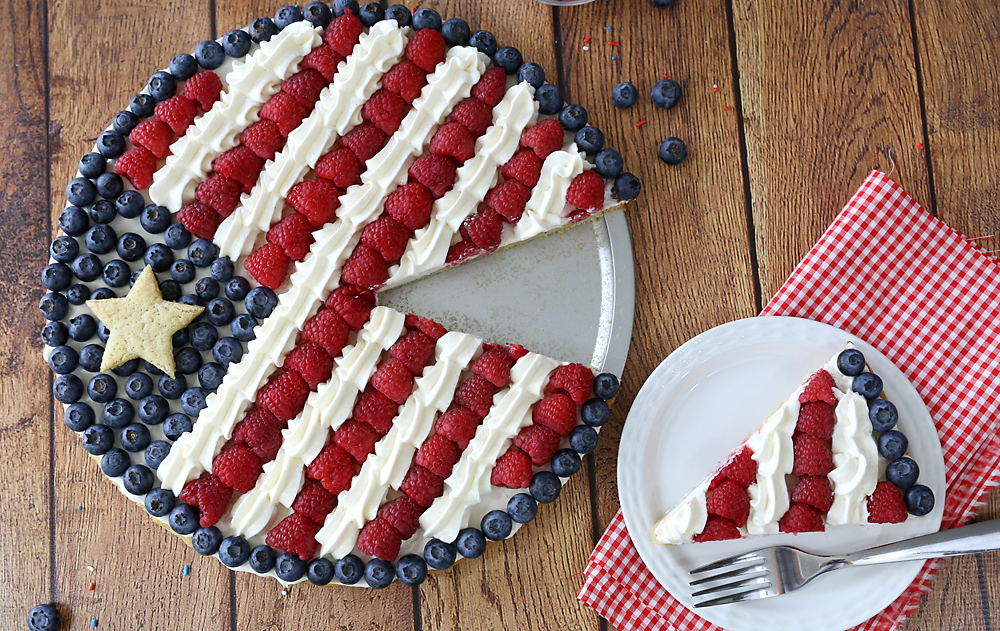 I spread a little less than half of the cheesecake mousse on the cookie crust, then added the fruit. After that, I piped on the rest of the cheesecake mousse using a large star tip. I wasn't sure if it would be hard to make it look cute since I don't do a lot of cake or cookie decorating, but it was super easy! I found a Wilton cupcake decorating kit at Walmart for $4 and used the star tip that came with it. You can see how I did this in the video below the recipe card.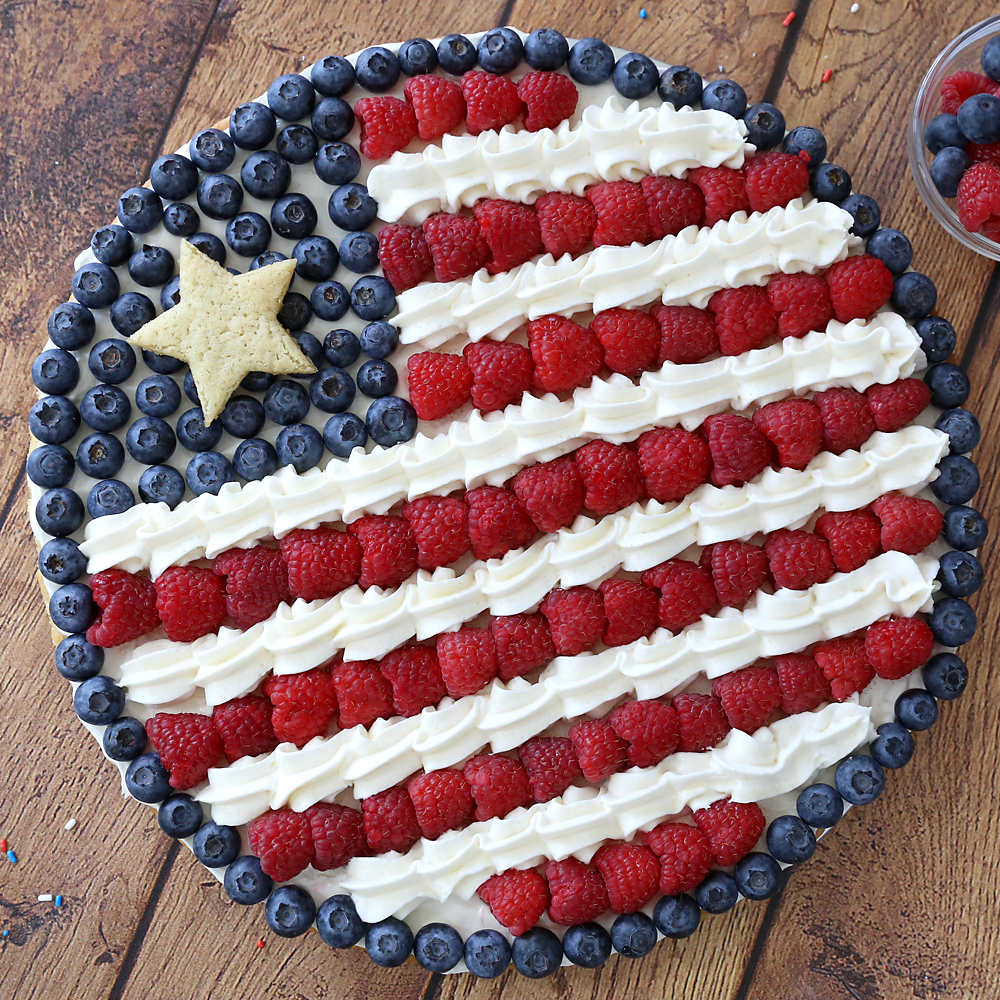 If you don't want to mess with piping, you could just spread all the mousse on the crust before topping with the fruit.
Flag Fruit Pizza Recipe
Click here to download the printable recipe card.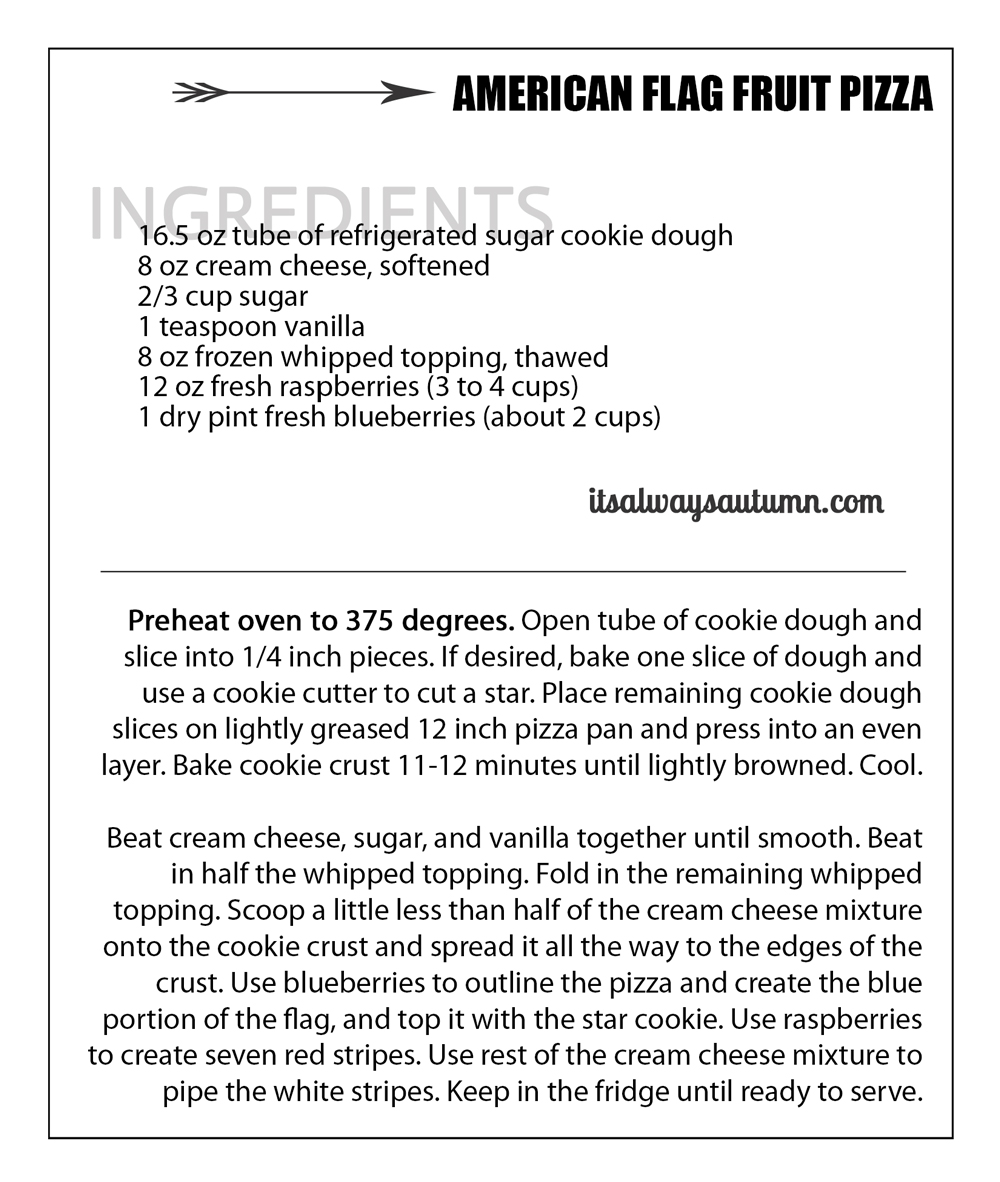 How to make Flag Fruit Pizza
Watch this video to see how to make the flag fruit pizza (more tips follow):
I used a 12 inch pizza pan from the dollar store, and found it was easiest to press the dough into it if I cut the dough into 1/4 inch slices first, then laid the slices out over the pan.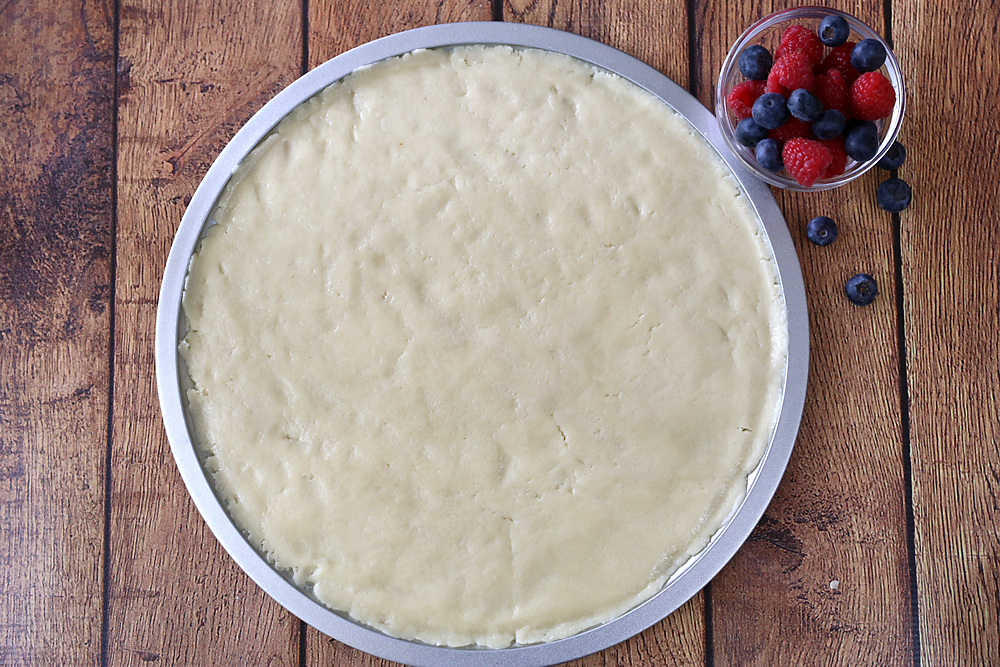 NOTE: If you'd like to have a cookie star to place on top of the blueberries, make sure to reserve one slice and cook it separately (I just stuck it in the oven on a piece of aluminum foil next to the pizza pan – it cooked a few minutes faster than the cookie crust). I used a star cookie cutter on it AFTER it was cooked to cut out the shape.
After you bake the cookie, allow it to cool completely. This will take about an hour if you put it into the fridge. Then you can mix up the cheesecake mousse and spread a little less than half of it onto the cookie crust. Then it's time to top it with berries!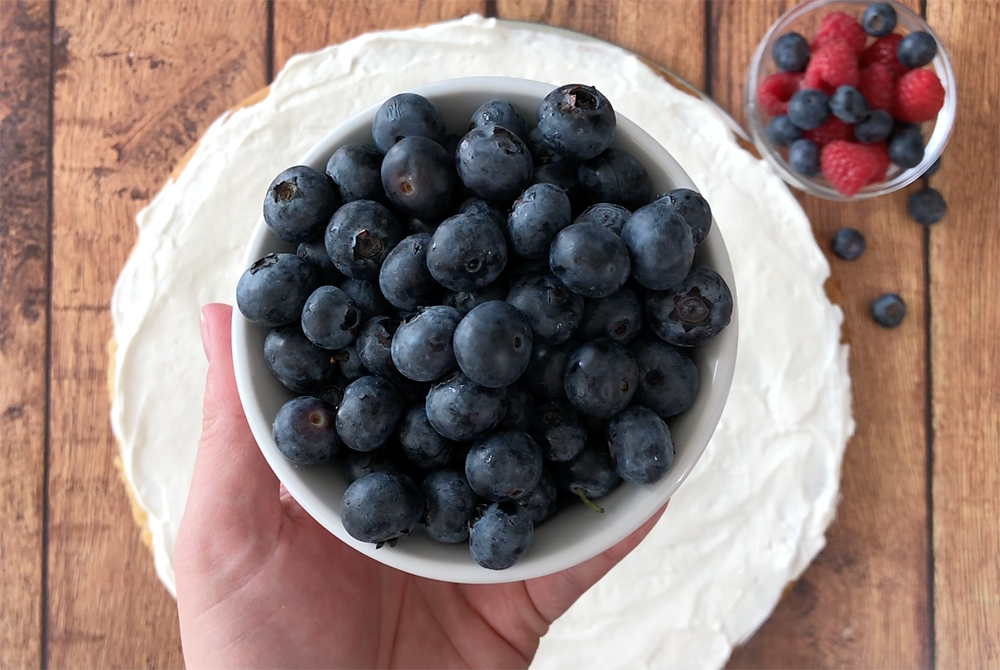 And pipe on the rest of the cheesecake mousse.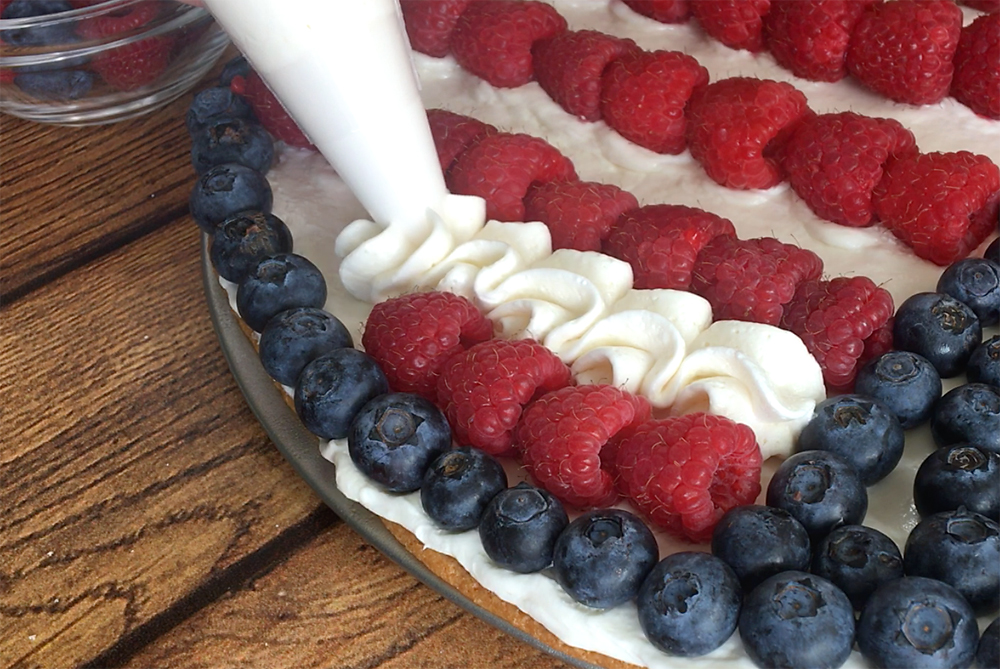 Be sure to keep the flag fruit pizza in the fridge until you're ready to serve. I kept it in my fridge uncovered because I couldn't figure out how to cover it without smooshing the piped cream. It looked and tasted great the next day as well, but I wouldn't keep it much longer than that because raspberries have a pretty short shelf life.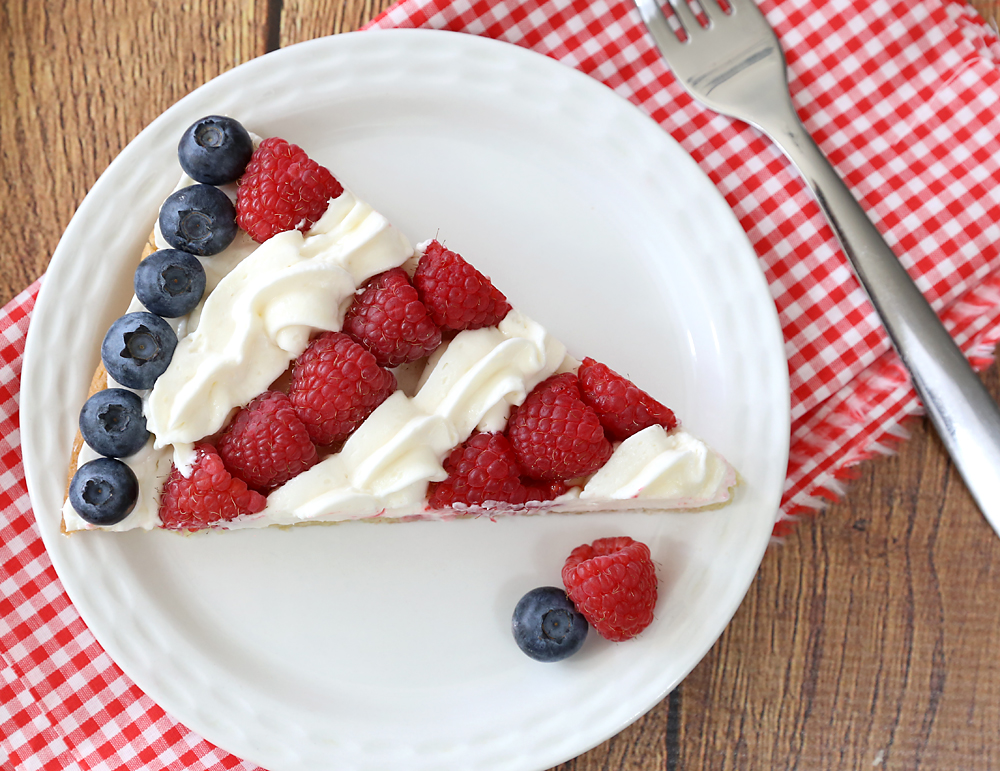 Happy Fourth of July!