By this time each year my kids each have a holiday gift list a mile long, so you'd think it would be easy to decide what to get them for Christmas. The only problem is their lists are often full of things I don't want to buy for them. Let me explain: I'm tired of stuffed animals or action figures that don't get played with, junky toys that get broken two hours out of the package and end up as the clutter that never goes away, and video games that encourage them to spend more time plugged in and less time using their imaginations. Only a small percentage of the gifts they have received over the years have been real keepers – things that really provide hours of fun, don't make unbelievable messes, and encourage them to use their imaginations.

In case you need a few ideas for boys of your own, here's my list of the best presents we've purchased over the past ten years for boys ages 2-12. Actually, these would all make great gifts for girls as well – I just have boys and they've loved all these items, hence the title of the post. Be sure to check out the 20 best Christmas gifts for girls HERE for even more ideas, most of which will work for both boys and girls! BTW, the links I provide are Amazon affiliate links. I do almost all of my Christmas shopping through Amazon because it's hard to beat their prices, but I will note below if I've seen a better price elsewhere. Also, since Amazon changes their prices often, the actual price may be a little different than the one I note below.
1. Educational Insights Design & Drill
 about $25, perfect for ages 2-6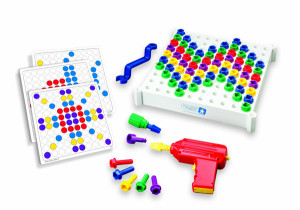 A few years ago my youngest spent a week in the hospital with RSV and come home on oxygen. I knew we wouldn't be going much of anywhere for a few weeks and I needed something that would keep my 2.5 year old boy busy – and this activity board was perfect! It comes with a power drill, tons of screws, and a board you can drill the screws into. Just reverse the drill to pull them back out. There's also a screwdriver, so two can play at once. My son spent hours screwing in all the red screws, then all the green, then making patterns with the different colors. His friends still beg to play with it when they come over almost three years later.
2. KidKraft Uptown Espresso Kitchen
 – $144, perfect for ages 2-6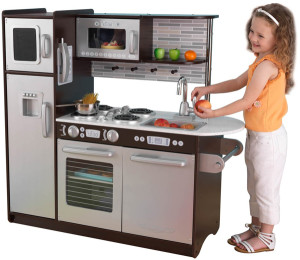 I know, play kitchens have traditionally been marketed for girls, but don't count them out for your little boy! My older three boys all wanted a play kitchen and I never got one because we couldn't afford it back then, but I wish I'd found one at a garage sale or something. So last year when my younger boy asked for a kitchen I decided we'd finally go for it, and it was a great decision. He LOVES pretending to be a chef. He walks around taking orders from everyone in the house then heads to his kitchen to put the food together. He plays with it more than his younger sister does, although I think she'll use it more as she gets a bit older too. NOTE: the kitchen I've linked was one of the only ones I found that wasn't obviously girly, and I did find it cheaper at target.com last year. Just be aware that play kitchens sell out before Christmas, so shop early if you're interested.
3. Gazillion Incredibubble Wand
 $9, perfect for ages 3-8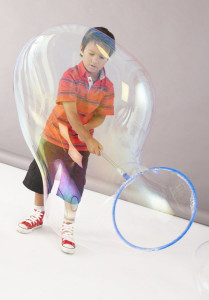 We've tried a couple different huge bubble makers in the past, and this one was by far the easiest to use. I know you usually think of bubbles as a summer activity, but it's actually easier to make large bubbles when it's cool and a little wet out, which makes it a great activity for winter/spring days, especially if the winter's mild where you live. If not, you can try playing with it in the garage! Plan to get extra bubble juice, and you'll want the good kind (you can get Gazillion bubble refills at Walmart) as the dollar store stuff won't work. You can also find lots of recipes online – look for one that includes glycerin for the best bubbles.
4. D&L Company Ultra Stomp Rocket
$15, perfect for ages 2-12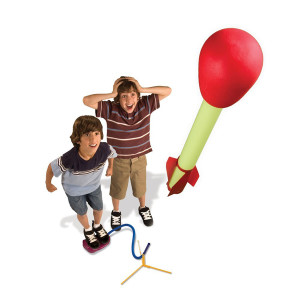 These stomp rockets are SO MUCH FUN. Just slide a rocket onto the launcher and jump – and your rocket will go flying into the air. These puppies go really high! We bought a set years ago and used it over and over and over…and recently finally replaced it. We took them with us to the park once and every single child at the park ended up in line to take a turn. These are great for all ages – even small children can figure it out and big kids love competing to see who can send the rockets the furthest. One of our best gifts of all time.
5. Giant Sticker Activity First Words
$11, perfect for ages 2-6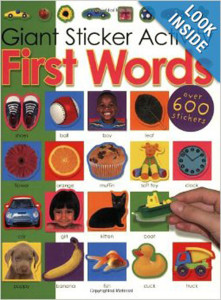 We love these Giant Sticker books! Kids pull stickers off the sticker pages and then find the corresponding picture on another page to put the sticker down on. The pages are make of thick, glossy paper, so stickers can be pulled back up and stuck down somewhere else. Some books like the one shown above are mostly matching one photo to another, while other books are character based (think Elmo) and allow kids to create their own scenes. All my kids have played with these at one time or another – most often during church when I'm desperate for them to sit quietly with me. Younger kids will need help, while 5 an 6 year olds should be able to work on the books on their own. NOTE: All "sticker books" are not created equal. The ones that are not listed as "Giant" are generally much smaller and have plain paper pages so once a sticker is down, it's stuck forever. ANOTHER NOTE: Walmart usually sells a big Sesame Street sticker book for $5 or so, and Costco generally carries a large variety of character-based books.
6. Curious George Complete Adventures Deluxe Book and CD Gift Set
$26, perfect for ages 3-6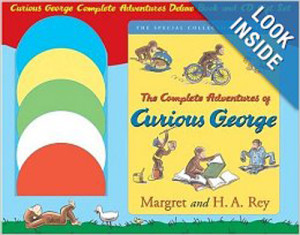 I love books on CD for my kids! I spend time reading with my kids nearly every day, but books on CD are perfect for times when I'm busy making dinner but don't want to turn on the TV for the little kids. We put the audio files on our computer and our 5-yr-old knows how to find them and choose the story he'd like to listen to. This set comes with a huge Curious George book (hundreds of pages total) that contains the seven original illustrated stories, which are each about 15-20 minutes long when read aloud. The reader does a great job and the classic Curious George stories are super engaging. My 2 yr old loves listening to them as well, but does better when her older brother is around to turn the pages at the beep.
7. LeapFrog Letter Factory Phonics
 $16, perfect for ages 2-4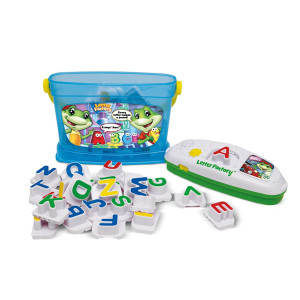 There are lots of electronic toys that claim they'll turn your kids into genuises, and I don't think most of them are worth much. But our kids really liked the letter factory reader. The kids can place a letter into the reader and it says the letter and sings a song about it. They can also push a button to hear the entire alphabet. It lots of fun for little kids to put the letters in, then take them out, then put another one in. Everything stores inside the bucket that comes with, so it's easy to keep tidy and together.
8. LeapFrog: Talking Words Factory
$8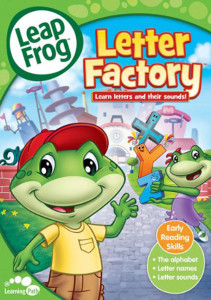 So I know I said I'd only mention gifts that didn't require being plugged in to use, but these two DVDs are absolutely fabulous. The Letter Factory DVD teaches letters and letter sounds better than just about anything I've ever seen. For example, to learn what sound the letter A makes, the teacher puts on a monster suit and scares the A's, who all yell: AAAA! (short a sound). The B's sing buh buh buh buh to Beethoven's 5th…and so on. Best of all, they're much less annoying than lots of other shows geared to this age range. NOTE: Leap frog has produced a number of other "learning videos" which are available on Netflix – NONE of them come close to the quality in these first two DVDs, which are not currently available on Netflix.
9. Starfall Learn to Read
$20, perfect for ages 4-6 (maybe even 3 yr olds)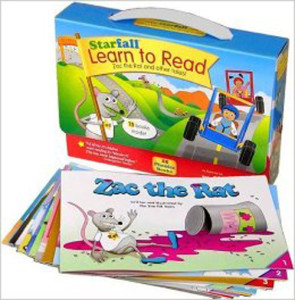 We've gone through more than our fair share of phonics book sets around here, and I haven't loved most of them. They progress too quickly from one book to the next, which is frustrating for both the new reader and the parent trying to help. Or they just focus on one letter at a time, giving no real support for the structure of words. We found this set for our 4-yr-old last year and it was instrumental in helping him learn to read. As an added bonus, there are free online games using the words and characters from each book that can be used to reinforce skills before moving on to the next book. (I know, this is a list for unplugging your kids, but if they're going to spend some time looking at a screen it might as well help them read, right?)
10. Paint by Number Tree Frog
$10, perfect for ages 5-10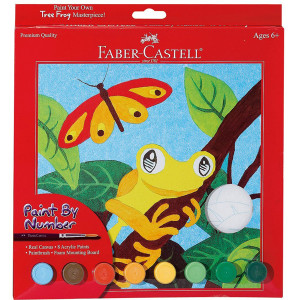 Craft supplies are another gift that are usually marketed toward girls, but are totally fun for boys as well. Paint by numbers sets are just fun because it's fairly easy to end up with a nice looking result, even for young kids. Older kids can add their own details. It's the perfect activity for a cold, rainy winter's day.
11. MindWare Extreme Dot to Dots
 most around $7, perfect for ages 8-12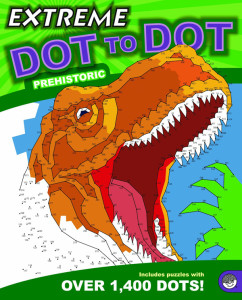 These extreme dot-to-dot books are completely awesome! Each page has 500-1000 dots, resulting in an intricate, super cool design once completed. Needless to say, they require an attention span, but the finished drawing is well worth the time spent. The books come in a variety of fun themes. Our kids bring them to church and work quietly during the talks/sermon.
12. Syma S107/S107G R/C Helicopter
 around $20, perfect for ages 8+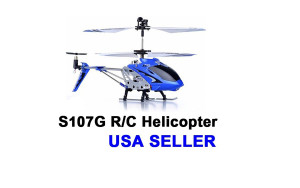 So normally I have a JUST SAY NO policy when it comes to remote control vehicles of any kind, mostly because they blow through batteries like nothing else. The actual cost of a remote control toy is going to be quadruple what you paid for it if your child spends much time playing with it. These little remote control helicopters, which come in a variety of colors, can be charged via a USB cable plugged into your computer. It's awesome. The remote does require batteries, but they last a really long time. And the helicopters are so much more fun than remote control cars. They take a bit of practice to control well, but are tons of fun – you might find yourself wanting to steal it to try it out. At around $20 I bought three for my older boys last year and they've been well worth the investment. Just be sure your child is responsible enough to put the helicopter away when done playing with it. Some pieces could get crushed if a younger sibling steps on it and then it won't fly right – although they do sell a very inexpensive kit with new blades, etc.
13. Schwinn 20-Function Bike Computer
 $15, perfect for ages 8+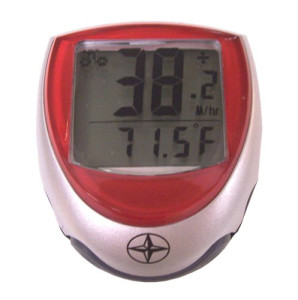 Boys love gadgets, and this is a great one because it actually encourages them to get outside and play. These little bike computers show your cyclist his or her speed, distance, time, and more. They take a little work to get set up correctly (10 minutes or so) but they're worth it. My boys love timing their trips around the block and seeing how much speed they can pick up riding down the street.
14. The LEGO Ideas Book
$17.78, perfect for ages 8+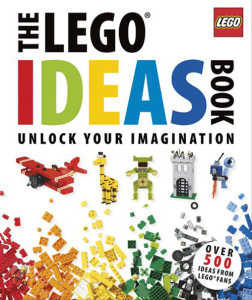 We loves LEGOs around here, even though nothing hurts quite like stepping on them in bare feet… However, the large LEGO sets are very pricey, which means we can't get each of the big boys their own huge new sets every year. What we can sometimes get are large bags of various pieces from garage sales or the thrift store, and a huge bin of random LEGOs is almost more fun than a set anyway, especially if you have a super cool book like this one to give you tons of fun ideas.
15.Nerf Guns
and extra darts
price varies depending on set, perfect for ages 6+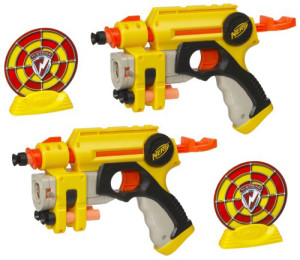 I kinda can't believe I'm recommending a gun of any type, because we've been pretty anti gun-play for most of my kids' years. However, my twins begged for Nerf guns last year and it turns out they are simply lots of fun. The suction darts are awesome at sticking to doors, walls, and windows, but not to people, so it's been easy to enforce the "no shooting at a person" rule and still let them enjoy the fun. This set came with two guns, little cardboad targets, and some darts. My boys wanted to spend some of their Christmas cash on extra darts and found that the BuzzBee brand (linked above) worked just as well as Nerf brand but for a lot less money.
16. <Walkie Talkies
$20 for 2, perfect for any age, but best for 8+ so kids are responsible enough not to break them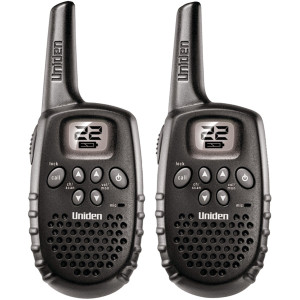 Hop on your bike, ride around the block, then use your walkie talkie to tell your friend or brother you're under attack and need help. Hide downstairs and use you walkie to give someone instructions on where to find you. Discover your friends has a walkie on the same frequency and use the walkie instead of the phone to invite him to come play. Totally awesome. Enough said. (Combine walkies with Nerf guns for a super cool gift, and add headlamps to make everything that much cooler! Costco carries headlamps in a package of three for $10)
17. Classic Battleship
$14, perfect for ages 6-12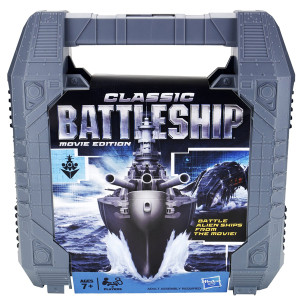 Battleship is one of those classic games you might have forgotten about that's really pretty fun. I will admit that though I enjoy playing games with my kids, I also REALLY enjoy games they can play with each other without my help. It's nice when I want them to stay busy for a while on a rainy day to be able to suggest something other than a video game that they can play together.
18. Monopoly Deal Card Game
$20, perfect for ages 5+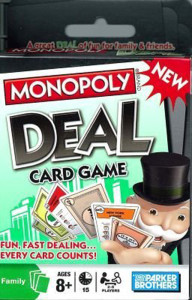 Monopoly Deal is a card game based on the class board game, and it's fantastic. I can't begin to count how many times my kids have played it in the past few years. There's all the fun of collecting properties and money from the original game, without the three hour time commitment. Most games of Monopoly Deal take about 15-20 minutes, and my kids always want to play three in a row. Ideally you want at least 3 people to play this game, so it's best for siblings close enough in ago to all enjoy it (although it's a very fun game for adults too). NOTE: I think 20 bucks is expensive for a card game, and when this first came out they sold it for 5 dollars! However, it's been hugely popular and if I had to buy it again I'd spend the money in a heartbeat – we've gotten WAY more than $20 worth of use out of it. ***ETA – A reader just commented that Target is selling it for $6, so check there!
19. Card Sleeve Pocket Page Protectors
$15 for 100, perfect for 8+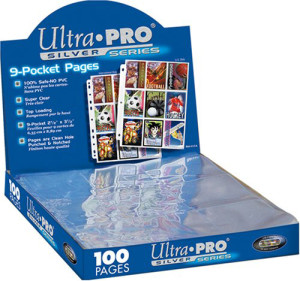 Card sleeves might not be the obvious choice for a fun present, but if your kids are into baseball cards or Pokemon cards, card sleeves are a great gift. We've purchased lots of Pokemon cards secondhand (check craigslist), so my kids have been able to build up a large collection. The only problem is that both collector cards and game cards can easily get lost or ignored if the kids don't have a good way to organize them. Hand them a hundred card sleeves and they'll spend hours sorting, organizing, and trading cards.
20. Elenco Snap Circuits SC-300 Physics Kit
$45 ($21 for smaller set), perfect for ages 7-12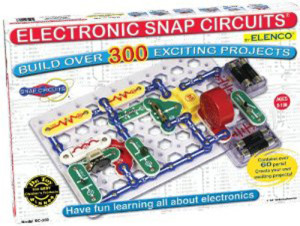 Snap circuits are pretty darn cool – each set comes with a variety of components that can be snapped together in different combinations to build electronic projects. A guide book shows kids how to create a dual speed fan, flashing laser light, photo sensor police siren, electronic games, and more. I can't tell you how excited my kids were when they put together a working FM radio. The set I've linked shows kids how to build 300 different projects by using different combinations of pieces, and if they love it (mine did) you can purchase larger sets or add-on sets.
Remember to check out the girls' list – there are ideas on both lists that will work for everyone. Happy shopping!