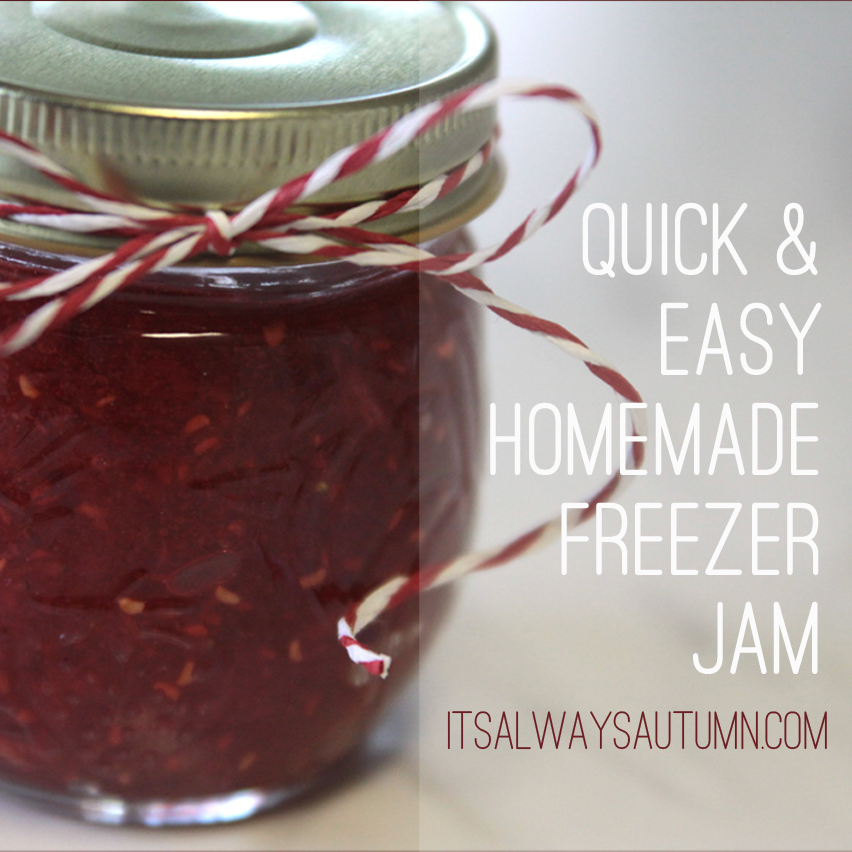 Alright, my title is a smidge misleading. It sounds like I'm going to reveal some awesome hints that will make producing your own homemade freezer jam quick and easy. The truth is you don't need any awesome hints. Freezer jam is quick and easy to begin with–it just seems intimidating. And IT'S SO GOOD! Once you're used to homemade jam, you can never go back to the storebought stuff. And (in my opinion) freezer jam tastes WAY better than cooked (canning jar) jam – and it's so much easier. And quicker. Did I mention that it's good?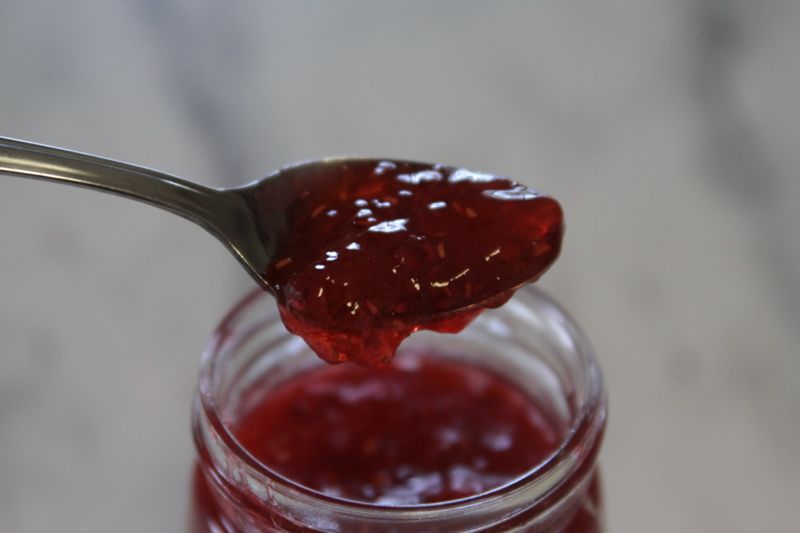 If you've never made freezer jam before, this post is for you.
All you need for berry freezer jam is fruit, sugar, and pectin. I always use Sure-Jell, which comes in the yellow package shown below. For apricot and peach jam you'll also need lemon juice.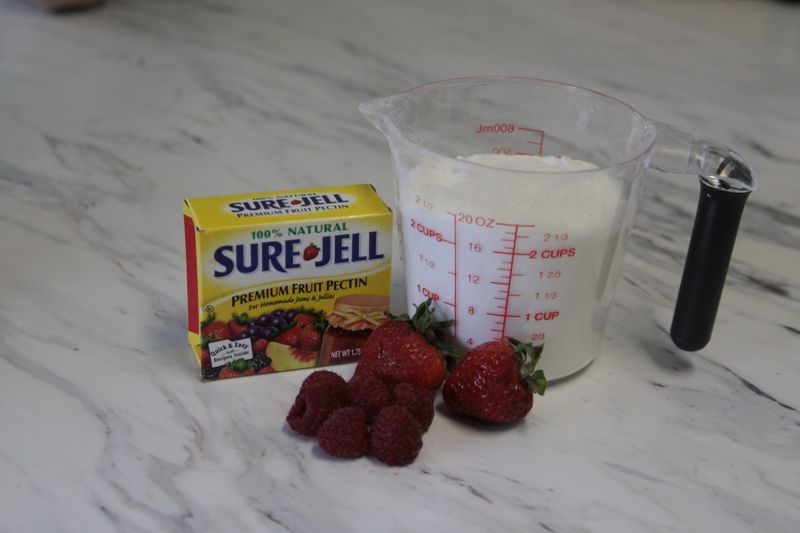 (There are a few other brands of pectin, and all of them work fine. Some people prefer MCP, which also comes in a yellow box, because there is no cooking involved. However, it also requires lemon juice and corn syrup for all flavors of jam, and sometimes I have those on hand and sometimes I don't. Plus it takes a little bit longer than Sure-Jell. So I stick to Sure-Jell because it it's the quickest. And easiest. Tired of those two words yet?)
There are a few important things to remember when making jam: 1. Measure ingredients exactly. Or fairly exactly. I'm hardly ever exact when it comes to cooking, and my jam always turns out fine. But if you put in way too much fruit or way too little sugar, it's not going to turn out. 2. Don't make a double batch! For some reason doubling usually leads to runny jam. Instead, make two separate batches at the same time in two different bowls. I've done three at once before.
If you're lucky, you'll be able to find a u-pick farm and pick your own berries, or buy them fresh from a roadside fruit stand. I usually make jam in September, which is when the fall raspberries ripen at the u-pick farm near my house. And I make a lot (the guy who owns the farm knows my name and all my kids' names – we're there a lot). But this year I ran out a month or two ago, and I've been eating my pb&j's with store jam. Ugh. So as soon as I could find some strawberries at the grocery store that looked pretty good, I snatched them up and brought them home. I bought raspberries as well, because straspberry jam is the best ever. (You can even use frozen berries thawed in the refrigerater in a pinch!)
For berry jams, you start by crushing the berries. I use a medium bowl and a potato masher to crush them up. The kids love helping with this part.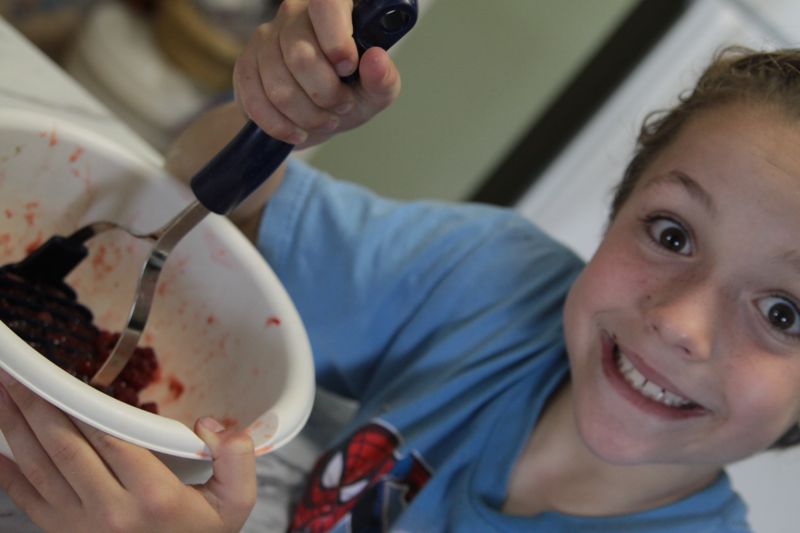 Do not puree your berries – your smooshed fruit mixture should have small pieces of berry in it, like you can see in the photo below. Just mash them around for a few minutes, then measure out the correct amount into a larger bowl.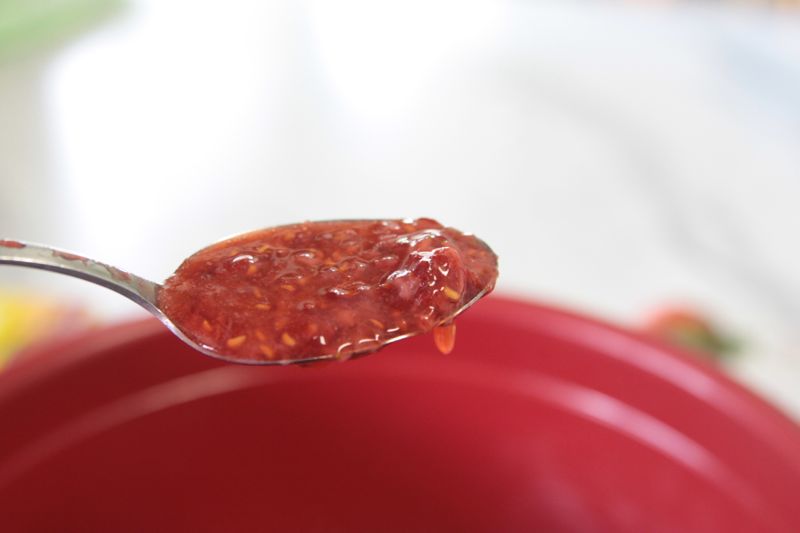 For straspberry jam, start with 1 pound of strawberries and 1 pint of raspberries. Crush them separately, then measure 1 1/2 C of crushed strawberries and 1 C of crushed raspberries into your larger bowl. Then pour in 4 1/2 C of sugar, and stir well.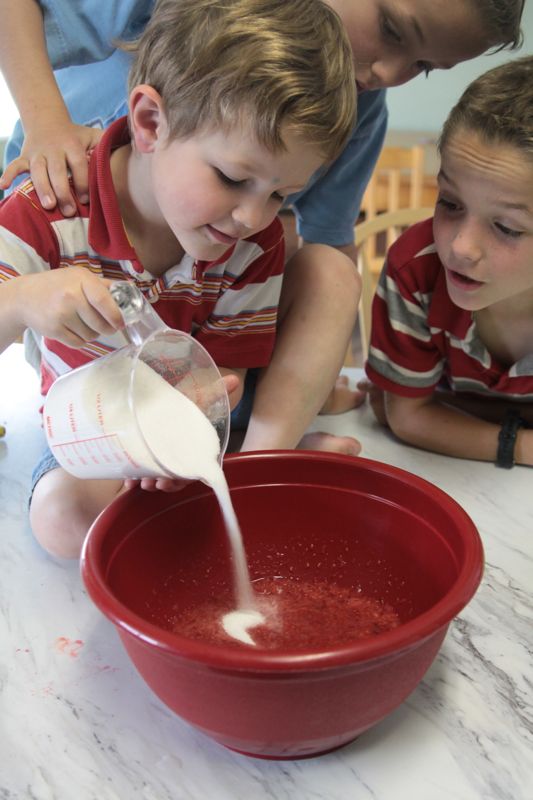 Keep stirring occasionally for 10 minutes. Then put 3/4 C water into a small saucepan and add the packet of pectin. Turn the heat to high and start stirring. Don't worry if it's all clumpy at first – it will smooth out quickly. Bring it to a rolling boil (keep stirring!) and let it boil for one minute. Make sure you don't start timing until it's at a full rolling boil, like this: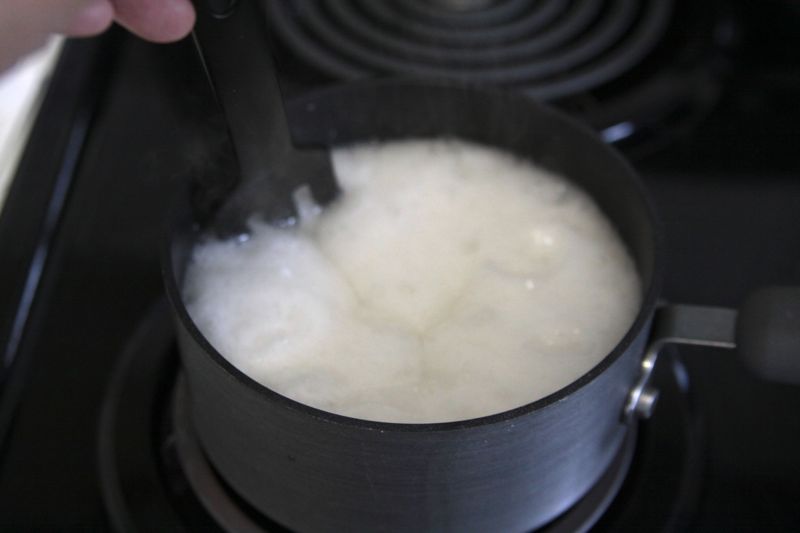 After a minute you can pour your pectin into the fruit/sugar bowl and stir for three minutes. And then your jam is done.
Easy, right? Quick, too? Now you can ladle your jam into a container of your choice (jars are fine, plastic containers are fine) and let it sit on your counter for 24 hours. At that point you can refrigerate what you'll use right away and freeze the rest. Each batch makes about six cups of jam, so you'll have plenty to package up prettily and give away as gifts…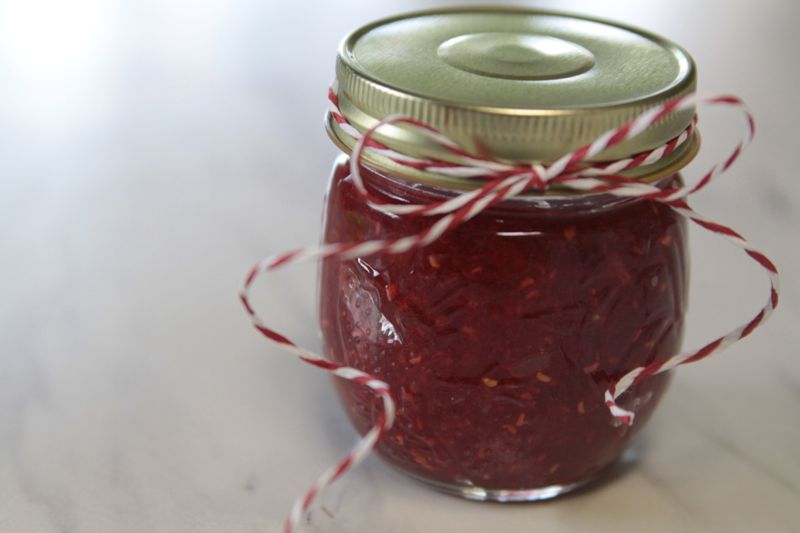 Unless you're going to hoard it all for making pb&j's…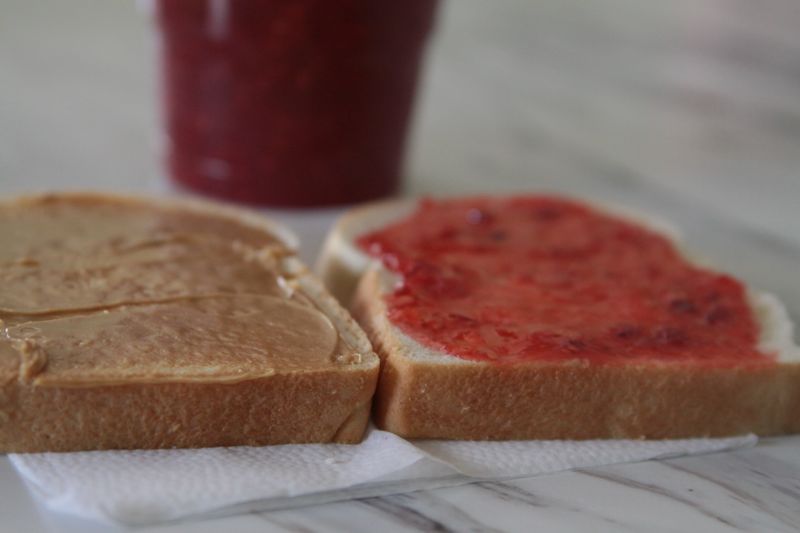 …Or eating by the spoonful.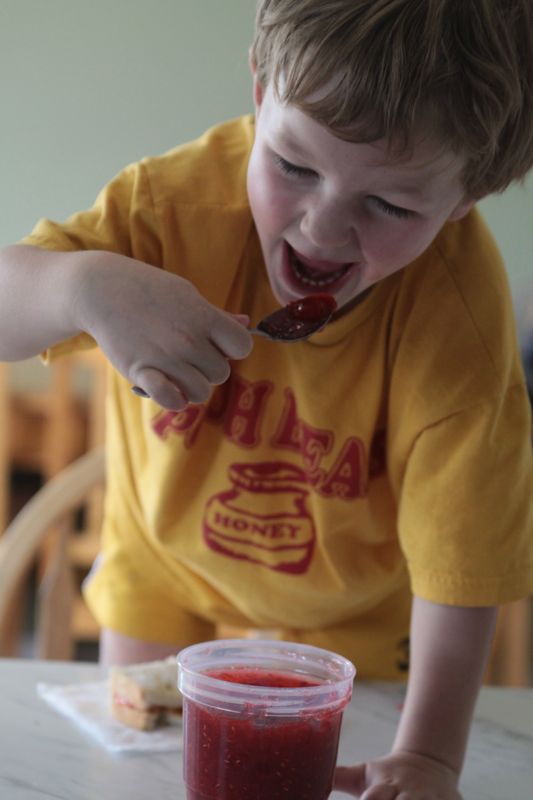 (He started eating his sandwich and I started washing up. Apparently once he tasted the new jam he decided to ditch the sandwich and go straight for the good stuff.)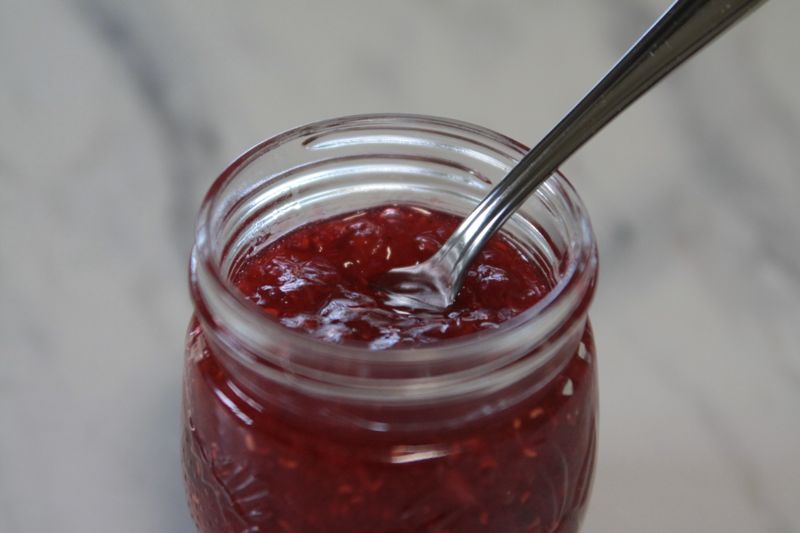 I hope I've convinced you that making homemade freezer jam isn't hard at all – go get some berries and give it a try!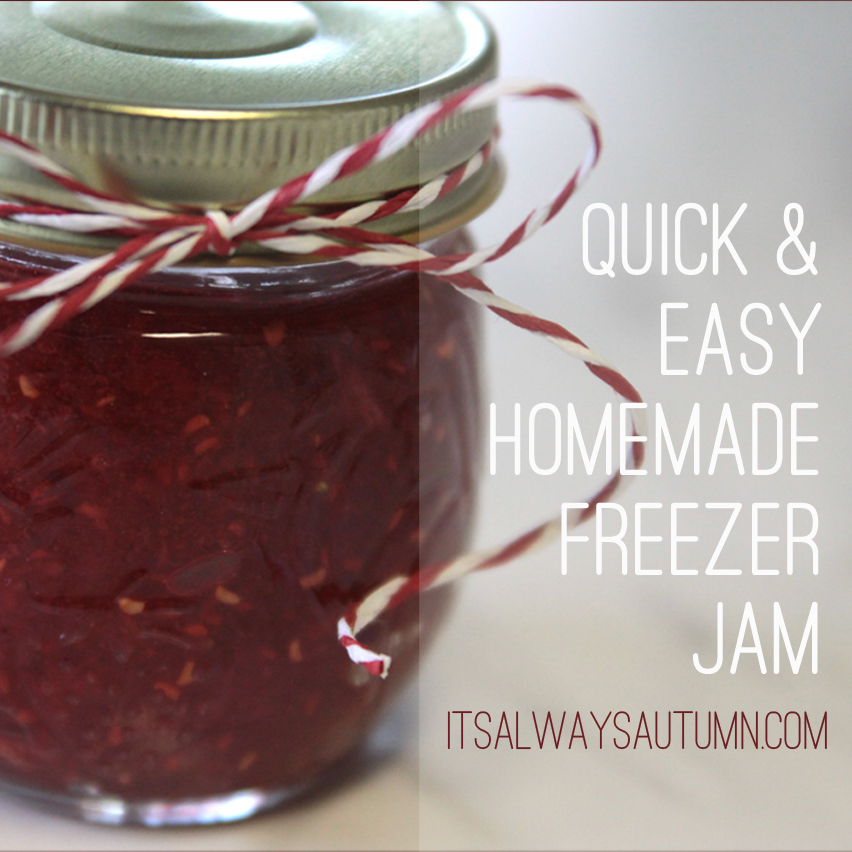 Follow It's Always Autumn:
LINKING Monday: Skip to My Lou | Brassy Apple | Craft-o-Maniac Tuesday: Tip Junkie | Sugar Bee Crafts | Not JUST a Housewife | Homework Today's Assignment: Be Inspired | Shwin and Shwin | Today's Creative Blog | Naptime Creations | Chef in Training | The Winthrop Chronicles | Lil Luna Wednesday: Handy Man, Crafty Woman | Southern Lovely | Sew Much Ado | SNAP | Someday Crafts | The NY Melrose Family | Printabelle | Simply Kierste Thursday: Somewhat Simple | House of Hepworths | Momnivore's Dilemma | The Shabby Creek Cottage | Yesterday on Tuesday | The 36th Avenue Friday: Chic on a Shoestring Decorating | The Shabby Nest | Stuff and Nonsense | It's a Hodgepodge Life | At The Picket Fence | 504 Main | Whipperberry Weekend: Tatertots and Jello | Little Inspiration