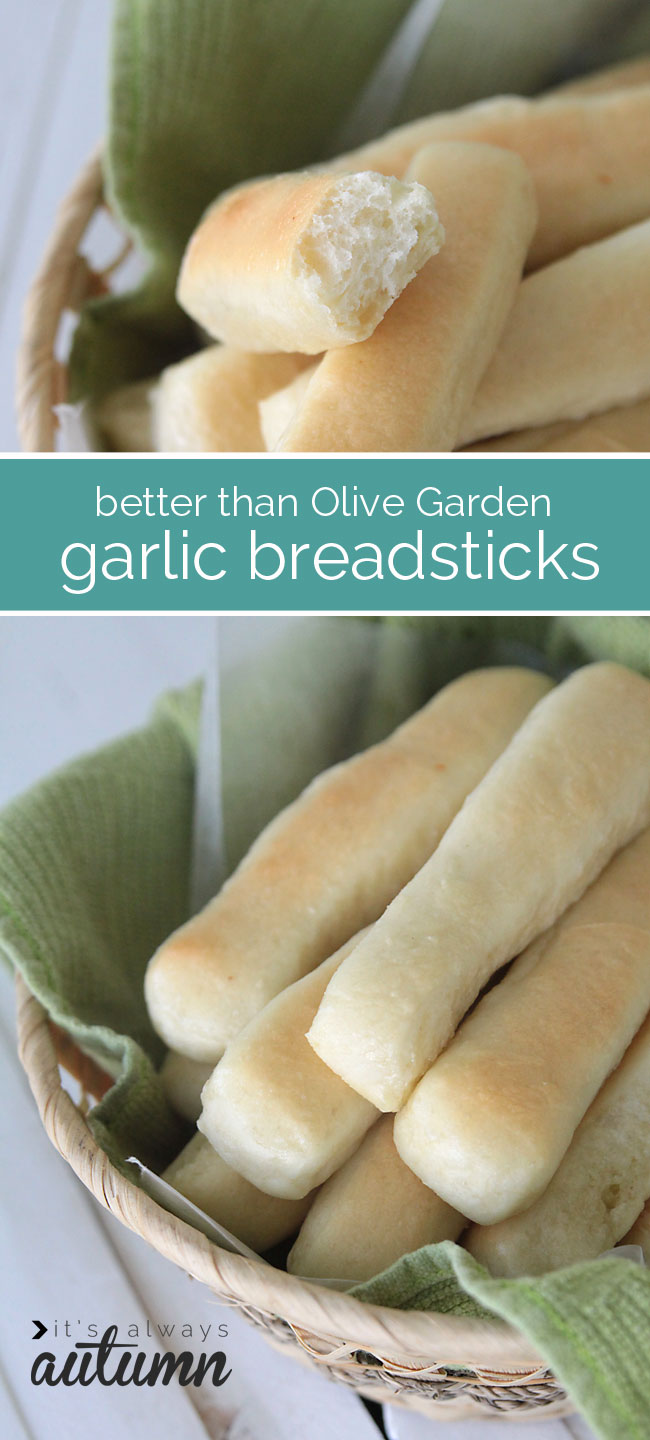 One of the best parts of going out to dinner at The Olive Garden has always been the breadsticks – they're so warm, garlicky, and delicious that I keep the server busy bringing more baskets. But honestly, they aren't quite as soft as they could be. And they really aren't as buttery as they could be either. As much as I like The Olive Garden's breadsticks, my mom's breadsticks are just plain BETTER, mostly because they are so much softer, so I decided I needed to share the recipe.
The perfect compliment to just about any meal (and divine with soup!), these breadsticks will take your dinner over the top. Serve them to guests and after they've forgotten everything else they ate at your house they'll still be talking about these breadsticks.
A few notes on the recipe: I don't proof the yeast in warm water; I just throw everything in my stand mixer and get it started on low (2). Once all the flour is incorporated, I usually let it go for about 5 minutes. The recipe calls for 3 and 1/4 C flour and I don't generally add any more than that; the dough does not need to completely pull away from the sides (see photo below). Most of it should congregate around the dough hook, but some will stick to the bottom of the bowl. Once you turn it out onto a floured surface, however, it should be easy to knead once or twice and roll into a ball – if it's sticking right and left to your counter you'll want to knead in a little bit more flour. Here are some photos for reference: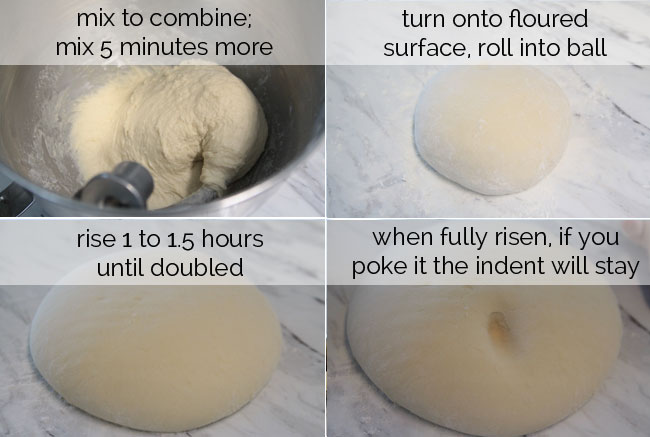 This dough makes perfect rolls, too – just divide into 16, shape as rolls, as rise/bake in a 9×13 pan. But to make perfect garlic breadsticks, shape like this: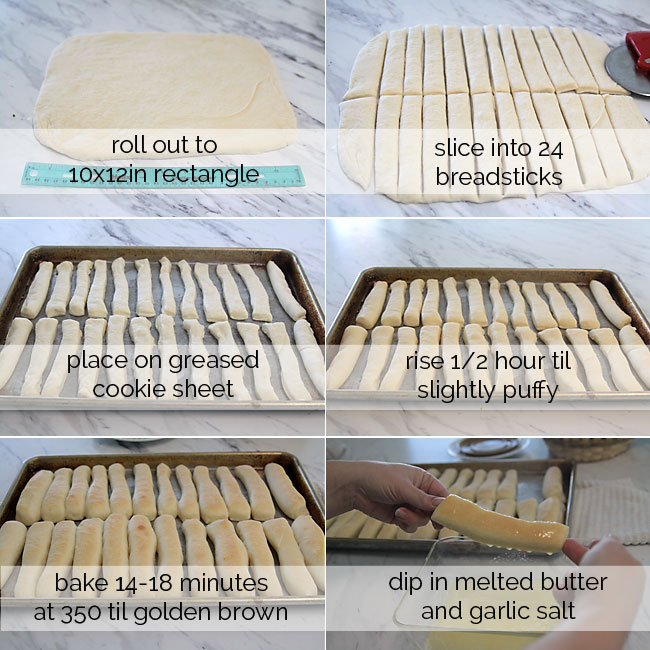 Last time I made these they needed the full 18 minutes in the oven. It's good to get some golden brown color on the tops – they'll still be plenty soft.
6 T of melted butter will be plenty to coat the tops of all the breadsticks – with maybe a little left over. Mix in 1/4 t garlic salt if you want them just barely garlicky, and up to 1/2 t for a stronger garlic flavor. I give the tops of the breadsticks a good dunk in the butter – but don't submerge the entire breadstick or the sides will suck up too much butter (I know, hard to believe 'too much butter' is possible, but it is).  If you'll be serving your breadsticks in a basket be sure to line it with wax paper so the butter doesn't stain your basket/towel.
Get the printable recipe card you see below by clicking here.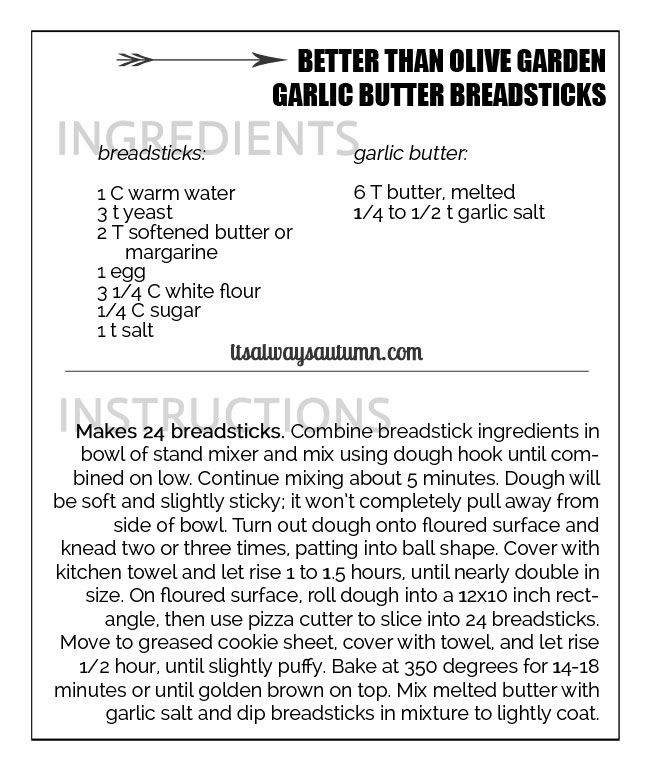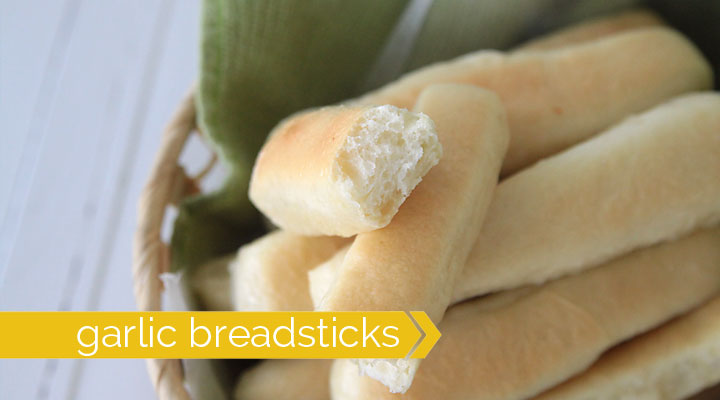 If you're looking for a great meal to serve these with, try my sweet bacon chili.
Want more bread recipes? Visit these posts:
How to make perfect dinner rolls
Easy 4 ingredient no-knead artisan bread
Beautiful braided bread recipe
How to make french bread at home