Want more stuffed animal ideas? Find patterns for super easy stuffed animal pajamas and a matching sleeping bag. And then get all those animals tidied up and off the ground with a DIY stuffed animal swing.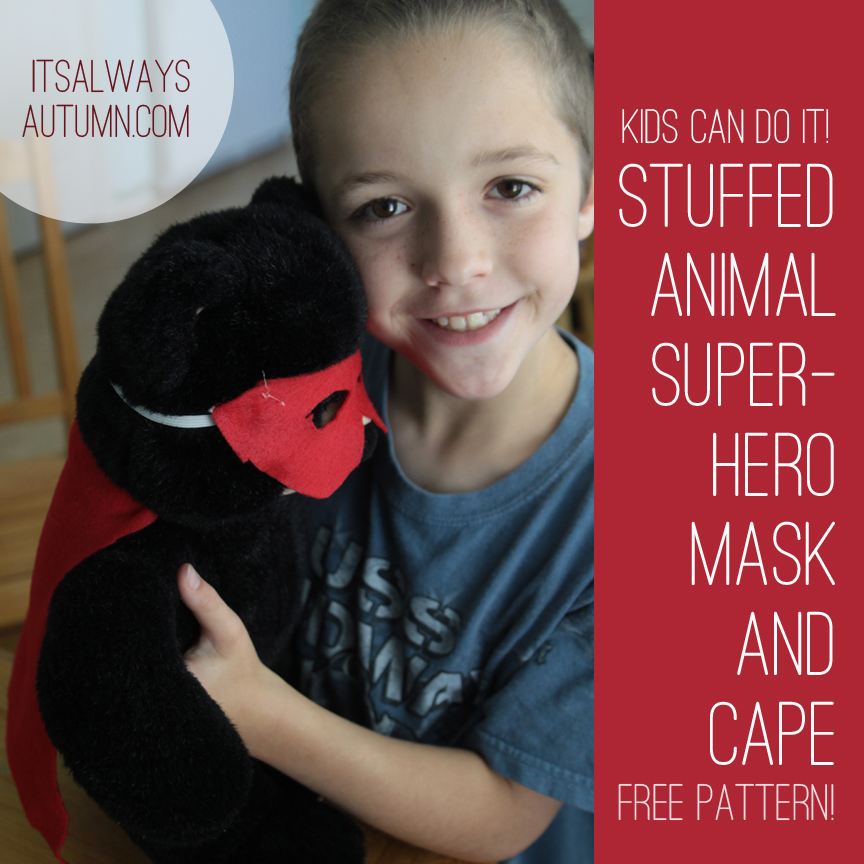 If your kids are anything like mine, the wonder of summer is starting to wear off. The long, glorious days with hours of free time are starting to get just a bit, well, boring. I'm beginning to hear "Mom, what should I do?" all day long. When the standard answers (legos, read, color, hide & seek, scrub your bathroom!) didn't work one day, I suggest a different activity: let's make superhero masks and capes for your stuffed animals. And then I ammended my suggestion to: how about you guys make superhero masks and capes for your stuffed animals?
So I came up with a simple process that my older kids (9, 9 and 11) were able to complete by themselves to make little outfits for their Build-a-Bears (yes, my older boys all still love their Build-a-Bears. I think it's awesome.) Younger kids would need assistance, but would probably still be able to do enough on their own to feel pretty proud of themselves. (There are my nine year olds hard at work.)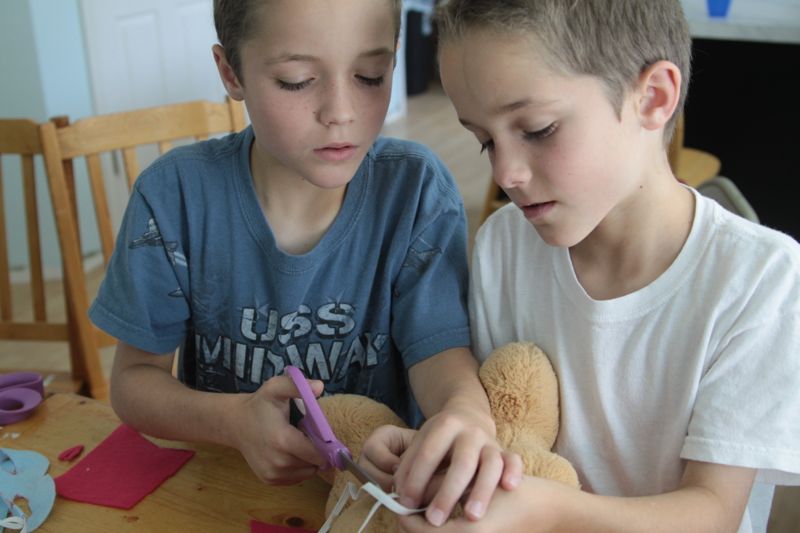 If you have a lazy day just asking to be filled, here's what you'll need:
Craft felt – you'll need to buy it off the bolt, as the 9×12 pieces aren't quite large enough. It's pretty cheap – you can buy 1/3 of a yard (12 inches) for about $1.50 and make 4 complete sets of masks and capes out of it – enough to make a few sets to keep and a few sets to give away.
narrow elastic – I used 1/4 inch elastic because I had it on hand, 1/2 inch would work as well
Cool temp glue gun – if you don't have a cool temp gun, check at walmart for a $3 version and then use it for all your crafts with kids. A cool temp gun gets the glue warm enough to melt and stick, but not hot enough to burn fingers. This is a must if you plan to let your kids do the gluing – my boys each got a little glue on their hands – it hurt just a little but didn't burn the skin at all. Compare that to the time I touched glue from a high temp glue gun and had to keep ice on my finger for hours – and I still have the scar. Even with a cool temp gun, I'd recommend touching the melted glue to test it and make sure it won't burn your kids before you hand the gun over. If you don't want the kids to do the gluing, there's still plenty they can do on their own while you assist with the glue.
Printable pattern – the pattern looks like this: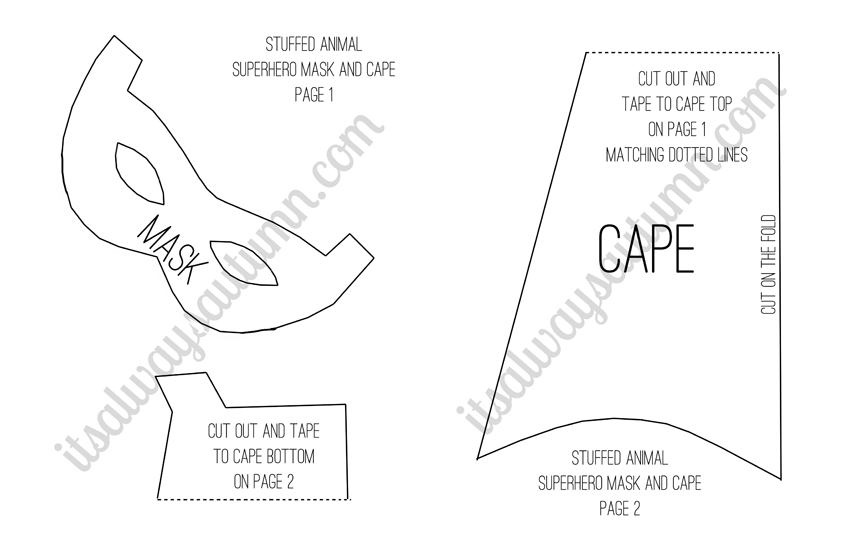 Download the pattern for free here, then print it out and assemble as directed on pattern. If your kids will be doing the cutting and tracing, I'd recommend tracing the pattern out on cardstock and cutting that out for them so they'll have an easier time.
Start with a 12×12 square of felt, fold it in half, and lay down the cape pattern (long edge on the fold as directed on the pattern). Have your child trace around it and cut it out.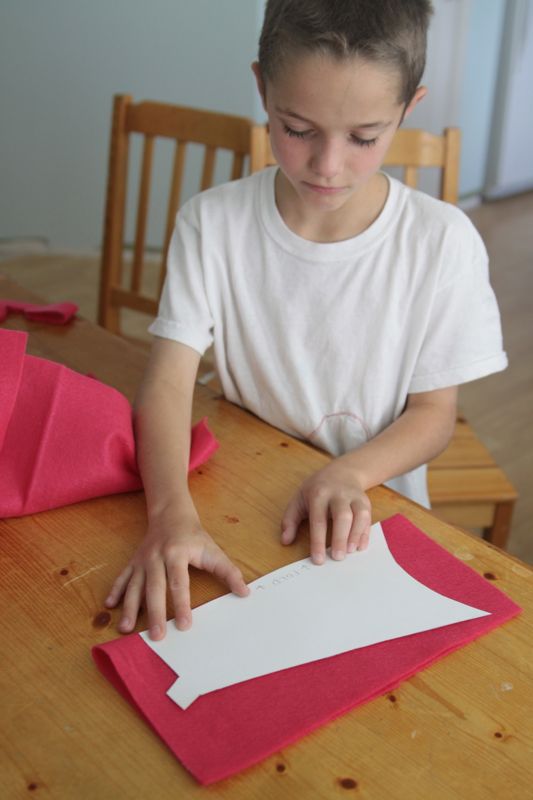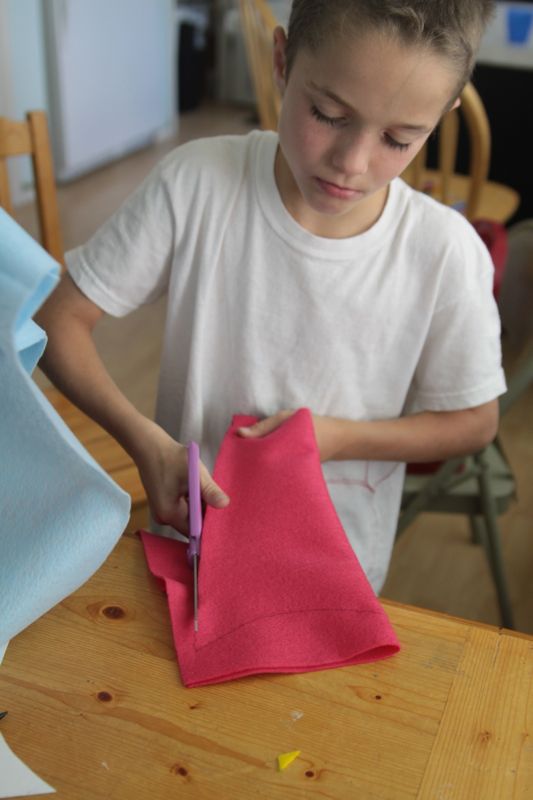 On a smaller piece of felt, trace the mask pattern and cut that out as well. To cut the eye holes, teach your child to fold the mask in half and make a small snip inside the eye hole, then unfold the mask to continue cutting.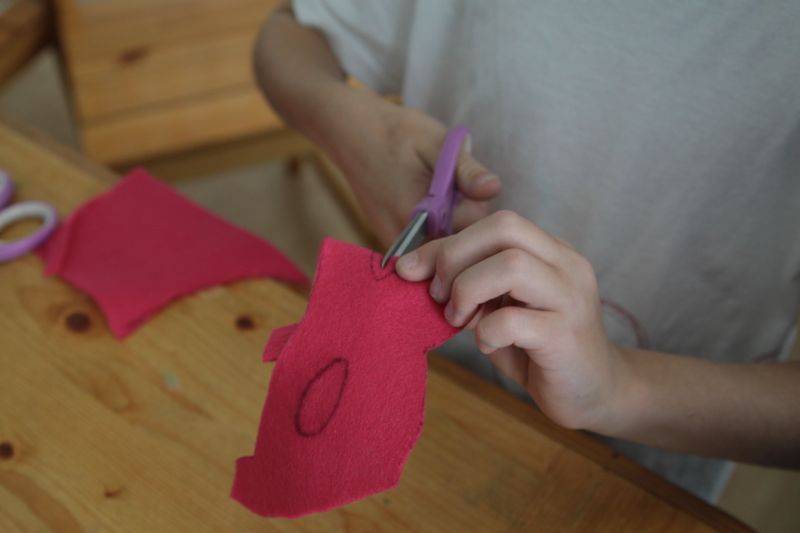 Once the pieces are cut, lay the mask down on a surface you don't mind getting glue on (traced side toward you). Using a COOL TEMP glue gun, place a line of glue on one mask tab as shown below (the line of glue should extend below the tab a bit).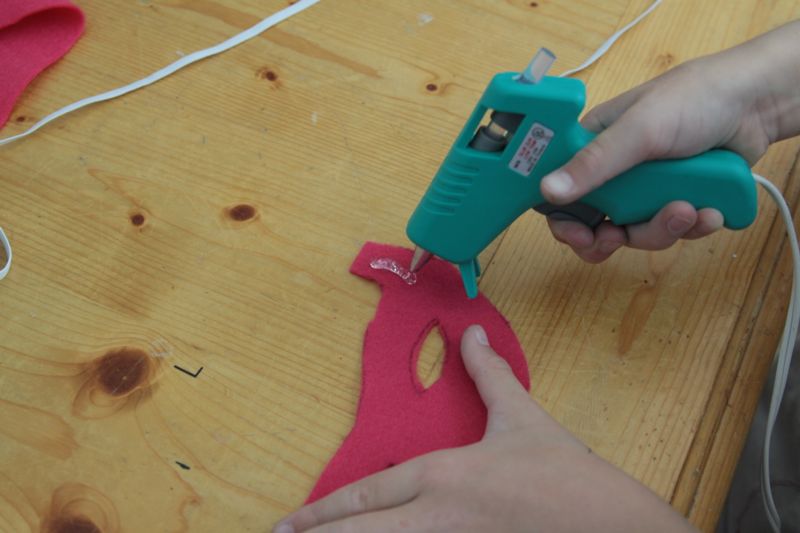 Carefully place one end of a long piece of elastic on the glue…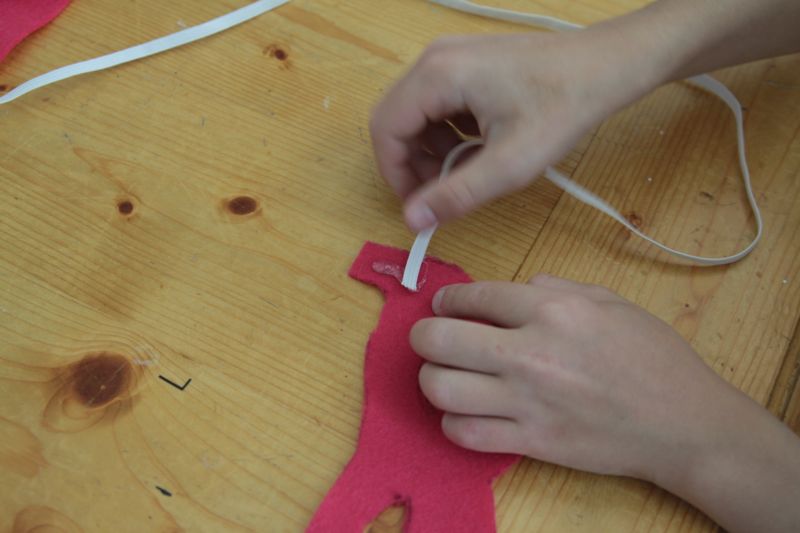 …then fold the tab down and press to secure. Tell your child they don't need to press the elastic itself down on the glue ('cuz then they'll get glue on their finger). Just lay the elastic down, then fold the tab down and press.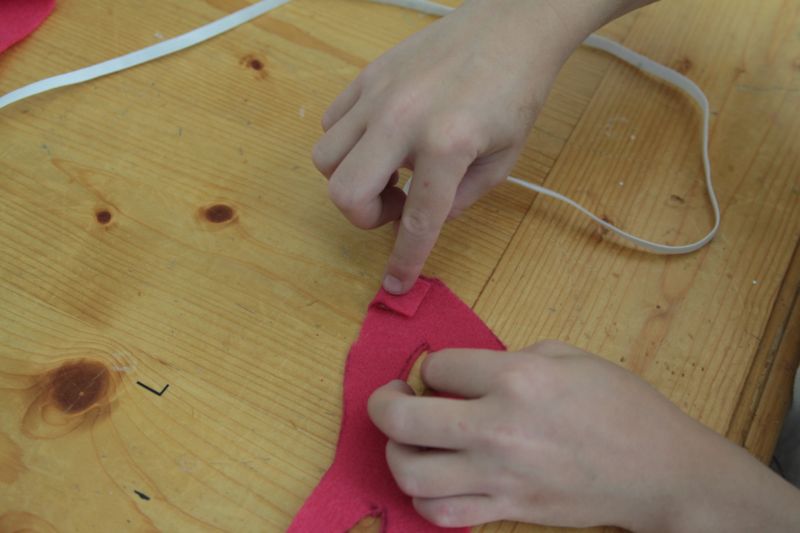 Now place the mask on the intended stuffed animal and roughly measure how much elastic you need to go around the head (I tried to make the masks and capes use a standard length of elastic, but stuffed animal head/neck sizes vary a lot, so measuring for each animal is the best way to go). Cut the elastic to the right length.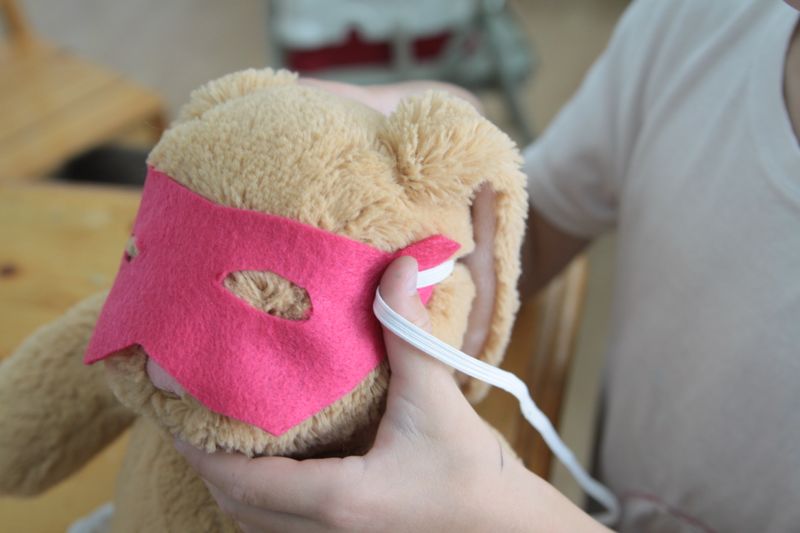 Repeat the process to attach the elastic to the other side of the mask. Help your child understand that the elastic needs to loop around so it's coming from the outside of the mask again – see the picture below.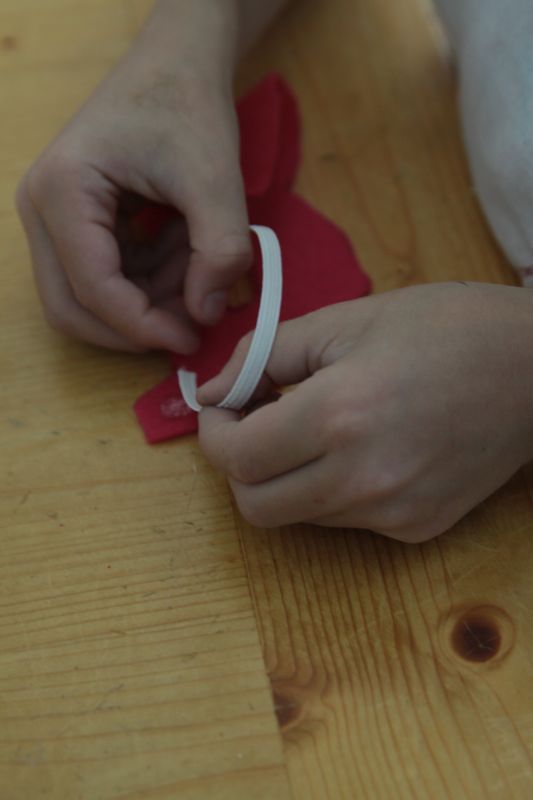 After a few minutes of drying time your mask is now complete, and will look like this: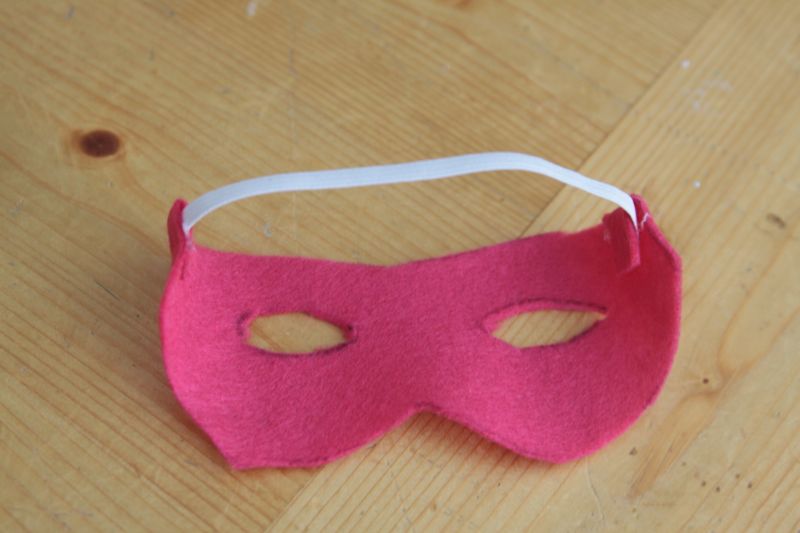 Repeat the same process to attach elastic to the tabs on the cape, then get your animal ready to fly: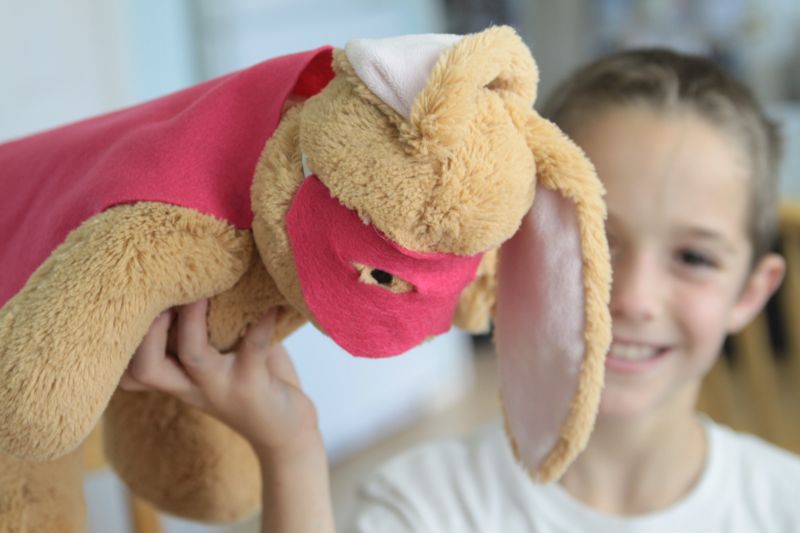 My kids want to make masks and capes for their friends' stuffed animals now.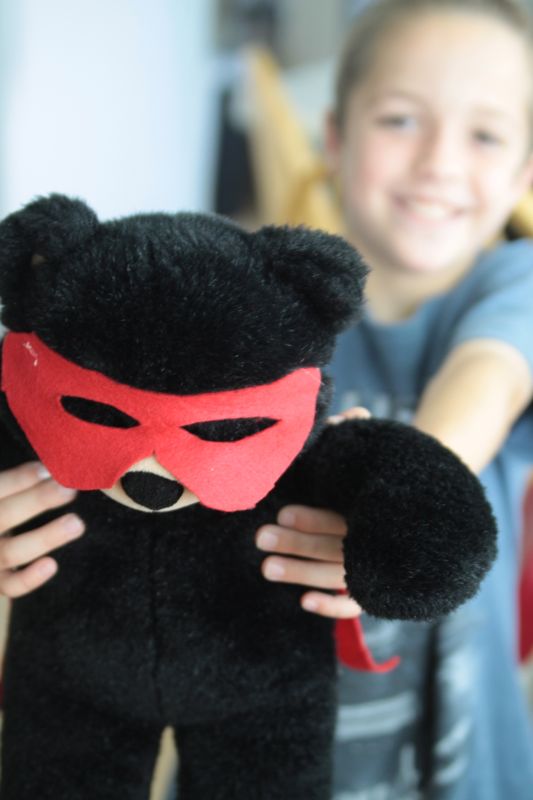 If you'd like to make these as gifts and you want a more professional look, I'd recommend cutting out two mask pieces without tabs and sewing them together, tucking the elastic in between the two layers to secure as you sew. This will help the mask keep it's shape better even after being pulled on and off dozens of times. In this easy kid version, the mask might begin to stretch out of shape a little after being played with a bunch. No big deal – since the kids can do this themselves, they can just make a new one next time they end up with a lazy day!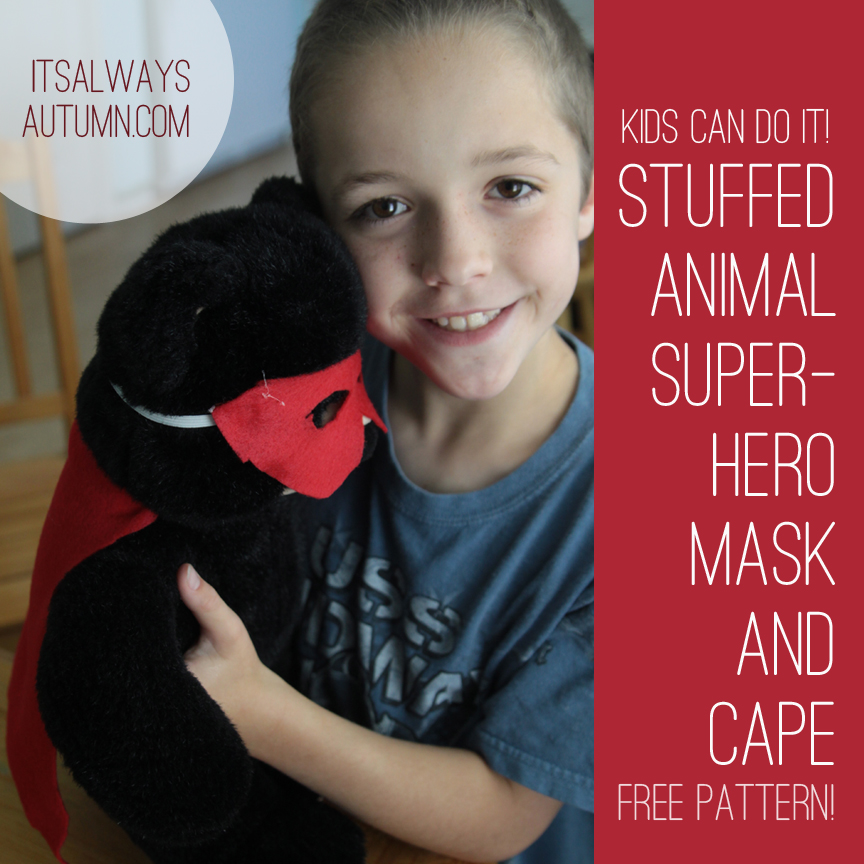 linked up at:
Sun Scholars Tatertots and Jello Ladybug Blessings Tip Junkie Blackberry Vine Sugarbee Crafts Hope Studios The Inspiration Board Not Just a Housewife Momnivores Dilemma Yesterday on Tuesday Fireflies and Jellybeans Somewhat Simple Chic on a Shoestring Decorating 504 Main At The Picket Fence It's a Hodgepodge Life The Shabby Nest