It's Friday, which means it's time for more pie! (Check out last week's chocolate toffee cream pie here.) I know, I know, this doesn't actually look like pie. That's because it's baked in a 9×13 cake pan instead of a pie dish. But don't worry, there's a full fledged pumpkin pie in here – it's just mixed up with a tasty cake "crust" instead of sitting on top of traditional pie crust. And that, my friends, is why I like it.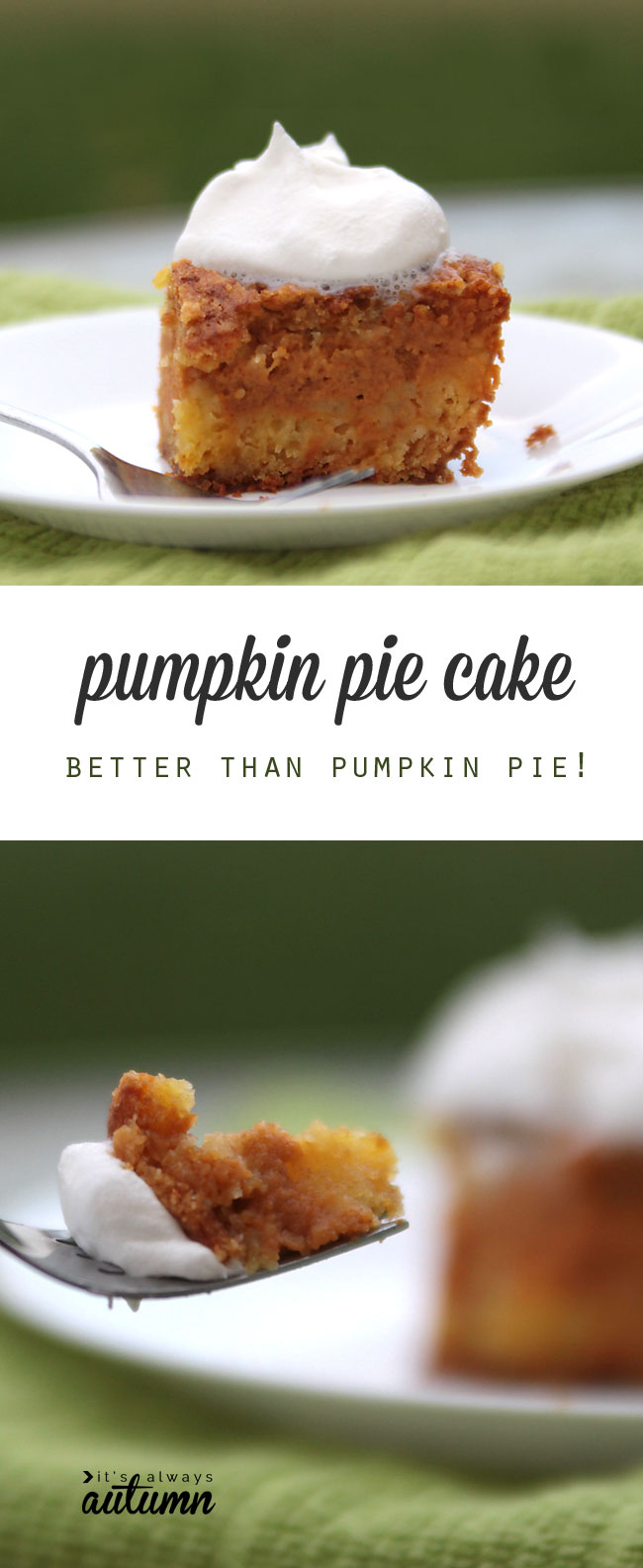 I don't love pumpkin pie. I don't even really like pumpkin pie, and I rarely choose to eat it. But I'm always a little disappointed that I don't like it, 'cuz pumpkin and spice is pretty fantastic – I love pumpkin bread and pumpkin cookies, for example. So when I tried this pumpkin pie cake, I knew I'd finally found the answer to all my pumpkin pie dilemmas.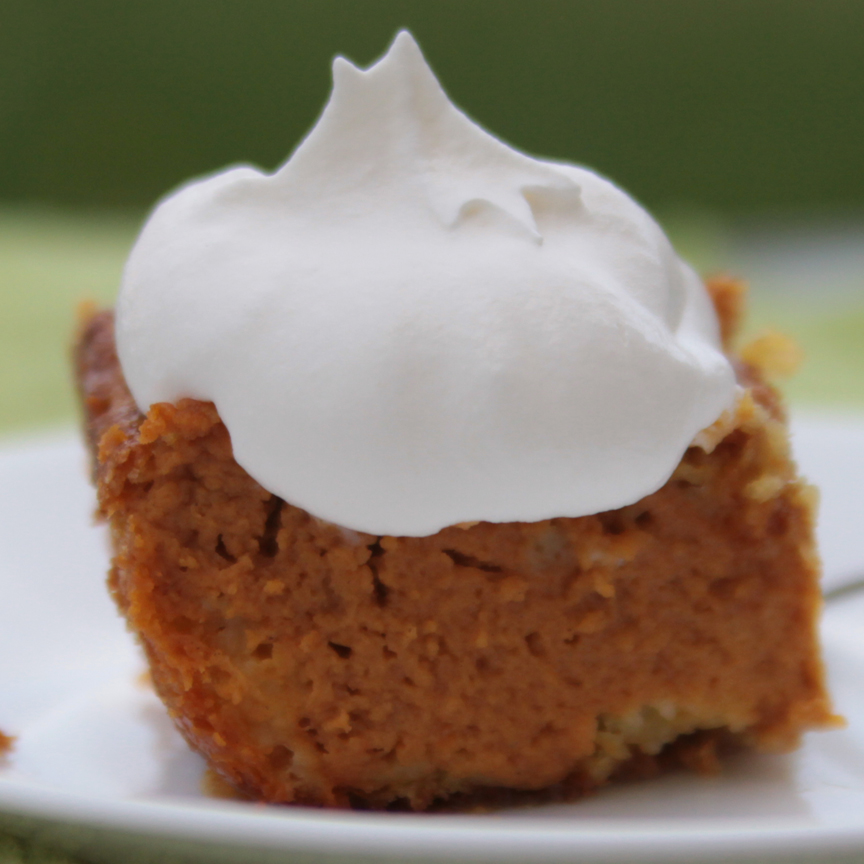 The pie portion of this cake gets mixed up exactly the same way normal pumpkin pie does, courtesy of the Libby's pumpkin pie recipe. But it gets poured on top of a cake crust, made with a yellow cake mix, and that's when things get good. Chilled and topped with whipped cream, this pumpkin pie cake could almost make me pass up the chocolate pie this Thanksgiving. (Ya, that's completely untrue. Sorry, I will never betray my first love – and oh how I love thee chocolate! – but maybe I'll have a piece of each. That would work. And yes, I'm aware I'm a dork. It's ok.)
Pumpkin Pie Cake
source: my friend Mindy. Don't know where she got it from…
1 yellow cake mix
1/4 C butter
1 egg
29 oz can pumpkin
1 1/2 C sugar
2 t cinnamon
1 t salt
1 t ginger
1/2 t cloves (I subbed nutmeg cuz I didn't have cloves and it still tastes good)
4 eggs
2 – 12 oz cans evaporated milk
Preheat oven to 350 degrees. Heat butter until just melted, not hot. Whisk in one egg. Mix in yellow cake mix (mixture will be somewhat crumb-y). Sprinkle 1/2 of mixture into greased 9×13 pan, set aside remainder. Beat 4 remaining eggs in a large bowl and then stir in pumpkin. In a small bowl, mix sugar and spices, then mix into the pumpkin/eggs. Stir in evaporated milk 1/2 can at a time. Pour pumpkin mix over crust, then sprinkle remaining crust on top – pan will be quite full. Bake at 350 degrees for 60-70 minutes (a knife inserted near the edge will come of pretty clean, but the center will still be a smidge jiggly). Cool completely and chill before serving with whipped cream or cool whip. Serves about 24.