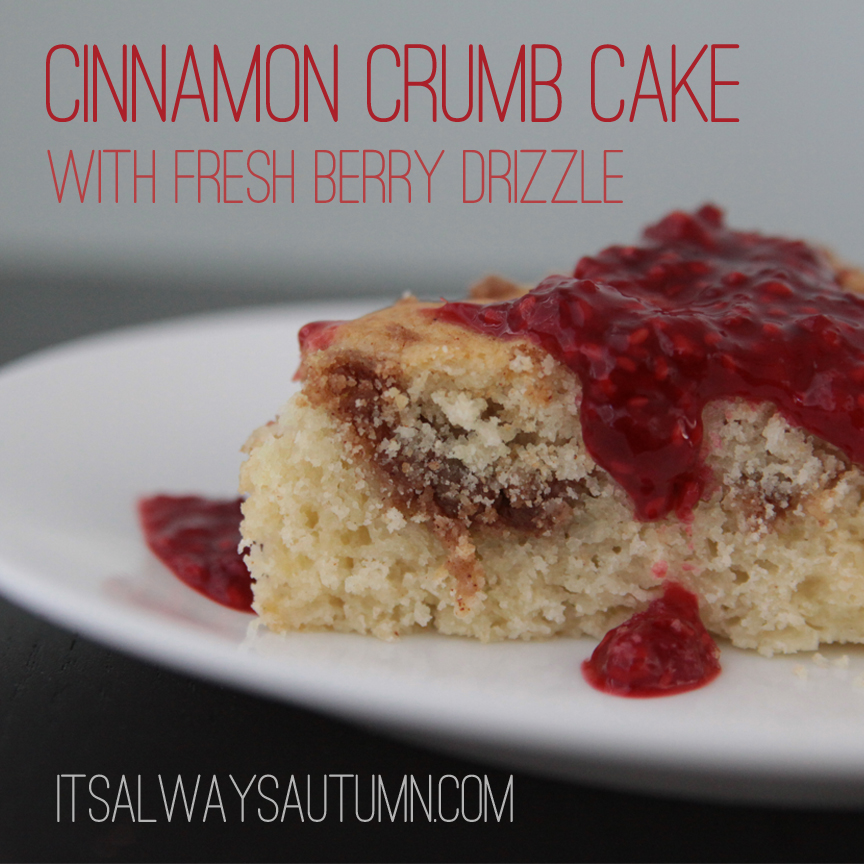 This is a fantastic time of year – summer's winding down and we're inching into fall. It's finally cool enough to turn on the oven, and suddenly I want to smell cinnamon all day long. At the same time I still have a few fresh fall raspberries in my fridge. So I decided that breakfast Saturday morning should be a warm, tender cinnamon crumb cake, topped with a simple berry drizzle. It was delicious.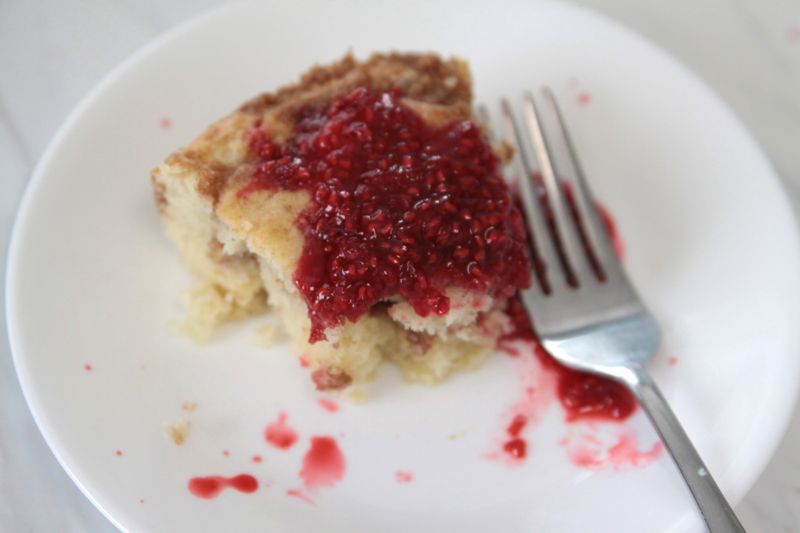 The cake batter mixes up easily by hand, but apparently since it's called "crumb cake" we're allowed to eat it for breakfast. Plus adding fruit makes everything healthy, right? It certainly makes it pretty.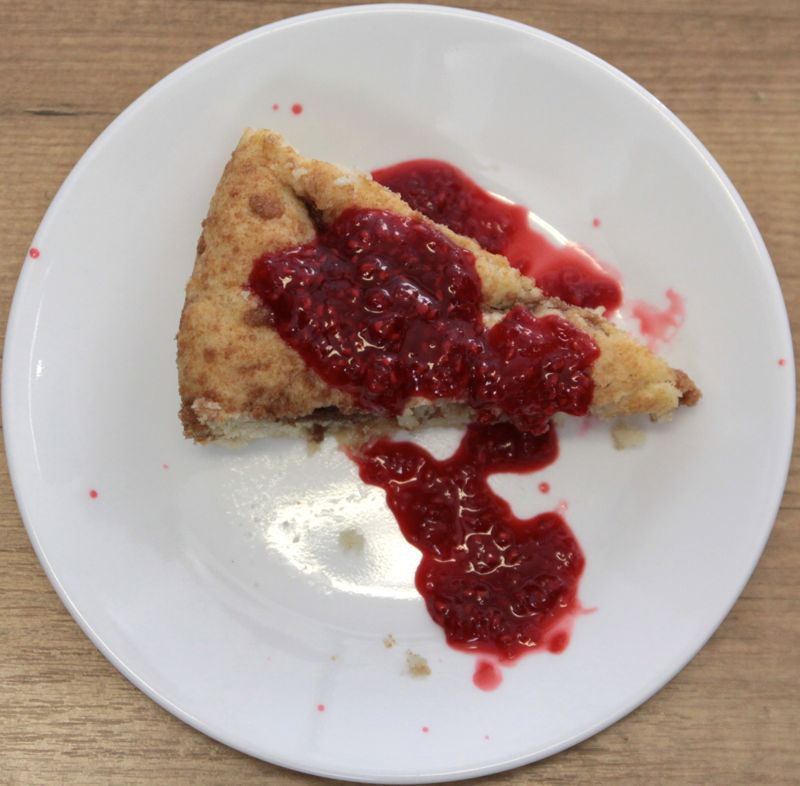 Cinnamon Crumb Cake w/Fresh Berry Drizzle
Cake:
1 1/2 C flour
2 1/2 t baking powder
1/2 t salt
1/8 t nutmeg
1 egg
1/2 C sugar
1/3 C melted butter
1/2 C milk
1 t vanilla
Preheat oven to 375. Whisk together melted butter and sugar. Whisk in egg, then milk and vanilla. Stir in dry ingredients (you're welcome to sift these together first if you like, but I'm usually too lazy to do so. Pour 2/3 of batter into 8 inch square or round pan which has been sprayed w/cooking spray.
Cinnamon crumbs:
1/2 C brown sugar
1/4 C flour
3 T butter (I just use the rest of the stick that I used for the batter)
1 heaping t cinnamon
Cut together until crumbly. You can use a pastry cutter or a couple of forks, or just be me and smoosh the butter into everything else with your hands. It doesn't have to be perfect. Sprinkle cinnamon crumbs over the cake batter in the pan, then drop remaining batter on top of crumbs and smooth gently with a butter knife.
Bake at 375 degrees for 25-30 minutes, until lightly golden, as shown below.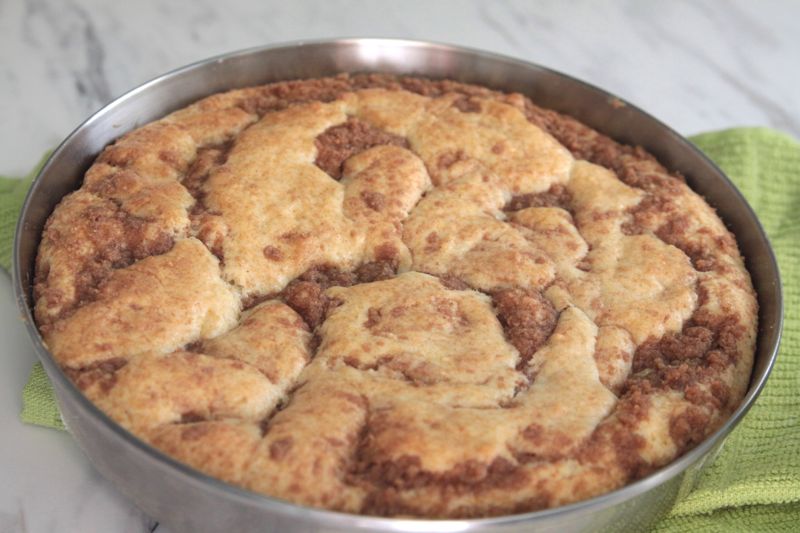 While cake is cooling, mix 1 C of fresh raspberries (frozen should work too) in a small saucepan with 2 T sugar. Heat and stir for a few minutes, breaking up berries as you go. You don't really need to cook this long, just a minute or two to make sure the sugar is dissolved. It will look like this: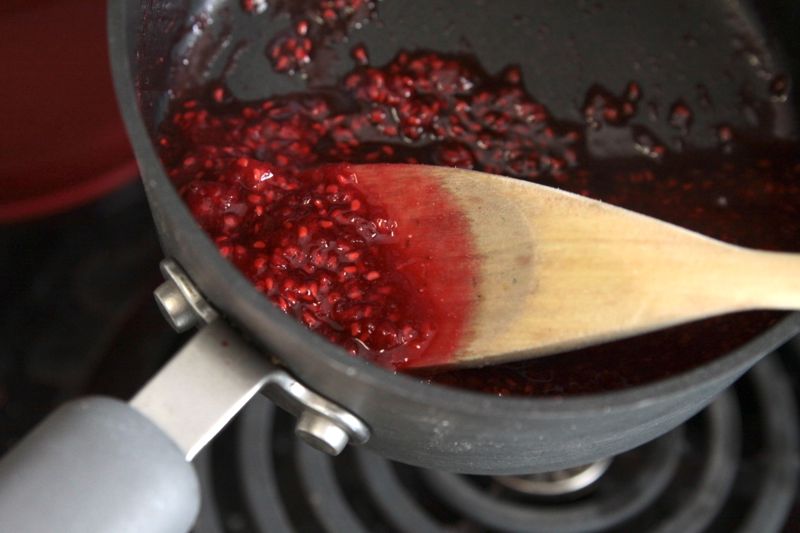 It would be even prettier if you strained out the seeds here, but again, I'm a fairly lazy cook, so I left them in.
Slice cake when it's still warm and top with raspberry drizzle. Enjoy!