My very favorite part of eating out at the Outback Steakhouse is when the sweet dark brown bread arrives before the meal. It's soft and delicious, with a hint of molasses and honey. And after a few tries (five!), I think I've gotten a really good knockoff recipe down. I tried a few other recipes I found online, which mimicked the flavor pretty well, but didn't give the pillow soft texture I was looking for. So, since I was going for soft, I decided to start with my best breadsticks ever recipe and modify it to include the honey & molasses flavors.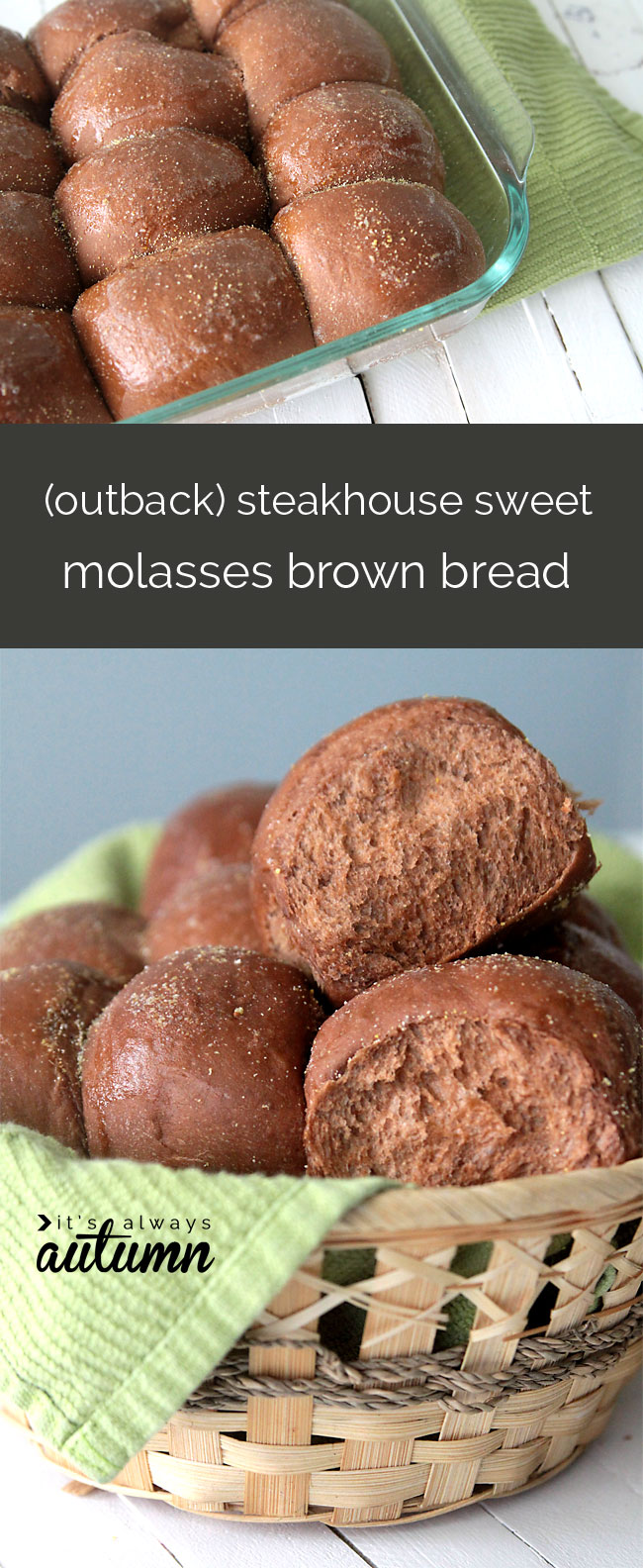 There's just not much I love more than soft bread. And a hint of sweetness never goes amiss either. I could skip the entire meal and just eat the bread…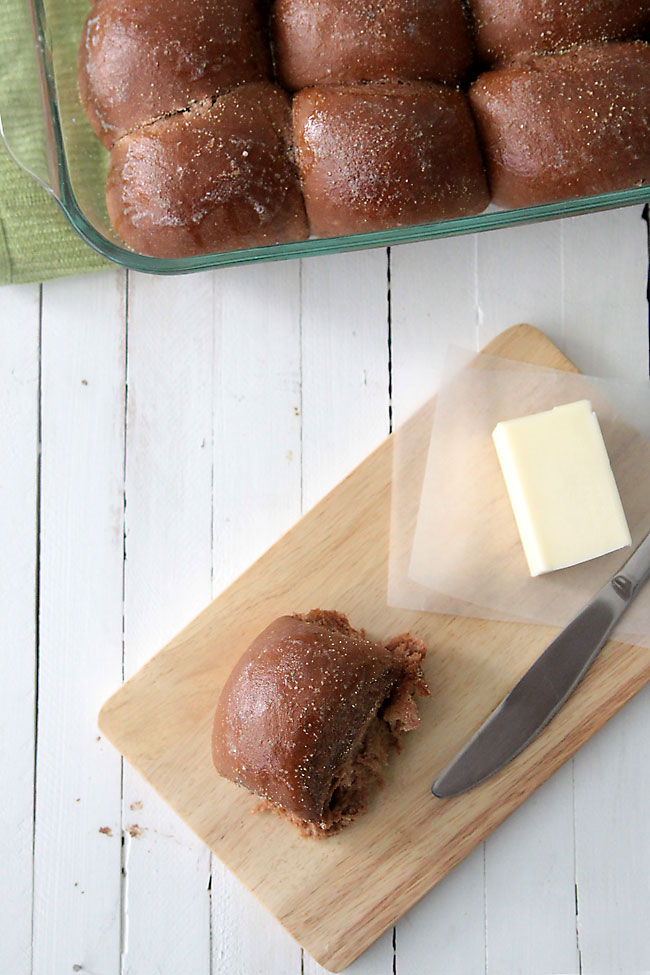 This bread gets some color from the molasses and baking cocoa that are in it (don't worry, it doesn't taste like chocolate!) but if you want a nice deep brown you'll want to add some coloring. Most commercial dark brown breads are made with caramel coloring, which is hard to find in your local grocery store. You can mix red/yellow/blue from your standard food colors to get a brown, but I just picked up some brown paste food coloring from the cake decorating section (it's for frosting and fondant) and scooped a bit of that in as everything was mixing up.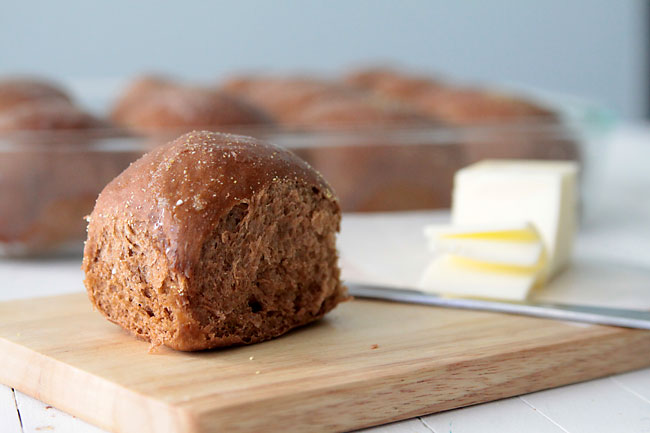 When you go the steakhouse, this bread is served with whipped honey butter. While I'm not usually one to complain about honey butter, this bread is slightly sweet on it's own, and I think regular old salted butter compliments it better – it's easier to taste the subtle flavors that set this apart from a normal dinner roll.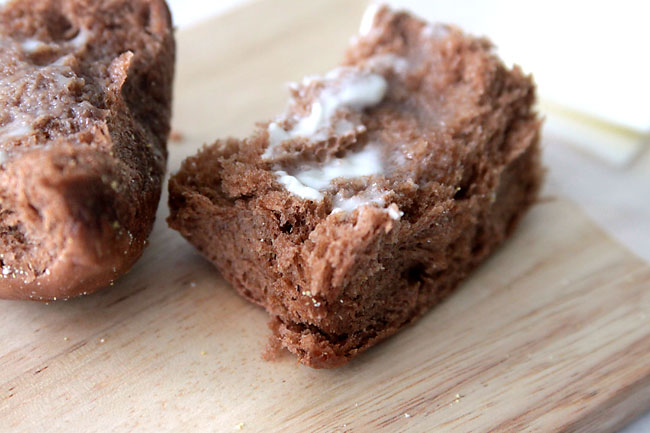 You'll find a printable recipe card at the end of this post, but I wanted to show a few photos of the process because yeast breads can be a bit intimidating. You'll start by mixing water, yeast, butter, honey, brown sugar, salt, molasses, baking cocoa, an egg, and some white flour in your stand mixer, using the paddle attachment. If you don't have a stand mixer, mix this all up in a large bowl using  beaters. NOTE: if you haven't used your yeast in a while, it's a good idea to "proof" it first to make sure it's still good. Just combine it with the warm water and let it sit for about 10 minutes to make sure it's going to start bubbling/growing.
This first photo below shows what it looks like once those ingredients are all combined – it will only take a minute or so. Then you'll want to scrape down the sides of the bowl, switch to your bread hook, and start adding in a few cups of whole wheat flour (second photo).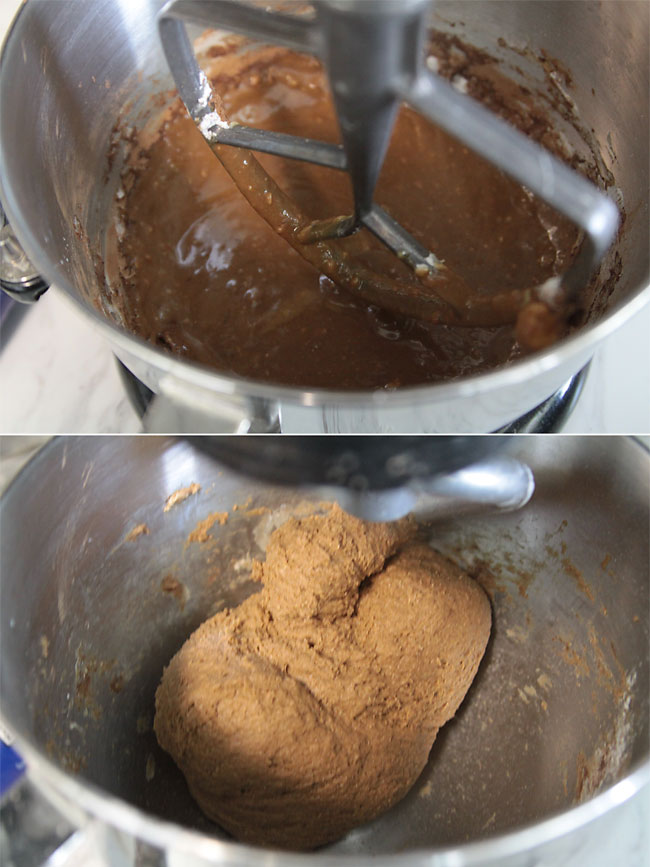 The dough should mostly pull away from the sides of the bowl, and needs to knead for a good 7-10 minutes. If it starts sticking to the bowl too much, you can add some more flour to keep it looking like it does in the photo above. If you don't have a stand mixer, use a wooden spoon to stir in as much of the wheat flour as you can, then add the rest in as you knead the dough for about 10 minutes, until smooth.
After kneading, turn the dough out onto a floured surface. If you kneaded in a stand mixer, knead by hand three or four times to form a tight ball. Cover it and let it rise in a warm place for 60-90 minutes, until doubled. If my house is cool I turn on the oven for just a few minutes to get it warm, then turn off the heat and slide the dough inside to rise.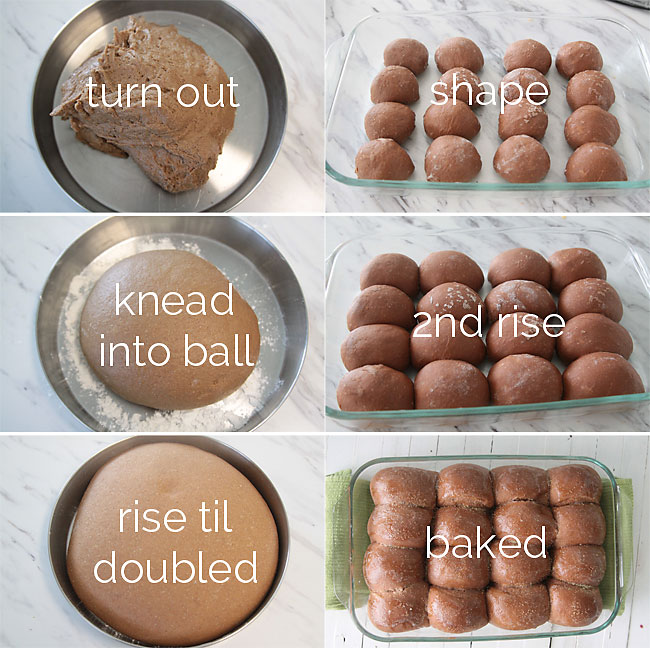 Once the dough has doubled in size, separate it into 16 sections and form into balls. Place them in a greased 9×13 pan and let them rise, covered, for another hour until the dough balls have grown in size enough that they touch one another. Bake at 350 for about 22 minutes until cooked through. If you use food coloring, it can be hard to tell when the rolls are done, since they won't get much browner than they already are. The easiest way to tell if they're finished is to gently pull one roll away from the one next to it and check to make sure they look baked through. If in doubt, give them another minute or two. Better slightly overdone than doughy inside.
Here's how I shape rolls. I cut the dough into 16 equal sections, then pick up one section in my right hand. I make a circle with the thumb and forefinger on my left hand, then gently push the dough piece through it, dusting it with flour if needed. Once I've pushed the entire piece through, I crimp it together at the bottom. That makes a nice tight ball.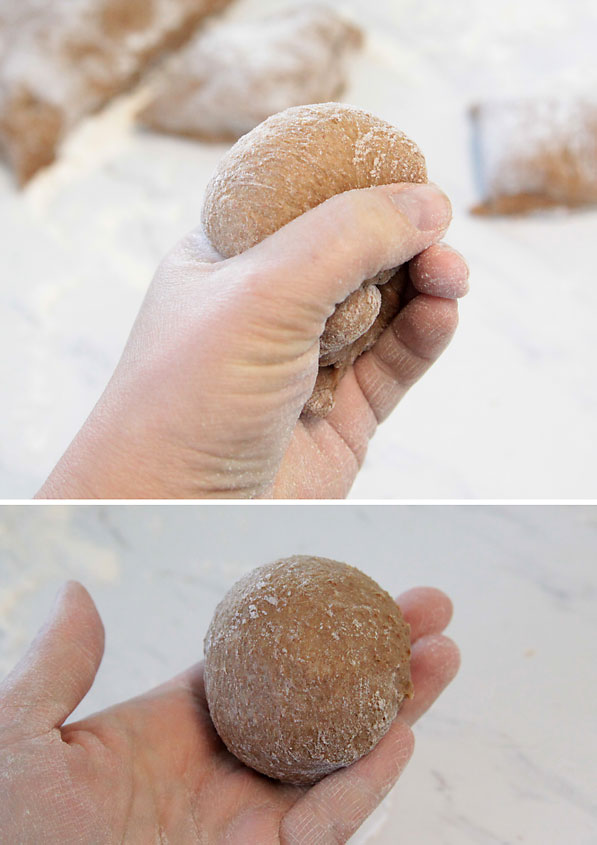 After baking, I brush these rolls with melted butter and dust them with cornmeal. Delish!
Download the printable recipe card for Outback Steakhouse sweet molasses brown bread by clicking here. And if you're wondering why this is called brown bread but I made it into rolls, this is why: I think bread always tastes better as rolls. You don't have to cook it as long so there's no real crust, and the edges don't start to dry out by the time the center is done. The same bread recipe baked as rolls is always a little softer than it would be baked in a loaf.