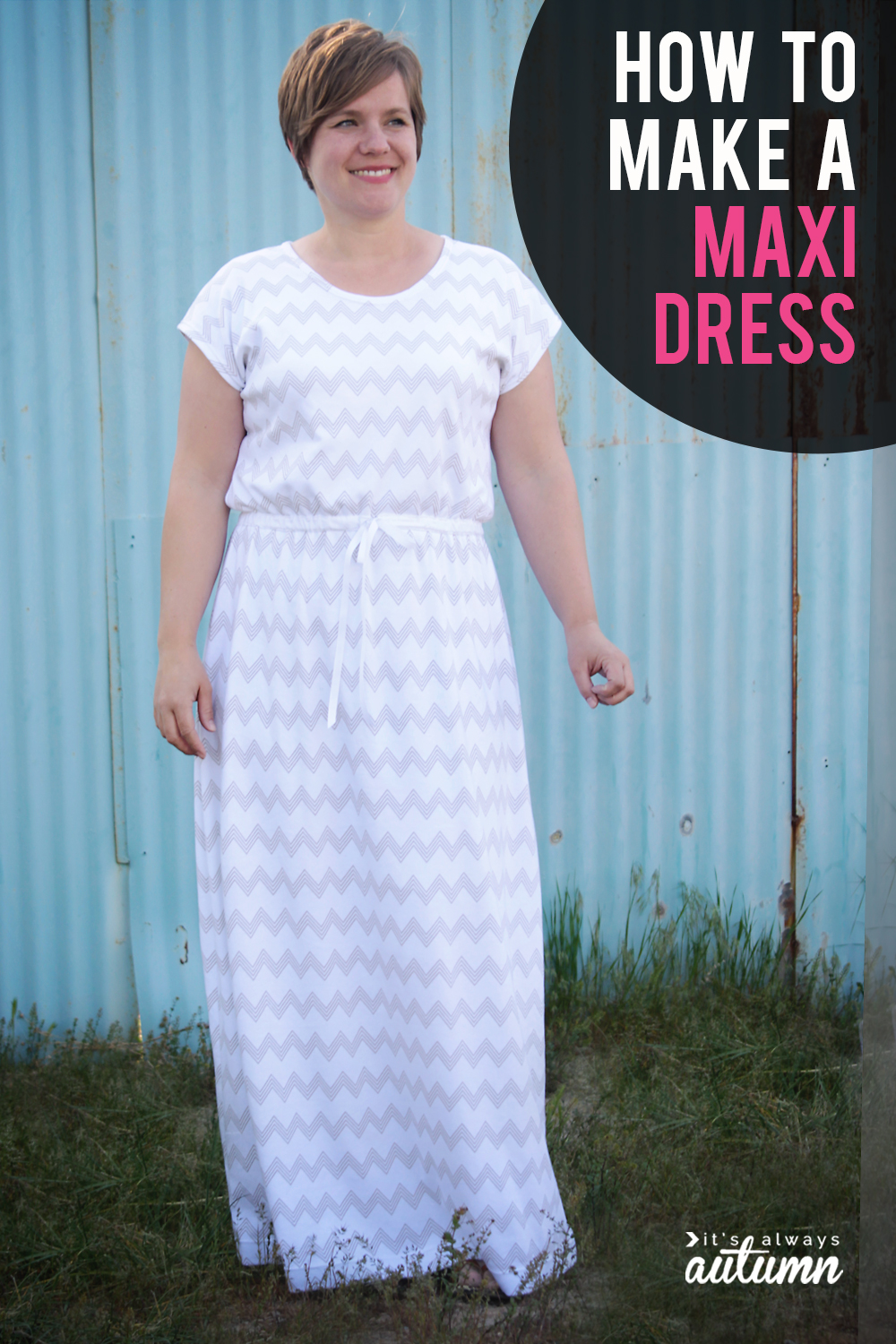 I hate wearing jeans in the summer. Hate it! Jeans are just so uncomfortable when it's hot out. But I'm not a big fan of shorts either – I wear all my clothes to the knee and I don't love how long shorts look on me. So I like to wear casual skirts and dresses in the summer. I saw this dress from The Gap and just loved it: cute, casual, and it even has sleeves, unlike most maxi dresses (why are they all sleeveless? I don't get it).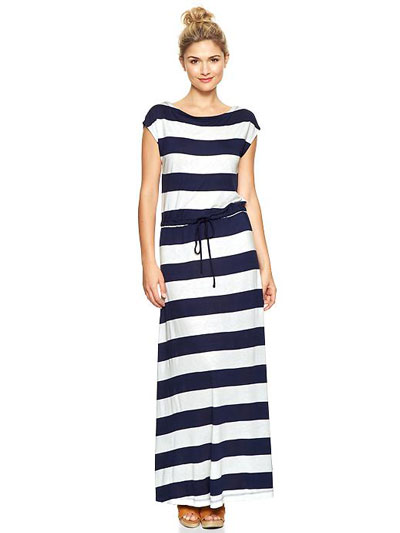 But it's $75, which is a little pricey, and I could tell from the photo that the gathered waistline would hit very low on me – I've tried on a few dresses with low waistlines this season and they look pretty terrible (maybe better for taller gals?). Plus in the reviews people complained that the fabric was very thin, which means it wouldn't hide my muffin top very well. So I figured out how to make my own. Mine cost $17, is made from a nice medium weight interlock knit that's not even see-through, and I could customize the waistline to right where I wanted it. Even better? It's a pretty easy hack of my free Easy Tee pattern.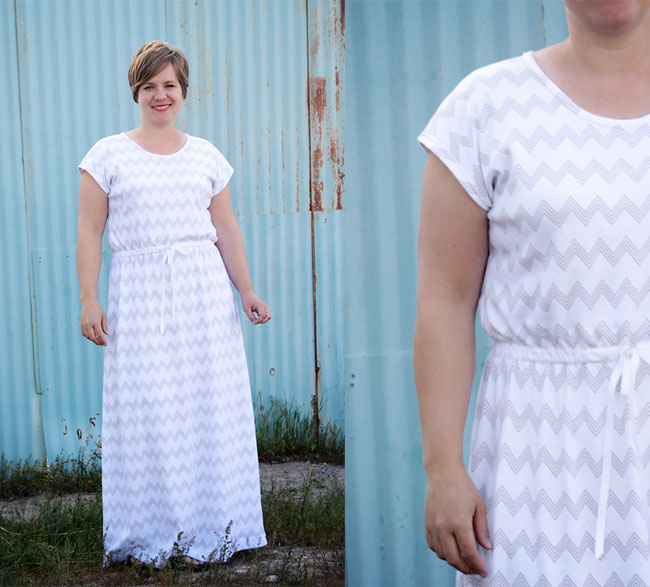 I didn't take photos of every step since this was a bit of an experiment, so I've made some really awesome illustrations to try to explain what I did. I started with 2 yards of knit fabric, which is 60 inches wide (I used this fabric from Girl Charlee and I absolutely love it! I have a terrible time finding white knits that are not see through, and this one is perfect!).
I laid out the fabric flat, then folded in each selvedge edge to meet in the middle. Then I put my easy tee pattern along one fold, as you can see in the illustration below: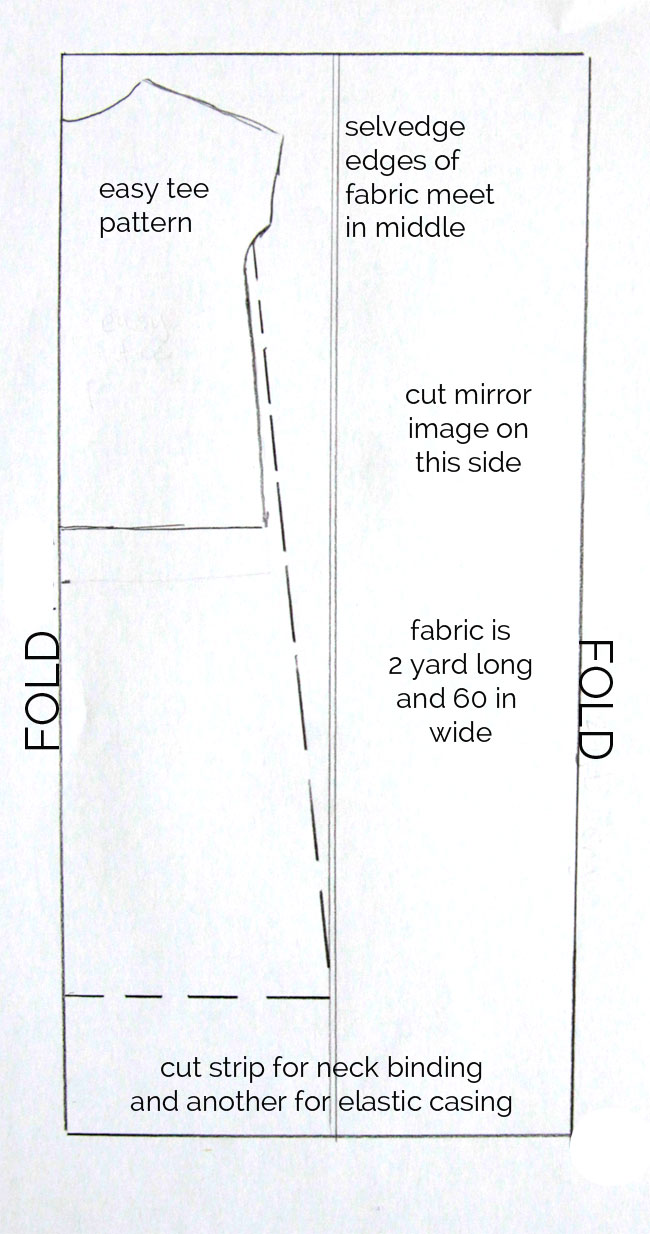 (Note: the easy tee pattern is only available in size L, and you can get it here. If you are a different size, I show you how to make your own easy tee pattern in this post.)
I cut around the neckline, shoulder, and sleeve of the easy tee pattern, then under the armpit I just gradually widened it out and took it down to maxi dress length. I'm 5'3″ and had at least 10-12 extra inches of fabric at the bottom that I didn't use. However, if you're tall you'll probably want to cut the dress all the way to the end of your yardage. Cut one piece from the left side, then flip it over and cut an identical piece from the right side (just lower the neckline slightly so it can be the front of your dress).
Sew up the shoulder seams and down the side seams as directed in the original easy tee post. You'll have something that looks like this: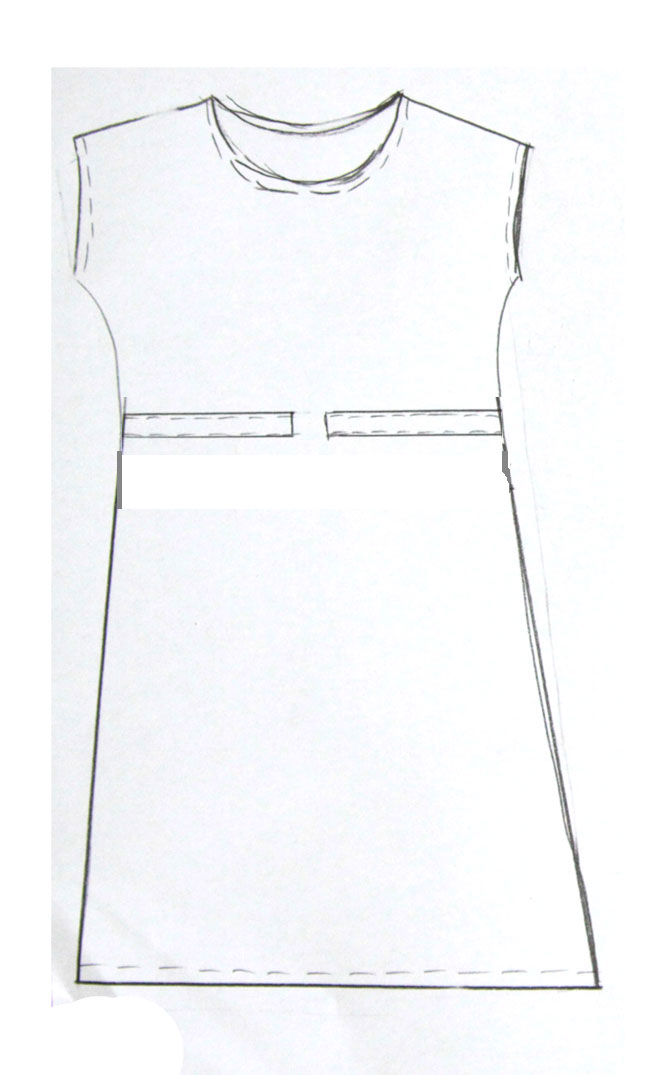 As you can see in the illustration above, once you have the front and back pieces sewn together you need to finish the sleeves and neckline (see the original tutorial for instructions), and then add a casing at your waist. The casing will hold elastic that will cinch the dress in at the waist.
To make a casing, cut a long strip of knit (either from the bottom of your yardage or from a different piece of knit), that's 1.25 inches wide and long enough to go all the way around the dress at the waistline.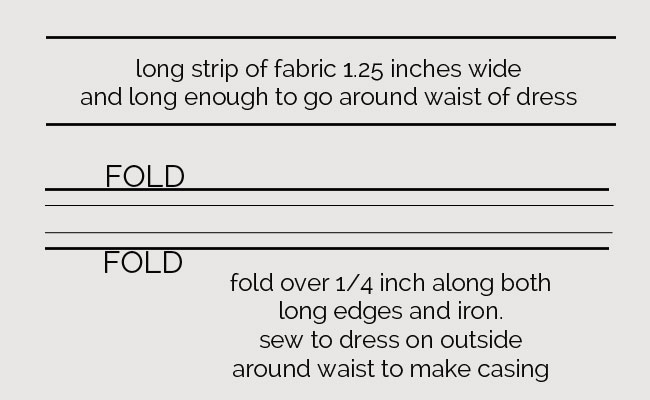 You'll place one end of your casing strip in the middle front of your dress, at the waistline. Pin the casing all the way around your dress and back to the middle of the front, leaving an inch wide opening. Then you'll sew the casing to the dress, all the way around the top of it, then all the way around the bottom of it, to make a spot for the elastic to thread through. Here's a picture of the casing and a close-up: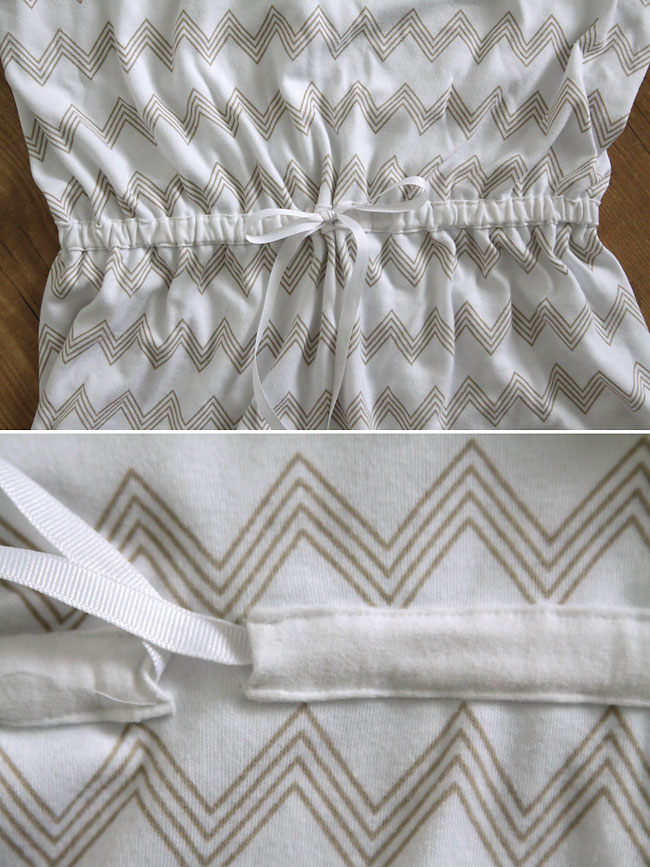 Sewing on the casing is honestly the hardest part of this whole dress, and it's not that difficult – it just takes a little time. You can see in the close-up photo that my stitching is a little wonky here, but when the elastic cinches it up you can't tell. (Be sure to use a long stitch length when sewing on knits.) I cut 1/2 inch elastic just shorter than my waist measurement, then sewed ribbon to each end of the elastic, and threaded it through. That way all the elastic hides inside the casing, and I can use the ribbon to tie a bow in front. Then you just hem the dress and it's done!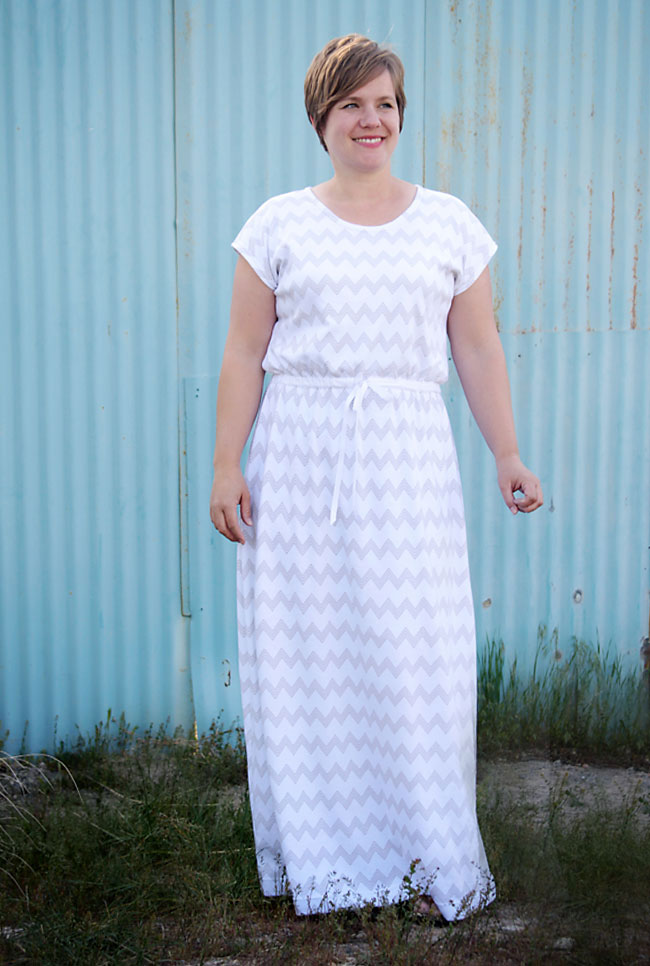 Easy, comfortable, and much cooler than jeans (and 60 bucks cheaper than the Gap's version!). AND my muffin top is nicely hidden, which makes all of us happy.