In today's post: You are going to love these easy to make chewy chocolate granola bars. Loaded with oats, chocolate, butterscotch chips, and mini marshmallows, they are the perfect snack!
I know that every time a blogger posts a recipe (myself included) she goes a little crazy telling everyone how good it is. It's like every single recipe is to. die. for. amazing. Right? So yes, I know you're used to hearing how good things are, but I'm going to say it anyway. These little homemade chewy chocolate granola bars are devilishly good. That's right, devilishly good. My husband informed me last night (after our family ate almost an entire pan of these in one day) that I'm not allowed to make them anymore because he can't stop eating them. I agreed immediately. Of course. We need a break from this highly addictive, incredibly easy to prepare substance. Definitely. Except that I like them, which means I'll probably make them again much sooner than I should. Could I eat the entire pan and have cleaned up all the evidence by the time he gets home from work one day? Likely.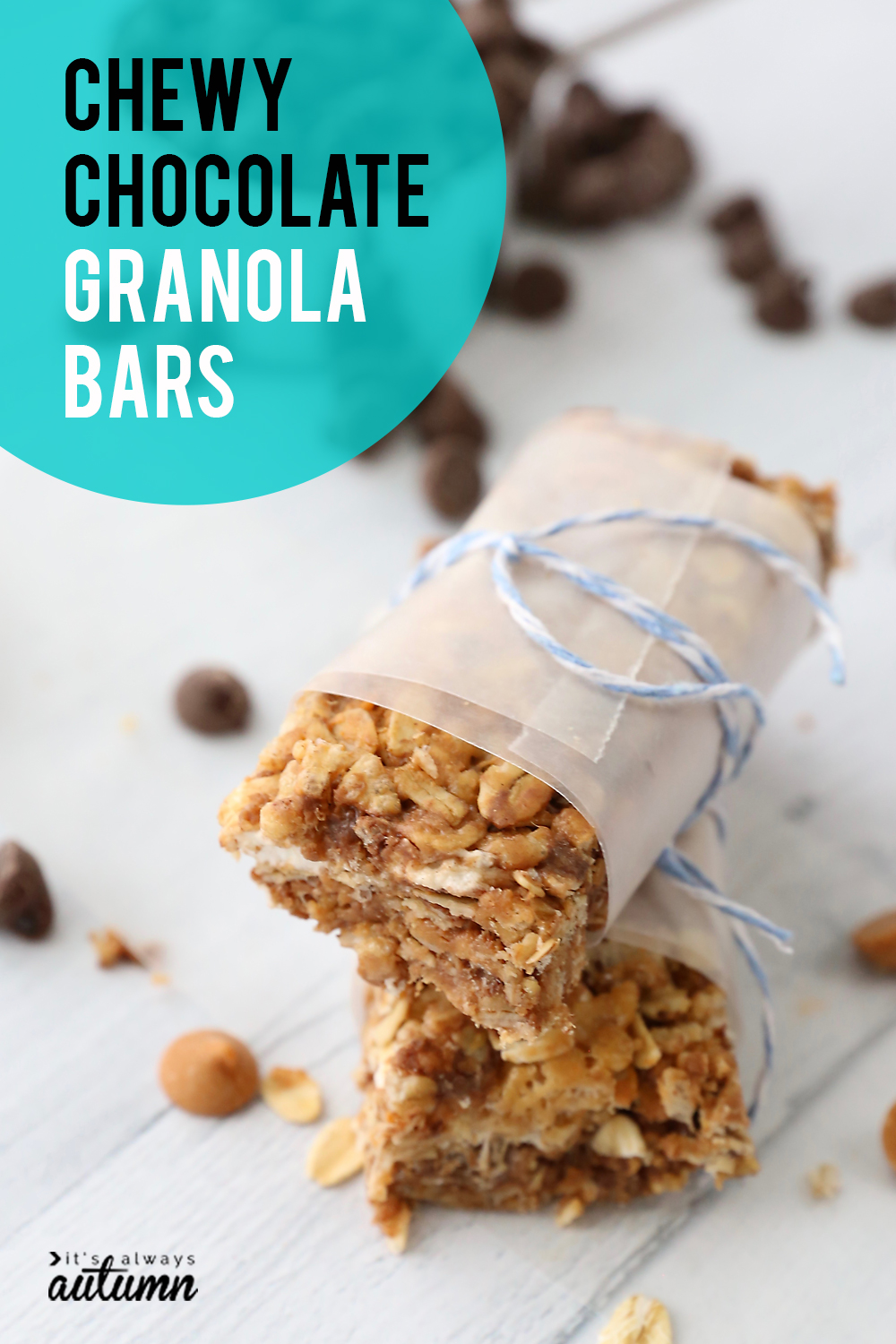 No need to worry – my kids would never let me eat the whole pan without sharing!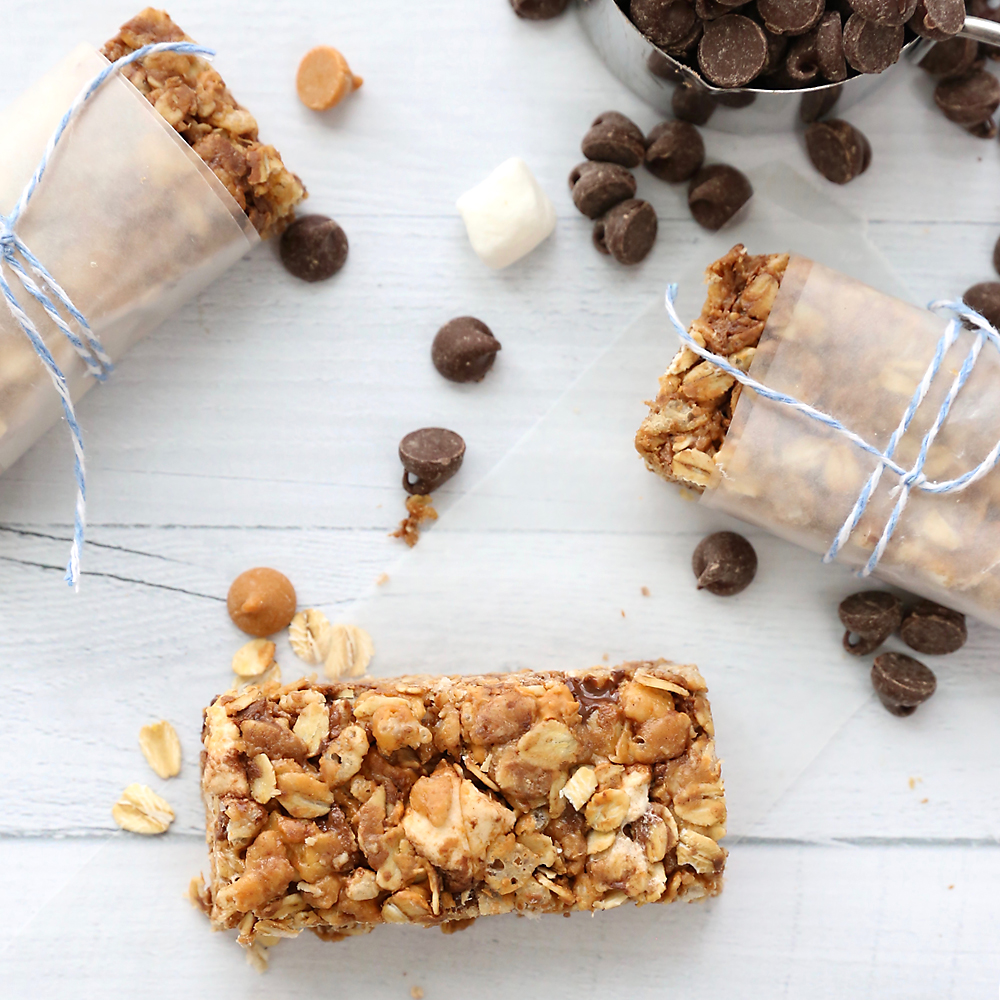 These are essentially a very soft and chewy homemade granola bar with some extra deliciousness: chocolate chips, butterscotch chips, and mini marshmallows. The friend who gave me the recipe says she cuts them into bars, wraps each bar in foil, and then puts them all in a large ziplock in the freezer. I've never tried it, but maybe that would keep me from overindulging. Probably not, though. I do know how to get into the freezer and take things out of bags, after all 🙂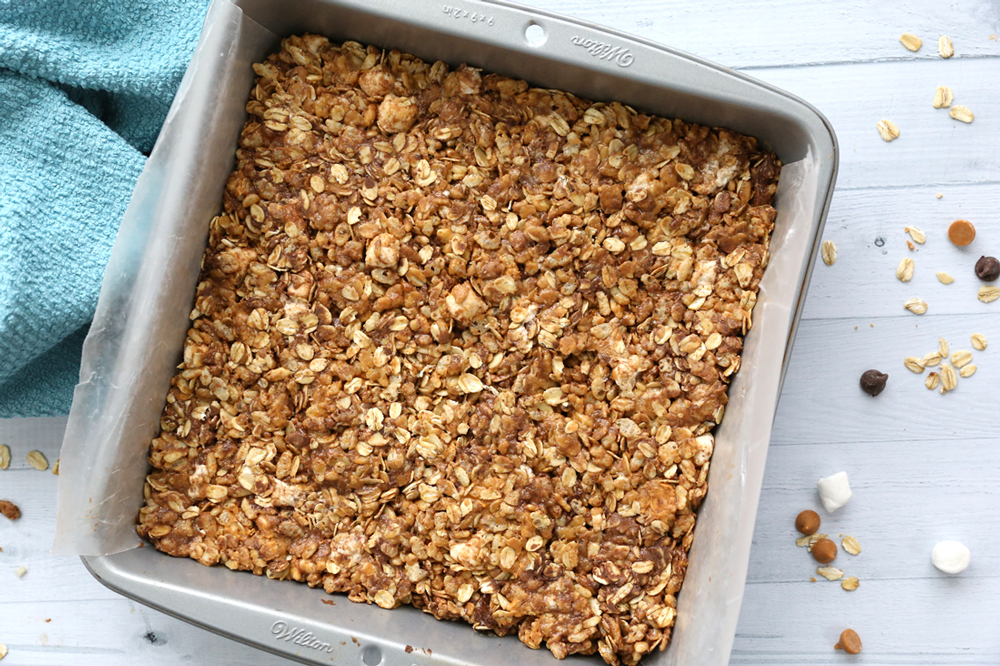 We like to make these bars anytime we're going somewhere fun that requires a special snack – you know, like camping, to a big family picnic, or downstairs to watch a movie. The recipe is large: for a full batch you'll use a high sided cookie sheet (aka jelly roll or half sheet pan), and will get about 36 bars. You can cut the recipe in half and use a 9×13 or 9×9 pan – that's what you see in today's photos and video – and get 18 bars.
How to make chewy chocolate granola bars
Watch this video to see how to make them, then get the recipe card and written instructions below.

Click here to download the printable recipe card.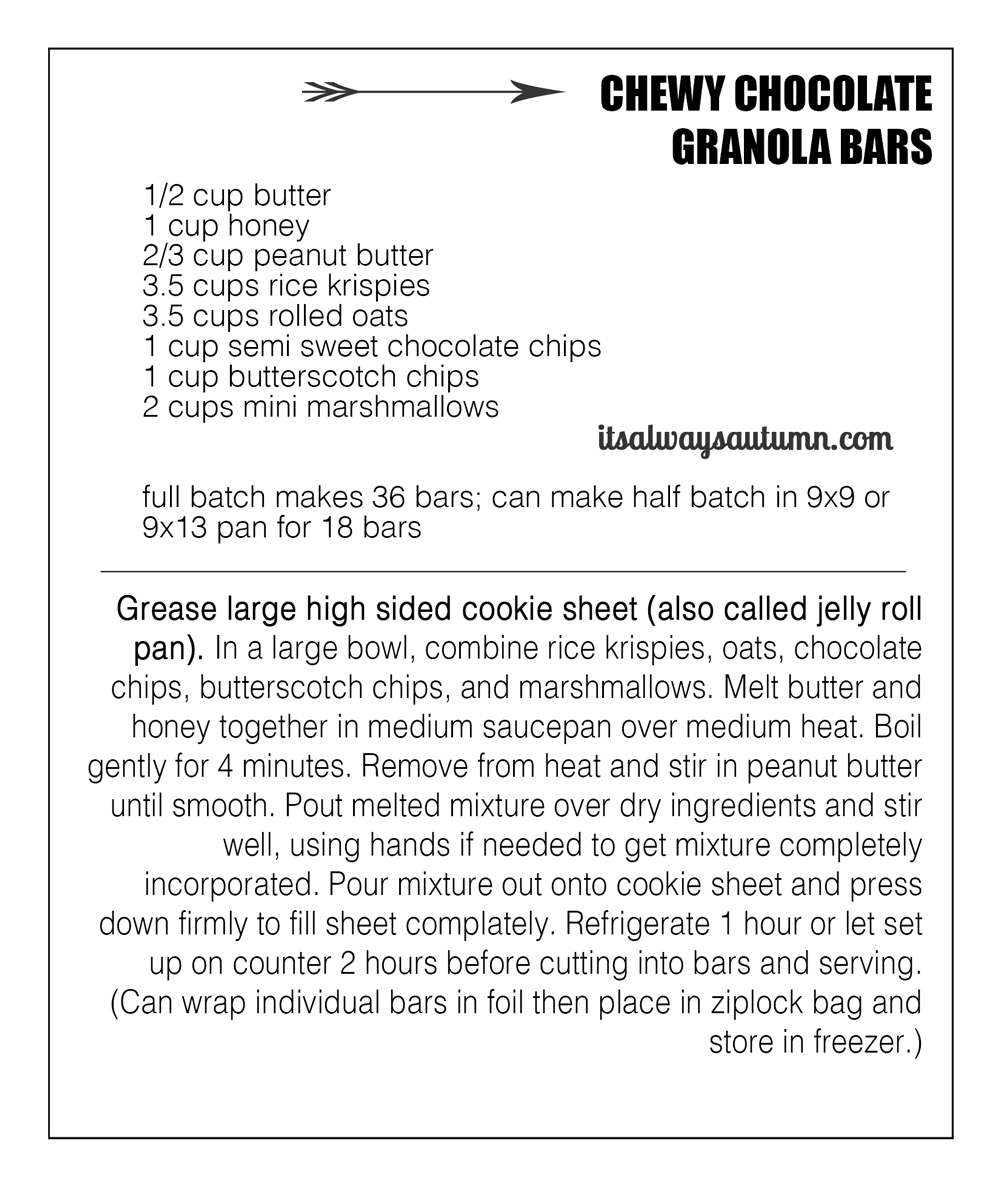 Be sure to get your dry ingredients ready before you start heating the wet ingredients. For a full batch, you'll need a large bowl to mix everything in (what you see below is a half batch).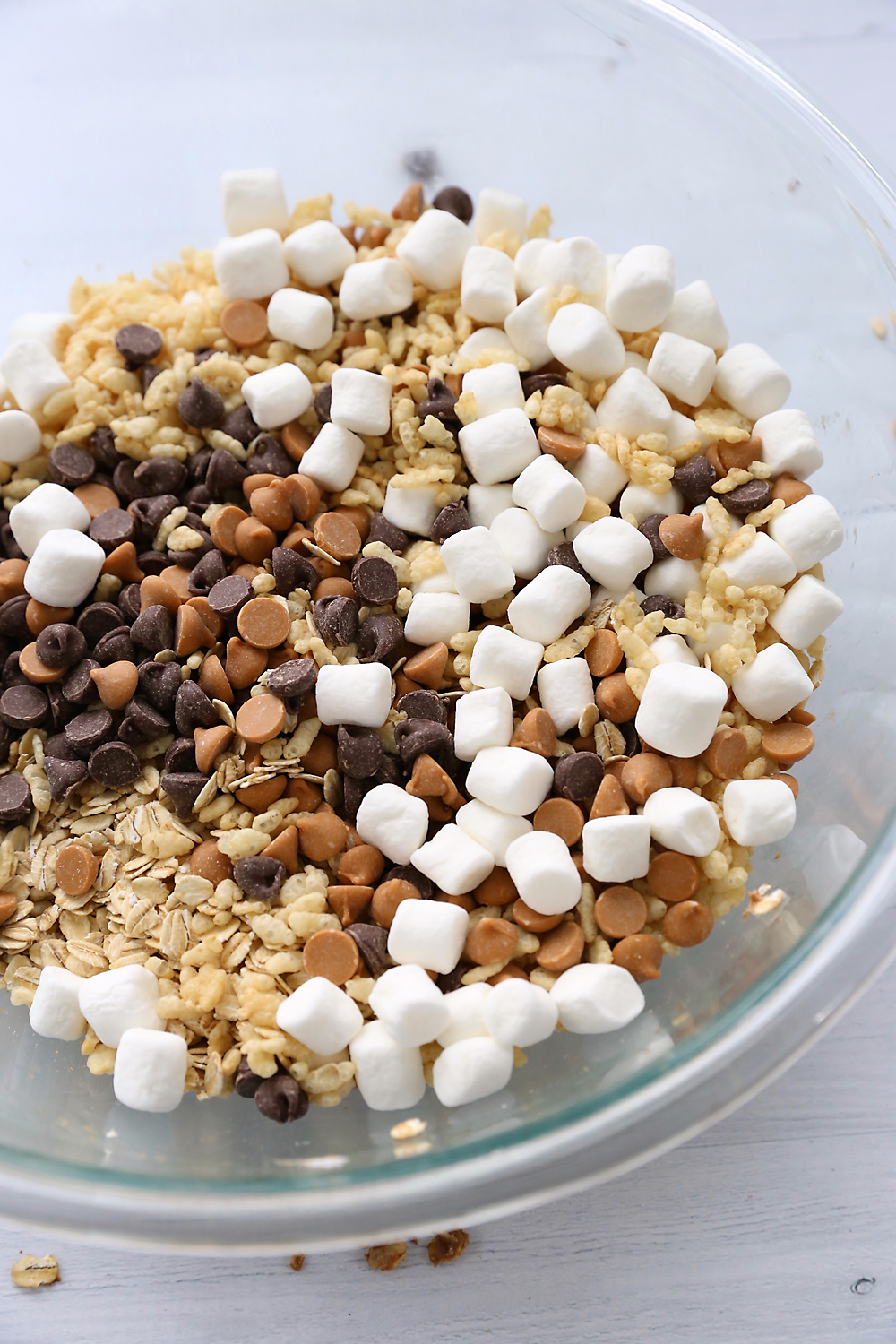 You'll cook the butter and honey together at a gentle boil for 4 minutes – don't bring it to a high boil or the bars will end up crumbly instead of chewy. Remove mixture from the heat, then stir in peanut butter until smooth. I use creamy peanut butter. Then pour it over the dry mix: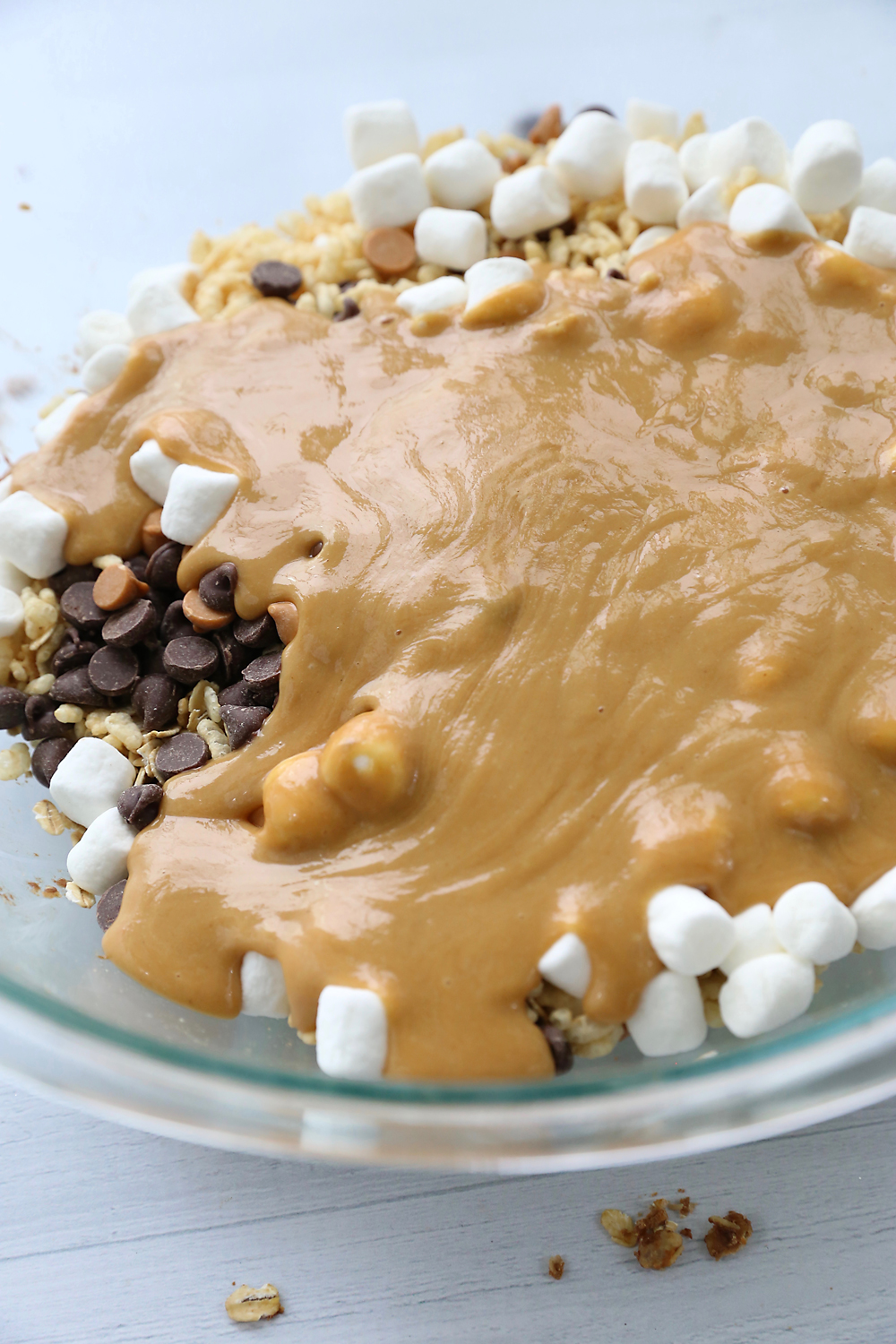 And stir, stir, stir until it's all combined. A sturdy wooden spoon works well here, although you may need to use your hands to get the last few oats incorporated. The chocolate and butterscotch chips will melt as you stir everything together, giving the bars a lovely flavor that reminds me of scotcheroos. Press the mixture into a pan and allow to set up before slicing.

Looking for more tasty treats? Visit these posts:
The best sugar cookies with cream cheese frosting