***This is the third installment in my lessons from the nativity series, where I'm sharing some activities I'm doing with my kids this Christmas season. We're talking about what we learn from different characters in the nativity story, then making ornaments to go along with what we discuss. I've included scriptures, songs, discussion questions, and step-by-step tutorials for making each ornament. Find them all here: angel | star | manger | Baby Jesus***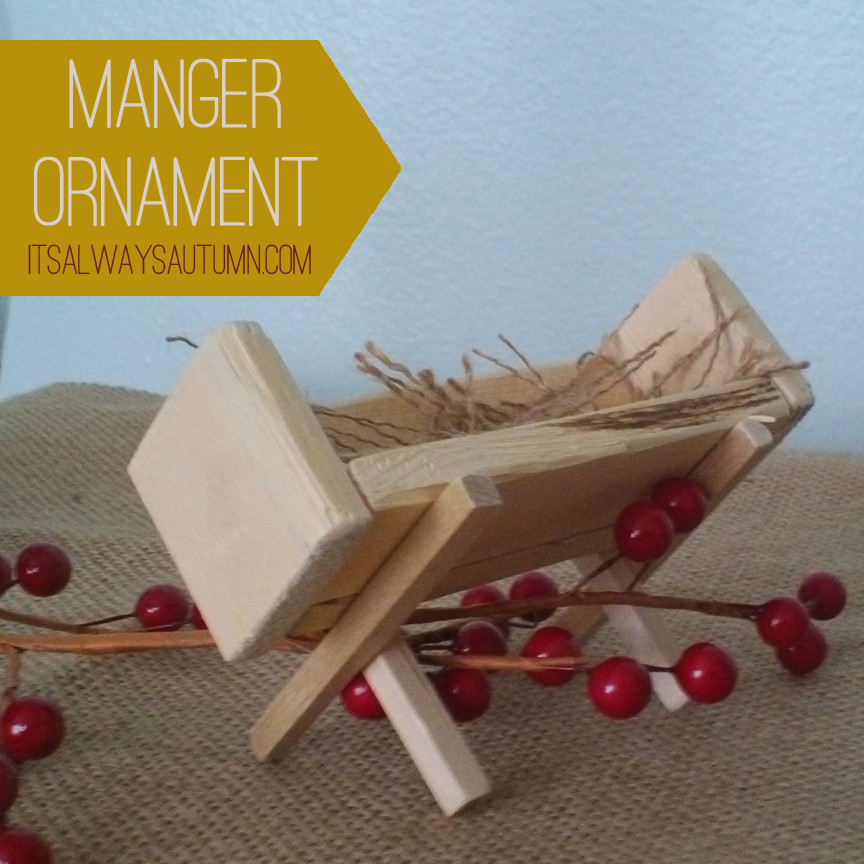 The manger teaches us to LOVE EVERYONE, regardless of their circumstances.
Scripture (from Luke Chapter 2):
7 And she brought forth her firstborn son, and wrapped him in swaddling clothes, and laid him in a manger; because there was no room for them in the inn.
Song: Away in a Manger
Discuss: Why didn't Heavenly Father provide a more comfortable place for Jesus to be born? What do his humble beginnings teach us? Did people judge Him because he was poor? What judgements do we make about others based on their circumstances?
Craft: Begin by printing the pattern, found here.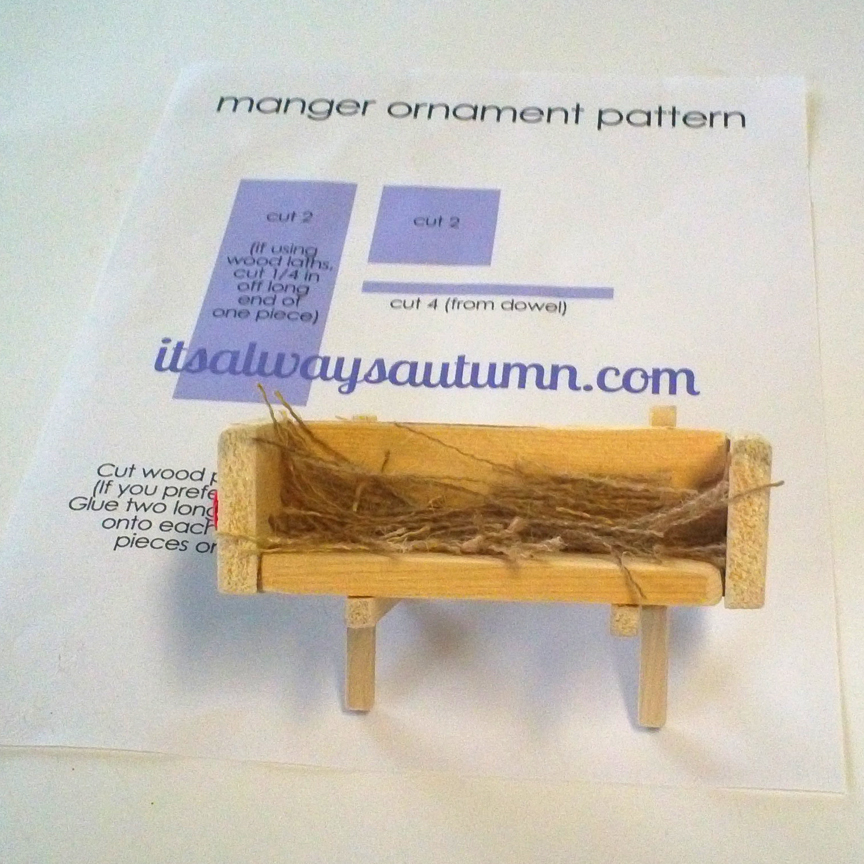 I made my manger using a wood lath and a 1/4 inch square dowel. Wood laths are inexpensive (50 cent) pieces of wood that are 4 ft long, 1.5 inches wide, and about 1/4 inch thick, and you can easily find them at Home Depot or Lowes. You could certainly use nicer hobby wood, but wood laths are so cheap and you can make four mangers from each one, which is nice if you have multiple children. Wood lath will require some sanding.
If you don't have access to a saw to cut the wood lath, you could make a manger using chipboard, which is a type of thin, hard cardboard that can be found at scrapbook stores. Cardboard could also be used.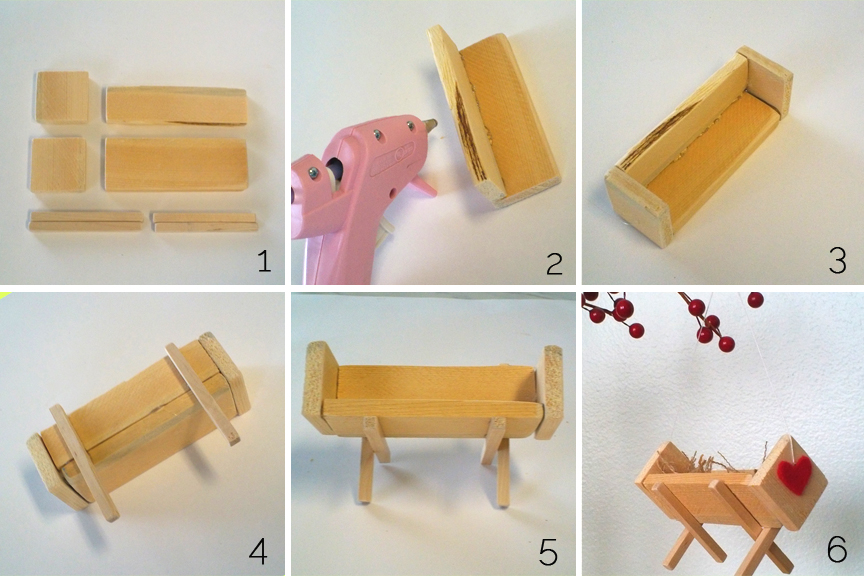 1 – Cut pieces as shown on pattern. If using wood lath, trim 1/4 inch off one long side of one of the larger pieces. (No need to trim if using chipboard.)
2 – Glue two long pieces together to form a V, stacking piece that has been trimmed on top of untrimmed piece.
3 – Glue squares ontos ends of V to form a manger.
4 – Tip manger on it's side and glue two dowel pieces on as shown.
5 – Glue other two dowel pieces to form X shaped legs.
6 – Ornament can simply be set on a tree branch. However, if loop for hanging is desired, either drill small holes at top of each square and then tie a loop between them, or glue loops on and cover ends with hearts cut from felt.
Here are all four ornaments (remember to click links at the beginning of post for other ornament instructions):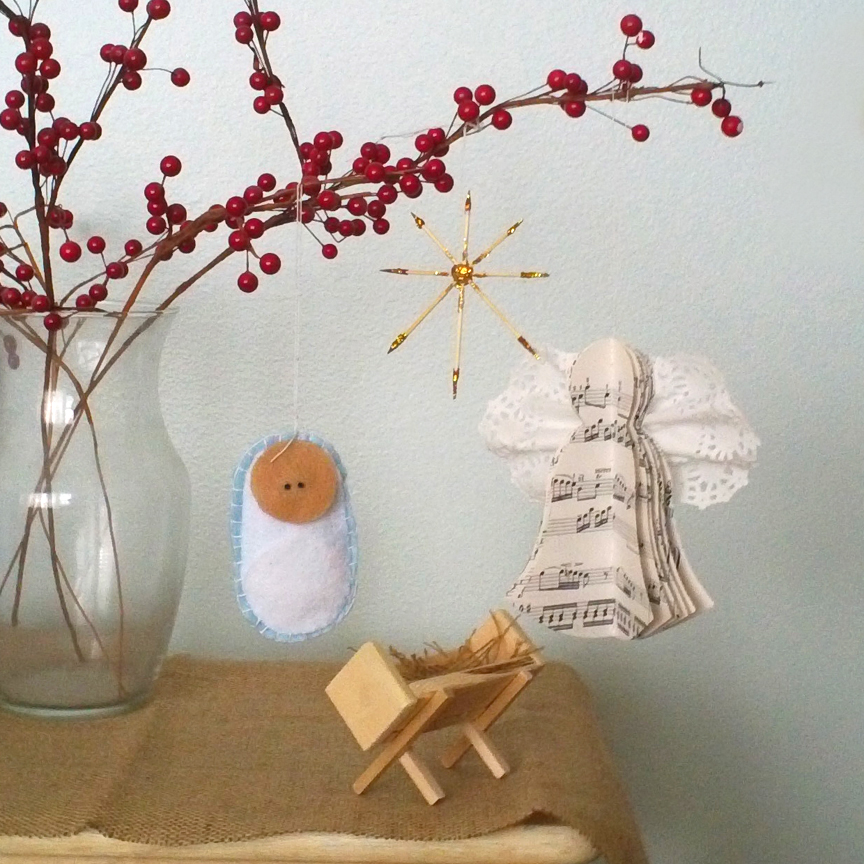 These little mangers are very simple to make. You can line them with a bit of cloth, some raffia or straw, or threads pulled out of a piece of burlap, like I did.