***This is the fourth installment in my lessons from the nativity series, where I'm sharing some activities I'm doing with my kids this Christmas season. We're talking about what we learn from different characters in the nativity story, then making ornaments to go along with what we discuss. I've included scriptures, songs, discussion questions, and step-by-step tutorials for making each ornament. Find them all here: angel | star |manger | Baby Jesus***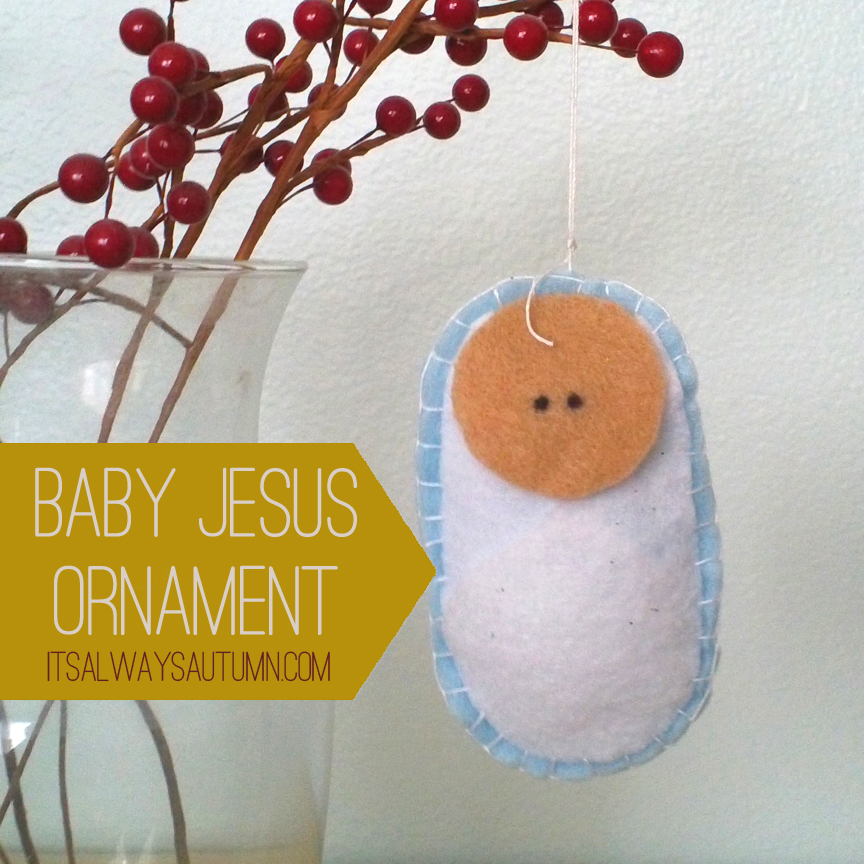 The Baby Jesus teaches us to BE LIKE HIM
Scripture (from Isaiah Chaper 9):
6 For unto us a child is born, unto us a son is given: and the government shall be upon his shoulder: and his name shall be called Wonderful, Counsellor, The mighty God, The everlasting Father, The Prince of Peace.
(from Isaiah Chapter 53):
4 ¶Surely he hath borne our griefs, and carried our sorrows: yet we did esteem him stricken, smitten of God, and afflicted.
(from Luke chapter 2):
11 For unto you is born this day in the city of David a Saviour, which is Christ the Lord.
Song: Away in a Manger
Discuss: What does it mean to be like Jesus? What did He do in His lifetime? How can we follow His example?
Craft: Begin by downloading the free pattern, found here.
You'll need the following supplies: felt in three different colors, glue, Sharpie, thin string or embroidery floss, large-eyed needle. Assemble as shown below.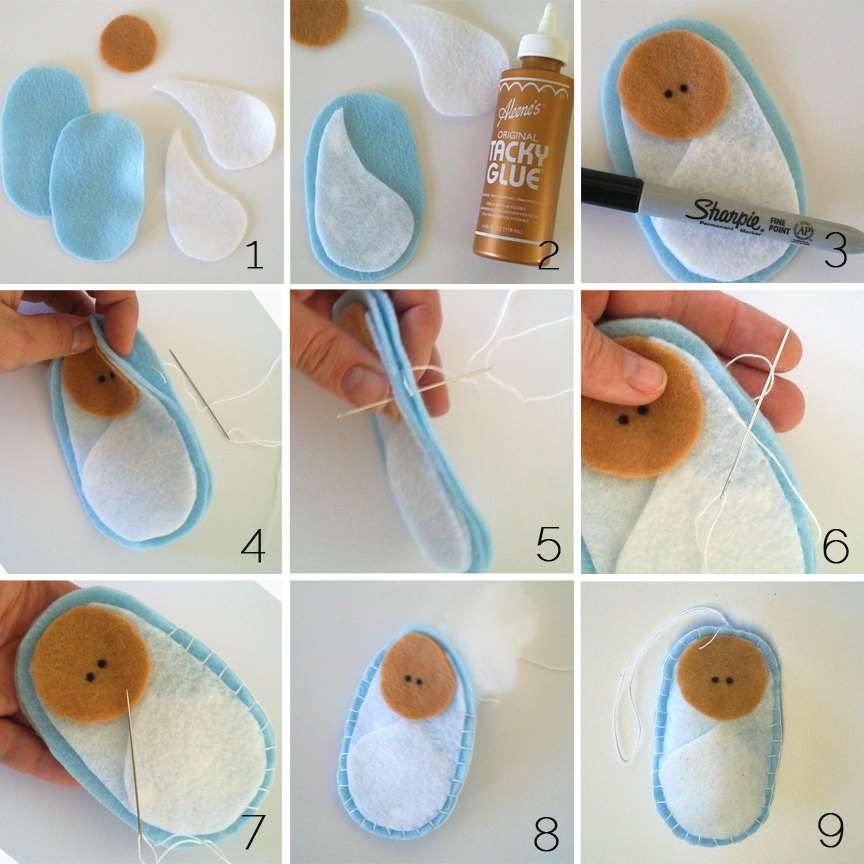 1 – Cut pieces from the pattern – 2 bodies, 2 blankets, 1 head.
2 – Glue one blanket piece down on one body piece.
3 – Flip second blanket piece over and glue down on top of first blanket. Glue down head. Use Sharpie to add eyes.
4 – Place completed body on top of second body piece. Using thin string or embroidery thread and a large-eyed needle, blanket stitch around body. Begin by knotting string and sending needle just through back body piece, about 1/4 inch from the edge.
5 – About 1/4 away from where you've just come down through the body piece, come back up, this time through both pieces. Don't pull thread all the way through – just pull until there is a small loop of thread in the back.
6 – Run needle down through loop of thread and pull thread tight. This completes the first blanket stitch.
7 – Continue blanket stitching by sending the needle up from the back, 1/4 inch away from where you came up last time, then sending needle down through the loop of thread and pulling thread tight.
8 – When there's a small opening left, stuff with a small amount of polyfil or other stuffing material. Continue blanket stitching the opening closed.
9 – Add a loop for hanging – finished!