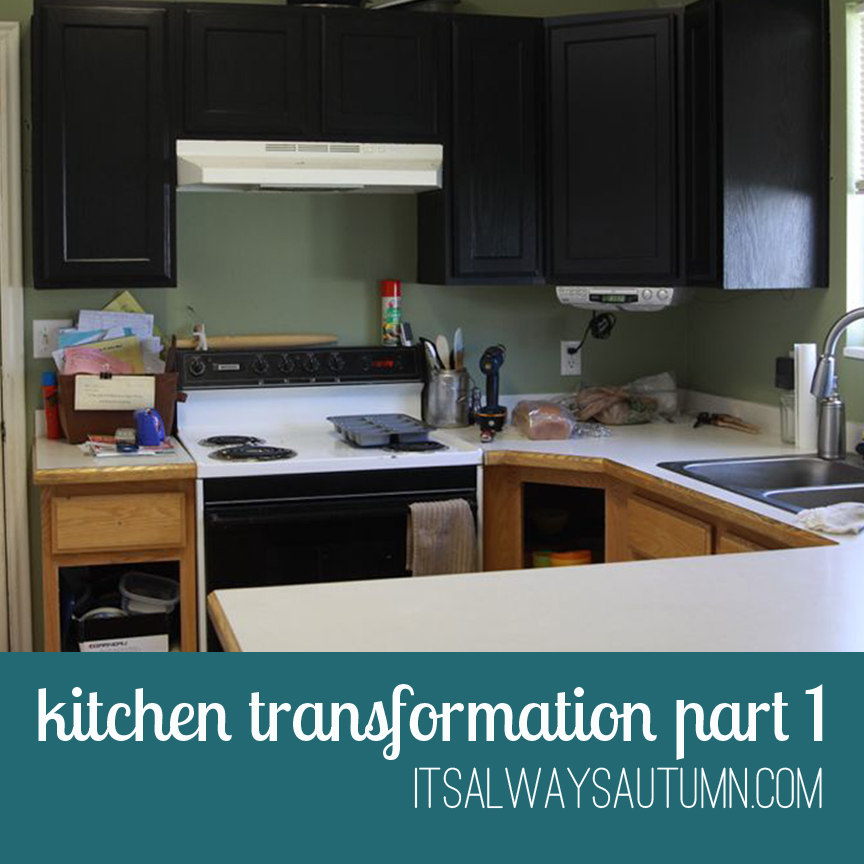 Interested in the story of how our old, cheap, oak kitchen cabinets turned into really pretty black cabinets for $125? Read on!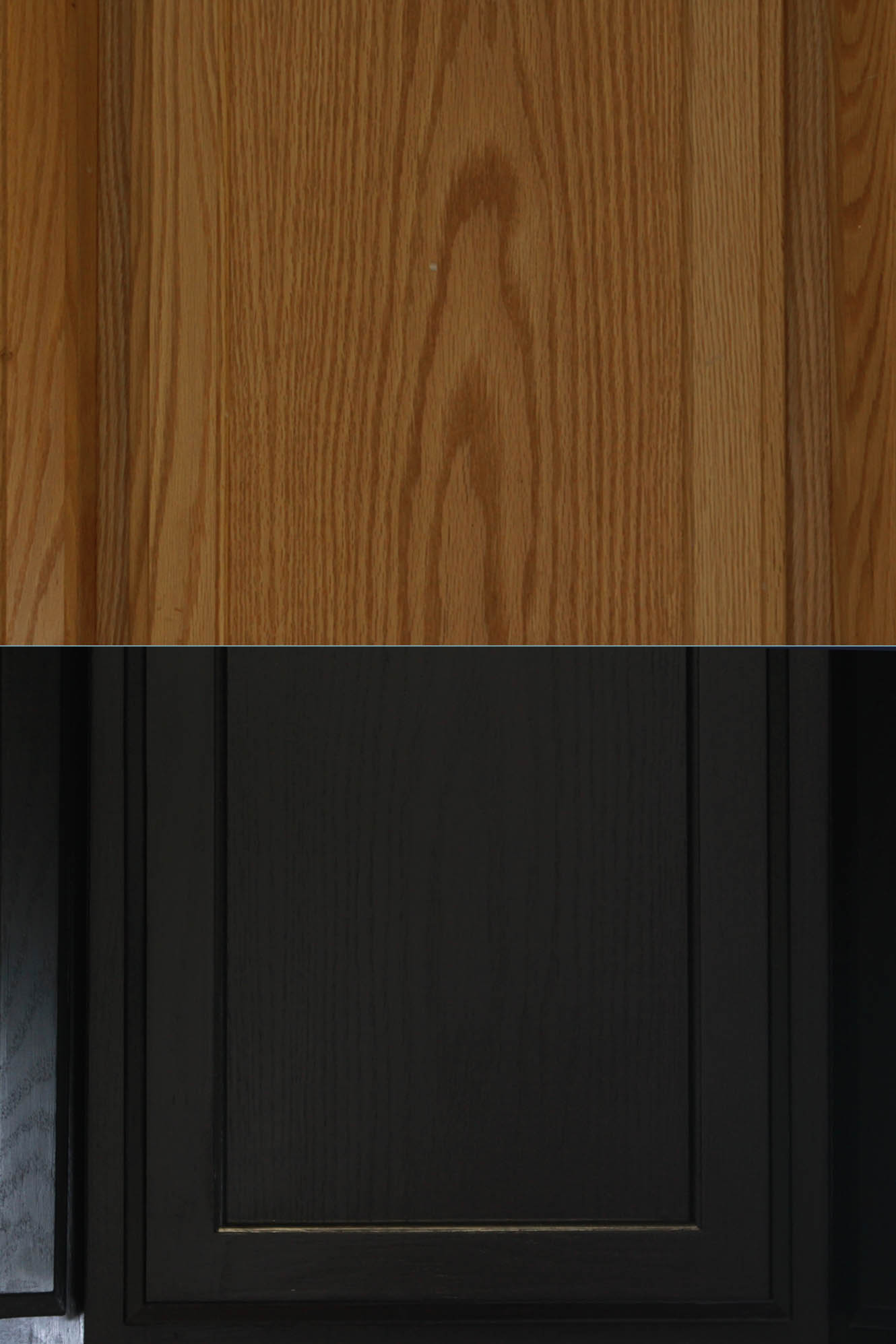 My husband and I both kind of hate home improvement projects. Or rather, he kind of hates them and I occasionally convince myself I like them, only to get halfway through something and remember that, oh ya, I actually kind of hate home improvement projects. It's just so much work! And when you have five kids running through the area and attempting to help it's even more work. So we generally consider good enough to be good enough and leave things alone.
But I've been eyeing kitchen makeovers on pinterest. Now, without any extra money to spend I decided the only thing we could do for not much money that would make a big difference would be to paint the kitchen cabinets. We've got cheap oak cabinets that look ok (good enough is good enough, right?):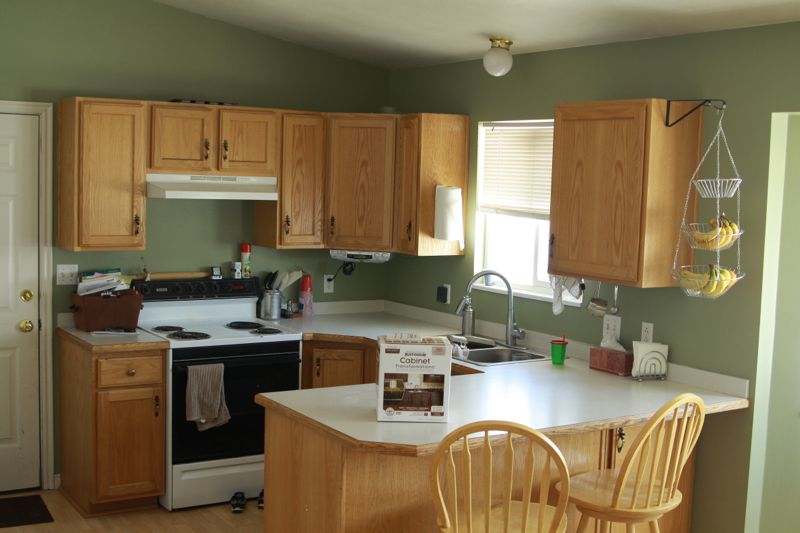 But I figured they could look a lot better. Fate intervened, breaking our dishwasher and causing a leak that warped our laminate flooring in the kitchen. Home owner's insurance came to the rescue, and we realized that if we replaced the floor ourselves, we'd have some left over for other kitchen projects.
Here's the plan:
1. Paint the kitchen cabinets
2. Get new countertop
3. Replace old oven/range/hood with new black version
4. Have subway tile backsplash installed
5. Paint the walls robin's egg blue
6. Replace the floor w/new laminate, likely from Ikea
We've started on the cabinets, and I currently have the uppers painted black. This is what my kitchen looks like now: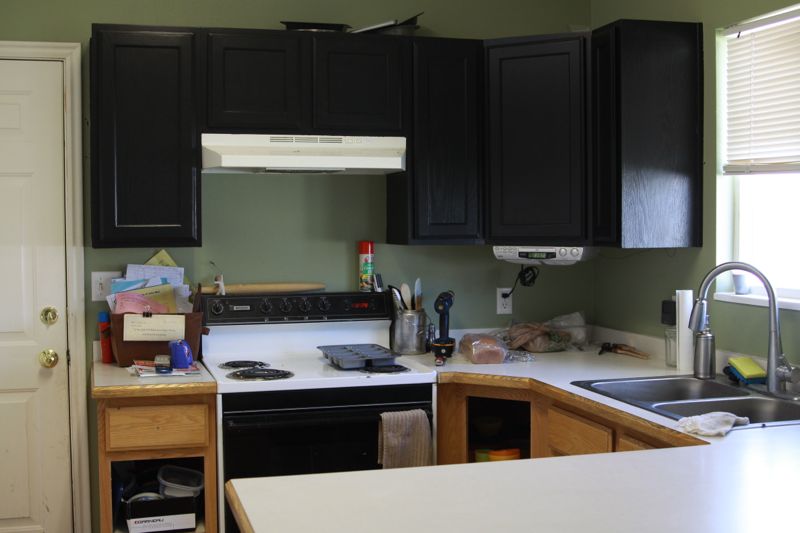 You'll have to check back in the next few weeks as I continue to post photos on the progress (and to see the final reveal!), but for now, here's some info on the cabinets.
We decided to go with Rustoleum's Cabinet Transformation system. We're novices, so we liked the idea of everything we needed in a little box. Now that I'm halfway through the project, I think we made the right decision.
The small rustoleum kit (which seems like it will be perfect for our kitchen – and there's more cabinets than are pictured above) runs about $80 at Home Depot and the like, and it can be tinted to whatever color you want. (Add in nice brushes, tape, tarps, and some rags, and we've spent $125 so far on the cabinets.) I originally wanted white cabinets, but I've read that most clear topcoats make white cabinets look a little yellow, and I was not willing to go to all the trouble to paint my cabinets and then have the paint chip because I couldn't topcoat it. So I went the other direction and chose black, which I'm loving already.
You start by using a chemical deglosser to scrub down your doors, drawers, and frames (after taking them all down and removing all hardware). This has not been my favorite step – mostly because I haven't been enjoying the realization that I've been living with really dirty cabinets – but it's not that hard. It just takes some time. And on the plus side, using a deglosser means you don't have to sand the finish of your cabinets before you paint.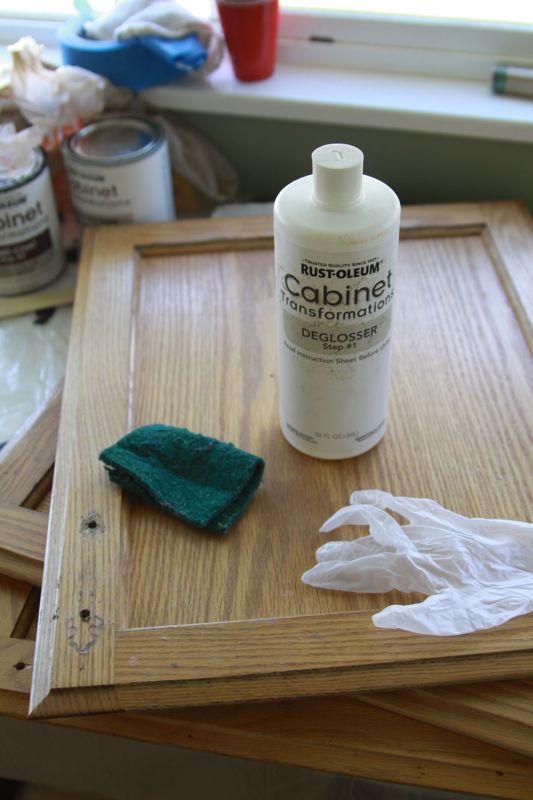 The next step is painting. I'll give tips/pictures on painting in my next kitchen post. The paint (called the base coat) is stain based, which means it's thinner than normal paint, and soaks nicely into the wood for a very smooth finish. Also, you can still see the grain through the paint, which I think looks really pretty.
After painting you can use the included glaze to add some artistic effects, but I skipped that since my cabinets are already black. There's a final clear topcoat, which is a little finicky to apply, but dries to a gorgeous, barely there sheen. It's smooth to the touch and feels like it will do a great job protecting the cabinets.
I'll post more on painting/topcoating when I get the bottom cabinets finished, as well as more before/after photos once we get the new hardware on. So far so good!