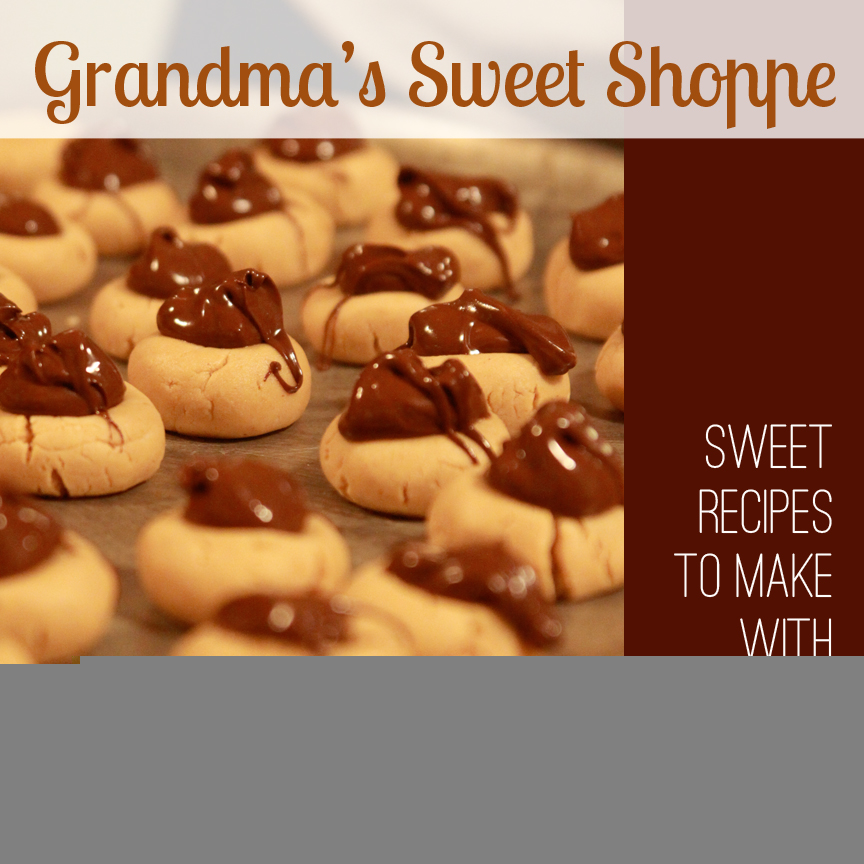 One of my kids' favorite traditions with my mom is Grandma's Sweet Shoppe. When we go visit her she has all the grandkids over and spends an afternoon helping them make a variety of treats. Today I'm sharing recipes for three sweets that are easy enough for kids to make in case you'd like to host your own Sweet Shoppe.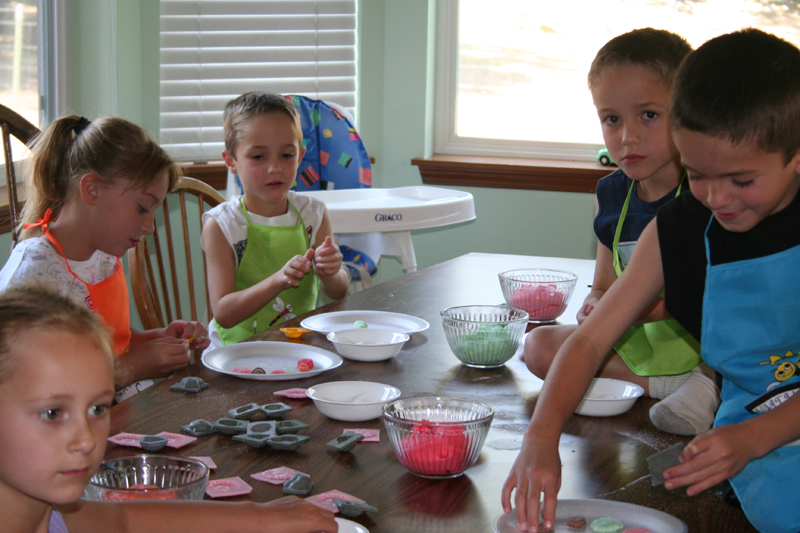 The little kids get the easy jobs (like rolling dough into balls) while the older kids get more complicated jobs like covering toffee with chocolate and chopped nuts. This time around Grandma split the kids into pairs of one older grandchild with each younger grandchild, and the big kids had a great time teaching the younger ones what to do.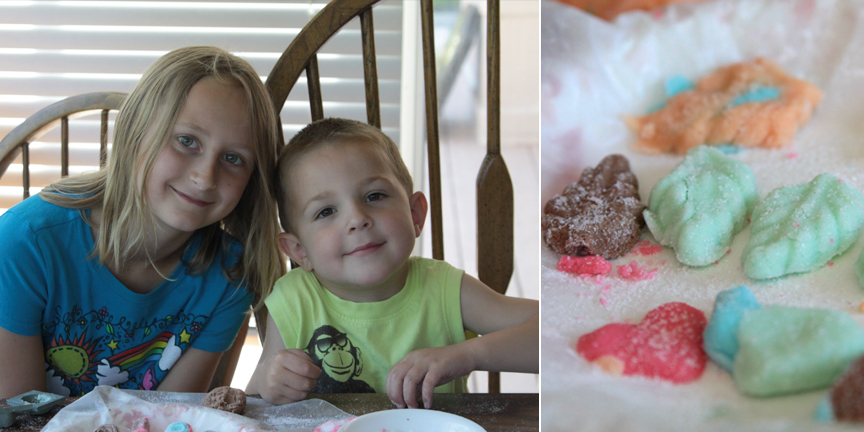 When the treats are all finished, they get packaged up and priced – anywhere from 10 cents for a mint up to 50 cents for a gourmet brownie.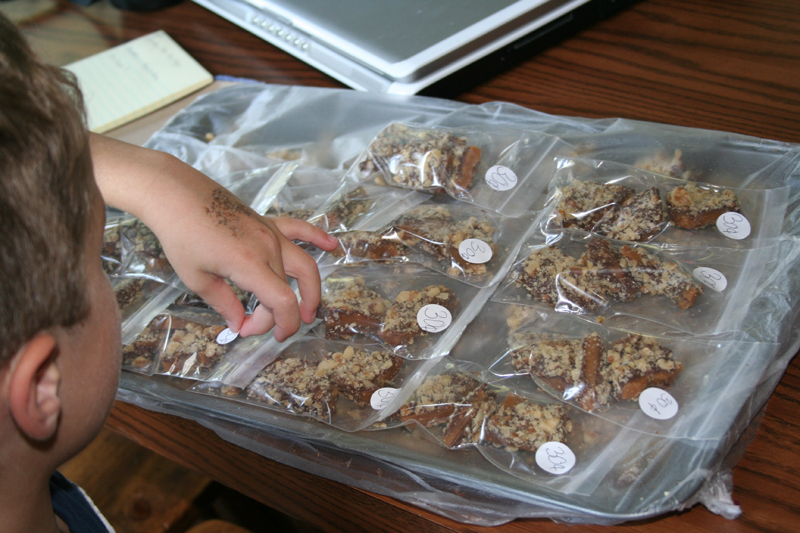 Then the parents are invited to come spend lots of money at the Sweet Shoppe. After a day or two the Shoppe is usually cleaned out, and the money gets divided up among the kids, who then can buy something to remember the trip by. It's a fantastic tradition that my kids have really enjoyed, so I thought I'd share a few of the kid-friendly recipes that get made every summer at Grandma's Sweet Shoppe.
Cream Cheese Mints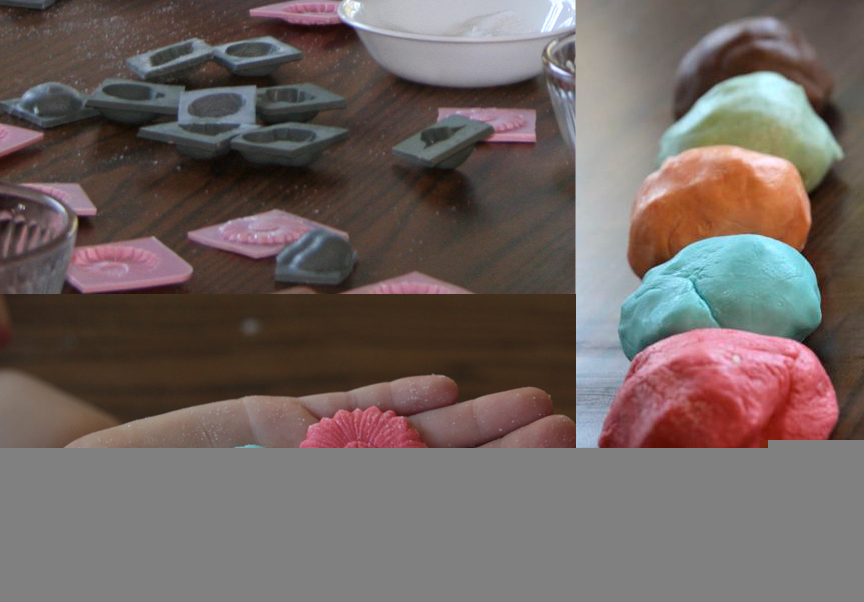 You might remember these creamy little sweets from wedding receptions about twenty years ago. Cream cheese mints are a staple at the Sweet Shoppe because even very young kids can participate, and the older kids have a great time being in charge of the entire process. Candy molds can be purchased from amazon or stores like Joann's – get the flexible silicone molds that come in a sheet and cut each mold apart so the kids can work on one at a time. Our kids usually end up eating more of these candies than they sell, but they have such a good time no one really cares.
Cream Cheese Mints recipe
8 oz cream cheese
6-7 C powdered sugar
food coloring
flavored oils or extracts to taste
candy molds
Soften cream cheese and then mix in powdered sugar until it's easy to handle and not very sticky. Split into five or six different portions. Drop flavor and coloring onto each portion, kneading to mix completely. (To make chocolate mints, add baking cocoa instead of color/flavoring.)
To mold mints, break off a small piece of the flavored mixture and roll it into a ball, then roll in a small bowl of sugar until it's covered. Press mint into silicone candy mold, then bend mold backward to release candy.
Peanut Butter Candies
Peanut butter candies are another hit with all ages. Peanut butter is mixed with butter and powdered sugar to create a smooth candy that tastes a lot like the inside of a Reese's PB cup. Older kids can complete this recipe all by themselves, and younger kids can help roll the candies into balls and make a thumbprint to be filled with chocolate. (I love these treats, so when I want to make them to give away I "dress them up" a bit by rolling the candy into balls and then completely covering in chocolate, then calling them Peanut Butter Truffles.)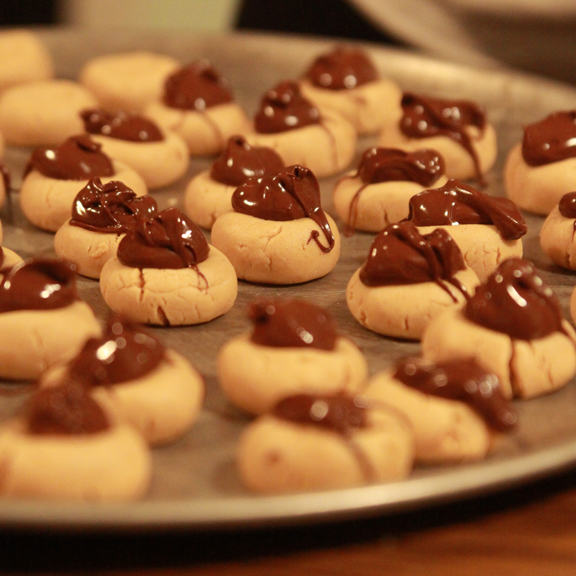 Peanut Butter Candies recipe
1 cube butter or margarine, softened
1 C creamy peanut butter
2 heaping C powdered sugar
12 oz bag of chocolate chips
Mix first three ingredients thoroughly (it's really easiest to use your hands here!). Pinch off enough candy to roll into a ball about the size of a nickel (or quarter if you want larger candies). Place each ball on a cookie sheet covered in wax paper, then press a thumb in the middle to make a well for chocolate. Pour a bag of chocolate chips into a microwave safe bowl (semi sweet and milk both work!) and melt in the microwave, stirring after each 30 seconds to be sure you don't over-heat the chocolate. When it's melty, fill each thumbprint with chocolate.
Little Bits o'Heaven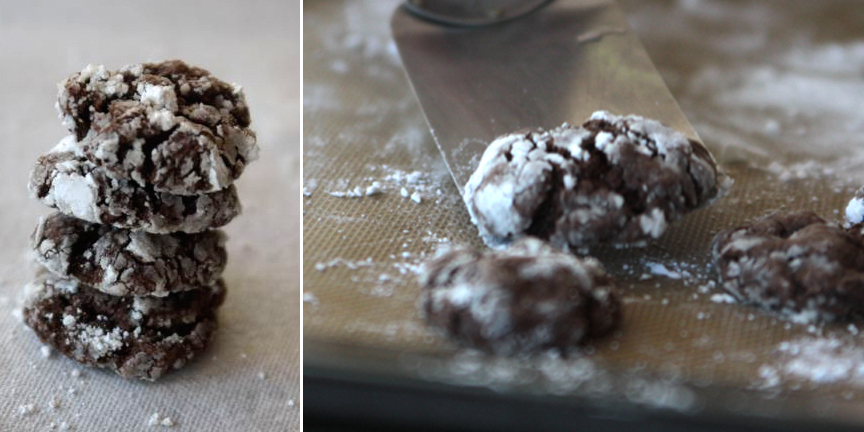 Little Bits o'Heaven are a very pretty, rich chocolate cookie that are kid-friendly because they start with a cake mix and can be mixed by hand. Younger kids can help mix, shape, and roll the cookie dough in powdered sugar, while older kids who know how to use an oven can complete these start to finish.
Little Bit o'Heaven Recipe
1 Devil's Food Cake Mix
1 cube butter, softened
8 oz cream cheese, softened
1 egg
1 t vanilla
Mix ingredients in a large bowl (the dough can be stiff depending on how soft the butter/cream cheese are to begin with – so this also may be easier to do using hands instead of a spoon – just wash 'em first!). When dough is completely mixed, chill for at least an hour. Scoop out a ping-pong ball sized amount and roll into a ball. Roll the balls in powdered sugar and place on a lightly greased cookie sheet. Bake at 350 degrees for 10-11 minutes or until cookies have begun to crack on top (check for the last few minutes – take them out as soon as the tops are well cracked). Cool on cookie sheet.