In today's post: Learn how to turn refrigerated dough into an adorable Christmas tree with these spinach dipped stuffed breadsticks! And be sure to check out the football version for game day and the sweet nutella version for Valentine's Day!
As you know, my favorite part about any holiday (after the meaningful stuff like family and togetherness, etc.) is the food. Actually, my favorite part of any given day just might be the food, but hey, to each her own. The Christmas season is especially fun because there are all sorts of opportunities for delicious little snacks that you generally don't eat all year long. I mean, we've already gone through more cheeseballs in the past three weeks than we do for the entire rest of the year, and don't even get me started on Lil' Smokies! Anyway, I wanted to make a festive, but still easy, holiday snack you could take to any party, so I came up with these Christmas tree spinach dip breadsticks.

They start with a refrigerated pizza crust, the kind that comes in a tube, so they're easy to make and take just over half an hour start to finish. And look how cute they turn out!
Need a hilarious game for your Christmas gift exchange? Check out the LEFT RIGHT game!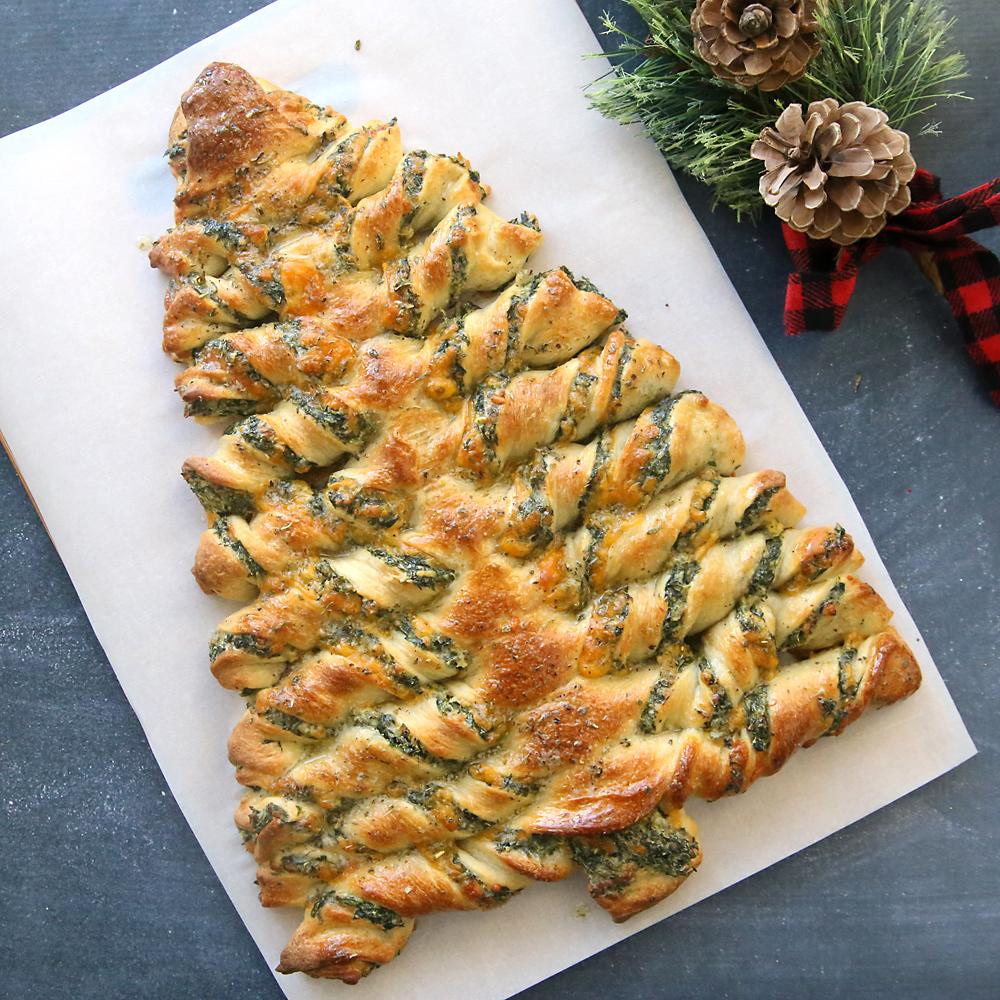 How to make Christmas tree spinach dip breadsticks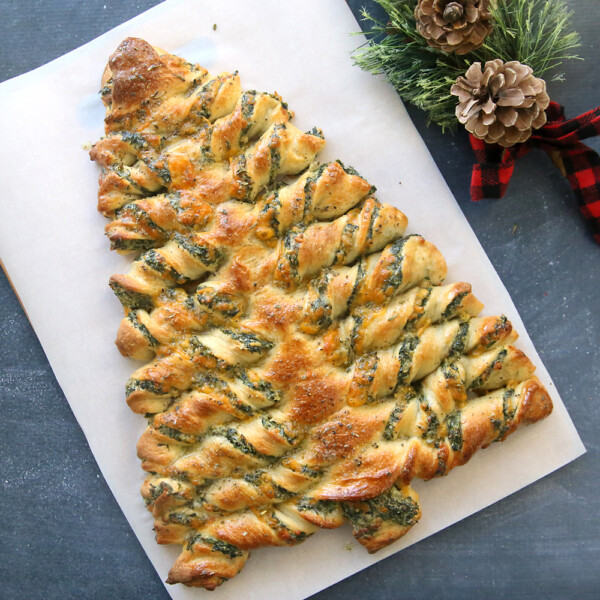 Let's Make
Christmas Tree Spinach Dip Breadsticks
These Christmas tree breadsticks are the perfect party appetizer for the holidays! They're filled with spinach dip and topped with garlic butter.
Ingredients
12

oz

Frozen chopped spinach

thawed and squeezed dry

6

oz

cream cheese

softened

2

cloves

garlic, minced

1/2

teaspoon

salt

1/2

teaspoon

onion powder

1/4

teaspoon

chili powder

1/4

teaspoon

pepper

1

teaspoon

Italian seasoning

1/2

cup

grated parmesan cheese

1

cup

grated cheddar OR mozzarella cheese

1

tube

refrigerated thin crust pizza crust

2

tablespoons

butter

1/2

teaspoon

Italian seasoning

1/2

teaspoon

garlic salt
Instructions
Preheat oven to 400 degrees.

In a bowl, beat together the spinach and cream cheese.

Add garlic, salt, onion powder, chili powder, pepper, and Italian seasoning and beat to combine.

Add parmesan cheese and 1/2 of the cheddar or mozzarella cheese and beat to combine. (The other half of the cheddar or mozzarella cheese will be sprinkled over the filling when you shape the Christmas tree.)

Shape into Christmas tree as directed in the post.

Bake for about 22 minutes until quite golden brown on top and cooked through on the bottom.

Melt butter and stir in garlic salt and seasoning, then brush over breadsticks.
Note: Be sure to check out the football version for game day and the sweet nutella heart version for Valentine's Day
You'll start by mixing up the spinach dip ingredients. Make sure to thaw the frozen spinach (or just defrost it in the microwave) and squeeze it in handfuls to get most of the moisture out. Then use a hand or stand mixer to mix it with the softened cream cheese, garlic, seasonings, and cheeses.
Christmas Tree Breadsticks VIDEO
Next, you can watch this video to see how I shape the Christmas tree breadsticks. Written instructions follow:
Unroll the pizza crust on a piece of parchment paper. I used the "thin" style pizza crust. Using a pizza slicer, cut the crust as shown below: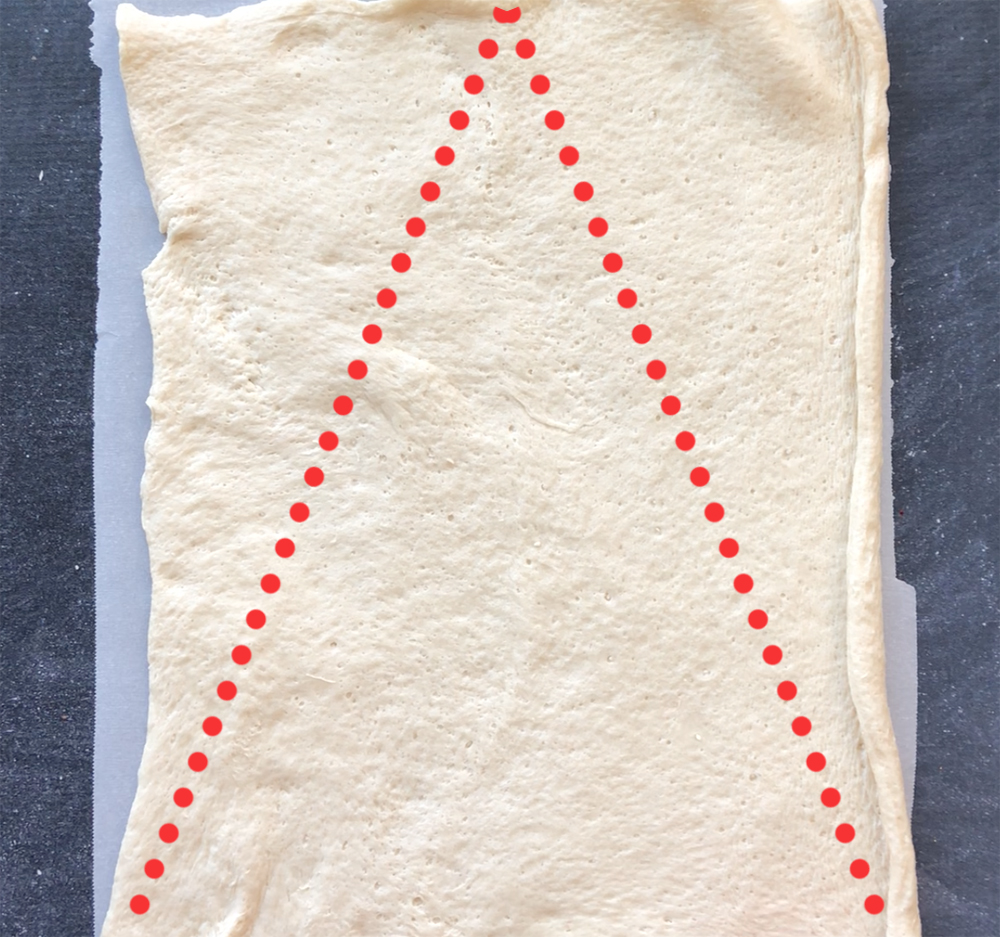 This gives you one large triangle and two smaller ones. Transfer the smaller triangles to a second piece of parchment paper, placing the long side edges together, to make another large triangle. The dough will stretch out a little as you move it around – no biggie, just gently tug it into the shape you want, pressing the two halves together in the middle. This will be the base of the breadsticks. I also gave the base a short little trunk.
Spread the spinach dip over the base.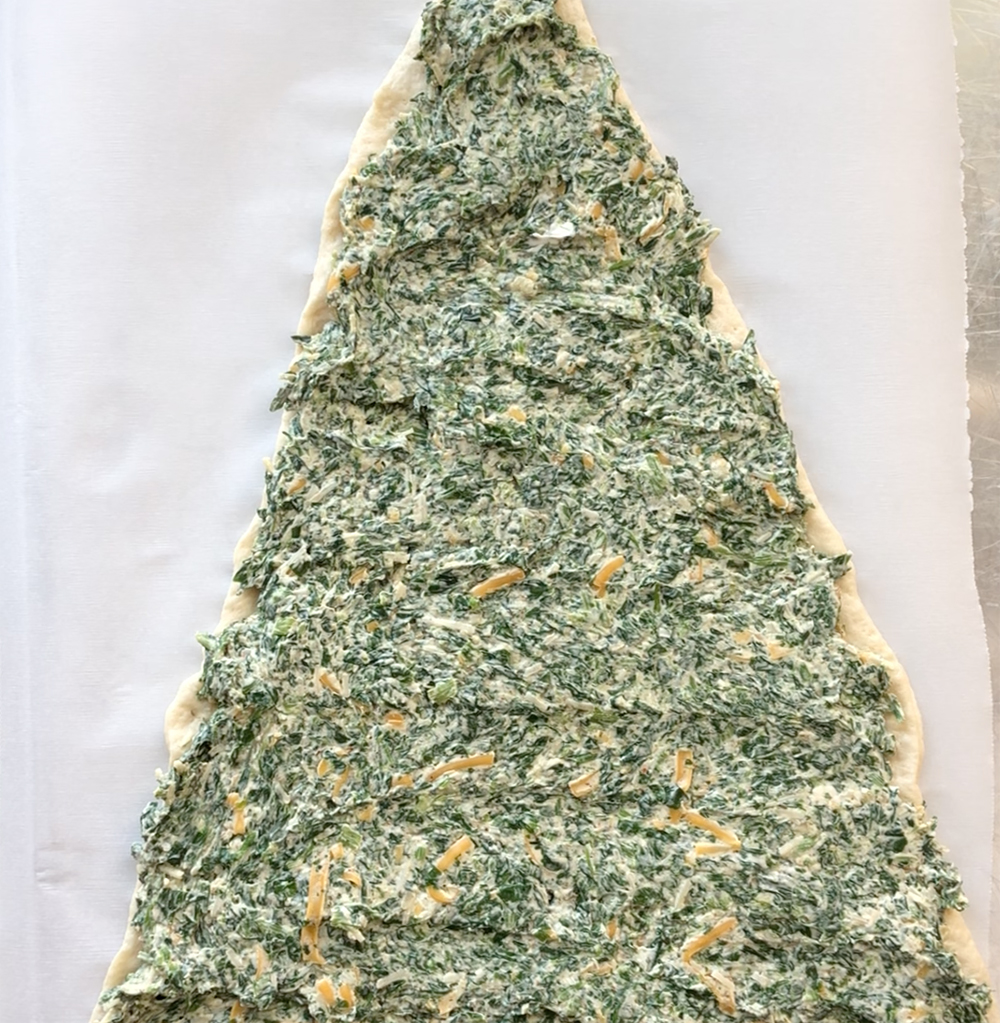 Sprinkle on the remaining cheese, and then top with the first triangle of dough. You'll likely have to tug at the dough a little bit to make sure it completely covers the base triangle.
Using a pizza cutter, cut slices from the middle to each edge about every inch down the triangle as shown below. Don't slice all the way across; leave about an inch down the middle of the tree intact.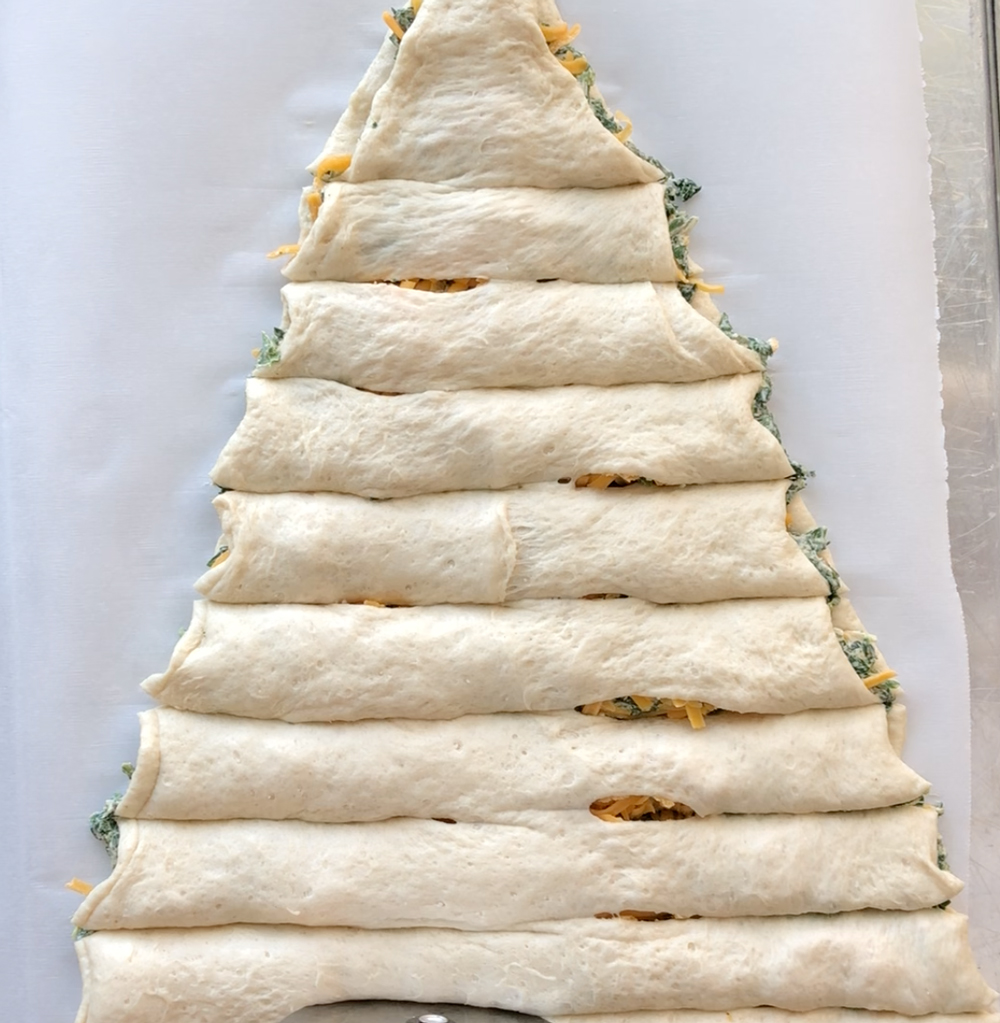 Grab each "slice" and twist it to form a tree shape, as shown below. For the top slice that's very short you'll just give it a half twist; as you go further down the tree and hit longer slices you'll give them two or three full twists.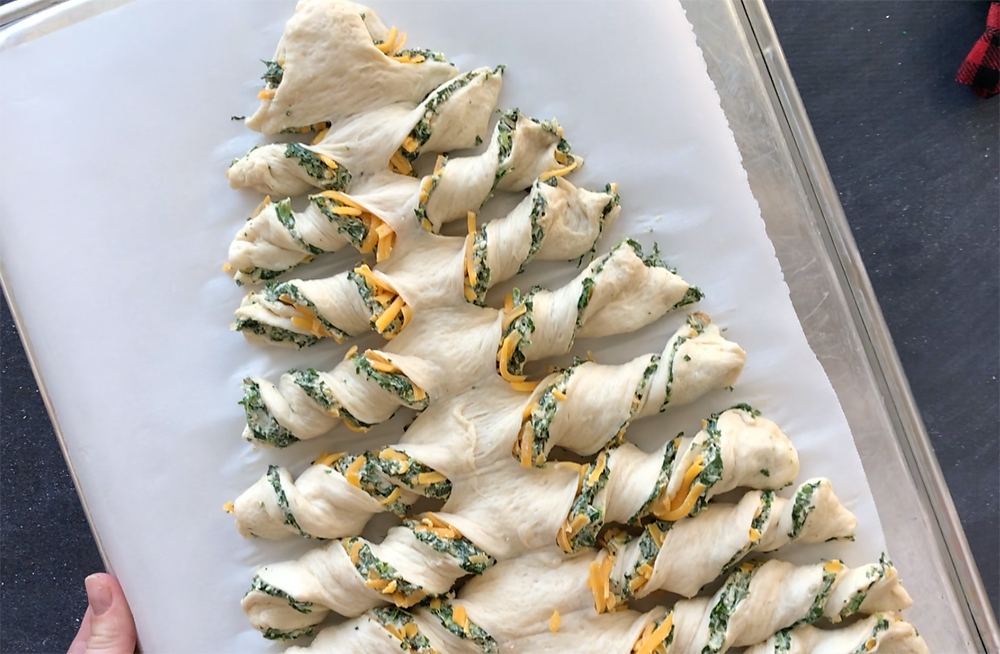 Bake at 400 degrees for about 22 minutes until the bottom is completely cooked through. The top is going to get nice and browned, but make sure to check that the bottom is cooked through. If you are cooking on a heavy cookie sheet, like I did, you may want to cook this on the lower rack in your oven.
Once out of the oven you can move the breadsticks onto a pretty wood cutting board or charcuterie board for serving. Be sure to brush the breadsticks with melted butter, garlic salt, and seasonings.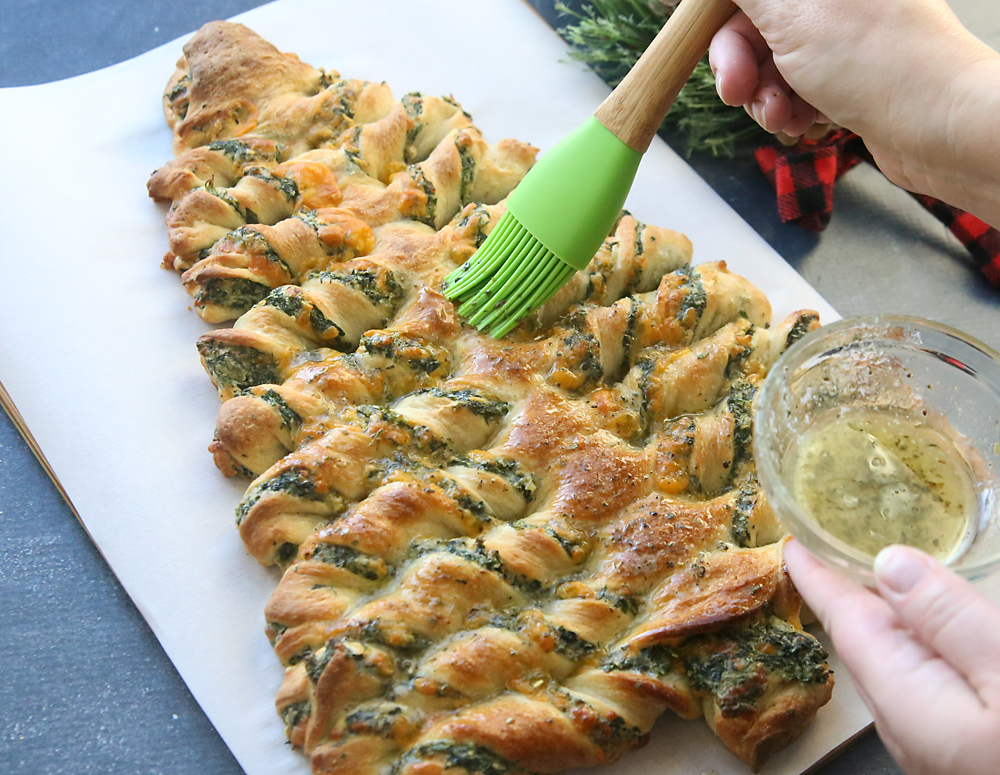 Then serve it up while it's still warm. Everyone can tear off a breadstick or two to enjoy.
Answers to questions about the recipe
So I've had lots of questions about this recipe, and I'll try to answer them all right here!
Q: Can I make this in advance and rewarm at the party I'm taking it to?
A: I'm sure you can, although I have not done so. This is a lot like a pizza, and like pizzas will taste best directly out of the oven, so your best option may be to shape it right before you leave for the party and then bake it once you get there. However, that's not always an option. So you're next best bet would be to bake right before you leave and then wrap it in foil and just serve it warm-ish (still tastes just fine!) or pop it in the oven for just a few minutes to heat through at the party. Some readers have suggested baking on a baking stone and transporting on the warm stone to keep it hot.
Q: Can I shape this in advance and refrigerate or freeze until time to bake?
A: You can certainly give it a try, but I wouldn't recommend it. The refrigerated pizza dough from a tube that I used may not hold up well to sitting in the fridge for a few hours before baking.
Q: Can I use a different type of dough? Homemade dough?
A: Of course! You'll just have to adjust your baking method a bit. Homemade pizza dough should work beautifully – just let it rise a bit before shaping and then watch it while baking as the bake time will vary a bit with different dough recipes. You could also use frozen Rhodes bread dough: you'll just need to thaw it and allow it to rise before shaping.
Q: I can't find the "thin" pizza crust, just regular. Can I use that?
A: Sure! Either you can sprinkle it with flour and gently roll it into a bit larger rectangle to begin with, or you can just make a tree that's slightly smaller and a little thicker.
Q: I hate spinach. Can I use a different filling?
A: Absolutely! I made a pretty tear&share bread using a pesto filling in this post, which was delicious! Other readers have recommended a buffalo chicken filling, which also sounds yummy. Just avoid really runny fillings as they may leak out too much and make a mess.
Q: Can I use store-bought spinach dip instead of your recipe?
A: Yep, that should work just fine. The only potential issue is if your prepared dip is very runny – my recipe is quite thick to make sure it doesn't leak out while baking.
Q: Can I use crescent roll dough, phyllo dough, or puff pastry instead of the pizza dough?
A: I haven't tried any of these options so I can't say for sure, but I'm thinking it would work just fine with any of them! Just watch the cook time (and check some of the comments – readers are sharing different things they've tried).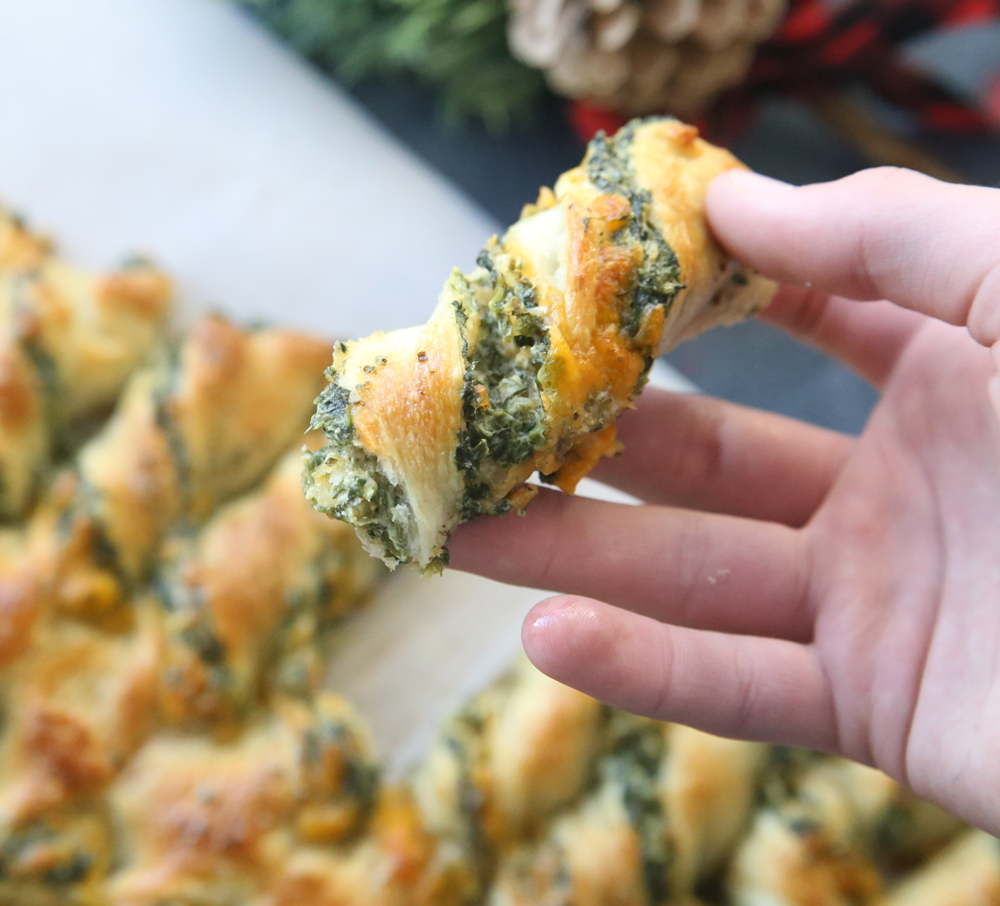 Looking for more fun holiday food? Check out these posts:
Raspberry Nutella Puff Pastry Heart for Valentine's Day
4 ingredient no-knead artisan bread
Buffalo chicken crescent rollups
25 fun Christmas treats to make with your kids
The PERFECT buttery holiday roll recipe
And be sure to check out the LEFT RIGHT Christmas gift exchange game. It's so much fun!