Years ago I stumbled across a recipe in a magazine for "whoopie pies" which were soft chocolate cookies sandwiched around homemade frosting. I'd never had a whoopie pie before, but chocolate anything sounds good to me, so I gave it a try, and it did not disappoint. This has become one of our family's favorite cookie recipes. Since it starts with a rich chocolate cookie I figured it would be a fun one to Halloween-ify with brightly colored frosting. I hope you enjoy these Halloween whoopie pies!

For even more Halloween cookies, find 33 of the easiest Halloween cookie recipes right here!
I've seen whoopie pies made with cake mixes before, and while I love the convenience of that method I always end up with really flat cookies (not sure what I'm doing wrong, but that's what always happens). This recipe stays thicker, especially if you make fairly small cookies…even smaller than the ones you see here.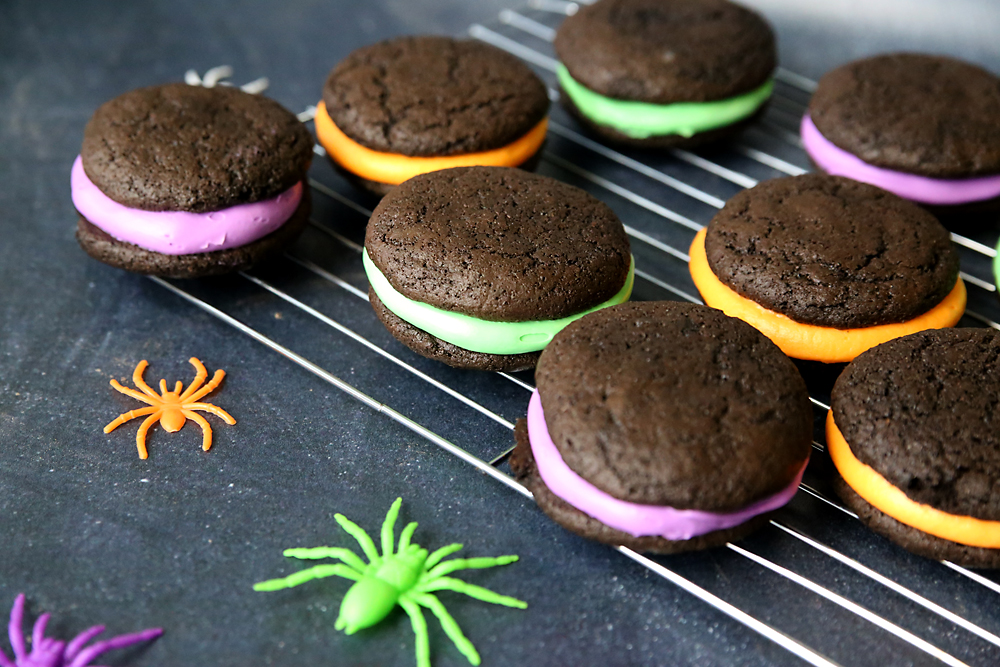 I like to make a homemade frosting to go inside the cookies. You are welcome to use storebought frosting if you wish, but it's not nearly as good as the homemade version, so consider yourself warned.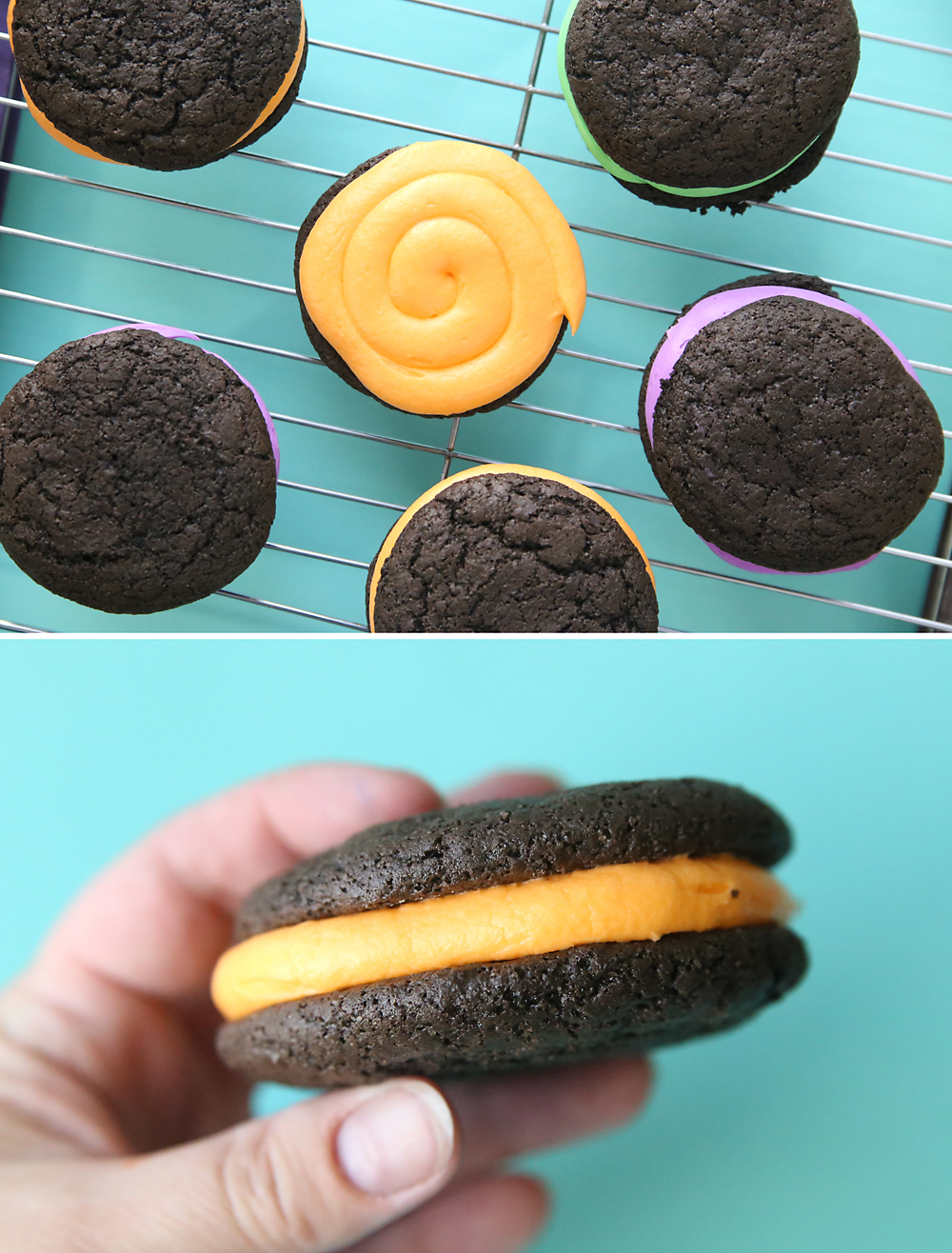 They key with these whoopie pies is not to overbake them. You'll see in the recipe that they only cook for about 5-6 minutes, which goes by really fast! I recommend you scoop out all the dough first (you'll make about 36 1 inch balls of dough on 3 cookie sheets) and then cook them one sheet at a time. If you start cooking before you have all the dough scooped out, it's easy to accidentally let the cookies bake for too long.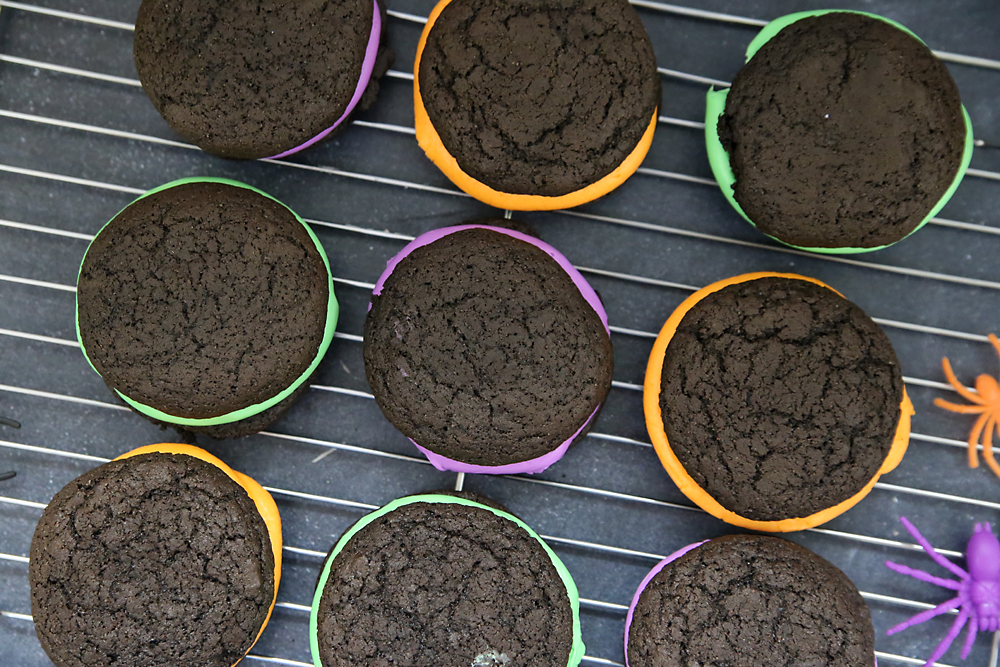 You'll know they're ready to come out of the oven when the tops have cracked and the edges feel just set when you touch them, but the cookie as a whole will still be very soft and even look a little underdone.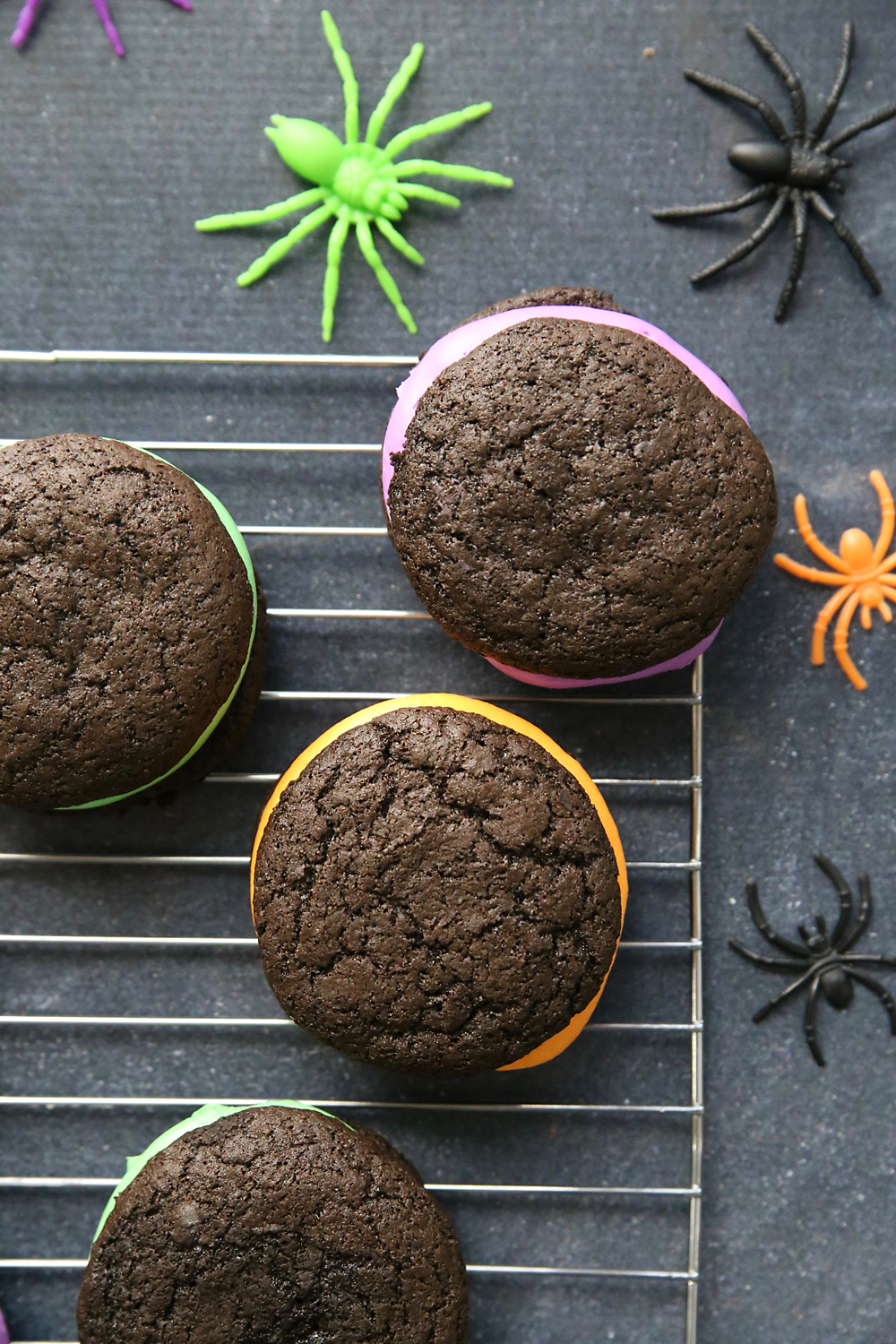 If you want really fudgey cookies (as opposed to puffier cookies) you can take them out even sooner, when you see the first few cracks appear. They may flatten a bit, but they'll taste amazing. It can take a bit of trial and error to figure out exactly how you like them, but that's ok, because once you make these you'll want to make them again soon anyway.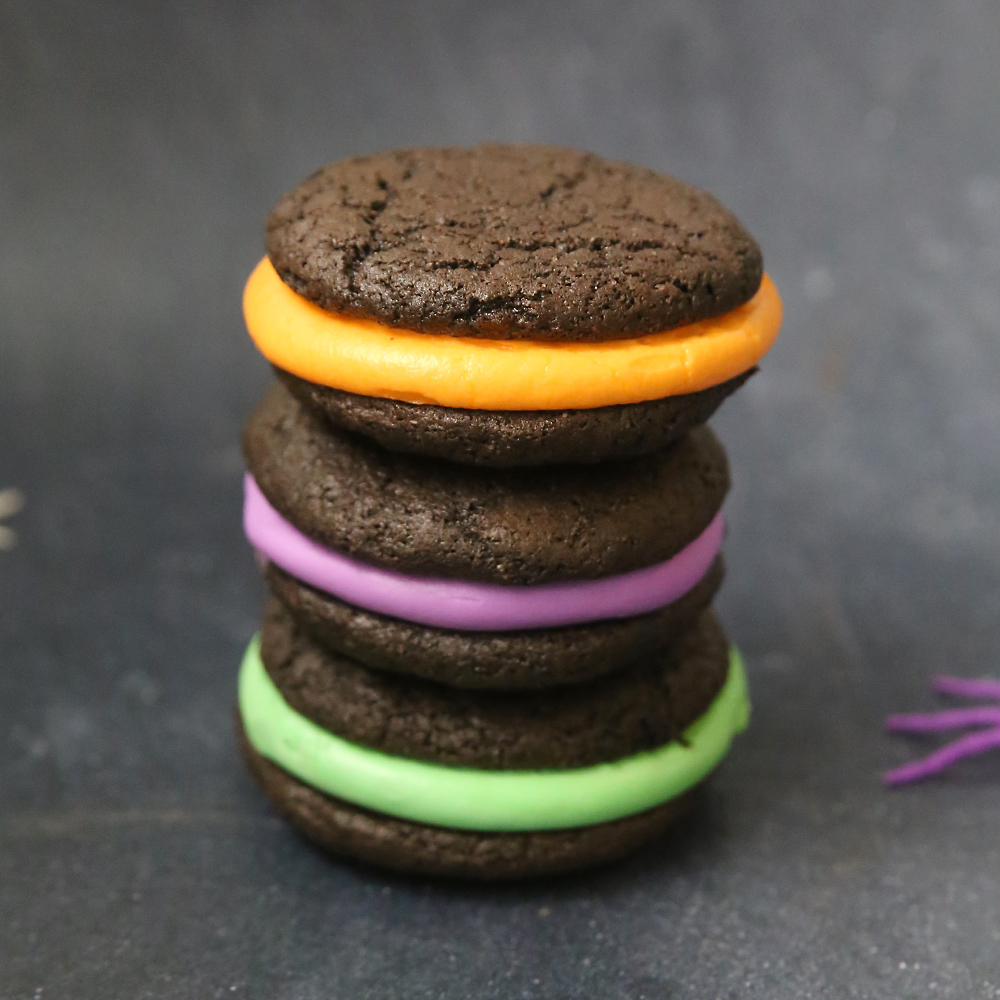 How to make Halloween whoopie pies
Click here to download the printable recipe card.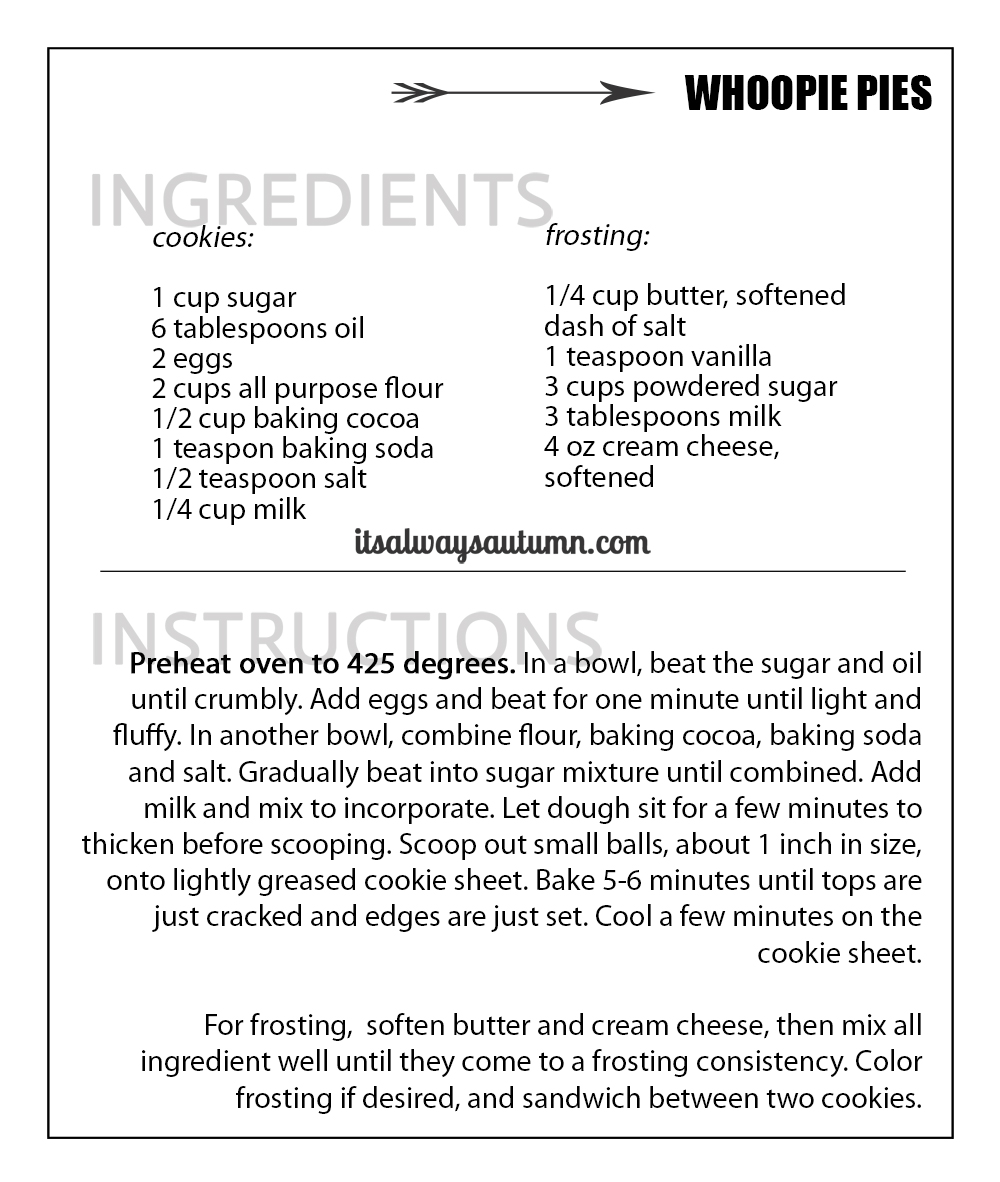 And watch this quick video to see how to make them:
NOTE: in the video I use a cookie scoop to portion out the dough. If you have a standard sized scoop like the one I used in the video, only fill it half to two thirds full! These cookies bake up better and stay softer if you make them fairly small (smaller than the ones you see here).
NOTE #2: I used Hershey's Special Dark Baking Cocoa to get a darker color on my cookies, but you don't have to.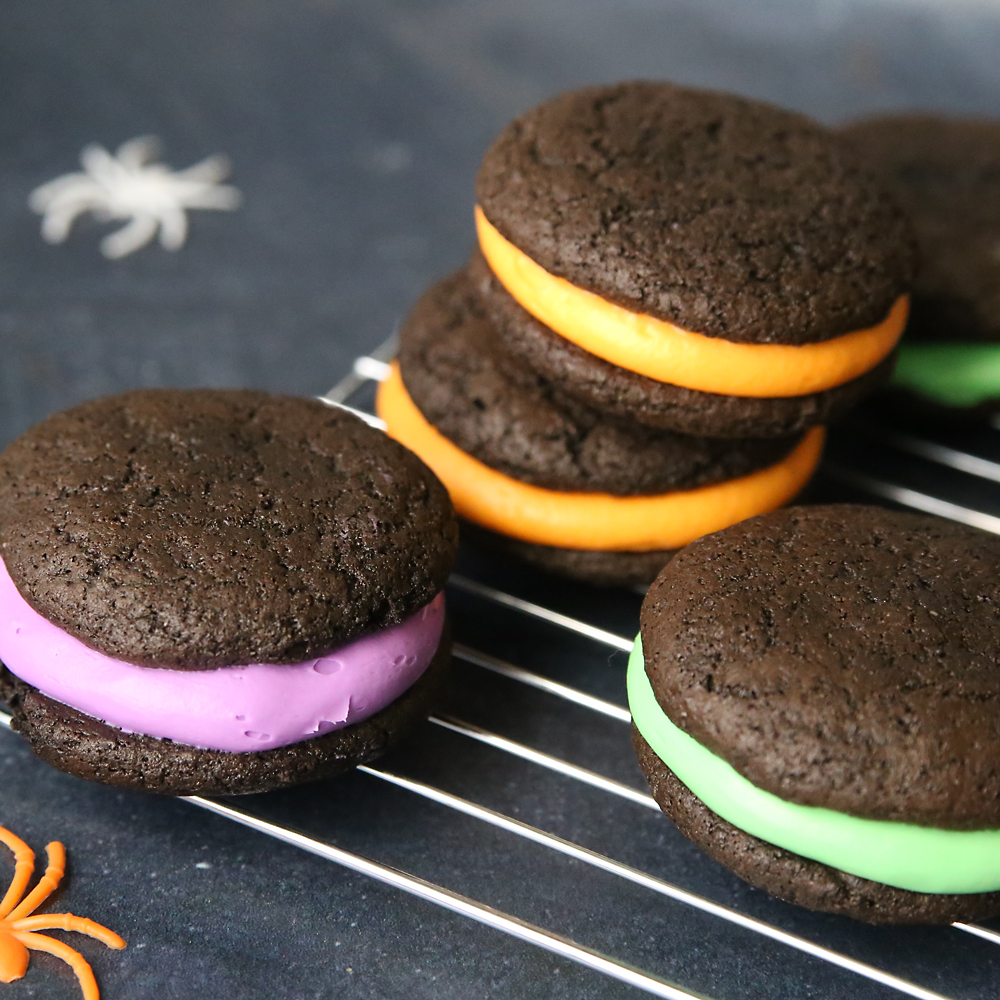 Looking for more fun Halloween treats? Try these:
Halloween pretzel monsters + ghosts