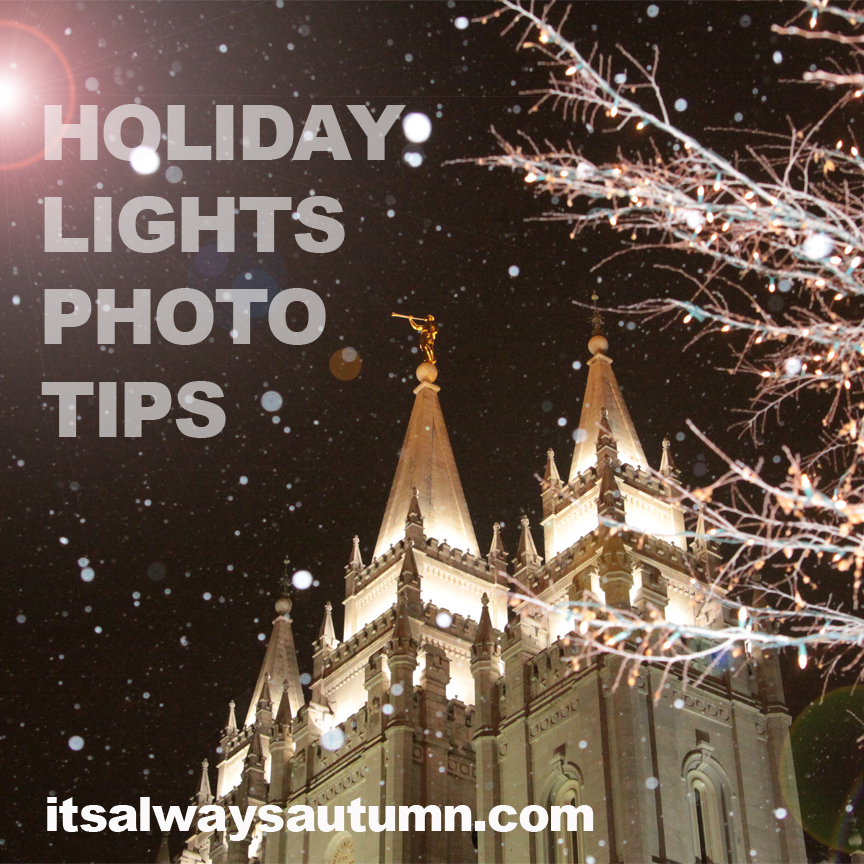 I know it's already almost Christmas, but it's not too late to get some great photos of holiday light displays – most of them run through New Year's so you still have time to go a-photographing. Here are some tips for getting the very best holiday lights photos with your digital SLR:
1. Flash or no flash Most photography lessons tell you to avoid using your camera's pop-up flash whenever possible – nothing says "amateur snapshot" louder than harsh shadows and red eyes caused by using a pop-up flash. But when you're photographing lights, not people, shadows and red eyes aren't really an issue. There are still reasons NOT to use your flash, though. First, the flash won't be strong enough to really light up your scene – instead it will just wash it out a little, like you can see in the set of photos below. The left photo was taken using a flash and it looks washed out and a little gray compared to the right photo, which has more contrast and brighter colors (look at the bottom of the photos – you can really tell there).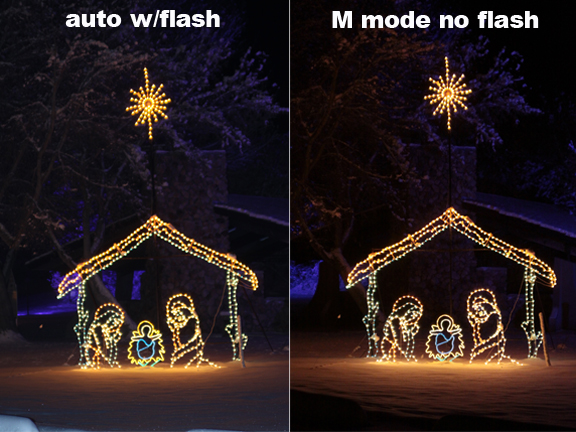 If you are trying to take a photo from inside your car, a flash will cause another problem – it will reflect off the car windows and completely obstruct view of the lights, as you can see in the first picture below.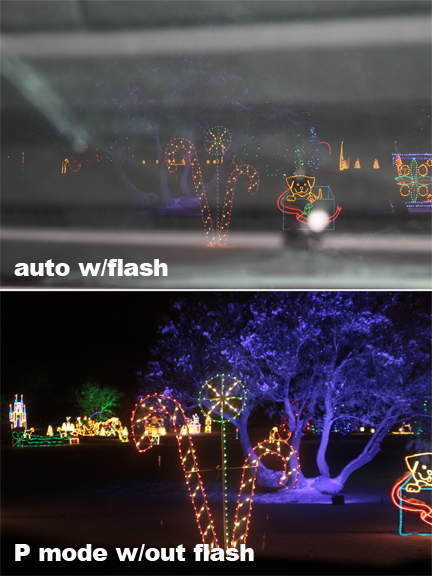 The second photo is taken through the car window as well, but since there was no flash you can see the lights, not the window.
If you decide you don't want to use your flash, I recommend setting your camera on P mode, then cranking your ISO up as far as it will go (we'll talk more about this in a bit). A high ISO setting will let lots of light into your camera, making the flash unnecessary. (Your flash might still pop up – just push it back down so it won't fire.)
Now, there are a few situations when using a flash IS a good idea. The first is when it's snowing. The flash will reflect off the snow coming down, giving you a cool effect like you can see in the left photo below: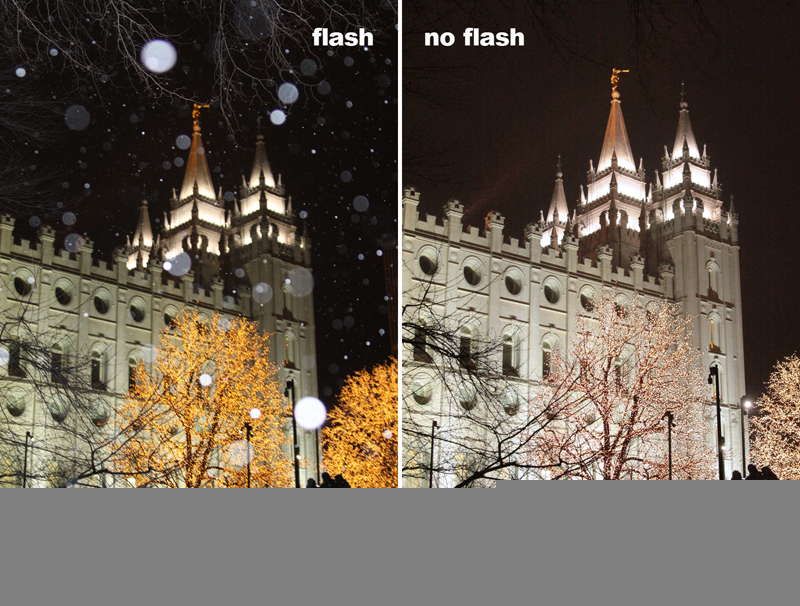 The colors in your photo will be more orange if you use your flash (the right photo above has more true to life colors) but you might not care, and the snow effect can be really fun.
Another time you'll want to use your flash is when you want a picture of a person in front of holiday lights. Since the light is coming from behind your subject, his face will look very dark if you photograph him without a flash. If your camera is on Auto in this situation, you'll get a picture like the middle one below – the flash will pop up and light your subject's face, and whatever's behind him may or may not be very bright.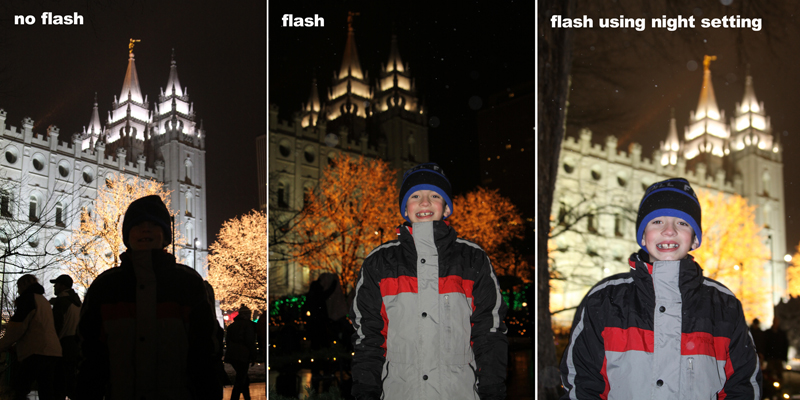 Another option to try is using the night setting on your camera – it's one of the "Auto Modes" and usually has a picture of a person with a star behind him. When you use this setting the flash will fire, lighting your subject, AND the shutter will stay open for a long time, allowing the background to be lit as well. However, that long shutter opening means it's easy to get blur in the background (see top right photo), so use a tripod or brace yourself if using night mode.
2. Increase your ISO I mentioned above that you can change your camera to P mode and crank your ISO up as high as it will go (probably between 1600 and 6400), then turn off the flash. In P mode the camera will still choose the aperture and shutter speed for you, but the high ISO will allow your camera to go with a much faster shutter speed, so you'll end up with sharper photos.
In the photos below, the top photo was taken on Auto. The camera picked an ISO of 400, which is very low, which meant the shutter had to stay open longer to get the shot – if you look carefully you'll see that the lights are kind of blurry. It's still a pretty picture, but the one on the bottom is much sharper – the high ISO of 2500 allowed the camera to use a much shorter shutter speed.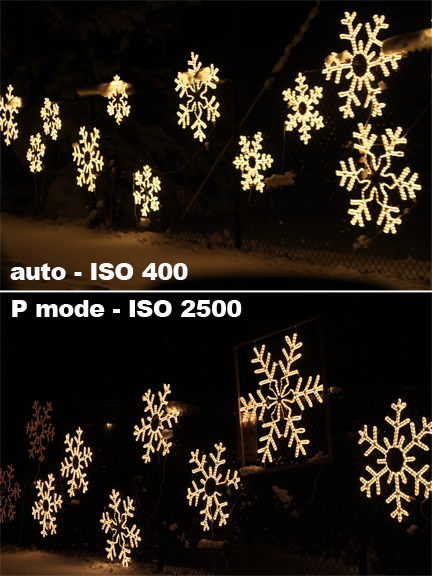 3. Get a better angle When you're driving through a lights display, you'll often see sets of lights from a couple different angles. Try to wait until there are no other lights shining in the background of your scene to take the photo (unless you like the look of the moon shining through the ballerina).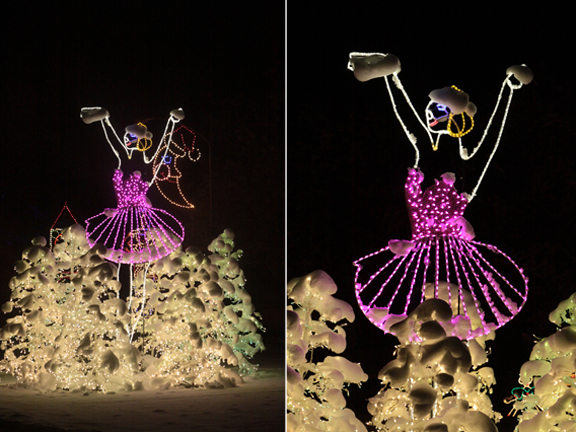 4. Look for repeating elements Sometimes the lights that line the side of the road or arch over the cars driving ahead of you can be just as fun to photograph as the holiday configurations. The bottom photo below uses intentional blurring to get a cool effect – I'll be posting about it on Monday, so check back.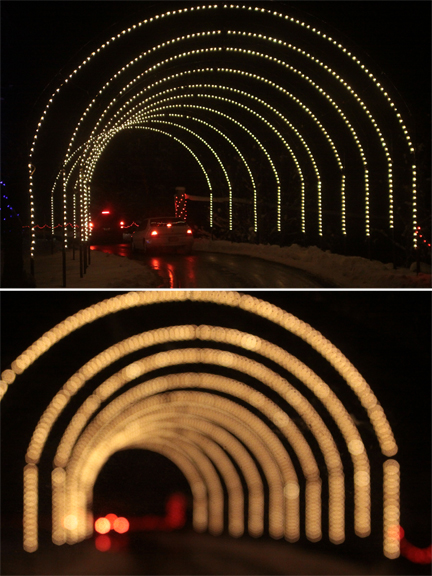 5. Use lights as a photo backdrop If you can position people right in front of a large, dense light display, you'll end up with a very cool background. Remember you will need to use the flash for a photo like this. And remember to watch for uninvited guests in your photos…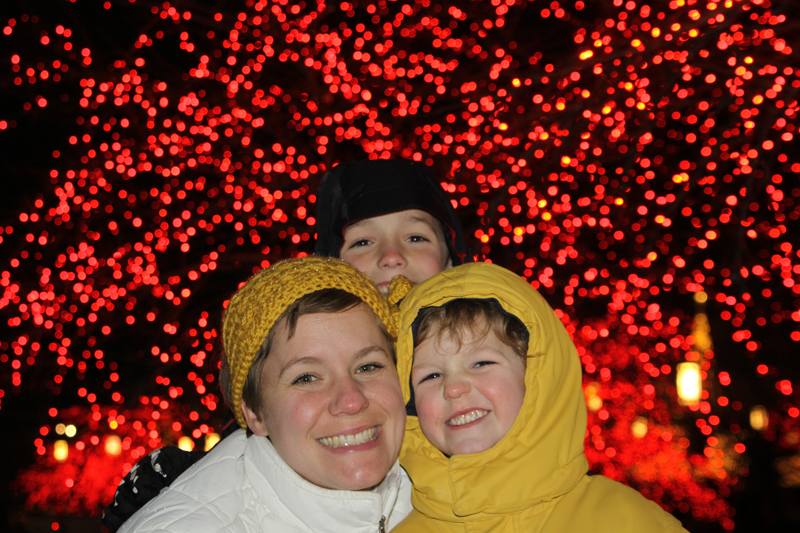 6. Have fun w/post processing There are lots of fun filters you can use very easily in Photoshop Elements to give your holiday lights photos a cool look. Most of them just require one click and the application will do all the work for you. I tried a few fun ones: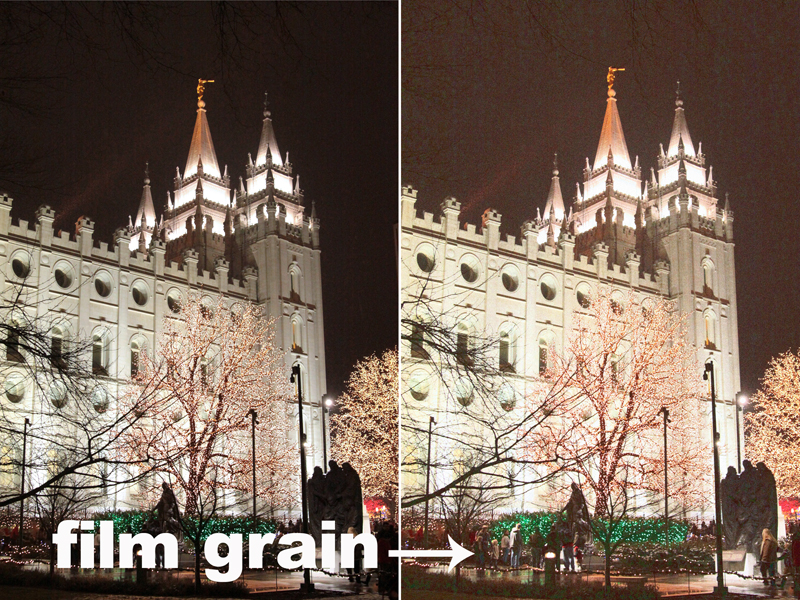 Just look in your effects palette (located above the layers palette) and start clicking buttons to try out different filters.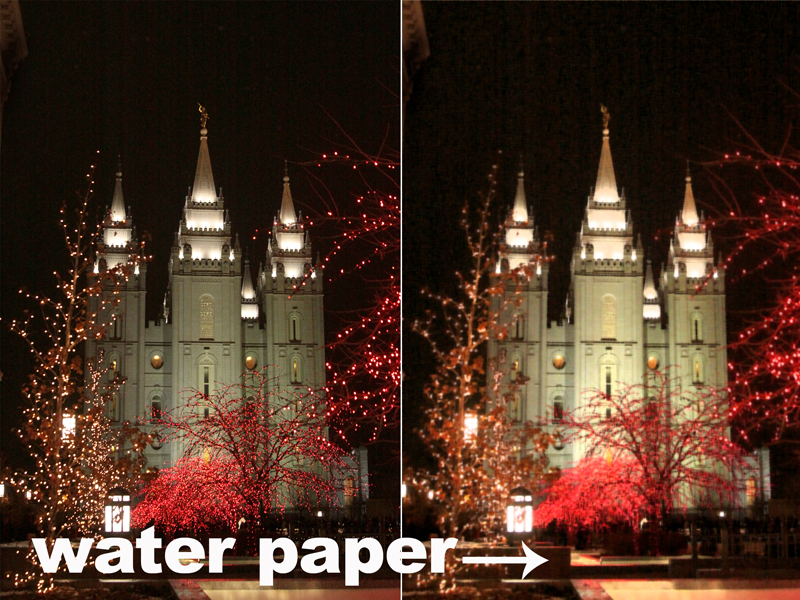 You can also use the drag-down menu under Filters in the menu bar at the top of your Photoshop Elements window.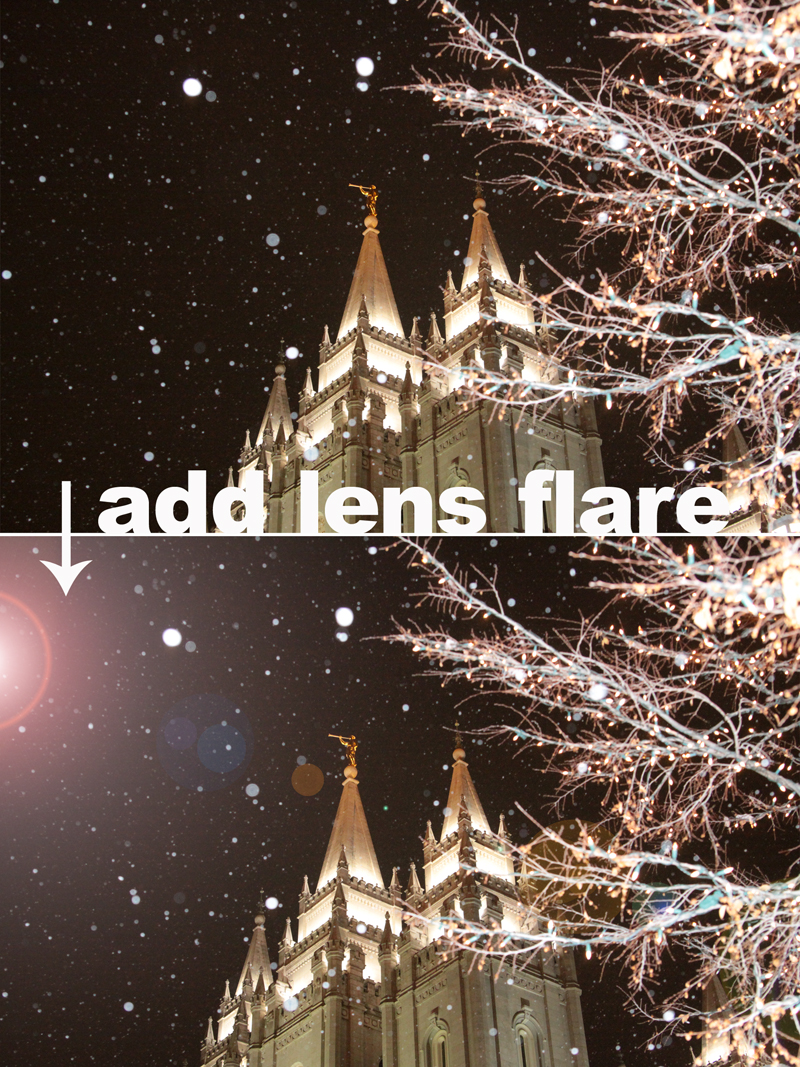 I really love the addition of the lens flare effect to my snowy Temple Square photo – it makes it look like a huge star has appeared right on the edge of my photo to announce Christ's birth. Very appropriate for the season.
Wishing you all well – and once the craziness of Christmas is over, grab your camera and go catch the lights before the New Year begins.