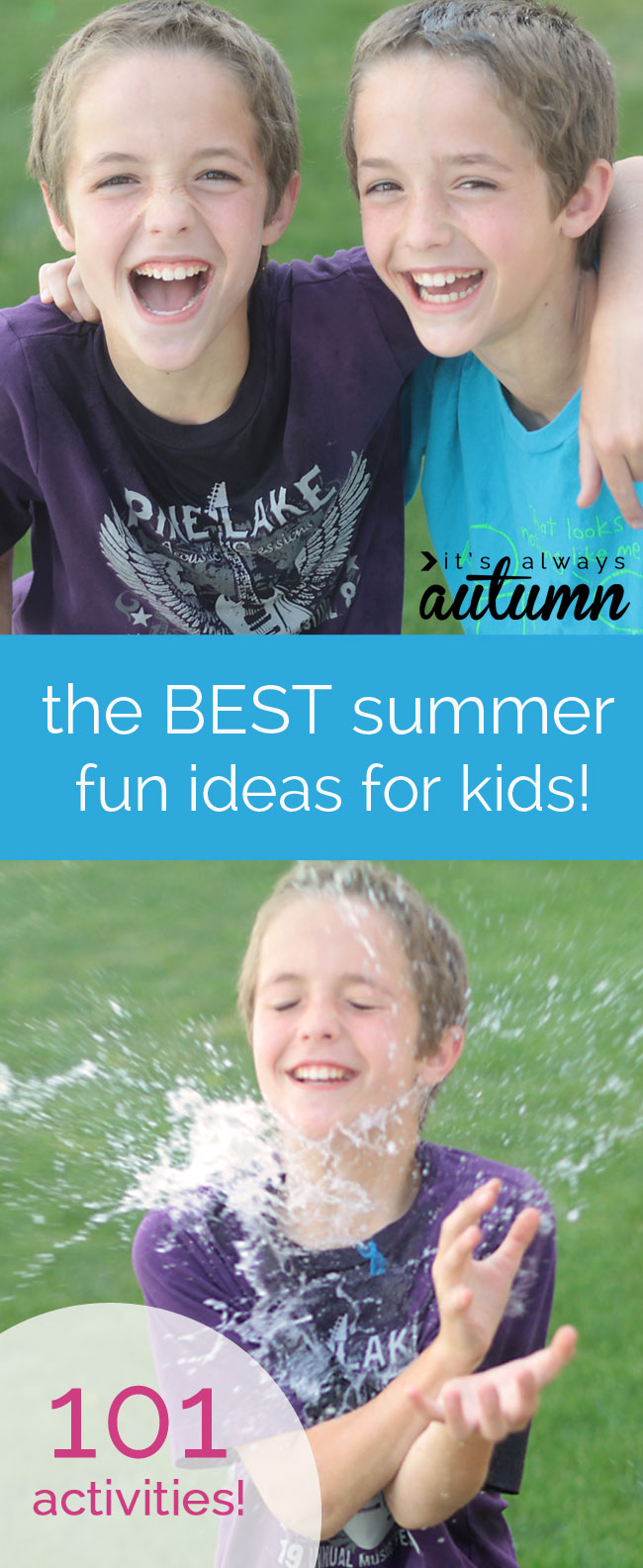 If you've ever browsed Pinterest, you'll know that this isn't the only "summer fun" post out there, but it just might be the best one 😉 I'm always on the lookout for easy things we can do at home during the downtime between trips to the park, library, pool, etc. At our house we have a summer rule that there's no screentime until 3:30 each afternoon, so there's always plenty of time to fill with play. I love spending time with my kids over the summer, but in my ideal world my kids can fill some of their summer hours without my help. So while some of the activities on this list will require a parent's help to get started, most can then translate into independent play, and none of them require tons of supplies or even leaving the house or yard! As a bonus, they're all cheap or free. I've included simple crafts, games, and activity ideas that have worked well for us in the past to beat summer boredom, as well as links to plenty of new ideas we're planning to try this year. Read on for 101 fun, easy summer activities kids can do at home!
Hunt for bugs. Scoop them up in plastic water bottles or clear bug hunt kits from the dollar store. Remember to watch them for a few minutes, then let them go back to their homes.
Paint with water – fill a bucket or cup with water and hand your child a cheap foam paintbrush. Show her how to "paint" everything in sight with water. Once the water dries, she can paint it again!
Draw targets on a fence or sidewalk with chalk and use squirt guns to "erase" them.
Make and play this easy paper plate ring toss (so simple kids can make it by themselves!).
Set up a backyard obstacle course.
Spread a little summer cheer by leaving chalk notes around the neighborhood.
Make cookies using an illustrated recipe that even little kids can follow.
Draw a map. Make a real map showing your home or neighborhood or dream up a location (and make sure to mark where you'll find buried treasure!). Crinkle up the page, rip the edges, and smudge it with dirt to make it look authentic.
Make your own spinning tops using newspaper strips and toothpicks (super cool idea!).
Mix up magic solution to make huge bubbles.
Use an empty water bottle and hand towel to blow bubble snakes.
Mix up a batch of chalk spray paint in different colors and decorate the driveway.
Ask Mom for "treasure" to hide, then create a series of treasure hunt clues leading to it for younger siblings or friends to follow.
Play balloon ball – blow up balloons and see how long you can keep them off the ground by batting them back and forth. When you get tired of this, see who can pop balloons fastest by sitting on them.
Make easy marshmallow catapults and see who can lob mini marshmallows the furthest.
Glue together two pieces of wood to make simple toy catapults and fling any small object in sight!
Roll paper and tape the ends, then blow them off straws to make mini rockets.
Build cool structures using rolled newspaper rods. (Mom or Dad would need to help construct the newspaper rods, then the kids could build on their own.)
Dig a trench in pea gravel/sandbox, etc., and fill it with water to make a river.
Use a long row of tin foil to make a tin foil river.
Build simple toy boats using wine corks and rubber bands.
Build even simpler toy boats from pool noodles and toothpicks.
Build the simplest (!) toy boat from a plastic page protector and toothpick.
Use cardboard to make a ramp to race cars down. Attach paper towel tubes to make tunnels and obstacles.
Give younger kids spray bottles instead of squirt guns for a water fight. Turn the nozzles to mist so no one cries when he gets a sharp spray to the face. Bonus: spray bottles need to be filled up much less often than squirt guns!
Take turns telling silly stories – each person gets to add one sentence to the adventure. Record the story on a phone.
Decorate cardboard boxes to use as play cars. Use paper plates for wheels, headlights, and a steering wheel.
Build a tent, either by stringing up twine and throwing sheets over it, or by using a table, chairs, and blankets.
Make simple dancing monsters that pop back up when you tip them over using paper, tape, play dough, and plastic easter eggs.
Hold a bike rodeo and invite the neighborhood kids. Set up cones or draw a course on the sidewalk using chalk.
Fill the bucket relay race. Place a full bucket of water at one end of the yard and an empty bucket at the other end. Poke holes in the bottom of an empty plastic yogurt container. Participants scoop up water from the first bucket then run to the second bucket as quickly as they can to dump in the water that remains in their yogurt container!
Spread butcher paper on the table or floor and work together as a group to draw an entire city. (Check the dollar store for paper rolls.)
Paint cereal boxes to add buildings to the city.
Use washable paint to paint each other's faces.
Make your own lightsabers, then practice your Jedi moves.
Remember skill sticks?
Make a clothespin airplane.

Attach ribbon to the ends of dowels, then dance and play to music.

Thread macaroni on yarn to make necklaces and bracelets, then paint them.
Make a craft stick wind chime.
Play times tables ball – toss a bouncy ball back and forth, asking and answering simple math problems as you do so.
Make and play an easy magnetic fishing game.
Use toothpicks and mini marshmallows or grapes to build skyscrapers.
Draw chalk outlines of each other & add clothes, hair, accessories, etc.
Hunt for smooth rocks, then bring them home to paint – add faces, paint them like bugs, paint them all different colors, etc.
Race cars down a cool pool noodle race track.
Make pictures with homemade finger paint.
Use pipe cleaners to make all sorts of thing: glasses, buildings, flowers, necklaces, cars, etc
Make story stones – modpodge stickers onto rocks, use them to make up stories.
Try an easy toy parachute.
Draw a huge bullseye on your driveway, complete with points for different areas, and toss wet sponges at it.
Sponge relay race – try to fill up a bucket at the end by getting a sponge went, running to the bucket, and wringing it out.
Attach a balloon to a straw and thread it over some string to make balloon rockets.
Find great free audio books and bring pillows downstairs to snuggle up and listen together.
Spell words with popsicles sticks
Learn to fold paper airplanes with these printable templates.
Fold newspaper hats.
Decorate dollar store t-shirts with puffy paint.
Make simple DIY kites.
Learn origami.
Hold a Lego creating contest: each person gets a stack of random Legos. A theme is chosen "house, person, fish, etc." and everyone has to use what they have to try to make the best representation of the theme. Mom gets to judge.
Hold a play dough creating contest. Same rules as above.
Go on a neighborhood scavenger hunt using free printables.
Make brown bag puppets and put on a show.
Use an enlarged photo or picture from a magazine to make foam board puzzles.
Learn to make tissue paper flowers with this video.
Collect leaves to make rubbings. Try to turn them into people!
Remember two square and four square? Draw the squares with chalk on the driveway.
Tape a thrifted sheet to a fence and hand out paint brushes and washable paint for a backyard mural.
Make ice cream in a bag (or two cans).
Set up a big DIY game board using masking tape.
Try geocaching (best for older kids).
Make your own frisbee golf course by setting out baskets or hula hoops in the yard to use as targets.
Make a fun cardboard toy car wash.
Make an actual toy car wash – fill a plastic shoe bin with an inch of water and some dish soap. Use a bottle brush (dollar store) to scrub and polish your toy cars – then grab any other small plastic toys and give them a scrub too!
Cut pictures from magazines/newspaper and glue them down to make a collage.
Play fun and easy backyard games with pool noodles.
Use butterfly nets (dollar store) to catch the bubbles your friend blows, then swap.
Tug-of-war while standing on crates! Just be careful and be sure this is played on a soft surface.
Freeze small toys in a large block of ice and let the kids excavate using a hammer and screwdriver.
Make your own lego maze pinball game.
Make cup stacking more fun by adding paper plates to make different levels, and see how high you can go!
Design and make a foam board memory game, then have fun playing it over and over.
Go for a "color walk" with a camera – try to find and photograph something in each color of the rainbow.
Put chalk paint in recycled squeezy containers (like cleaned out ketchup bottles) and splatter paint the driveway.
Set up a potion lab using colored water in different containers, then use a large eyedropper to mix potions.
Make a DIY water table.
Create a water wall. (This would be lots simpler on a chain link fence – just use zip ties or pipe cleaners to secure the bottles to the fence.)
String up some water balloon pinatas, then whack them with pool noodles until they explode.
Make erupting ice chalk.
Glue together some easy seashell creatures.
Use seashells to decorate a dollar photo frame
Make moon sand.
Use a plastic cup, balloon, and a rubber band to make mini marshmallow poppers.
Set up a bowling alley with plastic bottles and ball (or make a mini version using pencil erasers and a marble)
Have some good old fashioned fun with tin can stilts.
Make a huge water blob for a cool, bouncy outdoor play surface. (Again, a parent will need to construct this, but then kids can play on it for hours.)
Make popsicle stick looms and weave with ribbon.
Set up two large boxes (or couches) parallel to each other and pretend they are boats. Make "bombs" from wadded up newspaper or foil and lob them at the kids in the other boat.
Have another favorite simple summer fun activity? Let us know in the comments!