If you sew, you'll love today's post: I've rounded up 24 absolutely FREE girls' dress patterns. The best part about these patterns is that all of them come in multiple sizes, as opposed to many free patterns which are one size only. Many of these dresses are fairly easy to sew, meaning they're great for beginners and impatient people (like me!).
Many of these dresses are also great for something I've been thinking about for a while now: sewing for charity. I have so many amazing blessings in my life that I take for granted, and it's easy to forget that many people in the world struggle with providing basics like food and clothing for their families.

Melissa from Melly Sews and I have teamed up to provide some resources today for those of you who are also interested in sewing for others. If you want to sew for little girls, I shared a free play dress pattern last week, or you can use one of the other patterns mentioned below. At the end of this post you'll find links to a few different organizations that distribute dresses to girls in need. And if you want to sew for little boys, you can find info on sewing shorts over on Melly Sews.
NOTE: As with all roundups, if you'd like to pin an individual photo, please click through to the original post to do so. You're welcome to pin the collage above to remember where to find all the ideas in one place.
1. The Racerback dress pattern by Crafterhours comes in sizes 12/18 mo to 7/8, uses knit fabric, and has no closures, making it a super easy sew.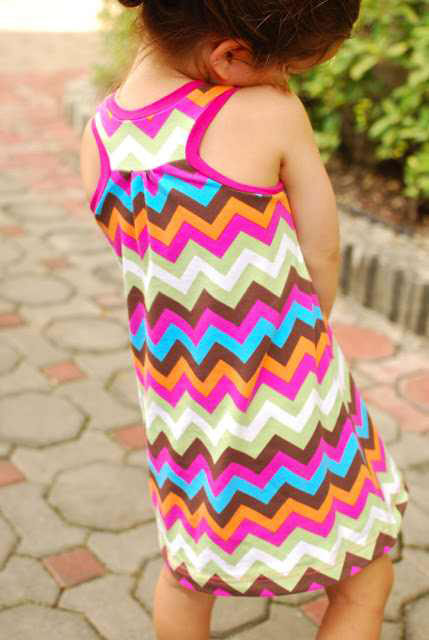 2. This Summer Frock was posted by suezpeterson on Burdastyle and includes a basic bodice pattern for sizes up to 6 and instructions for measuring & cutting the skirt piece.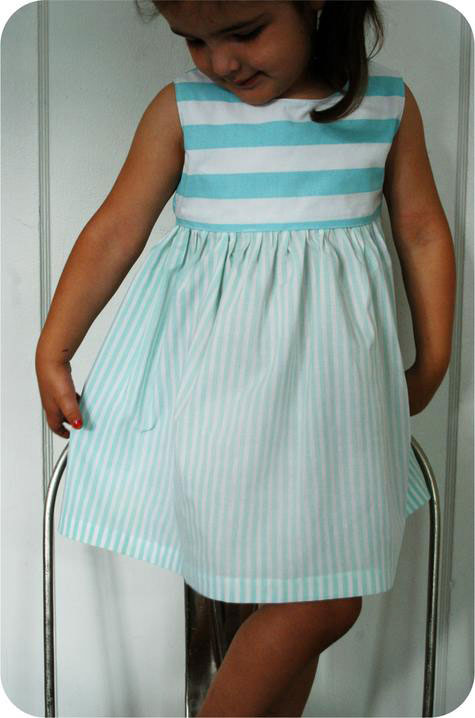 3. The beautiful Paper Fan Dress by Anna Maria Horner for Janome comes in sizes up to size 7/8.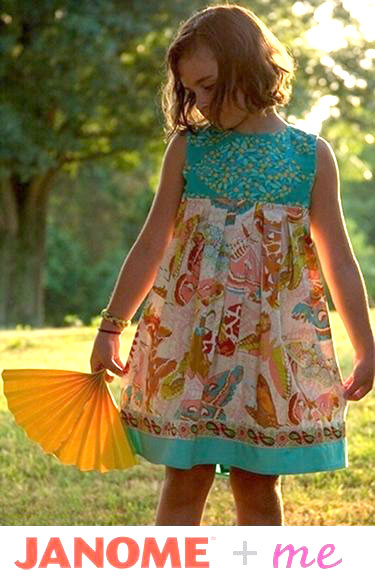 4. The Night Owl's Menagerie Good Deeds dress pattern goes all the way up to size 14! The pattern was specifically designed with sewing for charity in mind.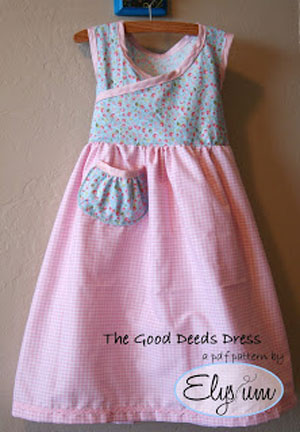 5. The Play All Day dress I shared last week comes in sizes 4-14 and is just about the easiest dress you'll ever make.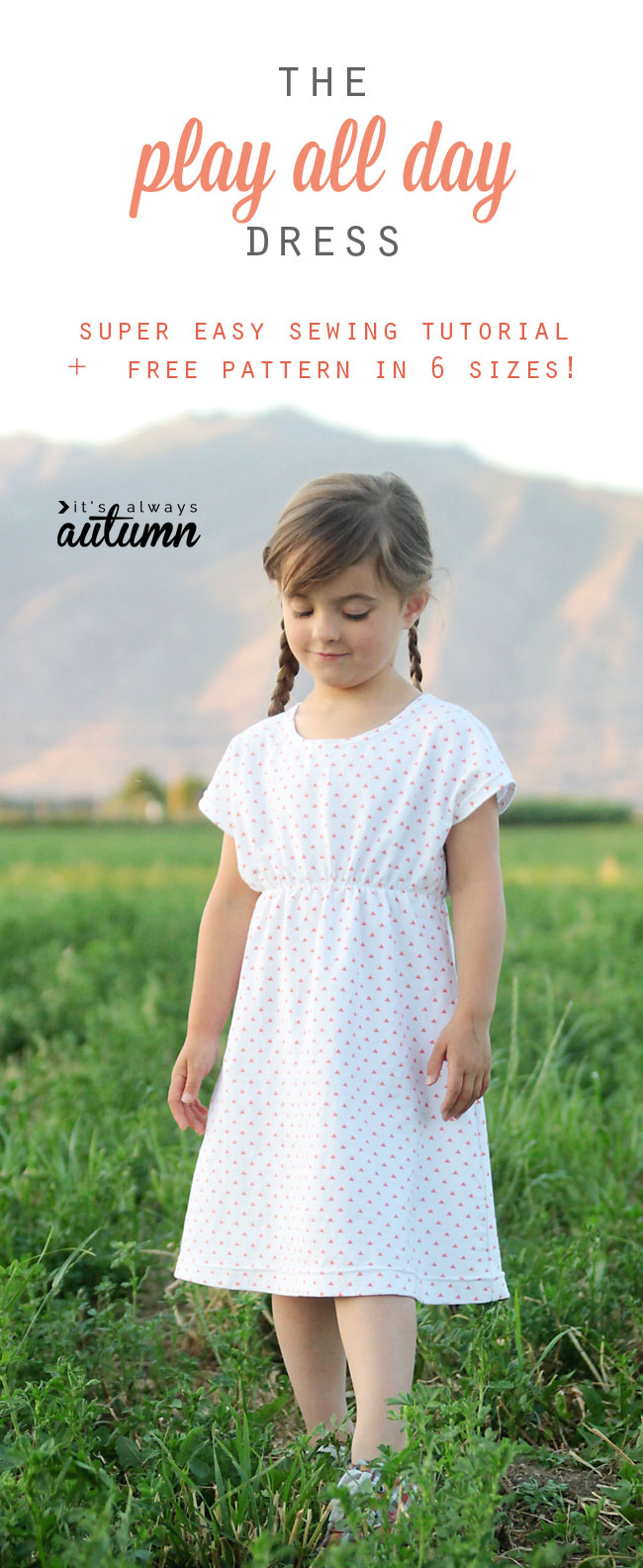 6. The Easy Summer Muumuu by Pretty Prudent fits most 3-6 year olds with just a simple adjustment in length.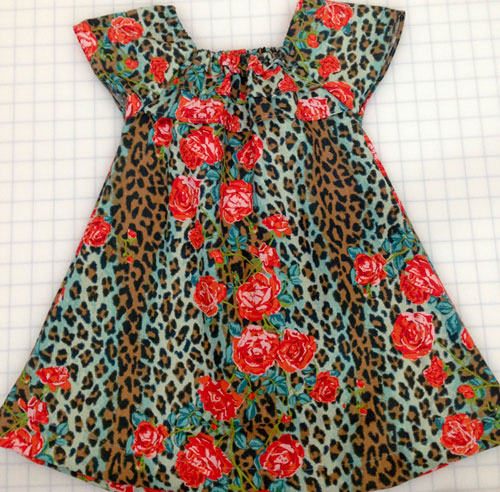 7. The Saudade Dress by Straight Grain at Sew Mama Sew comes in sizes 1-10 and is an easy to sew sundress with pretty front detailing.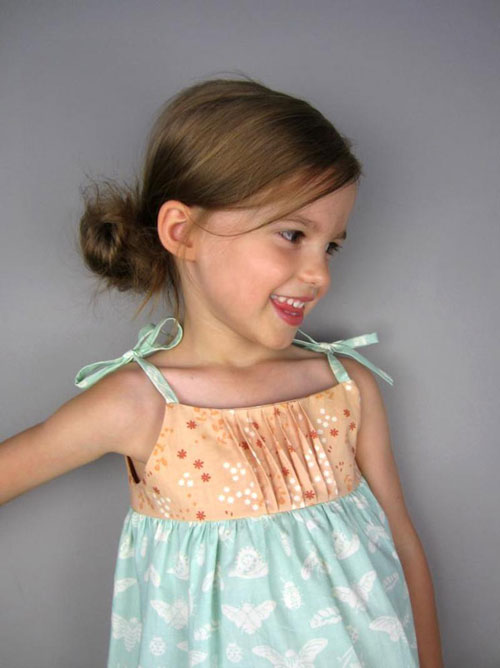 8. The Party Dress by The Cottage Mama comes in sizes 6mo to 10 and is free w/newsletter subscription.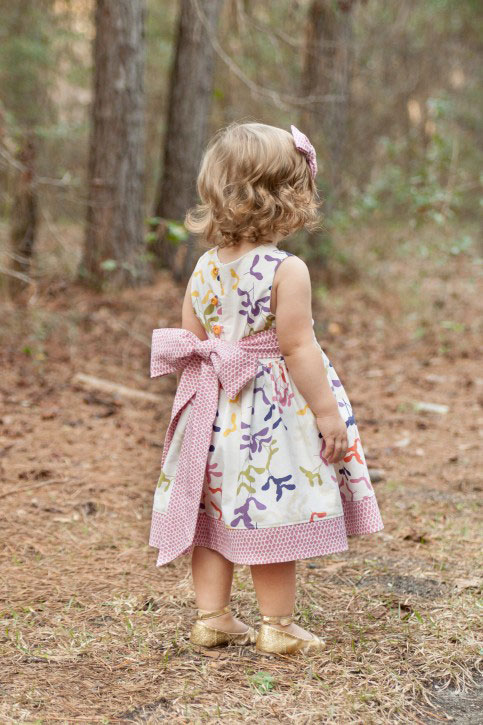 9. I love this Vintage Sundress from Simple Simon and Co. The pattern covers sizes 3-8.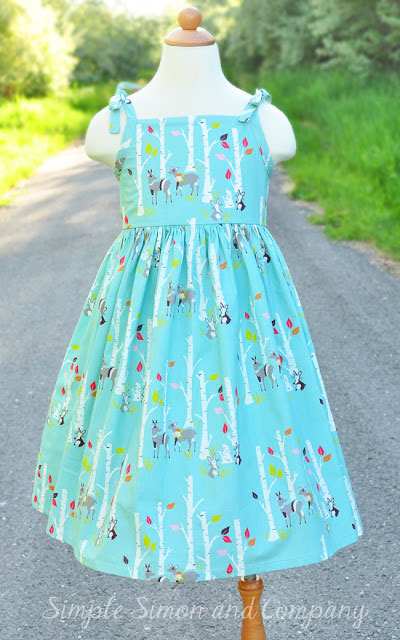 10. Scattered Thoughts of a Crafty Mom shares a simple Simple Peasant dress pattern up to size 8.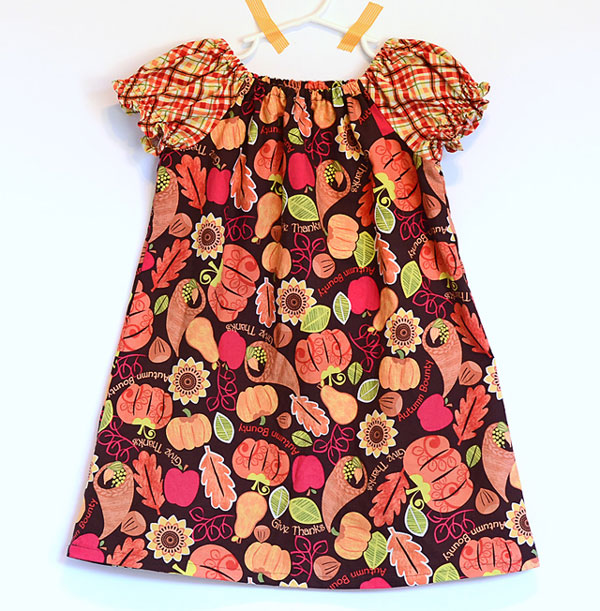 12. If you're looking for long sleeves, the Brooklyn Empire dress from The Stitching Scientist is a great option. It comes in sizes 2T-5T.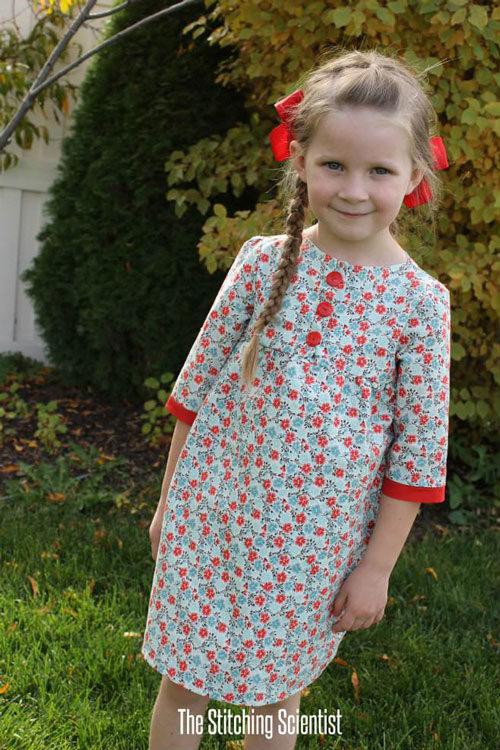 12. The Janey Jump Around Dress from The Cottage Mama covers sizes 6mo through 10yrs.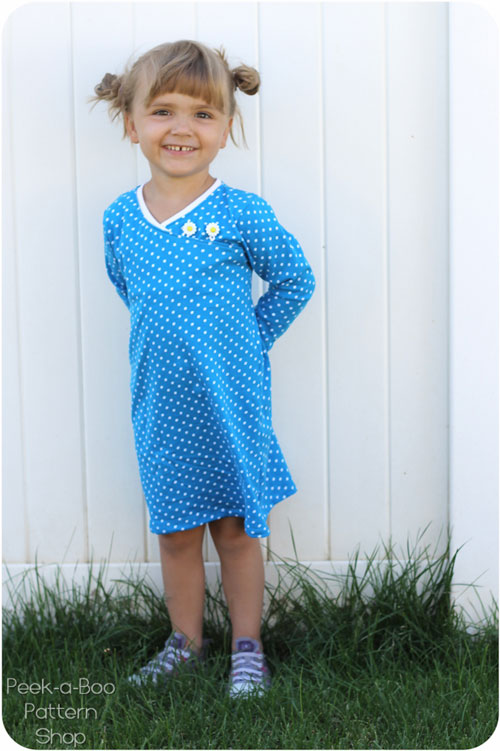 13. This Pillowcase Dress from Scattered Thoughts of a Crafty Mom comes in sizes 2t-5t and 6/8, with options for plain hem, contrast hem, and ruffled hem. Unlike many other pillowcase dress tutorials, this is an actual printable pattern.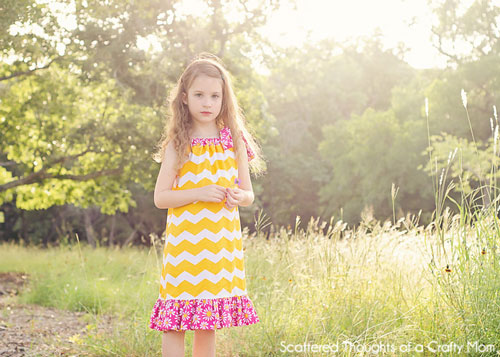 14. The Sewing Rabbit Knot Dress pattern includes sizes 2T to 6 plus a doll size.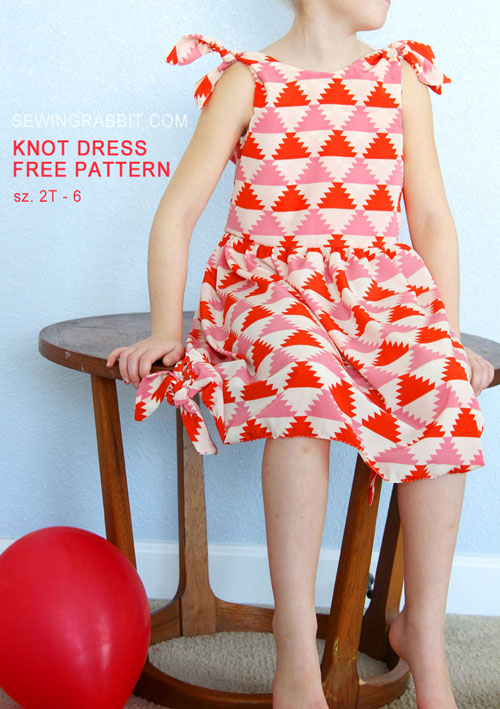 15. Another great free pattern from the Sewing Rabbit is the Madeline Dress, also in sizes 2T to 6.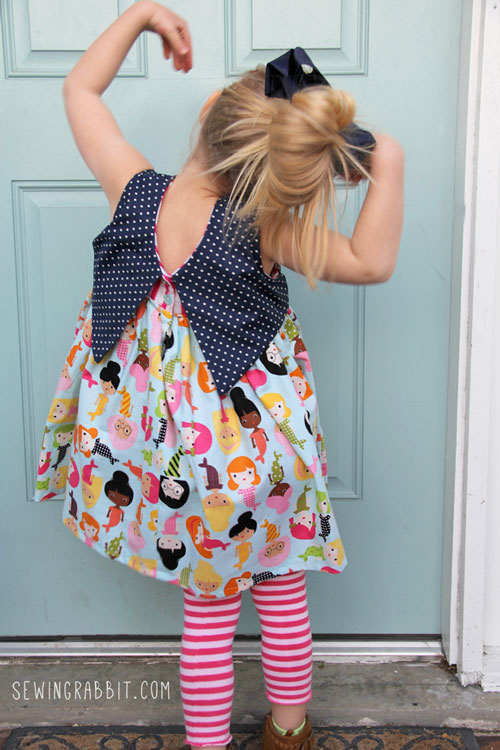 16. This is the Shutt! Dress from Her Little World, and it comes in sizes 2-10.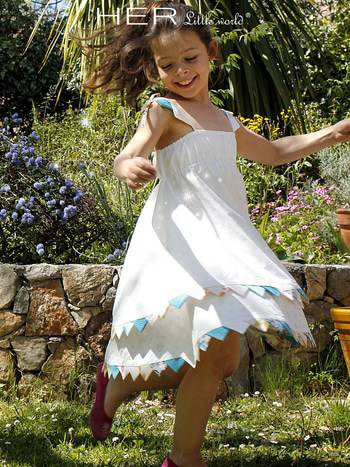 17. The Popover Sundress from Oliver and S comes in sizes 2-8 with a matching doll dress pattern.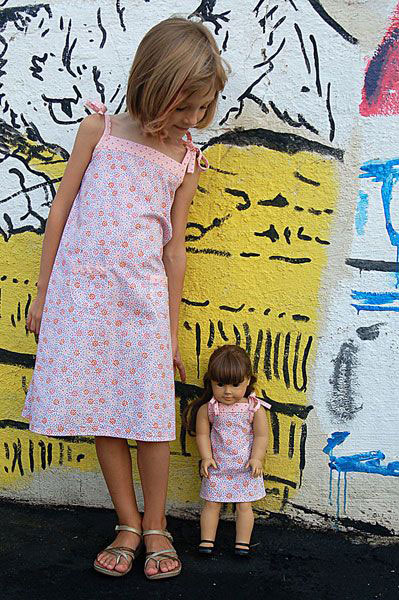 18. Here's one more fantastic free pattern from Scattered Thoughts of a Crafty Mom: the A-line Sheath dress. It comes in sizes 3/4, 5/6 and 7.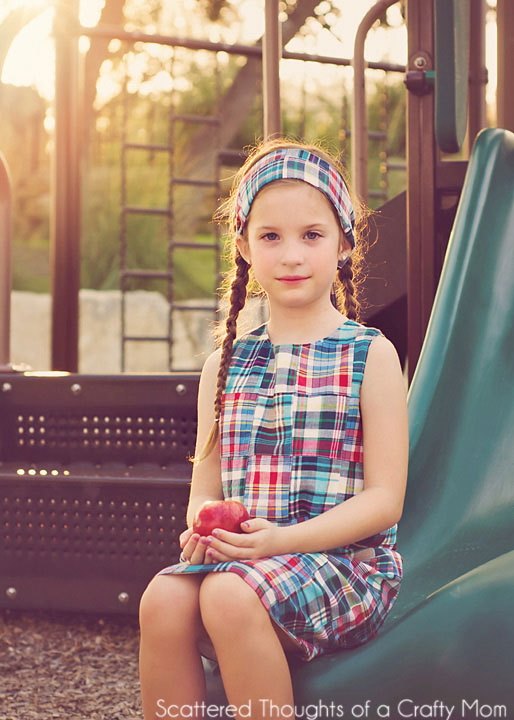 19. Naptime Creations shows how to make a raglan dress using her free raglan top pattern (sizes 18mo-6T).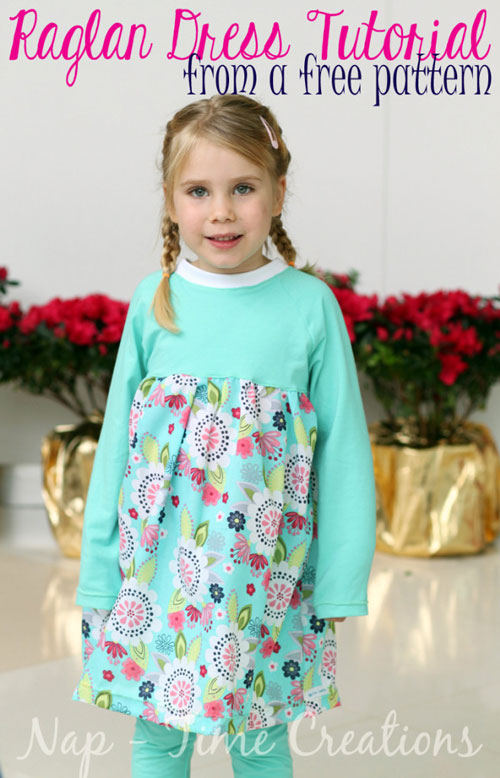 20. The Easy Knot Dress from The Cottage Mama comes in sizes 12mo-4.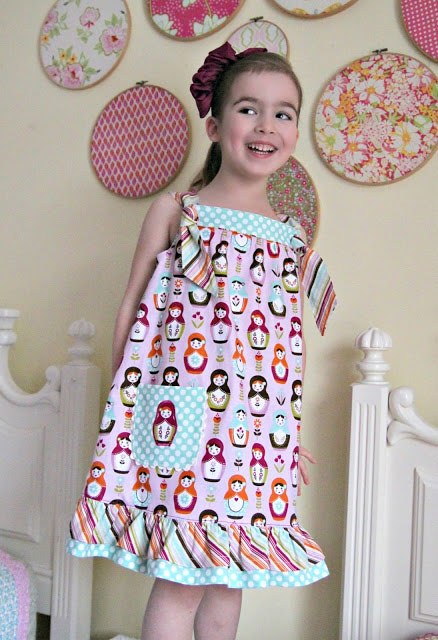 21.The Color Block Dress from Shwin Designs runs from 12m-6Y.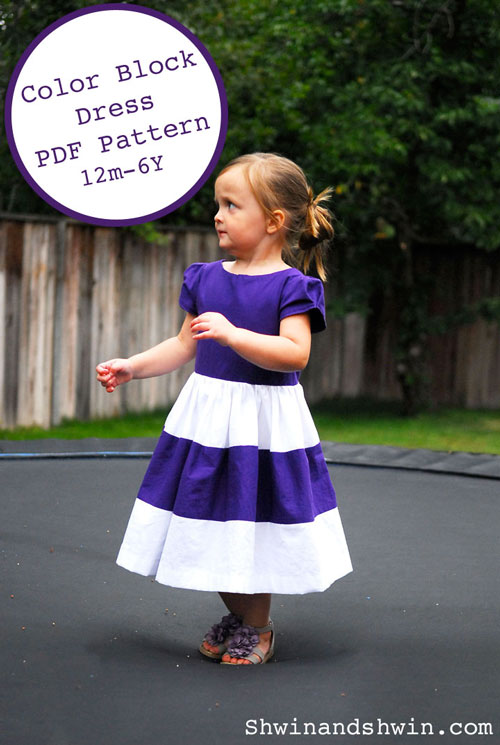 22. The Bubble Sleeve Dress Pattern by Elegance and Elephants uses knit fabric and comes in sizes 6m – 9 years.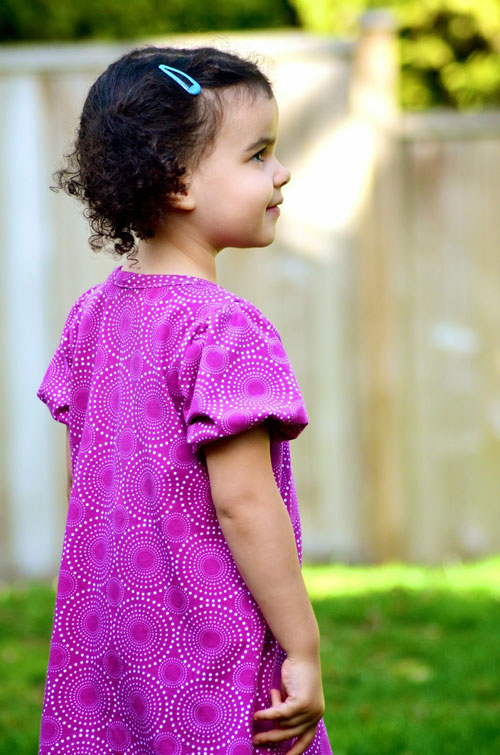 23. The Imagine Gnats Katydid sundress comes in sizes all the way from 1 to 14!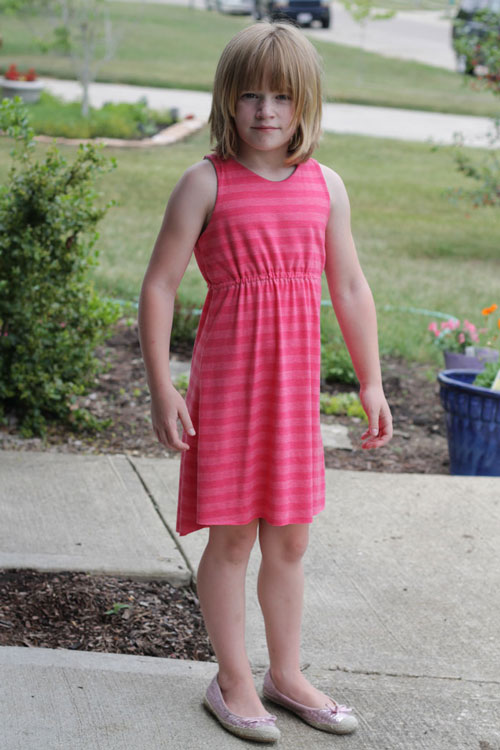 And this last one is not a printed pattern, but it's a very good tutorial for a simple Shirred Summer Dress with ties in any size you want from Make It and Love It.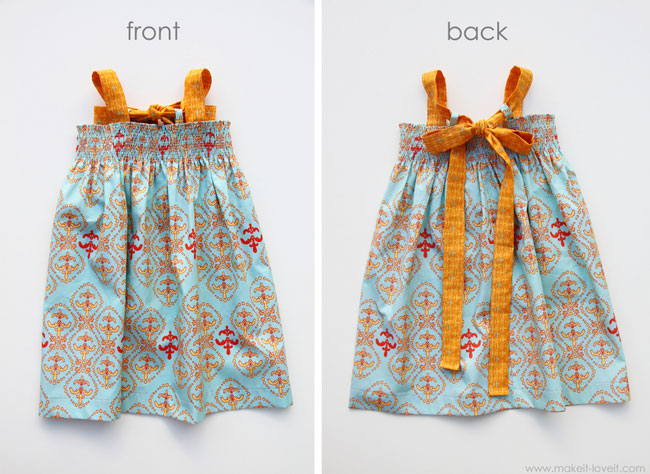 You can also find a great chart for making pillowcase dresses with fabric amounts and sizes up to 14 here and instructions here.
If you're looking for somewhere to donate dresses, consider these options:
Please note that these some of the organizations below have guidelines for the dresses they distribute, so pay attention and choose your pattern accordingly. Also, I have not done extensive research on any of these organizations so I cannot vouch for them – do your research and donate where you feel comfortable.
Little Dresses for Africa: Simple dresses are distributed through the orphanages, churches and schools in  Africa to plant in the hearts of little girls that they are worthy!
Dress a Girl Around the World: Dresses distributed include a "Dress a Girl" label on the outside of the dress to indicate to predators that an organization is looking after that child.
Dresses for Haiti: This organization looks for beautiful handmade dresses that are not pillowcase style. "We are more concerned about making the young girls happy and instilled with a sense of dignity and pride and if we can do that with a dress then our goal has been accomplished."
US state foster care agencies (and check out Simple Simon's Skirting the Issue event).
Please let us all know in the comments if you know of other organizations looking for handmade dress donations. And don't forget to click over to Melly Sews to find out how to sew shorts for boys!