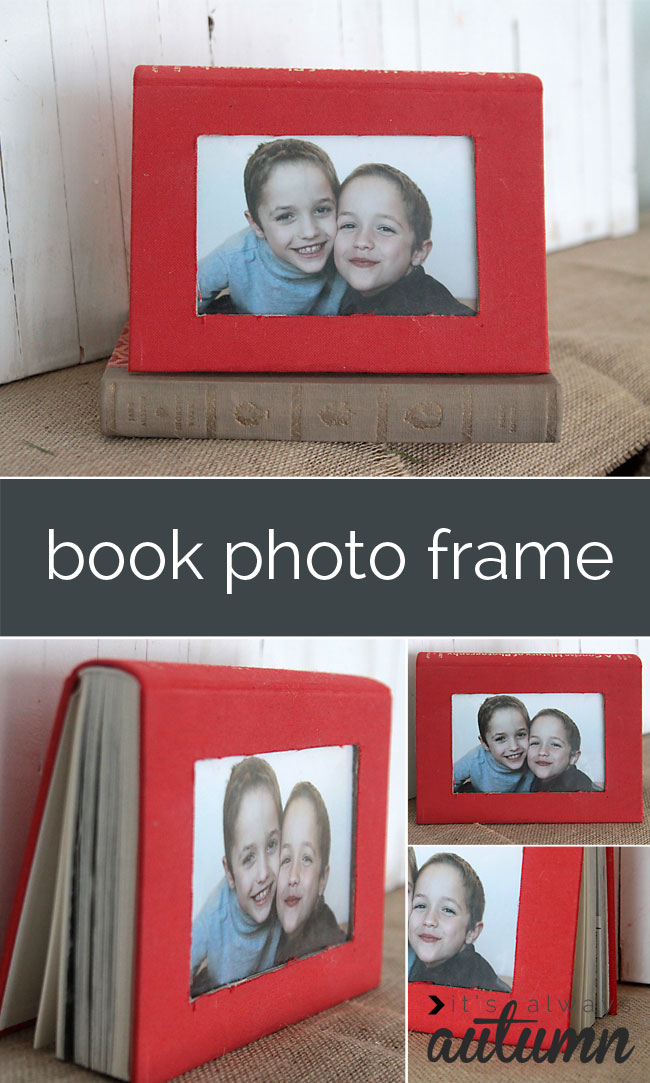 As I mentioned yesterday, my house is overflowing with books, so I've been on the lookout for ways to use books as decorations instead of cramming them all on my too-few bookshelves. I saw this idea years ago and loved it immediately. It only takes about 15 minutes to do and is a great way to showcase your favorite photos along with your favorite hardcover books. The book frame stands on it's own and looks great anywhere, even on top of a floating stack of books: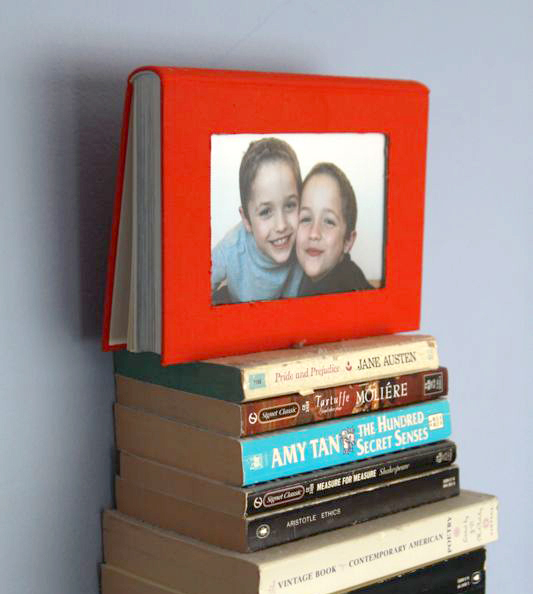 And best of all, the book is still completely readable AND the photo is protected from fingerprints by a plastic page protector, so if you decide you want to read the book again, just grab it down from the shelf and go right ahead. (Just put it back when you're done, it looks good up there.)
Here's what you need: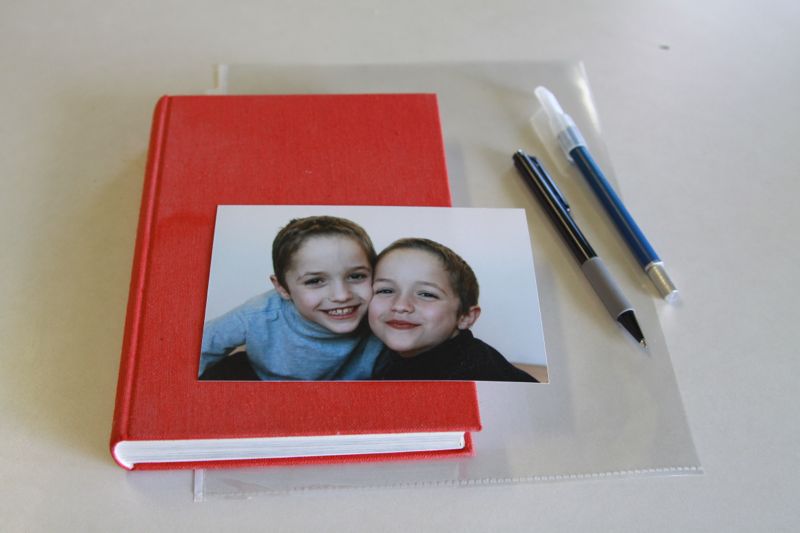 Gather a hardcover book, the photo you'd like to frame, a plastic page protector, a utility or very sharp exacto knife, a pen/pencil, masking tape, and a ruler. If you don't have any favorite hardcover books you'd like to use, check your library's book sale rack or the dollar store to find a book in the color you prefer. I'm using a solid color book here, but the one I showed yesterday has a pattern on the cover, which is really nice as well. My book is roughly 6×8 inches in size, so it works well for a 4×6 photo. If you want to frame a 5×7, look for a larger book.
Open the front cover and center the photo on it as shown. Use your pencil to trace around the edges.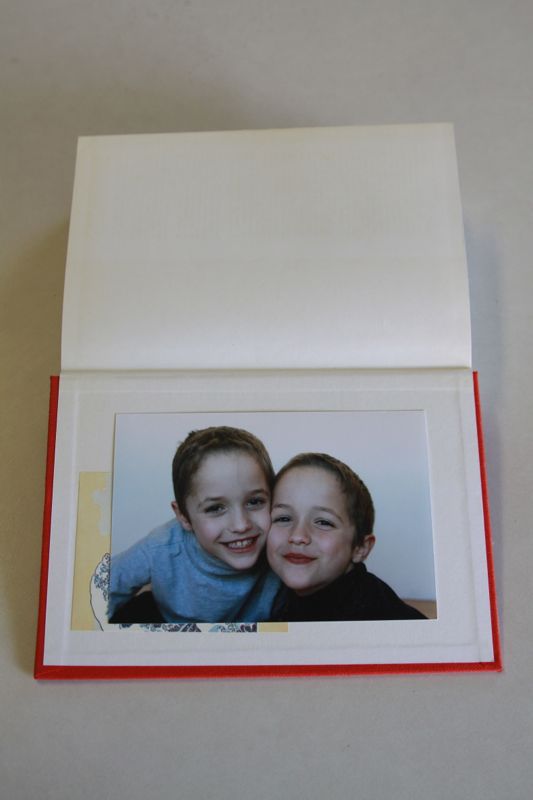 Now, you want to cut 1/8 of an inch inside the lines you just traced. Use your exacto knife and ruler to start scoring where you want to cut. Don't try to cut all the way through on your first swipe – you'll end up losing a finger. Slice five or six times down each spot before you even begin trying to pop the knife all the way through the book cover. It can be helpful to prop the rest of the book against the wall, as shown below. Also, protect the surface beneath your book so you don't end up leaving knife marks on it.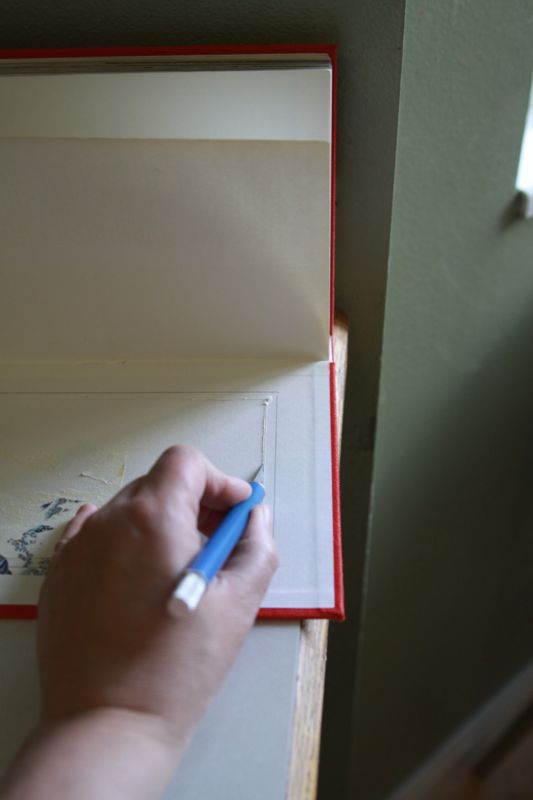 Once you've scored from the inside well enough that you can define your corners, you can turn the book over and slice a few times from the front to complete the cuts. Then just pop the cut portion out.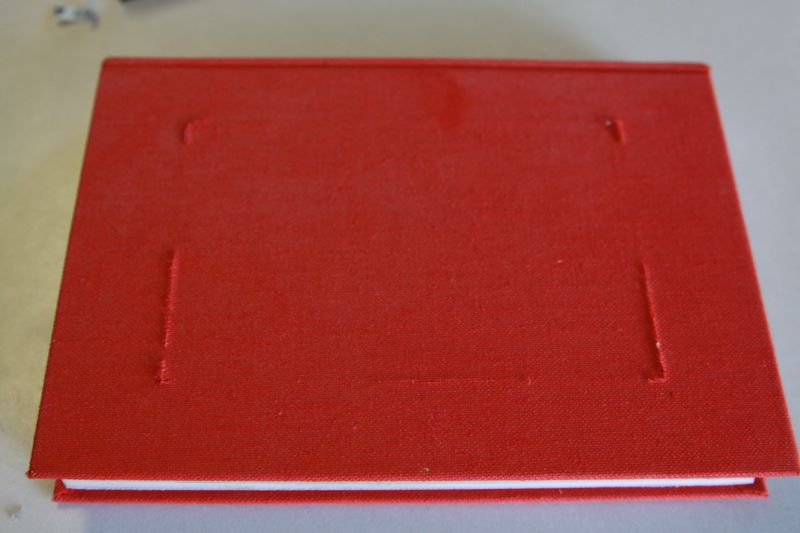 The hard part's done! Use your knife to clean up any stray threads or pieces of book cover that are still hanging on to your frame, but don't worry about making it look perfect. A little fraying on the edges just adds to the charm of the book frame.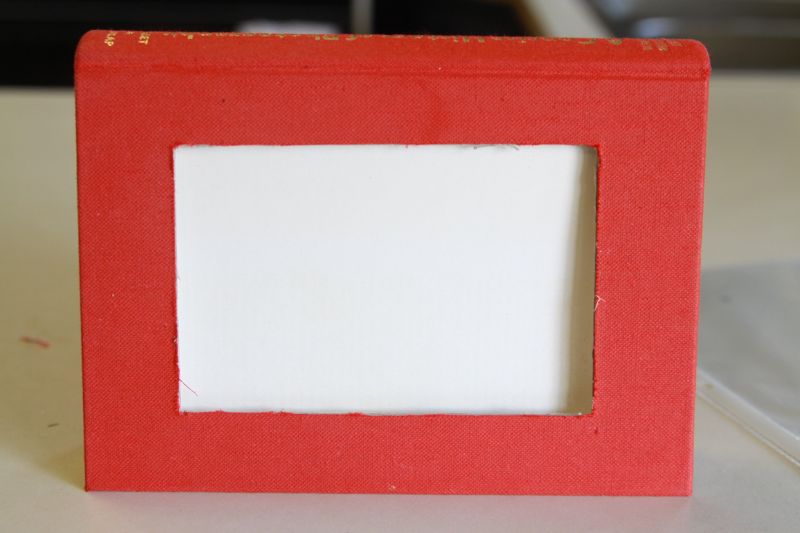 Now, open your front cover back up and lay the sheet protector down, lining up the bottom edge and one side of it just outside the bottom and side of the rectangle you traced originally. Mark the rest of the rectangle on the sheet protector and trim, again just outside the original lines.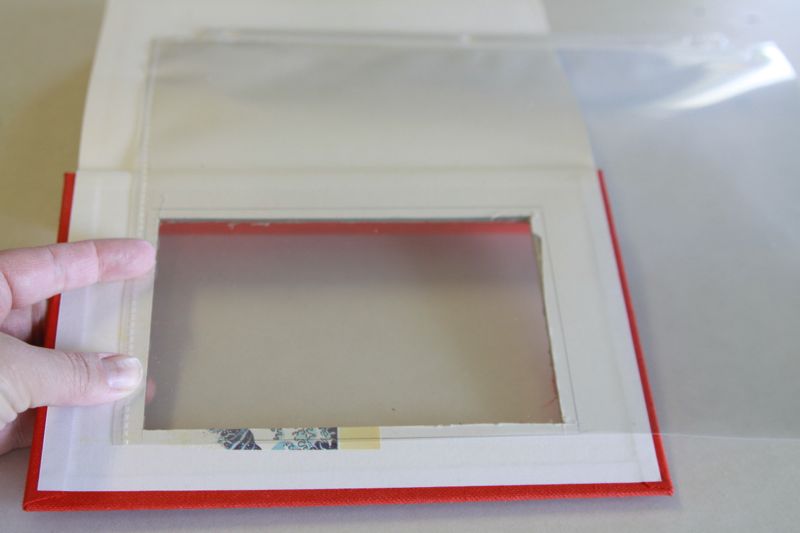 Now you have a photo-sized protector to slide your picture into.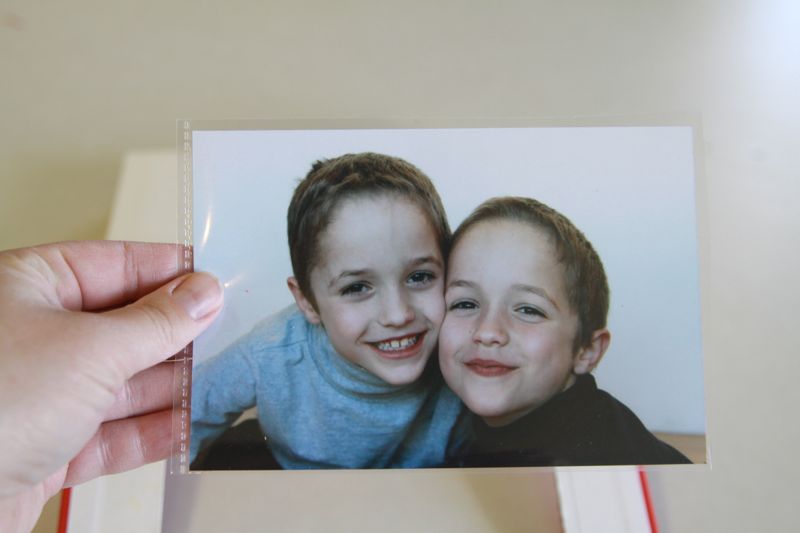 Place the picture/protector facing down onto the book cover, and use masking tape to secure it on both short sides.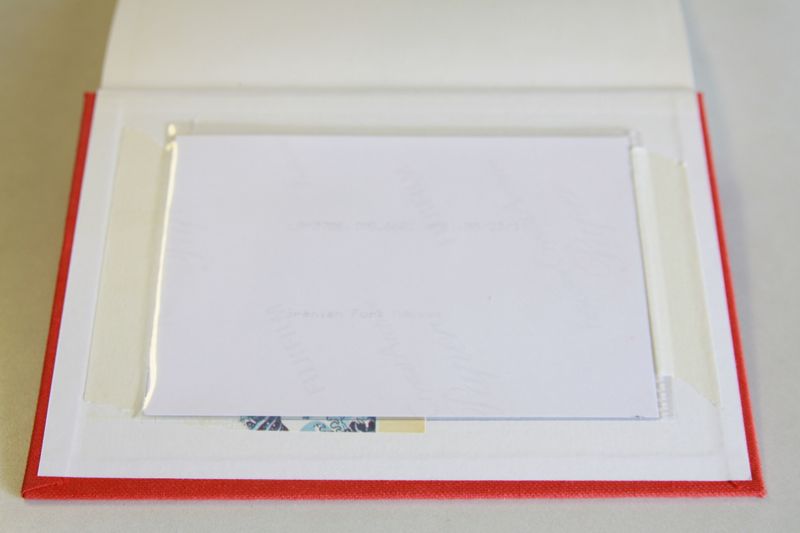 Flip it over and you're done! An original and bookish way to display your favorite photos!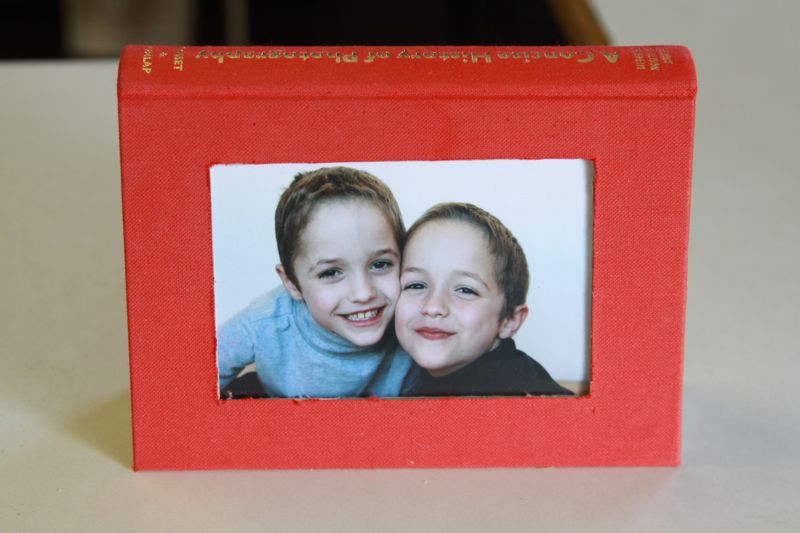 I love that we haven't ruined the book and the photo is protected from dust and fingerprints. And when you'd like to switch out the photo, just slide it right out and slide a new one in. You can even turn the book right side up if you'd like to display a portrait (as opposed to a landscape) photo.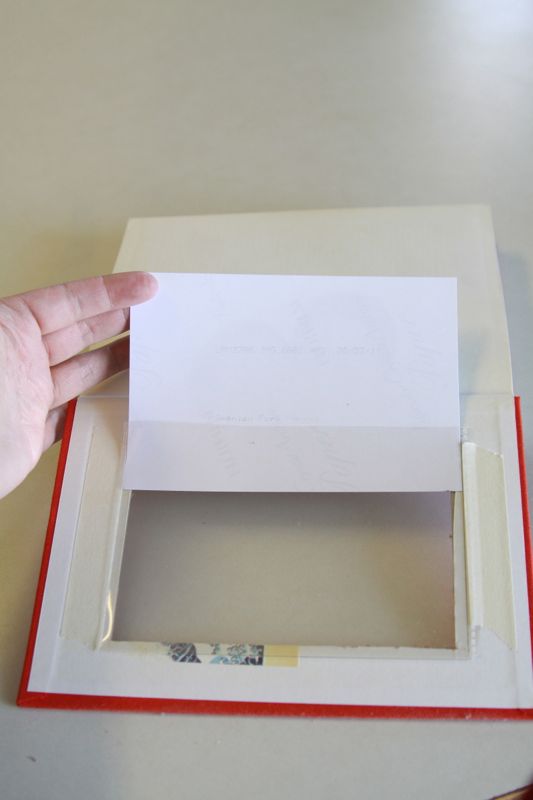 So easy, so fast, and completely free. And it gets a few more books off the shelf and out on display.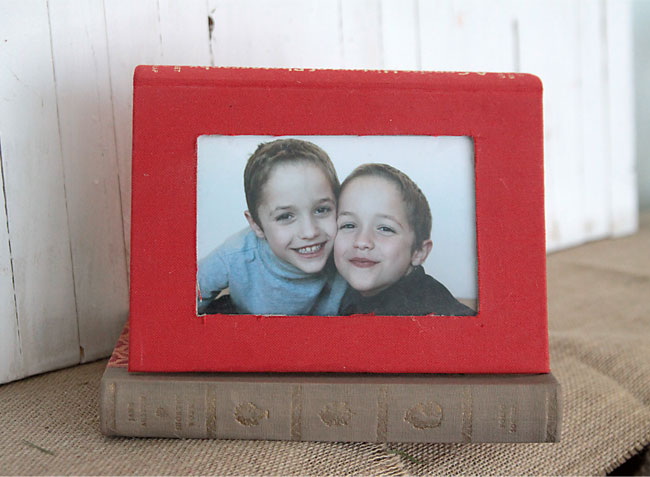 Wouldn't it be fun to make a whole wall display using books of all different sizes and colors as frames?
Linked up at: